Meal planning: Save time, save money, and take the stress out of dinner! This is a foolproof method for easy meal planning, including free printables!
Meal planning is a lifesaver and if it is new to you or you have gotten out of the habit, I'm here to help! You need meal planning in your life! Here's why:
Meal Planning Saves You Time.
No more worrying about what you are going to feed your family. With a plan, you know just what you are going to make so you can get right into the kitchen and get it done. It also makes a trip to the store faster because you aren't wandering the aisles trying to see "what looks good" that day. Instead, you have a shopping list and a plan.
Meal Planning Saves You Money.
You can plan around sales, what is in season, and healthy inexpensive whole foods. When you use a meal plan, you also eat out less often and buy fewer expensive convenience foods. Meal planning also helps to cut down on food waste in your kitchen because you know what's in the fridge and how/when it is going to be used.
Meal Planning Makes Your Life Easier.
This is the biggest reason you should meal plan. Even if you have ample money and ample time, everyone needs less stress in their life. When you choose to meal plan, you free up so much mental space. No more last minutes scrambles to get dinner on the table. No more dreading 5 o'clock because you have no idea what you are going to make, and no more frustration over spoiled food in the fridge.
How to plan dinner:
1. Pick Your Plan.
Pick a main genre and then pick 7 sub categories (one for each day of the week).
Genre One: Meat-Based – chicken, hamburger, seafood, red meat, pork… you get the idea.
Genre Two: Grain-Based – rice, pasta, bread, corn, potatoes, beans, lentils.
Genre Three: By Cuisine Type - Comfort, Italian, meatless, soup, breakfast, Mexican, pizza night, grill, ethnic, slow cooker. This is what I personally do.
2. Make Master Lists.
Write all 7 of those genres on a piece of paper and write down all the meals that you can think that fits the category. These are the lists that I use most often and any hyperlinks in the lists will take you to recipes on my blog.
Example. Category: Soup
Tortellini soup
Potato soup
Corn chowder
Chili
Vegetable soup
Taco soup
ABC Soup
Example. Category: Mexican/Tex-Mex
Fajitas
Meat enchiladas
Sweet potato and black bean enchiladas
Traditional ground beef tacos
Slow cooker pork tacos
Smothered burritos
Taco salad with chili
Quinoa stuffed bell peppers
Example. Category: Breakfast for Dinner
French toast
Waffles with buttermilk syrup
Pancakes with berry sauce
German pancakes
Egg sandwich
Omelet
Quiche
Breakfast burritos
Egg and potato bake
Example. Category: Italian
Spaghetti with meatballs
Slow cooker veggie lasagna
Easy baked pasta
Creamy bacon pasta with tomatoes
Ravioli
Butternut squash lasagna roll-ups
Example. Category: Ethnic
Stir-fry
Peanut noodles
Green curry
Red curry
Fried rice
Example. Category: Pizza Night
Calzones
Pizza
French bread pizza
DIY mini pizzas
Deep Dish Skillet Pizza
Stromboli
Example. Category: Comfort Food
Hamburgers
Biscuits and sausage gravy
Stroganoff
Chicken "nuggets"
Chicken noodles
Chicken pot pie
Easy Stove Top Chicken and Rice
Example. Category: Super Easy
Oven sandwiches
Egg sandwiches
Baked potatoes
Stovetop mac-n-cheese
Grilled cheese and tomato soup (store-bought soup)
Quesadillas
The possibilities are endless! The goal is to write down things that you know how to make and are comfortable making, and that aren't new to you (new recipes have their own spot). This list-making process will streamline your meal planning so much, so don't skip it. This is what makes it easy too! You can make lists for your favorite slow cooker meals, meatless meals, or anything else that you think you might want. Don't feel like you have to only choose seven categories to make lists for either, you might want to have 9-10 master lists to draw from. It's up to you!
This is your master list. Don't lose it! I recommend saving it on your computer under a very easy title so you can look it up.
3. Print off a free calendar.
Lucky for you, I have a free monthly calendar for you to download! Yay! It even has a space under each day of the week for you to write in the category that you are going to use. I also have free weekly calendar for you in addition to my monthly plan to have more room to write. This is a great tool for writing your shopping list. Sign up below to download both files and print them out!
Sign up to receive emails from Bless This Mess and get your FREE Monthly & Weekly Printable Calendars!
You'll get a once a week newsletter with freebies, exclusive recipes, and other great content that only comes in email from Bless This Mess. No spam. No junk. You can unsubscribe at any time.
4. Fill Out Your Monthly Calendar.
Put one genre at the top of each day of the week. This might vary from month to month depending on your schedule and the season. I tend to do my "Quick and Easy" list during baseball season and I like to swap out something in the summer to plan for a grilling night (normally Saturday). Now use the lists you just brainstormed for each category and fill in the calendar with what sounds good and what you want to make. Incorporate any date nights, eating out, family events, and designated leftover nights (I use my leftovers for Sundays so I don't have to cook one day a week).
I'm also mindful of the day of the week and how busy it is. Tuesdays are always really busy with music lessons and Scouts, so I plan on really easy, fast, or slow cooker meals for that night. This is also a great time to specify trying a new recipe. One of your categories can be "new recipes" or you can just stick a few in with whatever category they fit. I normally only plan for one or two new recipes a week (or none depending on how busy life feels), but I'll rarely try more than that in a week.
5. Fill Out Your Weekly Calendar.
One day a week (I like to do this on Saturday or Sunday), sit down with your monthly meal plan and a blank weekly meal plan. Fill in your week and make note of any sides you might want to add or plan on making. This is a great time to "shop the sale" and plan on sides based on what is on sale. I'll also make a note if I'm making something in addition to the main dish, like breadsticks or rice. Make a shopping list for the week and plan your shopping day. When you get home from your shopping trip (I shop Monday mornings), you can plan to do a bit of meal prep to make your nights even easier (more on that coming soon).
Then all that is left is to use your plan and love it! No more guessing what's for dinner. No more digging around the cupboards trying to put dinner together. You can make a few months worth of monthly meal plans and then just cycle through them.
Since dinner isn't the only meal you have to make, I thought I'd also share with you how to plan lunches. Planning lunches and breakfast is pretty simple but it's extra. If you only have energy for planning one meal a day, I find planning dinner the most helpful.
How to Plan Lunch:
When it comes to lunches, I like to have a few main "go-tos" that I know I almost always have the ingredients for in the house. I have a list of my go-tos inside one of my cabinets for an easy reminder. I also like to make "salad in a jar" for myself and have those on hand. Here's what we normally have for lunch: tuna salad, egg salad, peanut butter and honey sandwiches, homemade "lunchables," nachos, or leftovers from dinner. Those few ideas are quick, easy, and I generally have everything for most of them. Lunch is low-key and not as planned, but I still have an idea of what I'm going to make most days of the week.
How to Plan Breakfast:
Breakfast is planned based on the day of the week and it doesn't change week to week.
Sunday - Pancakes or Waffles (make a double batch to reheat on Thursday)
Monday - Oatmeal
Tuesday – Eggs
Wednesday - Oatmeal
Thursday - Pancakes or waffles
Friday - Eggs
Saturday - Cold cereal or granola and yogurt
Easy! I love cold cereal on the weekend because the kids can get it for themselves and I can stay in bed an extra minute or two.
Snacks:
You can plan out your snacks or you can keep a list of things that you can eat inside your cupboard with your list of easy lunch ideas. I do the latter. Here are some of the snacks that I like to keep on hand: nuts, string cheese, boiled eggs, fruit leather, homemade energy bites (date balls/homemade Larabars), fresh fruit and vegetables, hummus, black olives, good dark chocolate, frozen fruit and bananas for smoothies. And these snacks in jars that I can prep in advance!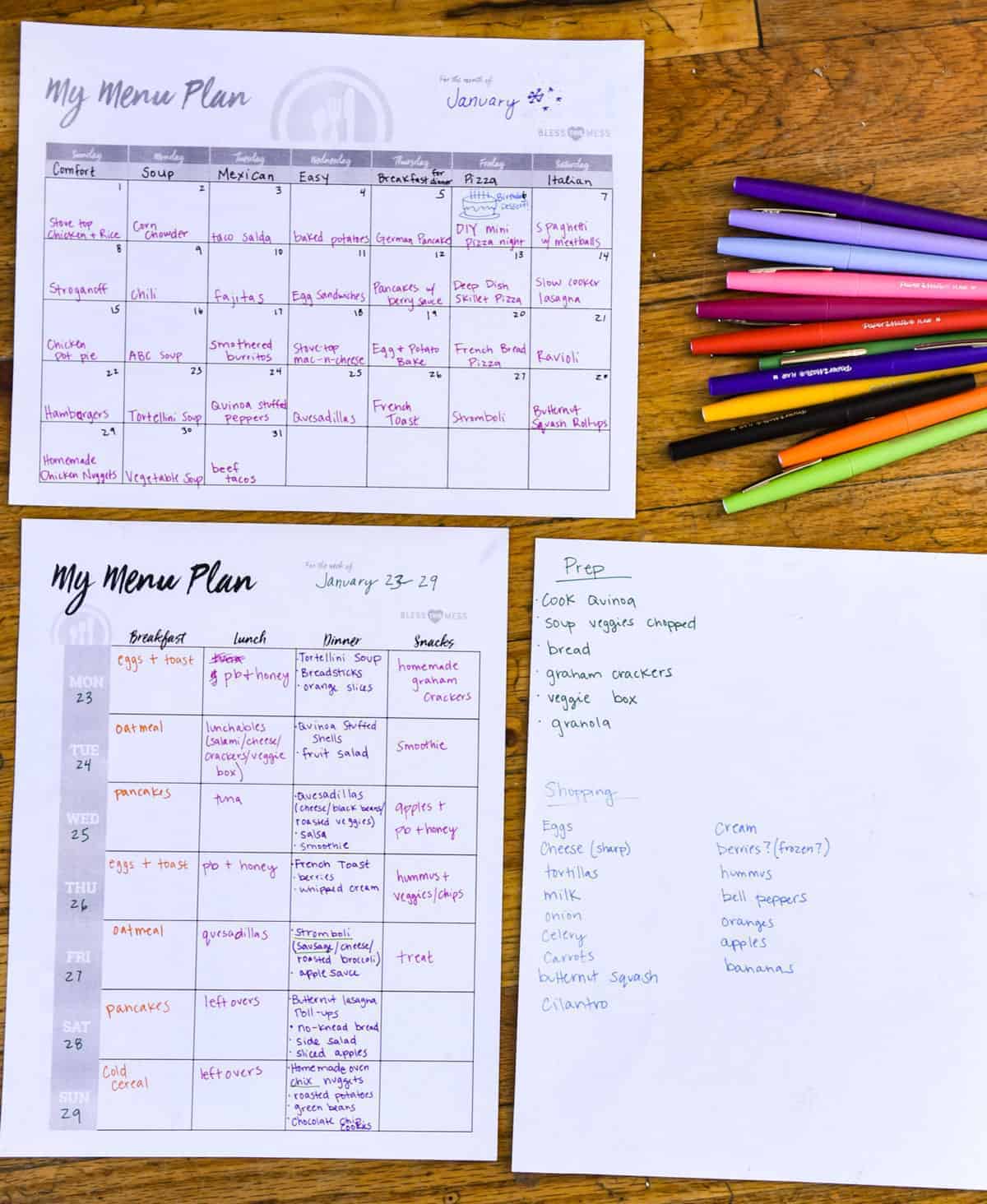 Tips for success:
• Be flexible: No one can plan for everything, and that's fine. A meal plan is there to make life easier, not to bind you to some sort of eating contract.
• Go basic: If you're new to meal planning, just focus on planning out one meal a day, such as dinner, and keep it simple. Now's not the time to try out seven different dinner recipes using unfamiliar ingredients. Stick to tried-and-true basic recipes you know and love.
• Overlap ingredients: Plan out meals that use the same ingredients. If you roast veggies for pasta on Monday, make enough so you can use the leftover veggies in tomorrow's lunch wrap or in eggs.
And there you have it, a small novel on meal planning. I can't wait for you to try this and to love it!