If you've been searching for the perfect method for how to bake a potato, I'm delighted to bring you my guide for making a perfectly baked potato with a fluffy center and a crispy, salty skin.
Here are a few of my favorite potatoe recipes: Classic Scalloped Potatoes, Instant Pot Loaded Baked Potato Soup and Twice-Baked Potatoes with Bacon.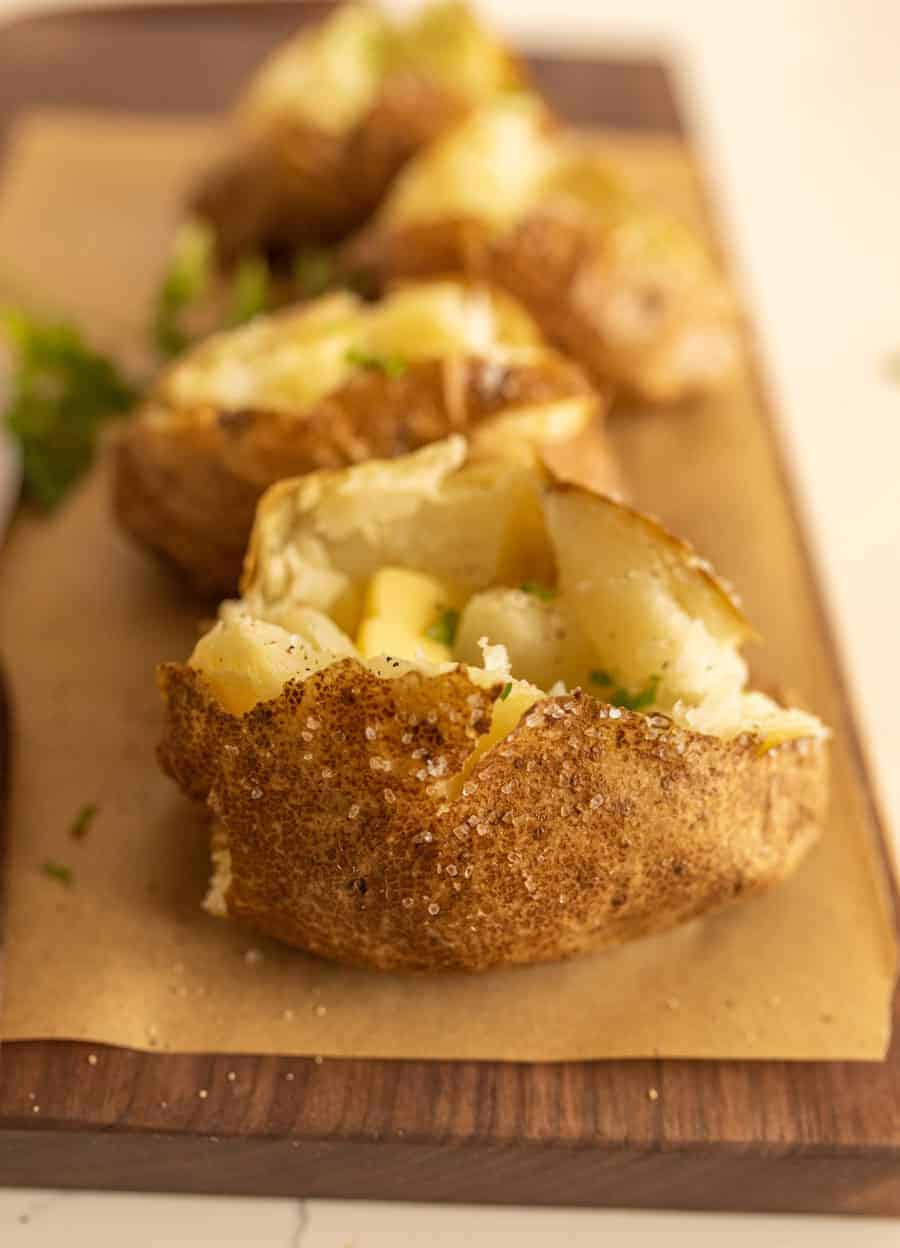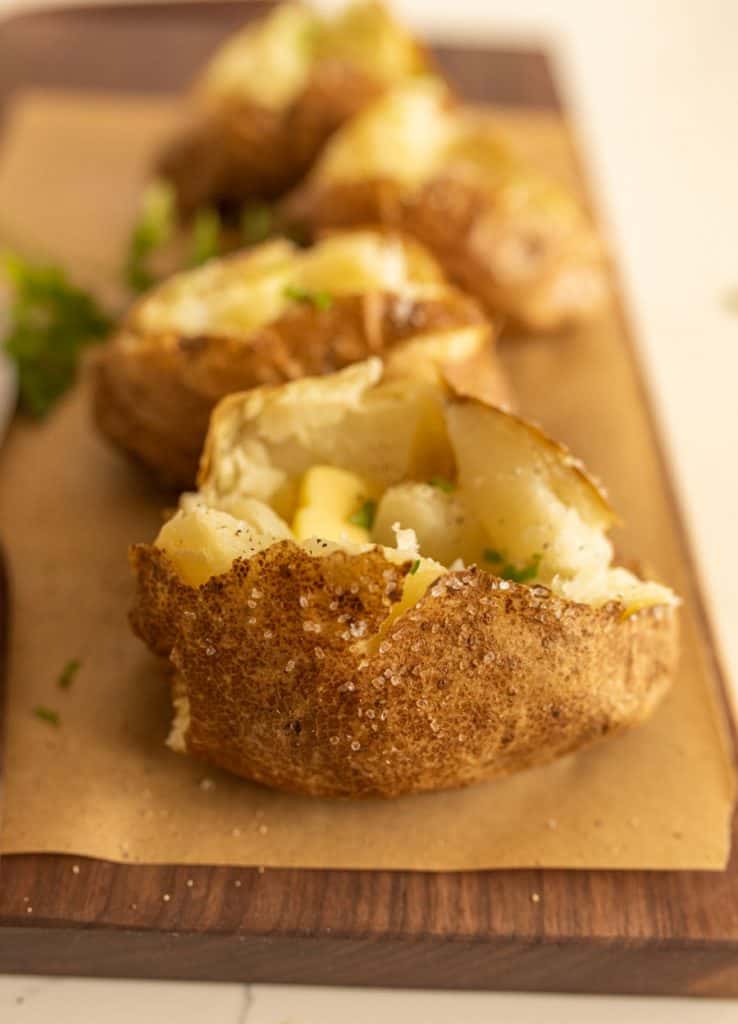 How to Bake a Potato
You may not think baking potatoes is rocket science, but I will say it's somewhat of an art that not everyone is aware of! That's why I wanted to collect and share my best tips for how to bake a potato to perfection -- we don't want any dry, crumbly insides or mushy skins up in here. In fact, I firmly believe the *perfect* baked potato has a slightly crispy and salty exterior with a fluffy, moist inside.
If that sounds like your idea of a good time, then you'll love these tips and use them all the time just like I do. In fact, I serve baked potatoes as an entree to my family at least once a month! They often get cast as a side dish, but with the right selection (the bigger, the better) and toppings (get you some protein and veggies on there), they make for an easy and delicious dinner that the whole family can have fun with customizing.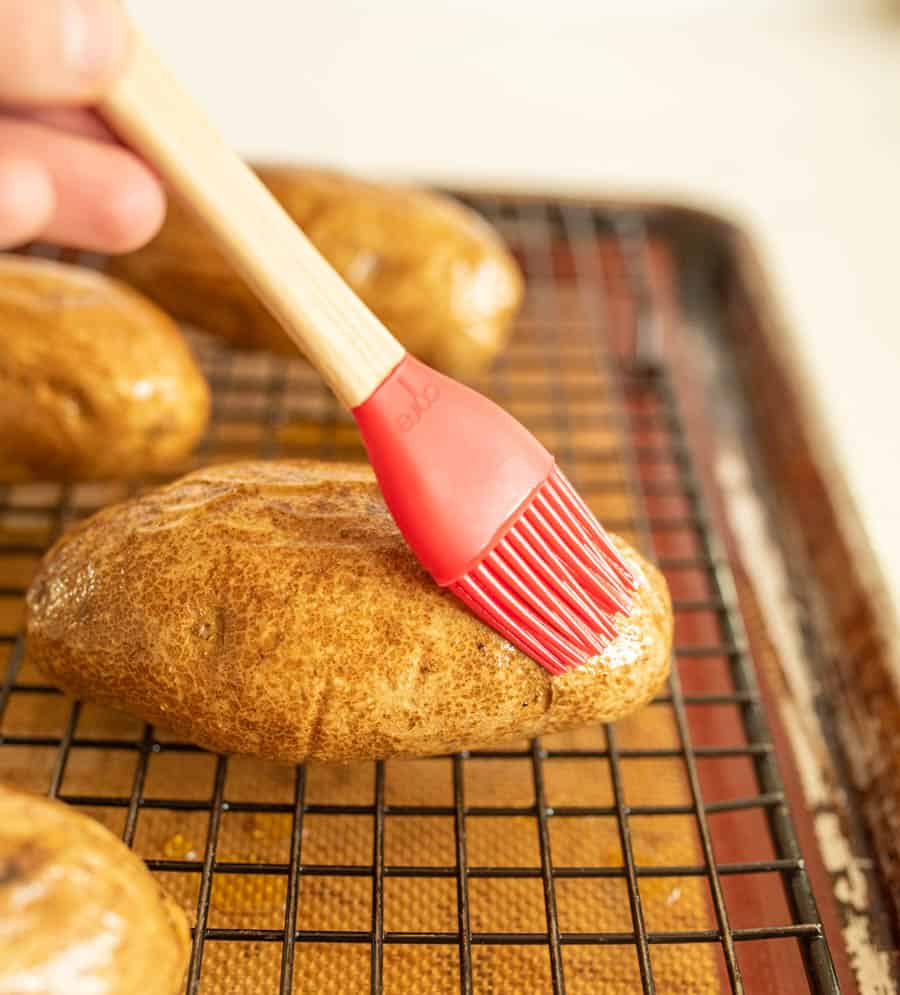 What does a perfectly baked potato look like?
The interior should be entirely fluffy and light, while the skin needs to be crispy and salty, but not burnt. (It's a fine line!)
What is the best type of potatoes for baking?
Russets are generally considered the best potato for baking because of their thick skin that can get nice and crisp and their high starch content, which lends to that great fluffy texture inside that we want.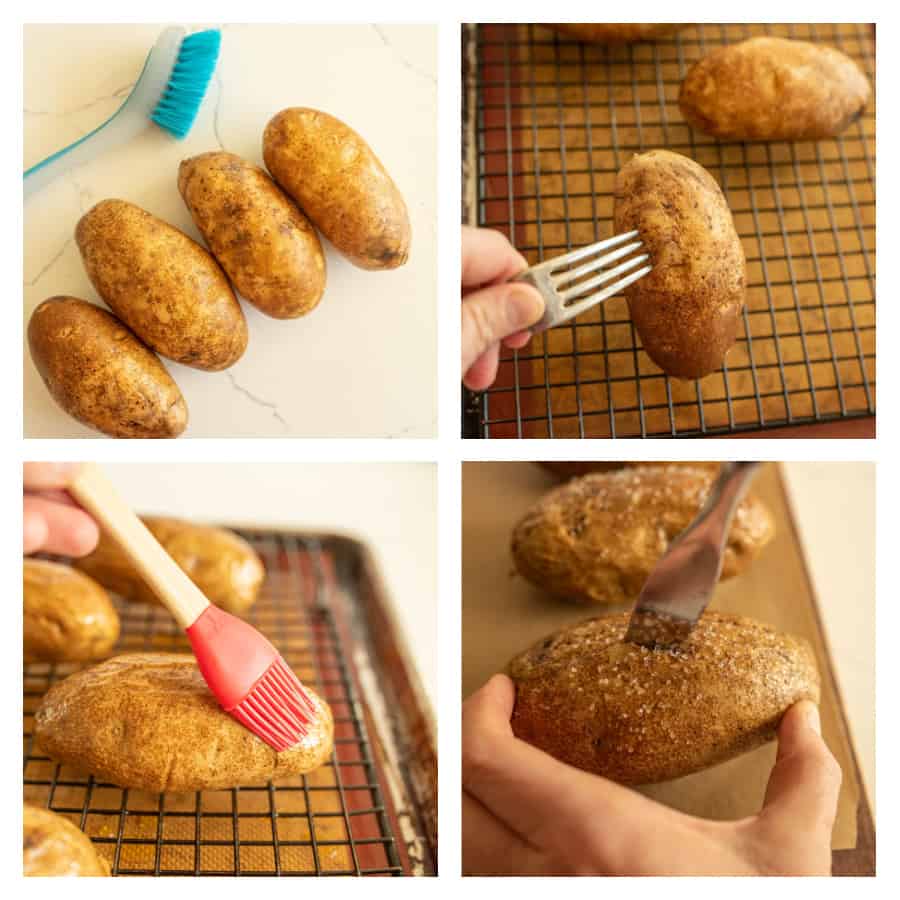 Do I have to prick the skin of the potato?
I've never personally experienced a potato exploding if you don't prick it, but I do think it helps some of the moisture to escape. (UPDATE January 2020, I TOTALLY hade a baked potato EXLPODE!!!! I take back what I said, POKE THOSE POTATOES, it was a mess to clean up and I'm just grateful it happened when the oven door was shut!)
Why shouldn't I just stick the potato in the microwave?
Microwaves are good for reheating food, but they heat very unevenly, causing the heat to get too high and pressure to build. The potato cell walls actually burst and release starch molecules that glue together the broken cell walls. (See? It IS a little more science than you'd think!) This results in an unevenly cooked potato that is gummy in the middle. Yuck. So, it can be done in a pinch, but I wouldn't recommend for all the time.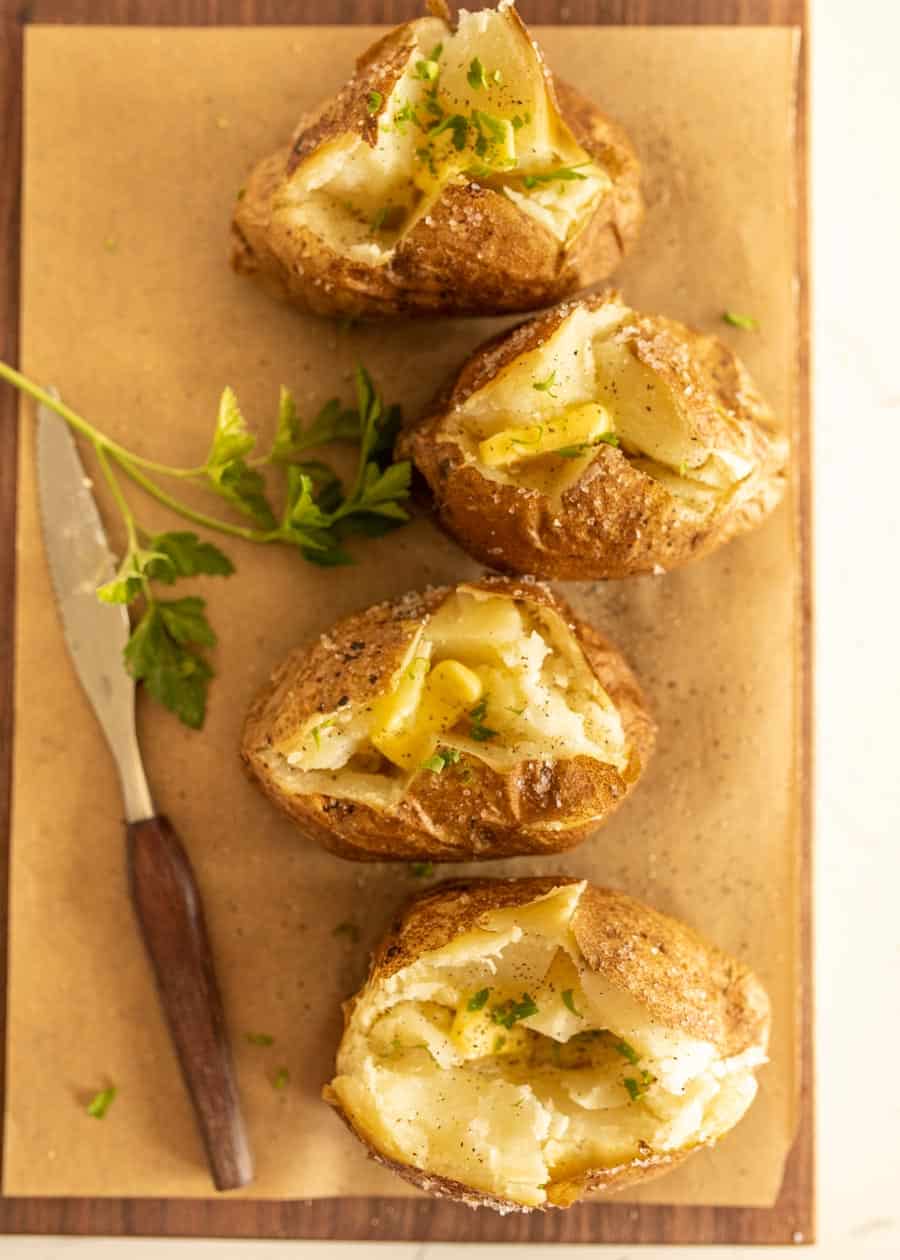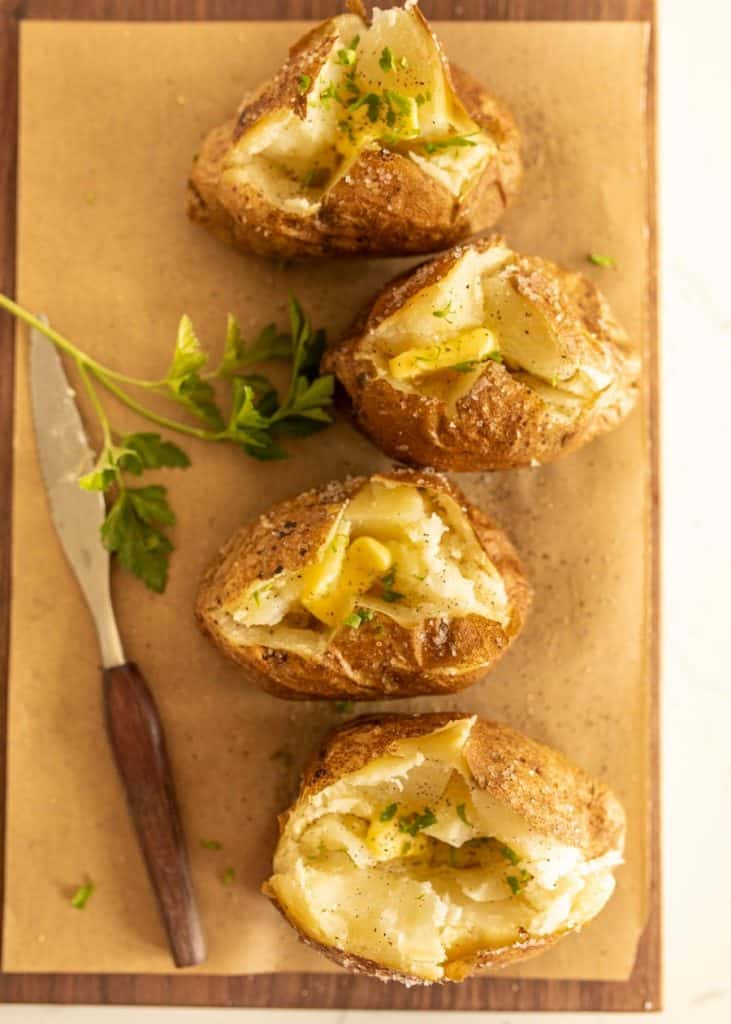 Why do you skip the foil?
Foil will trap the heat in and essentially steam the potato instead of roasting it. And trust me, you want it roasted because that's what crisps up the skin and makes it SO good.
Why don't you brush the oil on the potato before baking it?
Just like foil, oil acts as a barrier and the steam won't be able to release the same. By adding the oil after the potato is cooked, and then baking it for 10 more minutes, you end up with the most delicious skin that is crisp but not burnt. I also recommend not using butter because the water in butter makes the skin soggy instead of crisp, and butter burns easier at high temperatures.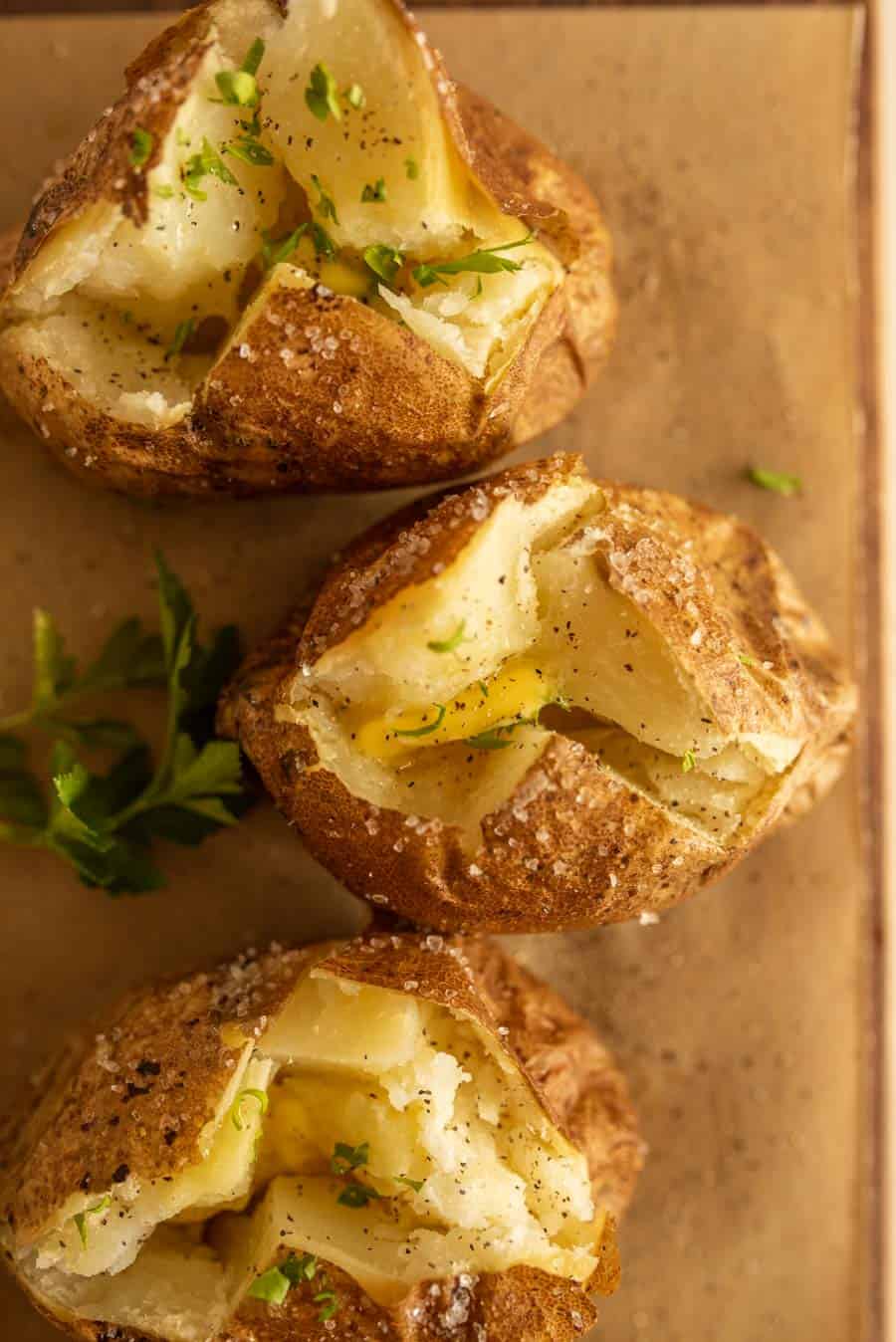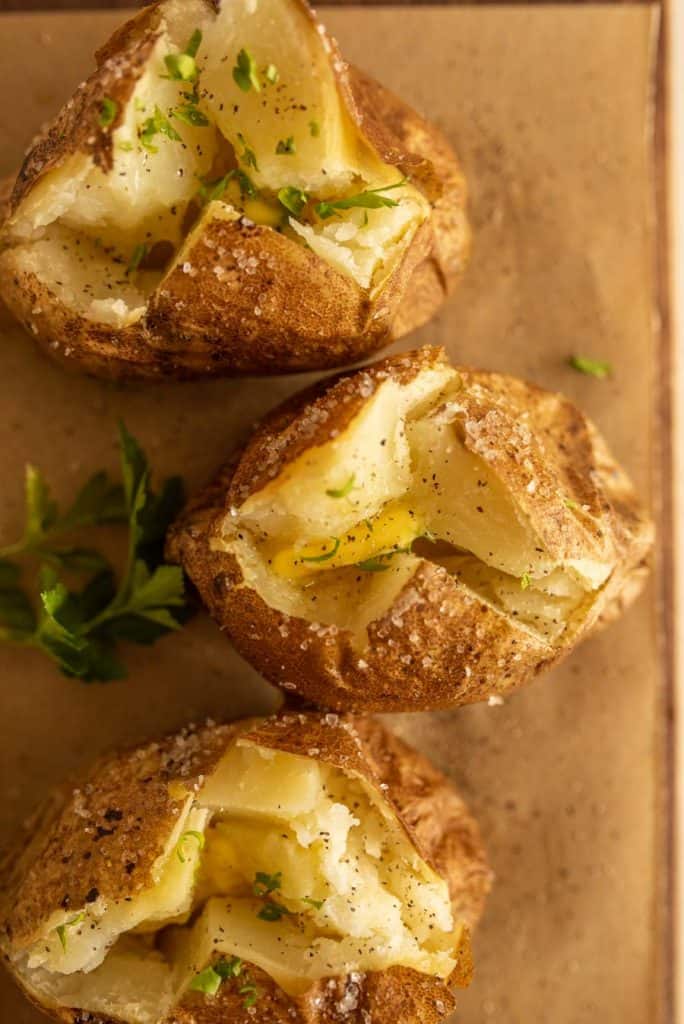 What if I want to bake my potatoes with another dish?
Such a great question! I do this all the time. I'll often make a pan of my favorite chicken leg recipe and bake the potatoes alongside it. Just bake the potatoes until they register between 205 to 212 degrees F. on the inside, add your oil, and bake for 10 more minutes. You can easily check the internal temperature with a cheap instant-read thermometer.
How long do you bake a potato? What temperature do you bake potatoes at?
If your potatoes are medium sized, about 5 to 8 ounces, here's about how long you bake them at varying temperatures:
45 minutes at 400 degrees F.
60 minutes at 350 degrees F.
90 minutes at 325 degrees F.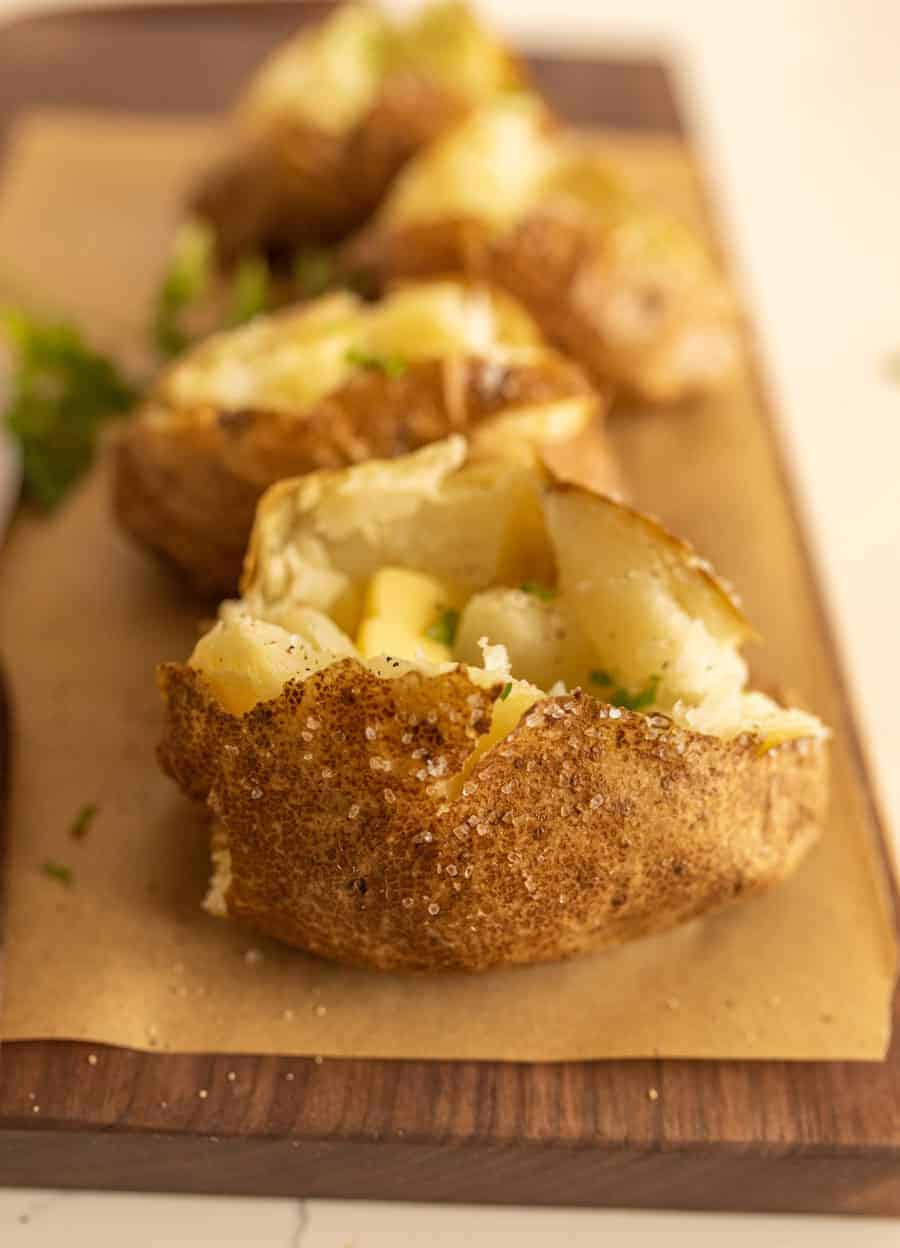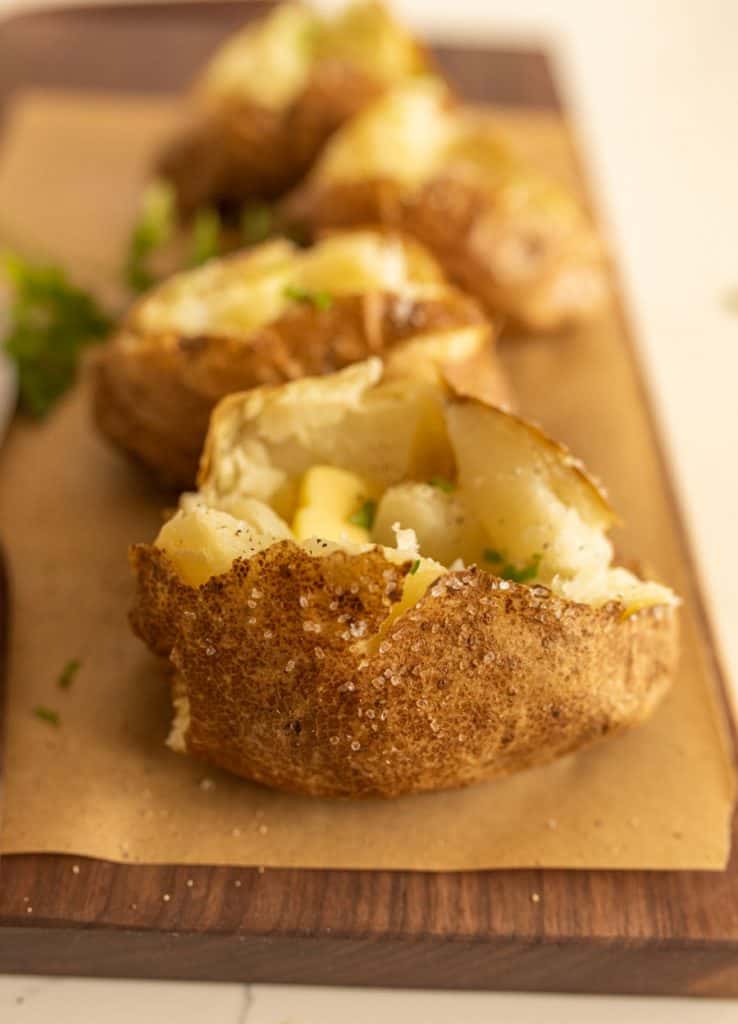 Print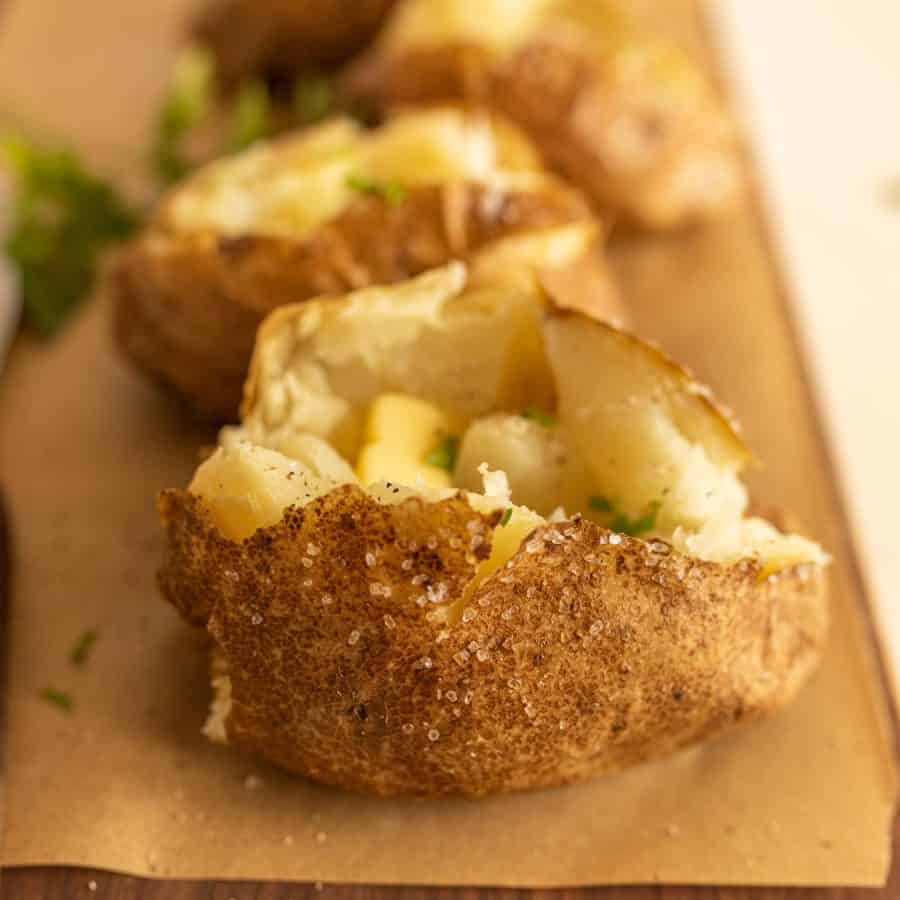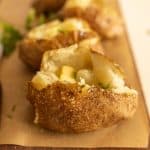 How to bake a potato
---
Author:

Total Time:

50 minutes

Yield:

Serves 4
Description
If you're wondering how to bake a potato, this post is exactly what you need! This is your ultimate guide to making a perfectly baked potato with a fluffy center & a crispy skin.
---
4

Potatoes (about

5

-

8

ounces each)

1 tablespoon

olive oil
Salt
---
Instructions
Preheat the oven to 400 degrees. Wash and scrub your potatoes clean. Poke each potato with a fork a few times to allow steam to release while cooking.
Place potatoes directly on a baking rack set inside a baking sheet and place them in the oven.
Bake until the center of the potato reaches between 205 and 212 degrees. This will be roughly 35-45 minutes depending on the size of the potatoes.
Remove from the oven and use a pastry brush to coat each potato in a thin coat of olive oil. Sprinkle with salt and then flip them over and brush the other side with oil and sprinkle with salt.
Bake the potatoes for an additional 10 minutes to crisp the skin.
Remove the potatoes from the oven, cut a small X on the top of each potato and then using two hands (be careful, they are hot), gently press the potatoes inward so that they "bloom" from the X.
Enjoy right away with your favorite toppings.
Notes
These were medium sized potatoes that came in a 10 pound bag. If you are using the large "baking" potatoes, be sure to add at least a half an hour, if not more, to the cooking time.
Table salt, kosher salt, and sea salt (fine to coarse) all work well here. I like a mix of fine and coarse sea salt on the outside.
Not committed to putting the tater directly on a oven rack? Stick a wire baking wrack inside of a rimmed baking sheet and let the potatoes cook on the rack. Last option, line a baking sheet with foil and bake on the baking sheet.
Prep Time:

5 min

Cook Time:

45 minutes

Category:

Side

Method:

Oven

Cuisine:

American
Keywords: how long to bake a potato, how to bake a potato, easy baked potatoes recipe, temperature for baked potatoes, how long do I bake a potato, baked potato time and temp, best baked potato recipe, perfect baked potato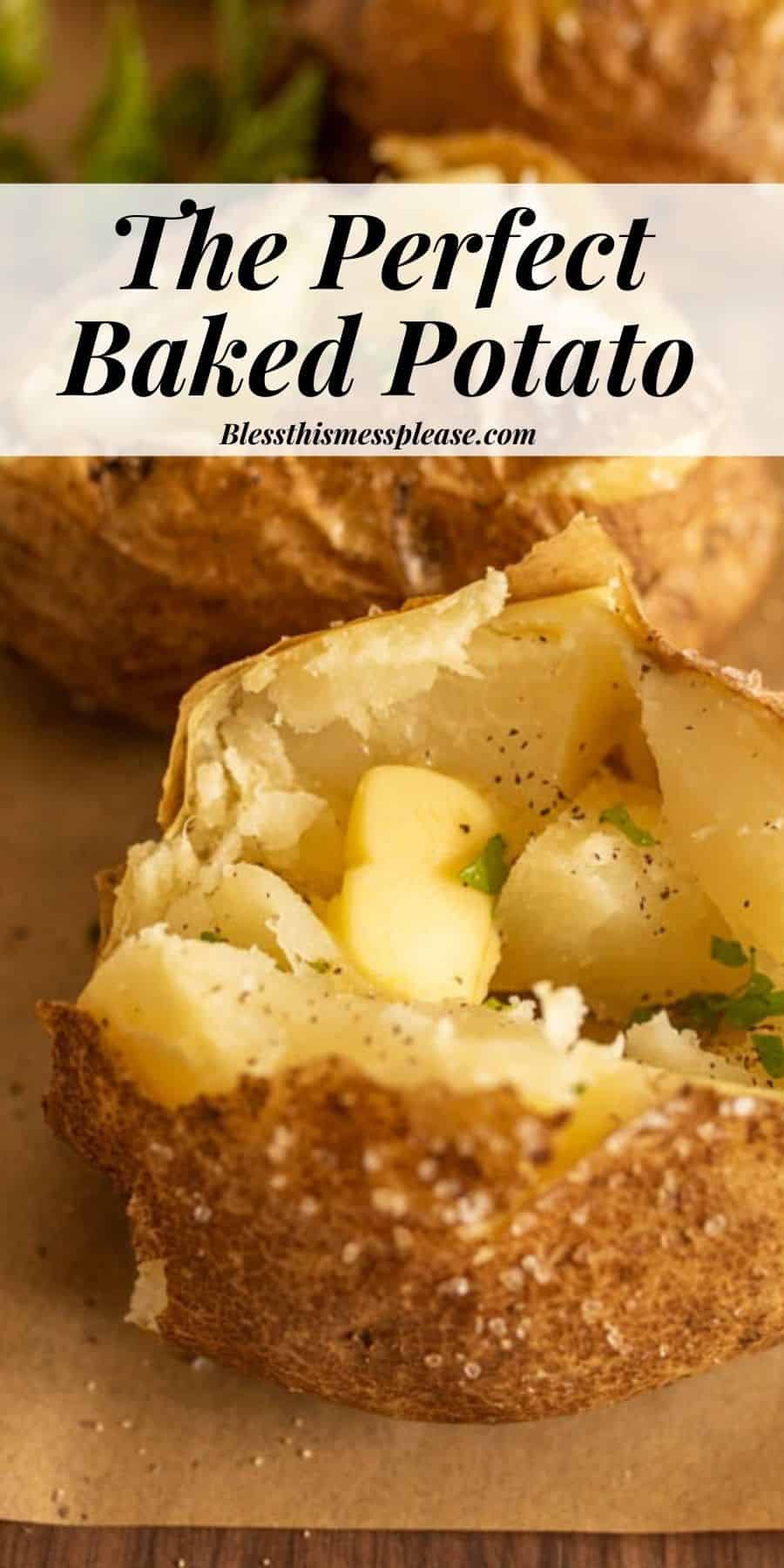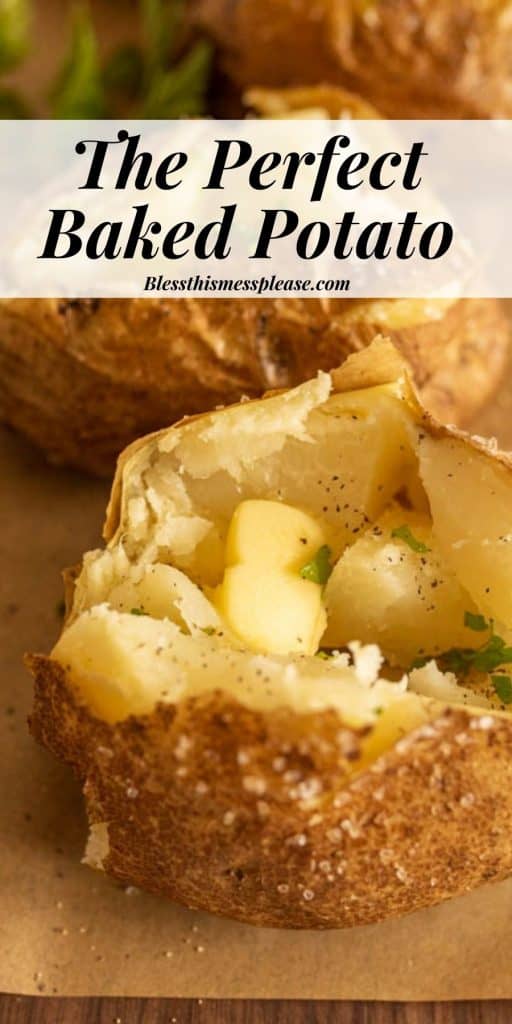 Other baked potato recipes you'll love:
Baked Potatoes go great with these easy dinner recipes:
Don't you feel like a baked potato master?! Now you have everything you need to know about how to bake a potato to perfection to get a nice and fluffy inside with a crispy and delicious skin!