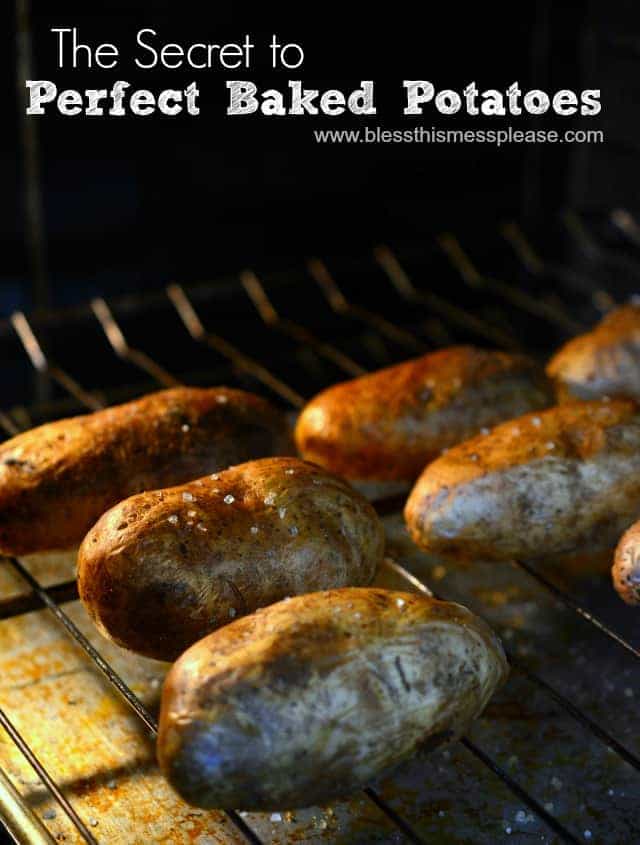 If you're wondering how to bake a potato, this post is exactly what you need! From what temperature to bake a potato at, to how long to bake a potato, this is your ultimate guide to making a perfectly baked potato with a fluffy center & a crispy skin.
Did you read the title and laugh at me today?! How to bake a potato doesn't seem like rocket science, I know, but baking a potato in the oven with no foil is going to change how you feel about baked potatoes.
No matter how you currently bake a potato, you have got to try this! The outside gets cooked to potato skin perfection, with a slightly crisp and salty exterior, and the inside is extra fluffy (because the steam was able to escape). You won't find anyone at the table scraping out the soft inside and leaving that skin because it's all good when you bake them like this.
I serve baked potatoes as a main dish about once a month. They are cheap, easy, and, if topped right, can be healthy and very, very much the star of a whole foods meal. Sure, this takes a bit of planning because the baking time is around 45 minutes, but it is so worth the minimal effort. Throw on your favorite cheese, some fresh steamed broccoli, and some salt and pepper and you are good to go. I like to round out the meal with a fruit or two and a fresh salad (like our favorite spinach and berry salad). If I'm really looking for something hearty, I'll top them with homemade lentil chili (make a big batch and freeze the rest for potatoes!).
Mmmm. Now I want a baked potato! Put this on your meal plan for next week and enjoy.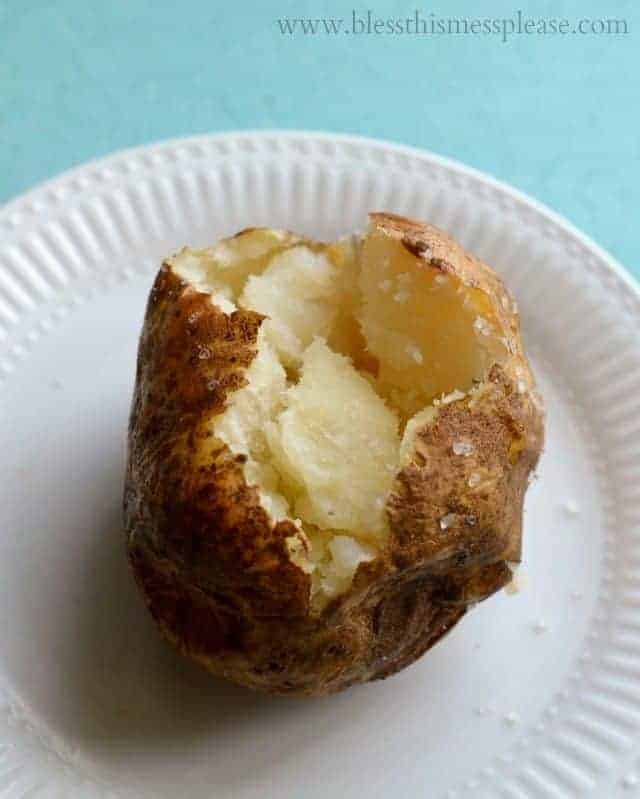 How to Bake a Potato: Common Questions
What are the goals for the perfect baked potato?
The interior needs to be uniformly fluffy and light. The skin needs to be crisp and salty but not burnt.
What type of potatoes are best for baking?
Russets are generally considered the best potato for baking because of their high starch content which lends to that dry and fluffy texture we are looking for.
Do I have to prick the skin of the potato?
I've never had a potato explode without pricking it, but I do think it helps some of the moisture to escape.
Why shouldn't I just stick the potato in the microwave?
Microwaves heat very unevenly and the heat can get too high which actually causes pressure to build and tator cell walls to burst, releasing starch molecules that glue together the broken cell walls. This results in an unevenly cooked potato that is gummy in the middle. Not the goal. Sure it can be done in a pinch, but we are after the best baked potato and not the fastest.
Why do you skip the foil?
It traps in the heat and you essential steam the potato instead of roasting it. The roasted skin is SO good. Plus I'm not so sure about the aluminum in the foil so I like to avoid it when I can. This is also the reason that you are going to set your potatoes on a rack in a pan; it helps the air to circulate fully around the potato while it cooks. You can also place them directly on your oven rack – your choice.
Why don't you brush the oil on the potato before baking it?
Like the foil, the oil acts as a barrier and the steam isn't released the same. By adding the oil after the potato is cooked and baking it for 10 more minutes you end up with the most delicious skin that is crisp but not burnt. Don't use butter here though, the water in the butter makes the skin get soggy instead of crisp and butter burns a lot easier at a high temperature.
What if I want to bake my potatoes with another dish?
Great question! I often do just this. I'll make a pan of my favorite chicken leg recipe and bake the potatoes along side it. Bake until the potato is 205-212 degrees on the insides, then add your oil and bake 10 more minutes. You can easily check the potato (and the chicken) with a cheap instant-read thermometer.
How long to bake a potato? What temperature do you bake potatoes at?
When working with a medium potato (about 5-8 ounces) here are some general potato baking guidelines
Bake medium potatoes 45 minutes at 400 degrees.
Bake medium potatoes 60 minutes at 350 degrees
Bake medium potatoes 90 minutes at 325 degrees
Are you starting to feel like a baked potato master? Who knew there was so much science to something that seems so simple?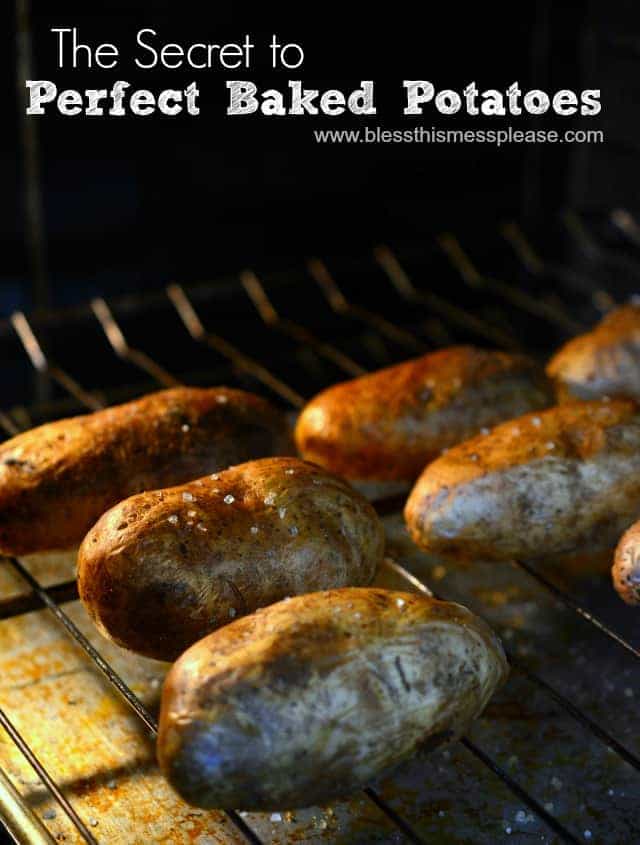 Craving more? Subscribe to Bless this Mess to get new recipes, meal plans, and a newsletter delivered straight to your inbox! If you try this recipe, let me know what you think! Leave a comment, pin it, and don't forget to tag a picture #blessthismesseats on Instagram. I love to see your kitchen skills in action!
Print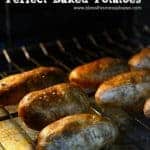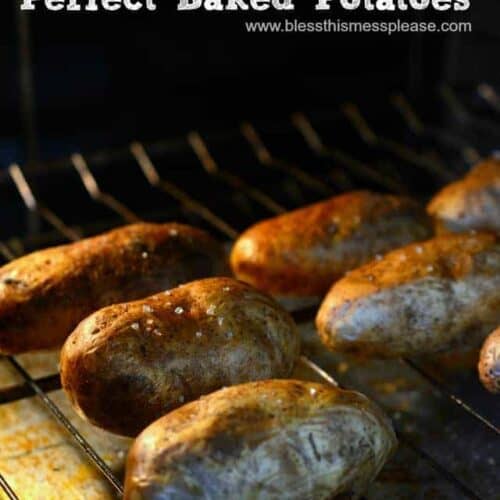 How to bake a potato – ditch the foil
---
Author:

Prep Time:

5 min

Cook Time:

45 minutes

Total Time:

50 minutes

Yield:

Serves

4

1

x
Description
From what temp to bake a potato, to how long to bake a potato, your ultimate guide to making a perfectly baked potato with a fluffy center & crisp skin.
---
Scale
Ingredients
4

Potatoes (about

5

–

8

ounces each)

1 tablespoon

olive oil
Salt
---
Instructions
Preheat the oven to 450 degrees. Wash and scrub your potatoes clean. Poke each potato with a fork a few times to allow steam to release while cooking.
Place potatoes directly on a baking rack set inside a baking sheet and place them in the oven.
Bake until the center of the potato reaches between 205 and 212 degrees. This will be roughly 35-40 minutes depending on the size of the potatoes.
Remove from the oven and use a pastry brush to coat each potato in a thin coat of olive oil.  Sprinkle with salt and then flip them over and brush the other side with oil and sprinkle with salt.
Bake the potatoes for an additional 10 minutes to crisp the skin.
Remove the potatoes from the oven, cut a small X on the top of each potato and then using two hands (be careful, they are hot), gently press the potatoes inward so that they "bloom" from the X.
Enjoy right away with your favorite toppings.
---
Notes
These were medium sized potatoes that came in a 10 pound bag. If you are using the large "baking" potatoes, be sure to add at least a half an hour, if not more, to the cooking time.
Table salt, kosher salt, and sea salt (fine to coarse) all work well here. I like a mix of fine and coarse sea salt on the outside.
Category:

Sides

Method:

Oven

Cuisine:

American
Keywords: how long to bake a potato, how to bake a potato, easy baked potatoes recipe, how long does it take to bake a potato, what temp to bake potatoes, how long do I bake a potato, baked potato time and temp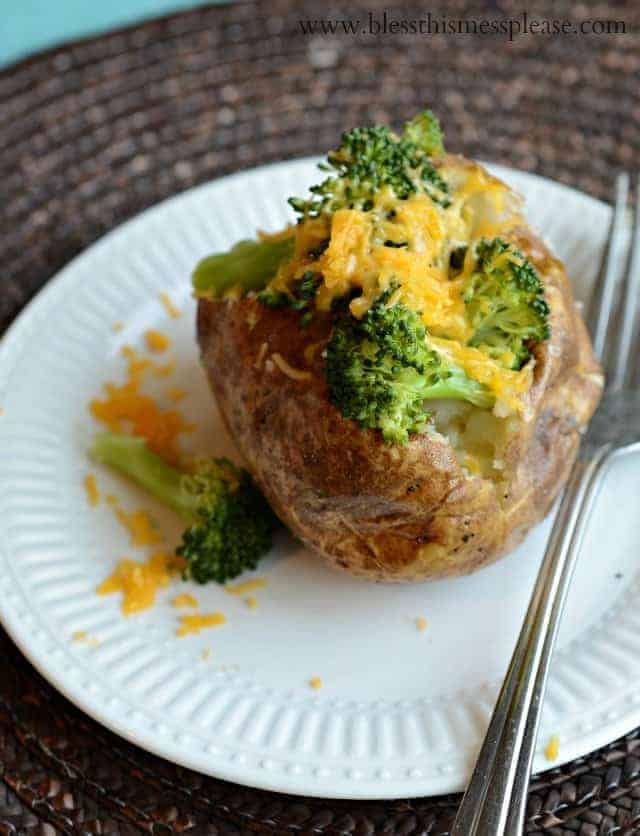 I'm hoping you now know not only how to bake a potato but also how to bake the best potato on the block. You, Friend, are now a certified awesome potato baker. This is a life skill and you are well-armed to master it!
Do you ever serve baked potatoes as a main dish? What are your favorite toppings?
Thanks for stopping in – Enjoy this recipe from my kitchen to yours.
This recipe was originally published in July 2013 and has been updated August 2017.