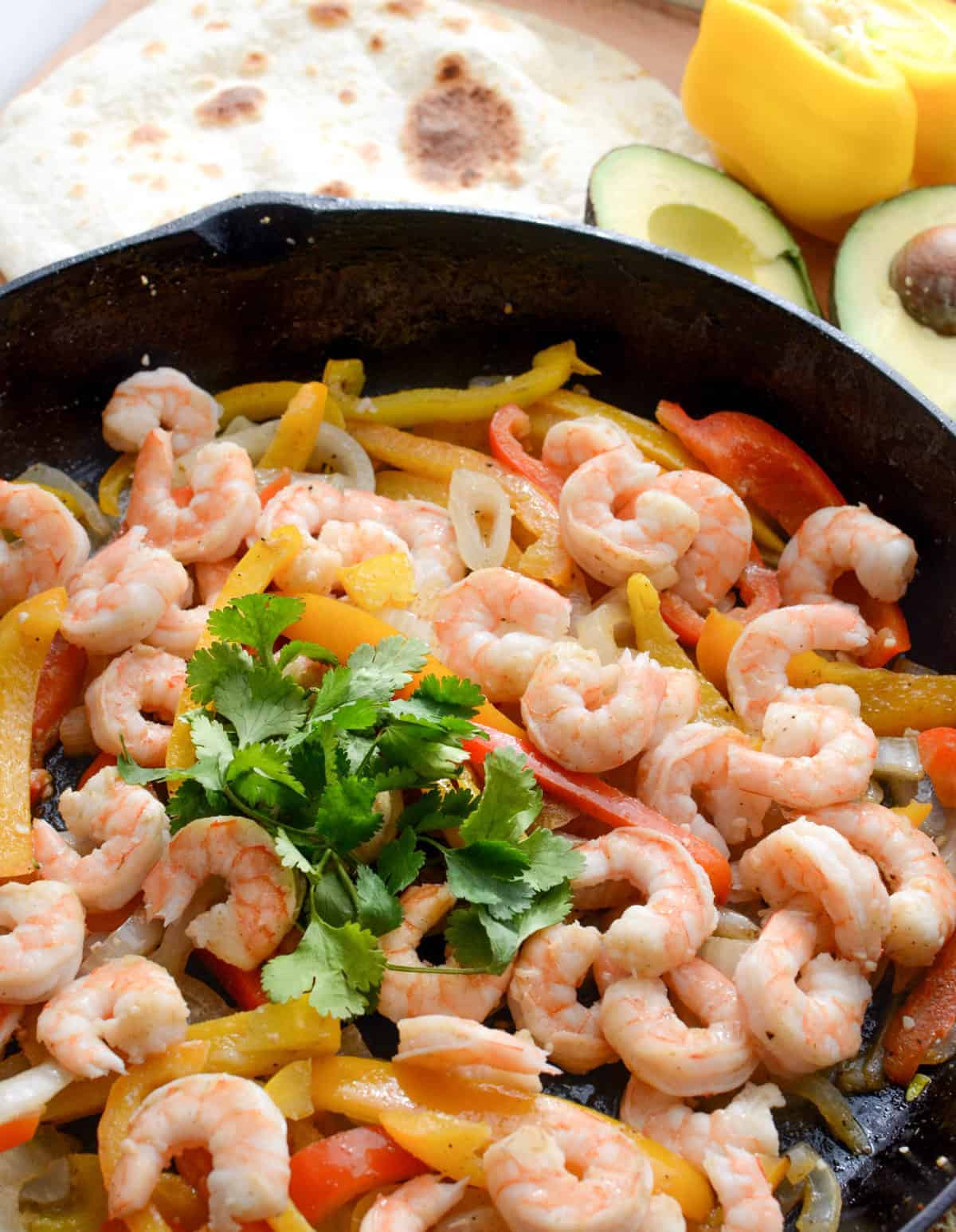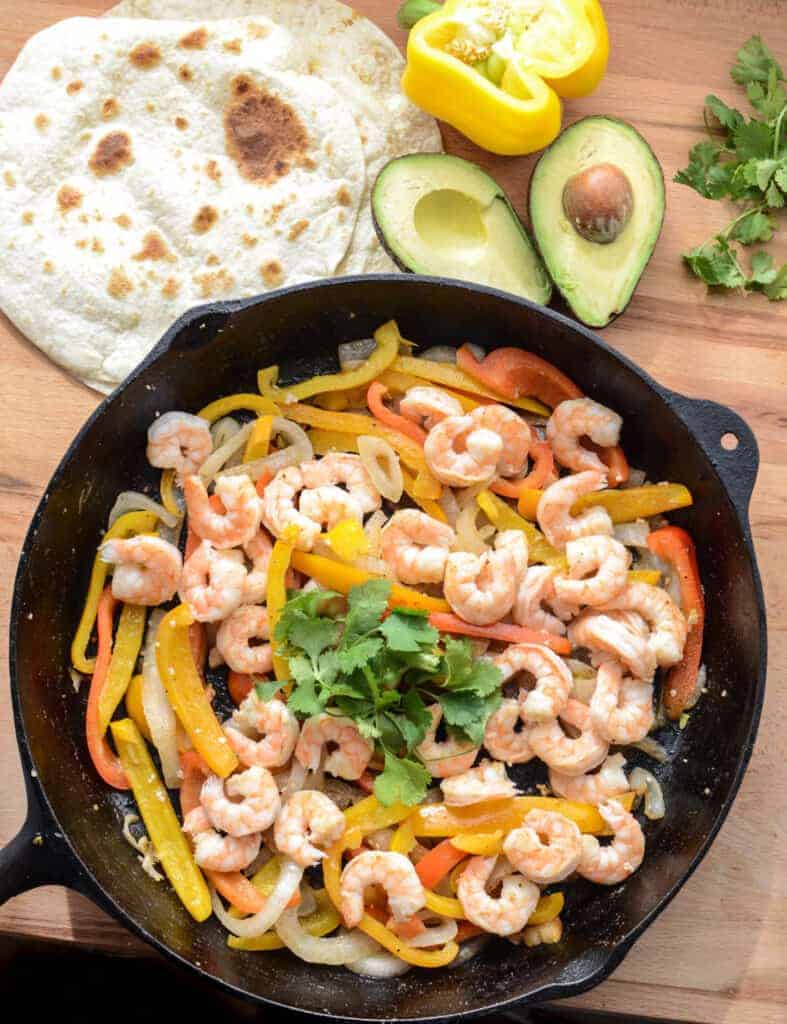 Shrimp Fajitas are one of my favorite super quick meals to make. Shrimp is a bit of a splurge but it's so very good once in a while. I love it because it does cook up fast and that means dinner is done in a hurry. If I forget to thaw the shrimp in the afternoon I'll just put the frozen shrimp in a colander and run them under cold water for a minute and then changes the water temperature to just tepid. They thaw in just a few minutes and I'm ready to roll. I like to make this on a Friday night when I'm not eating out but wish I were. The shrimp feel extra fun, it's easy which means I'm not in the kitchen all evening, and if you can put guacamole on it, I'm in heaven. Make this recipe friends, you are going to love it!
My kids are crazy for shrimp, but I won't let them pick them out of the pan to eat. If they are going to enjoy the shrimp, they get a scoop of the fajita mixture in a tortilla or on their plate. They get to eat the peppers along with everything else in order to enjoy the shrimp. They get shrimp, I get the satisfaction of knowing they ate a few vegetables. Also, I like to use the colored peppers because they are sweeter and less bitter than just green peppers.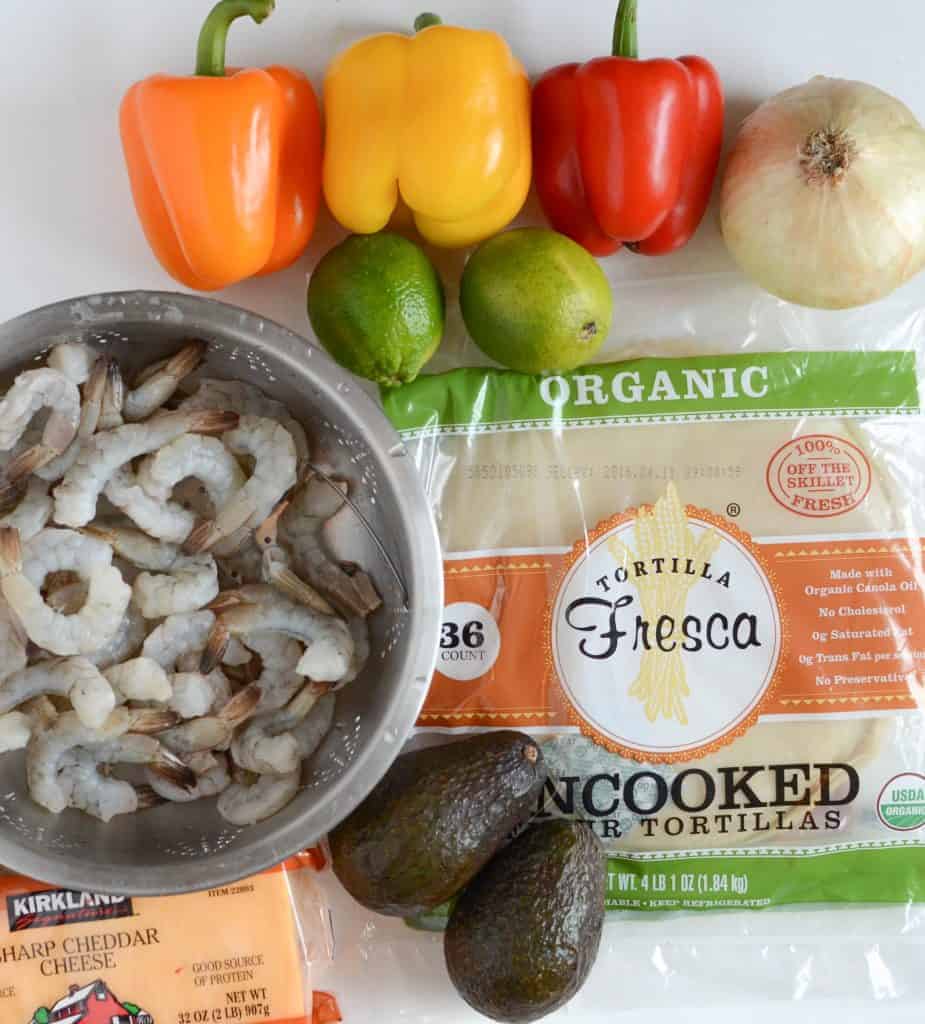 Print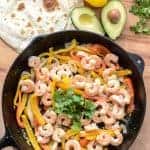 Simple Shrimp Fajitas
---
Ingredients
1 pound raw frozen shrimp, thawed (deveined, peeled, tail-on)
2 tablespoons butter or olive oil
1 teaspoon minced garlic
1-2 tablespoons olive oil
1 red bell pepper, cut into strips
1 orange bell pepper, cut into strips
1 yellow bell pepper, cut into strips
1 large onion, cut into thin strips
1-2 tablespoons cumin
salt and pepper
juice of one lime
To Serve
Cooked fresh tortillas
Grated cheese
Your favorite salsa or pico de gallo
Black beans
Avocado
---
Instructions
Preheat a large skillet over medium high heat. Add the butter and garlic and stir until the butter is melted. Add the shrimp and cook, stirring often, until the shrimp turns pink, about 4 minutes. Remove the shrimp from the pan and carefully wipe out the pan.
Return the pan to medium high heat and add the olive oil. Add the peppers and onions and cook until the peppers are tender-crisp, about 5 minutes. While the vegetables are cooking, remove the tails from the shrimp if they came with them on. Add the cumin, salt and pepper to taste, and the juice of one lime, stir to combine. Add the shrimp back to the pan, stir, cook until the shrimp are warmed again and then remove from the heat and serve right away. Serve on warm cooked fresh tortillas with cheese, salsa/pico, avocado and/or black beans.
Notes
Notes: If shrimp isn't your favorite, you can replace it with chicken or steak, just be sure to cook and season the meat properly. If you'd like to grill the shrimp on the grill instead of cooking it in the pan that would also be really delicious.
For this recipe, I recommend:
[asa_collection btmp]skillet_nachos[/asa_collection]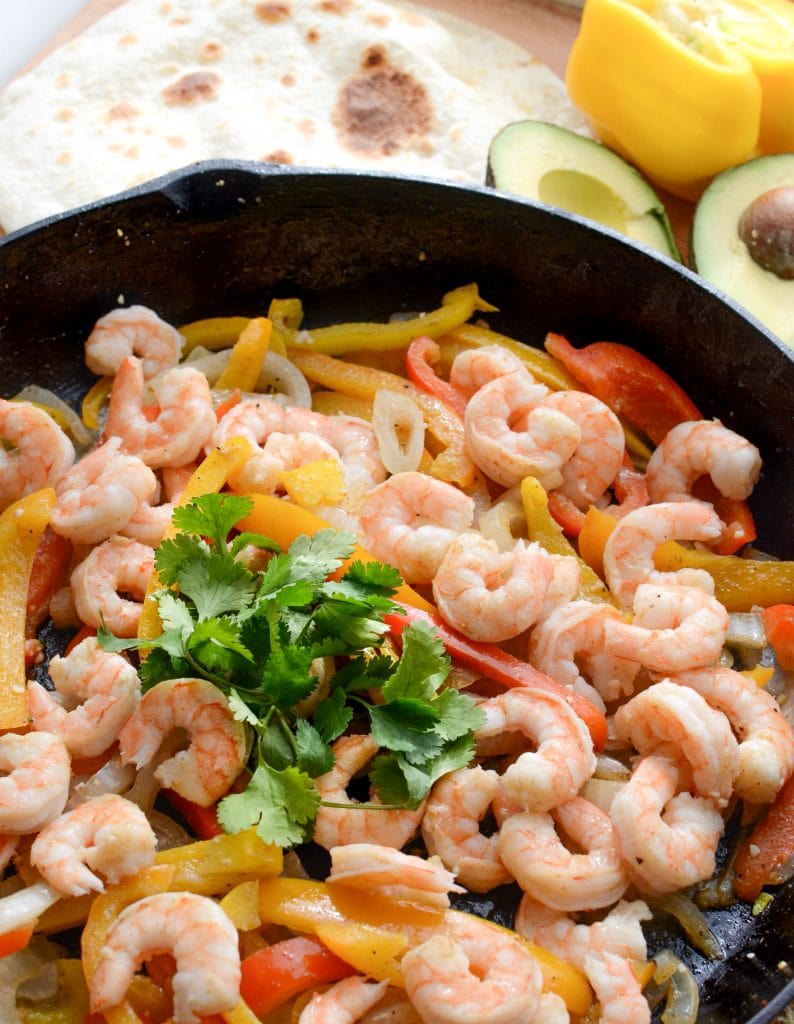 I think I might make these again for dinner! This recipe is so good with my favorite blender salsa (perfect for when tomatoes aren't in season).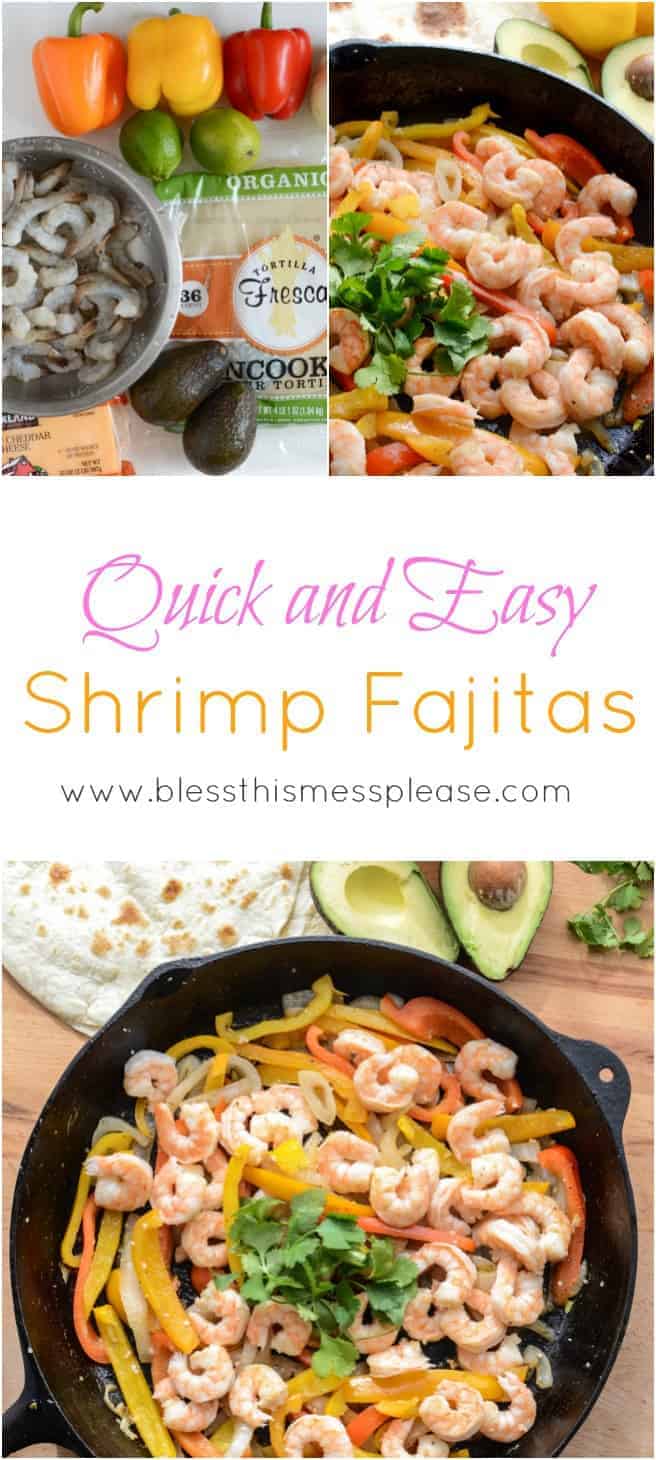 This year has been one of growing pains for the blog. I'm in the middle of getting an email list all set up (it's harder than it sounds), I'm working on collecting emails via popups (hello, free smoothie book!), I'm learning Adobe Lightroom for editing, I just finished a freezer to slow cooker ebook that took me 5 months to finish (it's at my designer! I can't wait to share it), and I just decided to write the book I've had in my head all along, something along the lines of weight loss, real food, and feeding a family.
For the last few years I've been trying to decide who I am as a blogger. Now that I have figured that out, I realized that it isn't about me. It's about you. Now I need to figure out who YOU are, dear reader. Who you are and how I can help you. Being helpful is the most important thing I can do for both of us.
Here's who I think you are – intentional parents, mostly moms, who want to do a good job feeding your kids healthy/real food but aren't against treats now and then. You are pretty well-balanced when it comes to eating but you always feel like you could be serving a few more vegetables and a few less treats. I also think you are busy and the "what's for dinner?" question is always lurking in the back of your mind. You like fast, family friendly, whole food recipes that don't cost an arm and a leg or include too many odd ingredients.
Is that close? Tell me I'm close 🙂 Tell me who you are!
How can I help? What do you need? Now I'd love to help you with your wardrobe and makeup but that isn't going to happen (I need my own help with all that), but when it comes to food, planning, food prep, mom life, and that kind of thing, what is your biggest struggle?
I'm going to give away a $25 Amazon gift card, at random, to anyone who answers these questions in the comments. I so value your time and I'm so grateful you are here. Thank you!