The joy of the holidays are over, the new year has begun, and it's back to the grind. If you are like me it's time to get a handle on your eating again. We eat healthy and balanced meals most of the time but I'll be the first to admit that I let our better habits slip a lot during the holiday season.
Choosing healthy options for your family doesn't have to be time consuming or expensive, and today's recipe proves that point. You are going to love this healthy 30 minute alphabet soup. It's kid tested and healthy mama approved. If putting a healthy meal on the table is quick and easy then you have no reason not to!
This past summer I grew a huge garden and canned my heart out. My pantry is plum full of delicious veggies that I pull out now, in the middle of winter, and enjoy. I know that most of you weren't able to do the same, so when I was given the opportunity to blog about something I would consider comparable to my own cans of garden veggies (and that is really saying something!) I took that chance.
Let me introduce you to Del Monte® canned veggies. I did some research about this brand and their product before I agreed to blog about it and what I found surprised and pleased me. Did you know that 90% of Del Monte's produce is grown in the United States? I was also pretty impressed when I read, "Del Monte fruit, vegetables and tomatoes are picked at the peaks of ripeness, with the majority canned the same day they are picked to lock in flavor, vitamins, antioxidants and essential nutrients. 95% of all Del Monte canned fruit, vegetable and tomato products are preservative-free." Fun facts that sure sold me on the product.
And then I tried it…delicious! I did a little blind taste test on my kids (and we all know how honest kids are) between Del Monte's green beans and the green beans that we grew and canned and the kids couldn't tell the difference. Neither could I for that matter. If a veggie canning company can compete with the produce that I lovingly grew and stored away then they are doing something right and have my stamp of approval. This recipe use lots of different canned vegetables which makes it a cinch to prepare. And you can keep the ingredients for the recipe on hand, because they aren't going to go bad if you don't get to the making it right away.
So next time you are out, stock up on some Del Monte vegetables, that way when you need a quick and healthy meal on a busy school night you'll have everything you need. It's like have a garden in your pantry, only you don't have to weed it. Now on to that soup.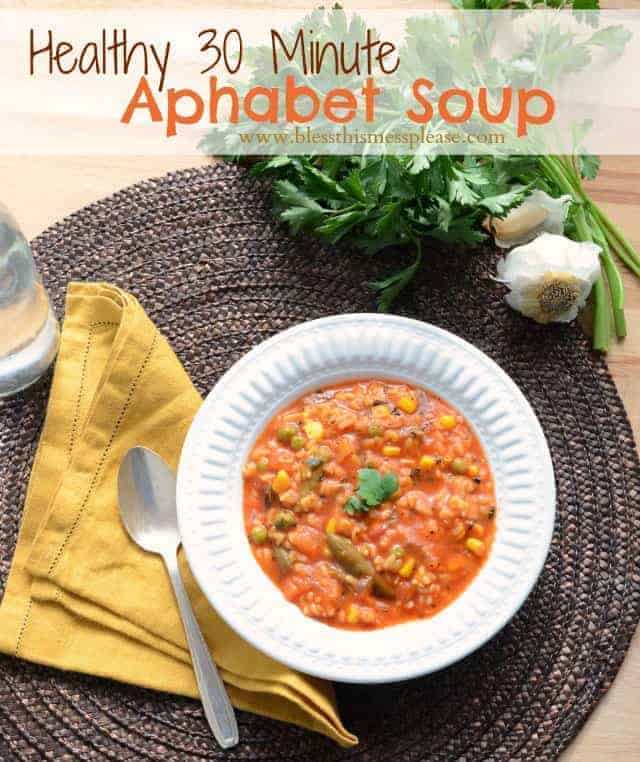 There is something magical about alphabet soup. Having all those fun letters hiding in it makes it so easy to dig in to. My little ones love finding the letters to their names and if they happen to eat tons of vegetables while doing so I'm not going to complain. This soup is thick and hearty without being heavy. With just the right amount of seasoning and a magical sweetness that comes from the use of ripe tomatoes in the tomato juice, this soup is going to please even the pickiest eaters.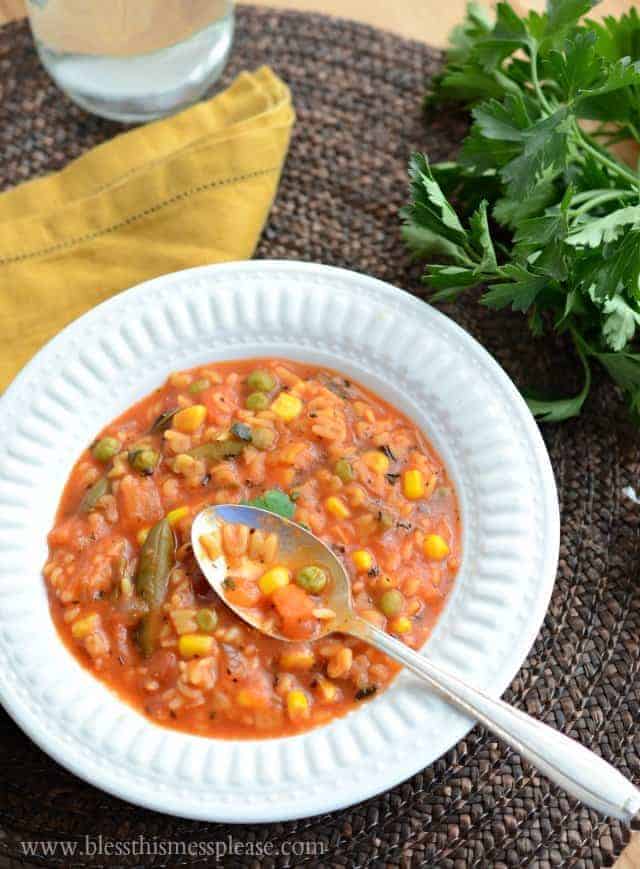 Here are the cans of veggies that I used. Doesn't back-lighting make everything look pretty? 🙂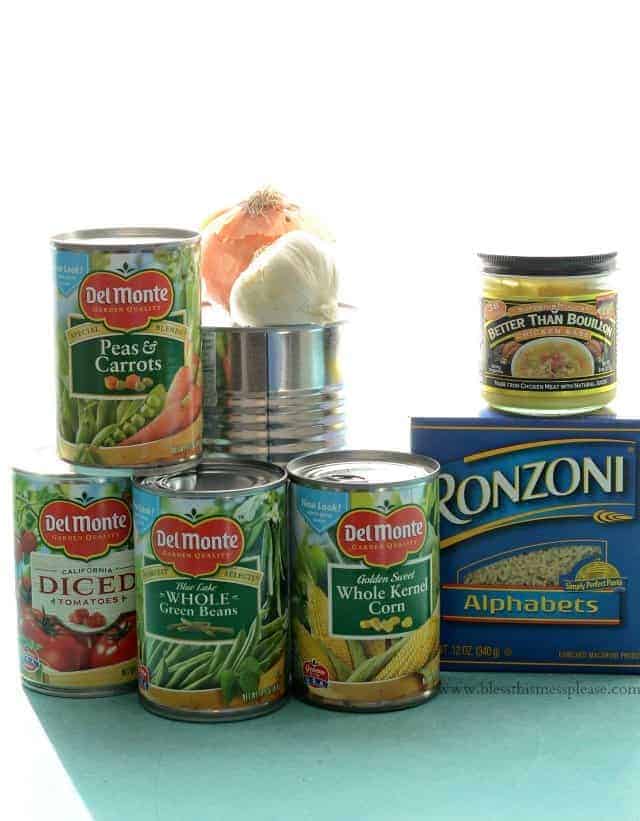 Print
Healthy 30 Minute Alphabet Soup
Ingredients
2 tablespoons olive oil
1 medium onion, finely chopped
3 cloves garlic, minced
1 46-ounce can tomato juice
1 14.5-ounce can Del Monte® Diced Tomatoes, undrained
1 14.5-ounce Del Monte® Whole Green Beans
1 14.5-ounce Del Monte® Peas and Carrots
1 14.5-ounce Del Monte® Whole Kernel Corn
1 14.5 ounce can full of water
2 tablespoon bullion base (beef, chicken, or vegetable)
3 tablespoons fresh minced parsley
2 tablespoons dried basil
1 1/2 teaspoons salt
1 12-ounce box alphabet noodles
salt and pepper to taste
Instructions
In a large pot, heat the olive oil and onion over medium-high heat until the onion is cooked through and translucent, about 5 minutes. Add the garlic, tomato juice, diced tomatoes (with the juice), green beans, peas and carrots, corn, water, bullion base, parsley, basil, and salt to the pan.
Continue to heat until the mixture is boiling. Add the alphabet noodles and continue to cook while the mixture is boiling for 10 minutes. Stir frequently. Remove the pot from the heat and allow the soup to rest for 5 minutes. Add salt and pepper to taste (don't be stingy on the salt!) and enjoy right away.
Notes
This soup is pretty thick, just the way I like it. If you'd like it less thick add a second can of water and adjust the seasoning to taste.
Y-U-M is right!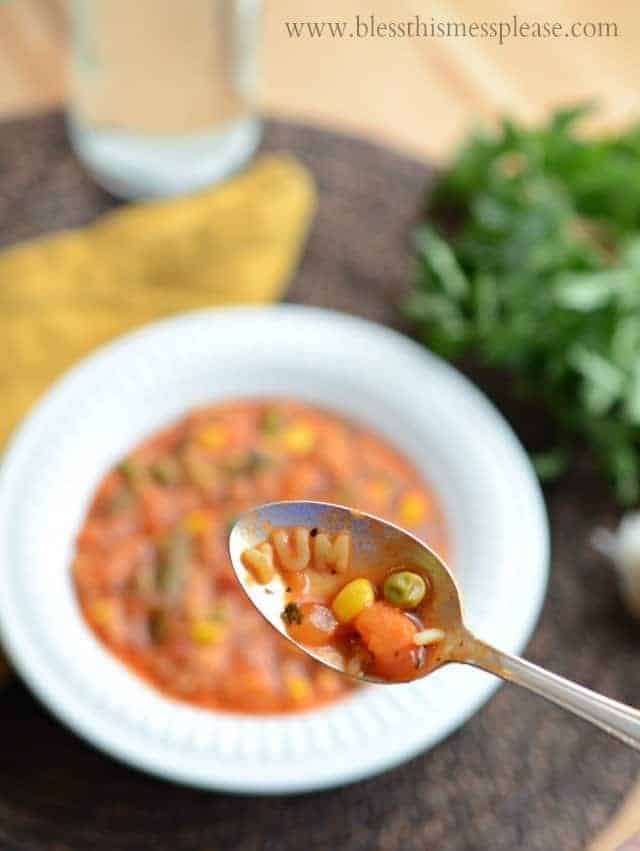 Wasn't that easy?! Open a few cans, let the pasta cook, and enjoy. Done. And here's something else fun. Del Monte is sponsoring a giveaway of a $100 Visa gift card to get you excited about their tasty products. All you need to do to enter is answer the following question in the comment section of this post. That's pretty easy too!
What are your favorite fruits or vegetables to stock in your pantry?
I'm never without green beans and pears. We love them. Delicious soup and a giveaway, now this is what I call a good post! And don't forget to check out the Del Monte Facebook page for great recipes and other food-driven fun! I hope you enjoy the soup as much as I enjoyed telling you about it, and good luck. Thanks so much for reading! You all make this hobby so very enjoyable.
Giveaway rules:
No duplicate comments.
You may receive (2) total entries by selecting from the following entry methods:
Leave a comment in response to the sweepstakes prompt on this post
Tweet (public message) about this promotion; including exactly the following unique term in your tweet message: "#SweepstakesEntry"; and leave the URL to that tweet in a comment on this post.
Blog about this promotion, including a disclosure that you are receiving a sweepstakes entry in exchange for writing the blog post, and leave the URL to that post in a comment on this post
For those with no Twitter or blog, read the official rules to learn about an alternate form of entry.
This giveaway is open to US Residents age 18 or older. Winners will be selected via random draw, and will be notified by e-mail. The notification email will come directly from BlogHer via the [email protected] email address. You will have 72 hours to respond; otherwise a new winner will be selected.
The Official Rules are available here.
This sweepstakes runs from 1/6/2014-2/6/2014
Be sure to visit the Del Monte brand page on BlogHer.com where you can read other bloggers' posts!