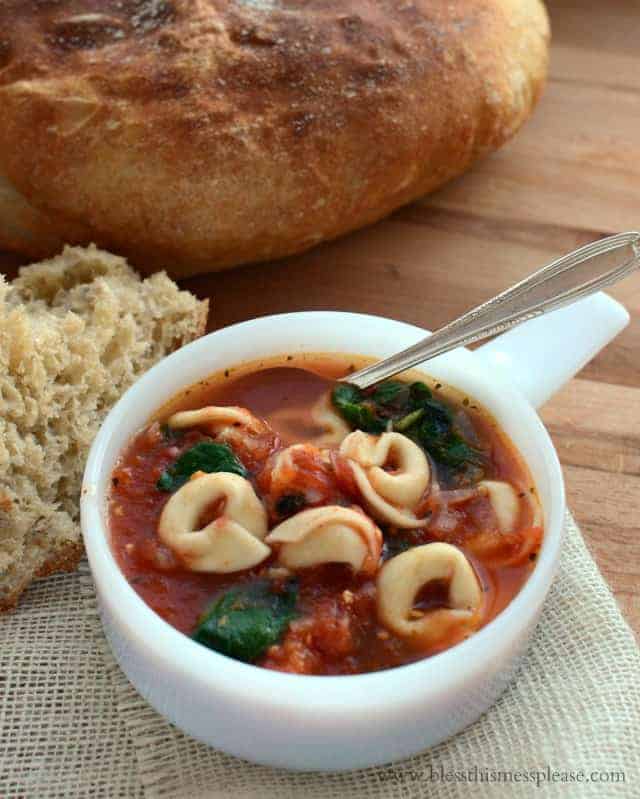 I put a picture of this Quick and Easy Tortellini Soup with Spinach on my Instagram feed the night that I made it and the crowds cheered! I thought I better post the recipe sooner rather than later so that you all could get right to making it! This soup is really simple, comes together in under 30 minutes, and is the perfect match for my Super Simple No-Knead Bread recipe. Have you tried that bread yet? It's amazing.
My kids like this soup because it was full of cheese tortellini, and I loved that they ate it because it's full of vegetables. The leftovers were even more delicious the next day, when everything had time to marry and blend.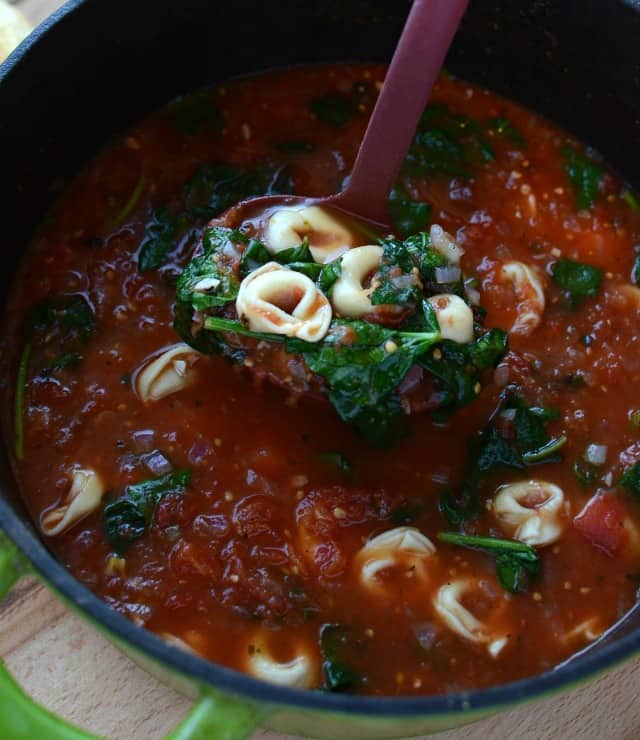 If you try this tortellini soup with spinach, let me know what you think! Leave a comment, pin it, and don't forget to tag a picture #blessthismesseat on Instagram. I love to see your kitchen skills in action!
Print
Quick and Easy Tortellini Soup with Spinach
Ingredients
2 tablespoons olive oil
1 large onion, finely chopped
2 cloves garlic, minced
8 cup tomato products (see notes)
2 cups chicken broth
1 tablespoon dried parsley
1 tablespoon dried basil
1 tablespoon Italian seasoning
3 tablespoons granulated sugar
1 package frozen or fresh cheese tortellini (about 19 ounces)
3-6 cups fresh baby spinach
salt and pepper to taste
Instructions
In a large stock pot or dutch oven cook the onion in the olive oil, over medium high heat, until the onion is soft, about 6 minutes. Add the garlic and cook until fragrant, about 1 minute. Add your tomato products (see notes), broth, spices, and sugar. Bring the mixture to a boil, reduce the heat to medium-low and simmer for 10-15 minutes.
Add your tortellini and spinach and cook until the tortellini is cooked through and the spinach is wilted, about 5 minutes. Add salt and pepper to taste. Serve hot right away.
Notes
You have a lot of options when it comes to what tomato products you choose to use. I used 2 quarts of home-canned whole tomatoes in their own juice. I have made this before using 2 cans of diced tomatoes and tomato juice, and I have also made it using whole tomatoes in their own juice and I just diced the tomatoes before adding them. Crushed tomatoes on their own or crushed combined with diced are also a good option. You want about 8 cups of tomato product total. I don't recommend using tomato sauce though because you'll feel like you are literally eating pasta sauce with a spoon. You'll want the consistency of the finished dish to be thin and soupy. If your soup is thicker than you like add more chicken broth and adjust your seasonings.
And my wouldn't your soup cook/look lovely in this pot? Mother's Day is almost here, right?!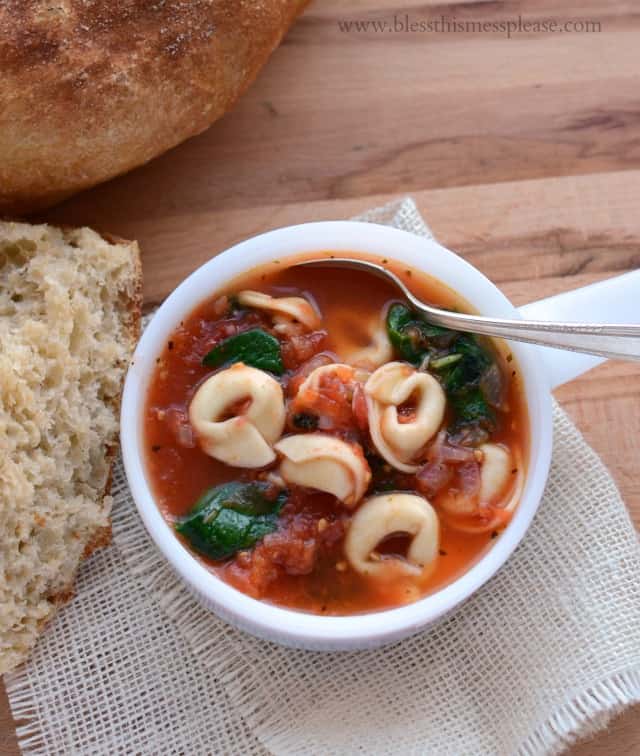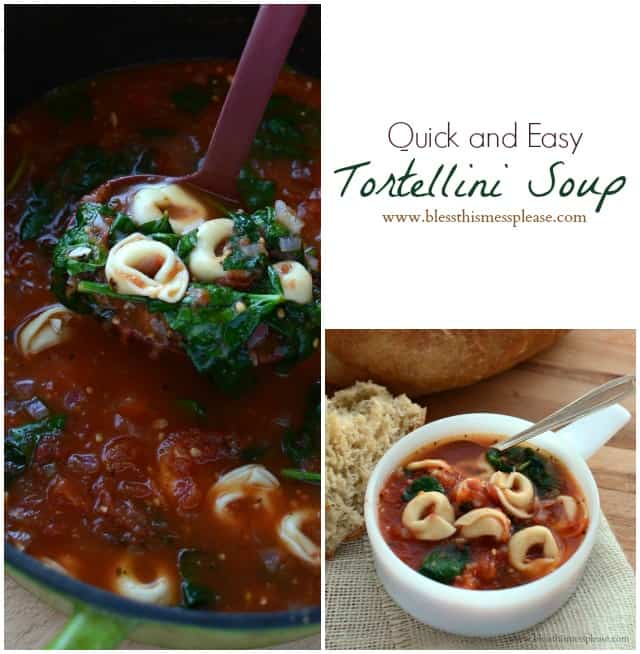 If you need more healthy family friendly dinner ideas, you'll love my e-book Real Food for Read Families. Learn more about it here.
Thanks so much for stopping in and enjoy that soup!