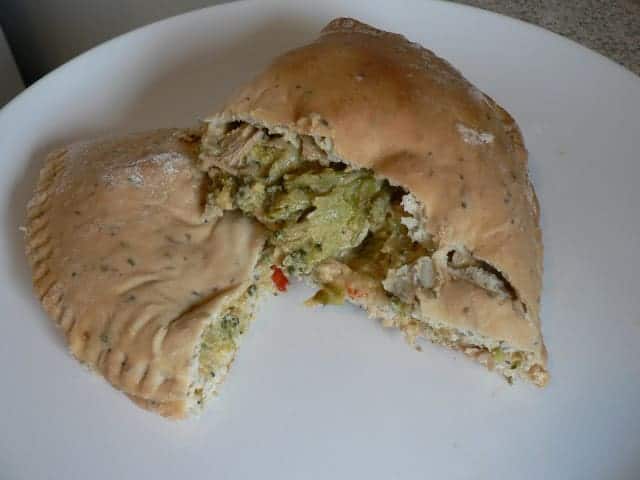 We are moving in just a few short months so I am in the "use what is in my pantry" mode.  This was a thrown together creation that is worth sharing.  The amounts and things can very.  Thomas said that he would like more chicken and less broccoli (what a boy…) where I thought they were just right!
Cheesy Chicken and Broccoli Calzones
1 to 2 cups cooked chicken or turkey shredded
2 cups broccoli steamed, roughly chopped
1 can nacho cheese soup undiluted
1 can cream of mushroom soup undiluted
1/4 cup finely chopped onion
1/2 t. salt
1/4 t. pepper
1/4 t. garlic powder
1 recipe Savory Dough 
Mix all of the "guts" ingredients together in a bowl.  Divide dough into 6 equal parts.  Roll each part into a 8-9 inch circle.  Put about a 1/2 cup of filling in the middle of each circle, favoring one side.  Dip your finger in water and wet the edge of the dough on half of the circle.  Fold the dough over, covering all the guts.  Use a fork to press the two dough halves together.  Place on a greased baking sheet or on a baking stone.  Bake at 350 degrees for 25-30 minutes until tops are golden brown.
If that doesn't make sense… let me know.  They are best reheated in the oven.
If you'd like it more cheese add some cheese to the stuffing!  Yum, some Sharp cheddar would go a long way…