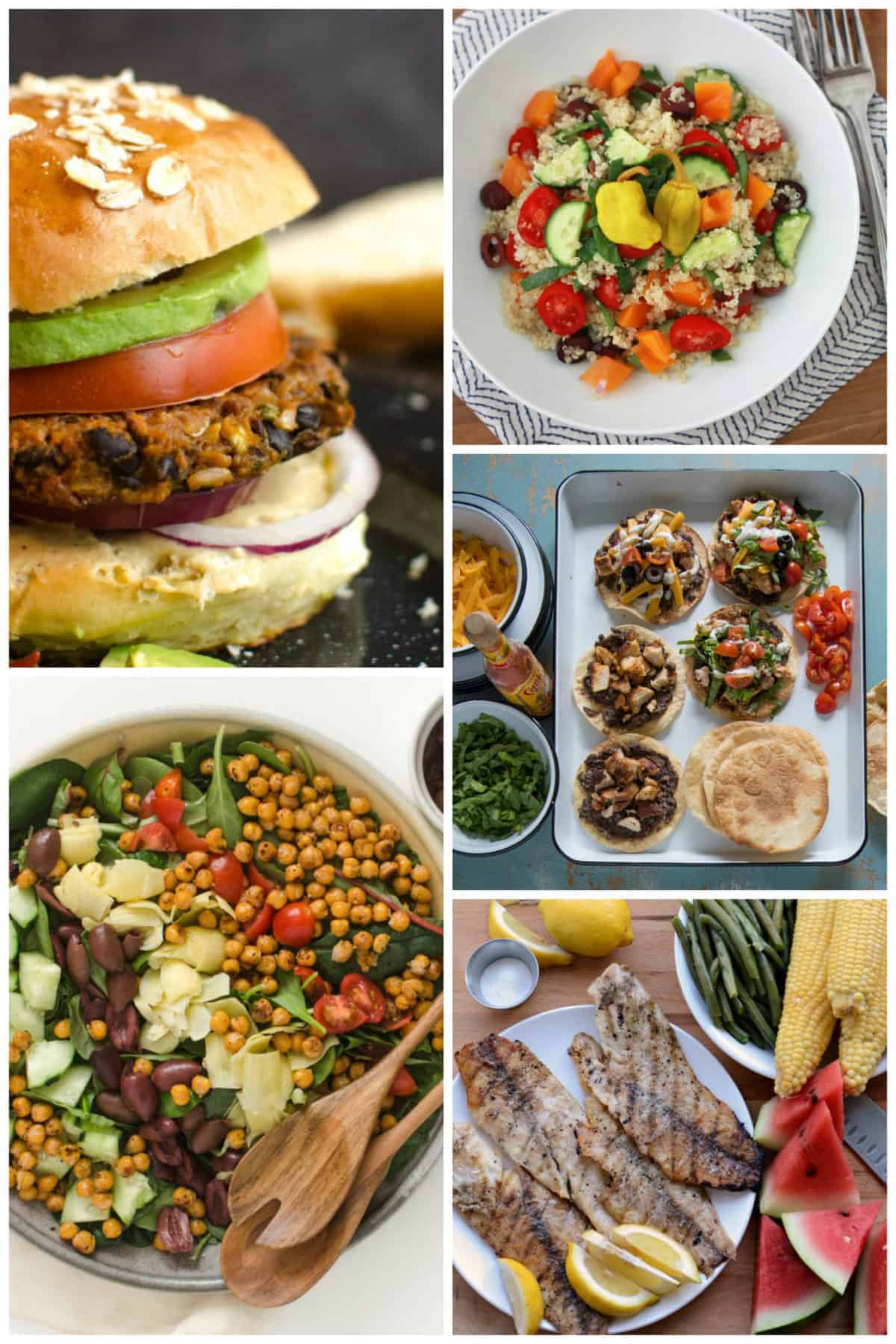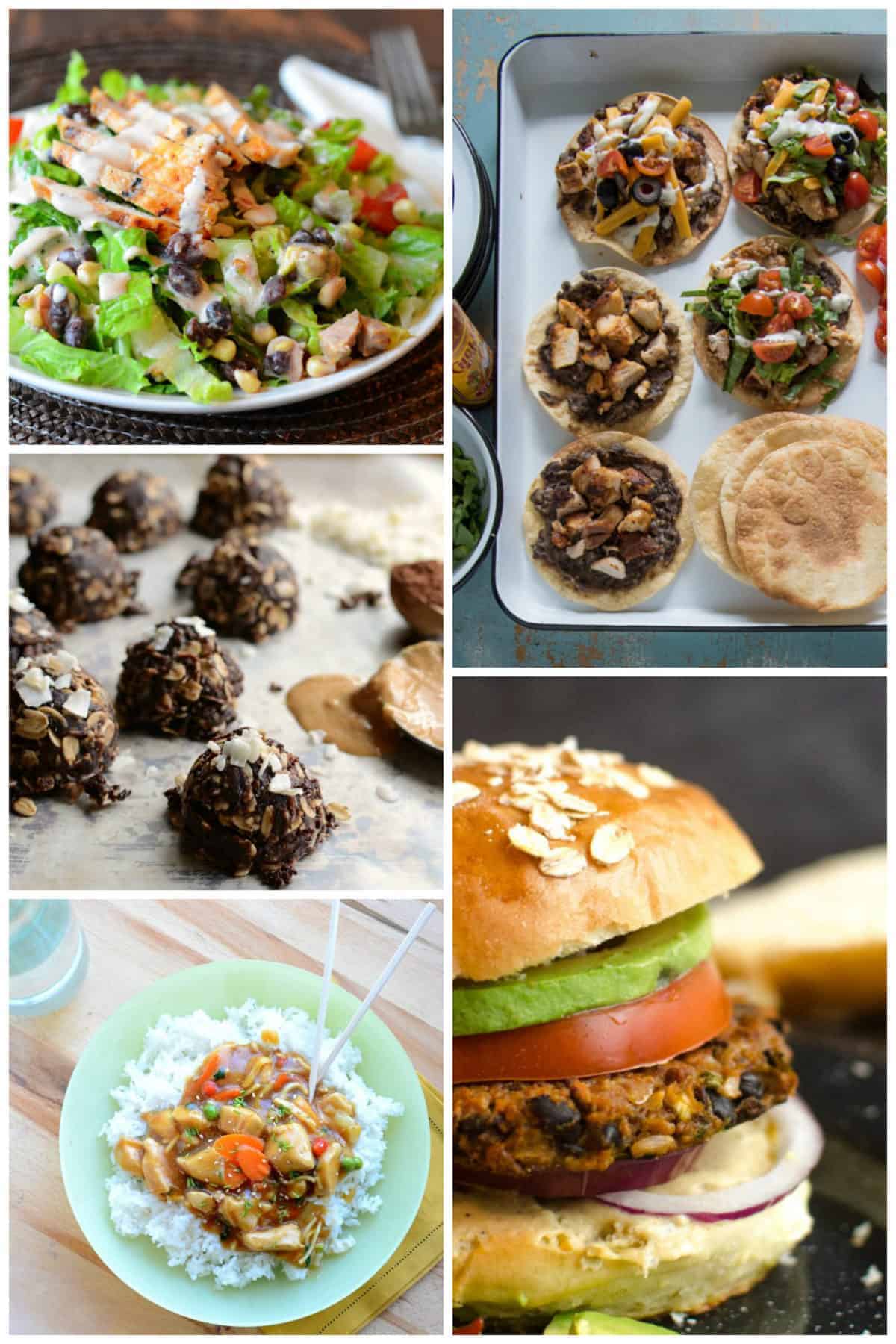 Eating clean isn't rocket science; it's planning! Get all my secrets for healthy eating, and a two week eating clean meal plan designed for summer.
If you want to feed your family well but aren't sure where to start, this is the post for you. I have a whole foods approach to eating that the whole family will love, no health food store needed.
This eating clean meal plan is something that I cycle through. We try to eat by my 80/20 rule (more on that at the bottom of the post), but when I feel like we are getting lazy or have had too many treats and cheat meals (read long weekends, holidays, vacations, and birthday parties), I'll stick to a super clean menu for 2 weeks to get us back on track and feeling a little more in control. I also do this pre-holiday season to gear up for the bounteous eating.
If you are wanting to make some changes in your own life, this is a great place to start… you can do anything for two weeks!
On to the 2 week menu for Summer Clean Eating. More of my thoughts on food and eating clean is at the bottom of the post! If you are new to this, you might like my 80/20 approach; it makes things feel more manageable to me.
Eating Clean Meal Plan: Summer Menu
Let me take the thinking out of eating real food for you. This eating clean meal plan is great! You are going to love all of the tried and true recipes I've been making for my family of seven for years.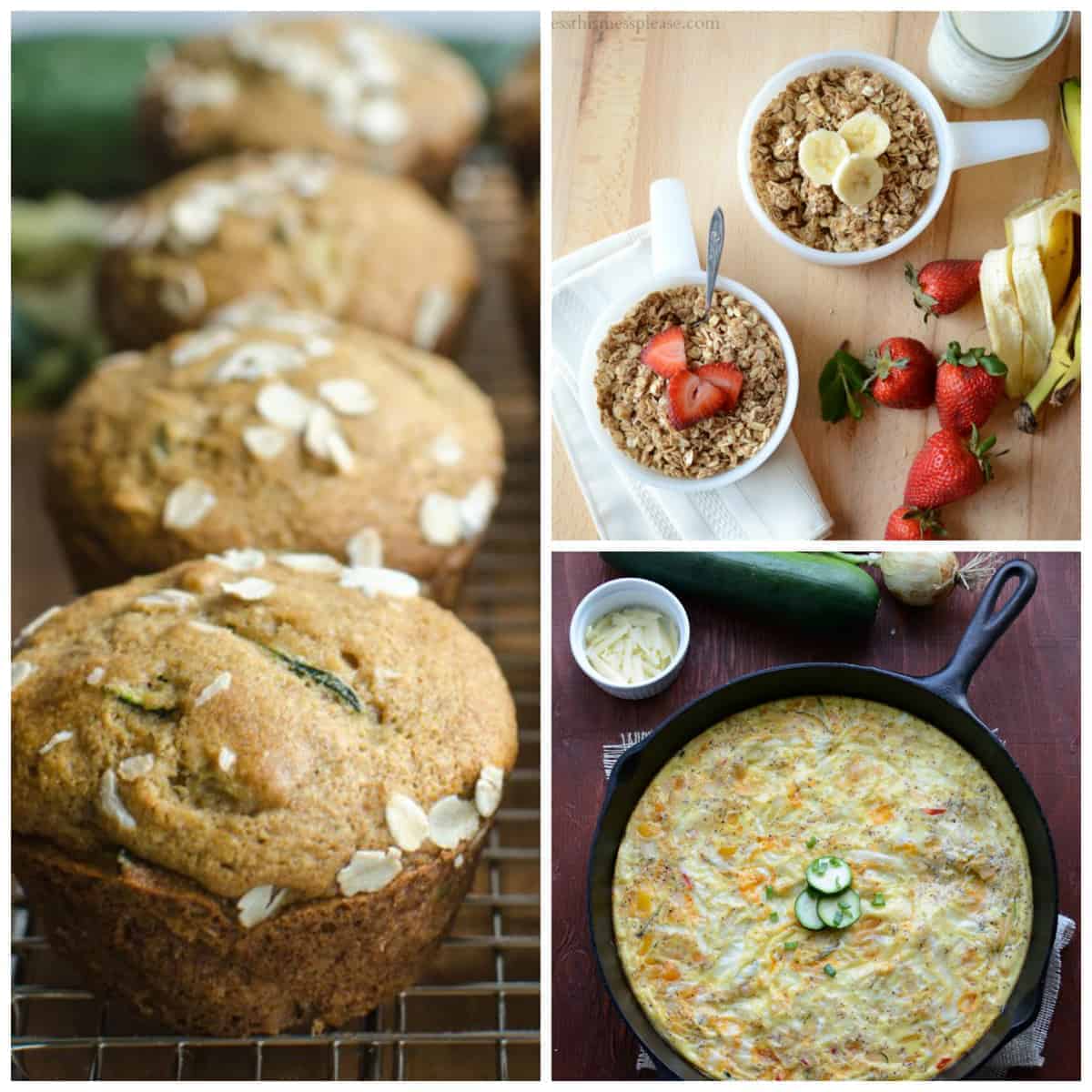 Breakfast:
I always have a huge batch of that granola on hand that we can eat with cold milk and frozen blueberries for days when we're in a rush. Definitely plan on keeping a few "convenient" things around to fall back on, or you'll feel like eating this way is way too hard.
Lunch:
Salad in a Jar. Have you started making salad in a jar yet?! This method is a super-convenient way to get veggies into your lunch. I highly recommend prepping a handful of these at the beginning of each week. Here's a list of my 9 favorite homemade salad dressings to try.
Sandwiches. Egg, tuna, chicken salad, PB & honey, or lunch meat (nitrate-free) sandwiches are great. Try plain yogurt instead of mayo in tuna, egg, and chicken salad.
LEFTOVERS!! This is definitely our most common lunch. When you are cooking every night, you'll find that you have lots of leftovers in the fridge!
Tex-Mex of all styles! Nachos, Taco Salad, Bean Burritos, Quesadillas (Homemade baked corn tortilla chips are just what you need!).
Notes: Nachos, you say? Yes! Costco has a huge bag of organic tortilla chips that are super cheap and are super tasty. I feel no guilt. Melt a little cheese on them, top with fresh veggies and salsa, and you have a perfect lunch. The tortilla chips are probably the biggest "cheat" you'll find in this eating clean meal plan, though I do sometimes make my own baked corn tortilla chips, which are also good.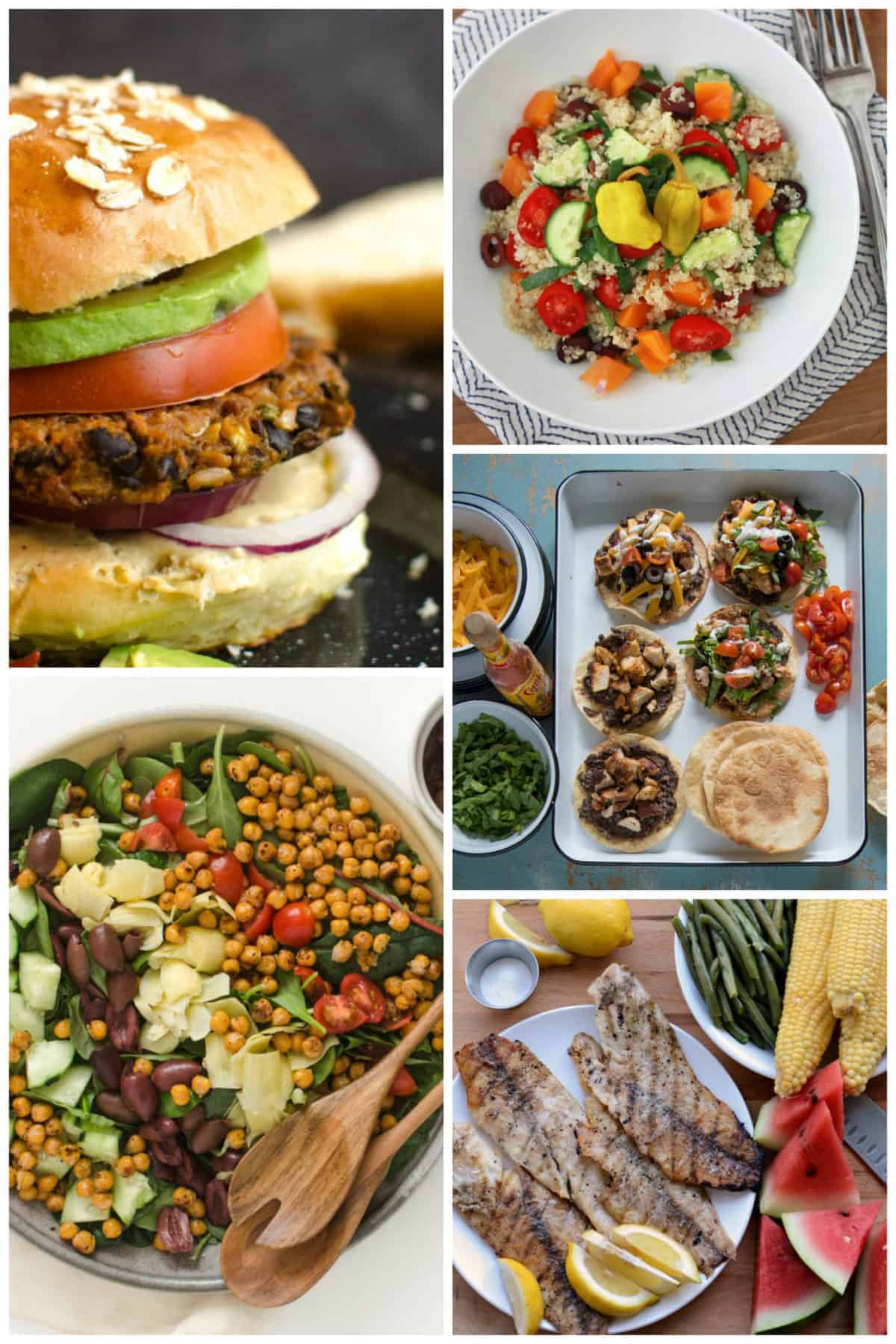 14 Clean Eating Dinner Ideas the Whole Family Will Love
Dinner is the hardest meal of the day! Here's an eating clean meal plan that is perfect for summer!
To make it even easier, I have created a simple PDF shopping list of everything you need to make the 14 dinners for this clean eating meal plan. Just click here to download!
Day 1: Healthy Chicken and Broccoli Tetrazzini.
Day 2: Quick and Easy 30-Minute Stir-Fry (use brown rice instead of white).
Day 3: Whole Wheat Overnight Pizza – Personal favorite and it's SO good.
Day 4: Perfect Baked Potatoes with Mediterranean Salad with Roasted Chickpeas (the printable shopping list assumes you are making the salad with the Roasted Garlic Dressing).
Day 5: Grilled Honey Lime Chicken Breast with Roasted Veggies.
Day 6: Burgers (elk if you have it) or Sweet Potato and Black Bean Burgers on whole wheat buns with perfect oven fries  – grill the chicken for tomorrow night while the grill is hot tonight! (Psst: The printable shopping list assumes you are making the bean burgers.)
Day 7: BBQ Ranch Chicken Salad with Corn and Black Beans. Replace the mayo in the dressing with sour cream.
Day 8: Crock-Pot Steak Carnitas in corn tortillas with all the veggies they can hold (have you ever tried cucumber on your tacos?! SO good!).
Day 9: Slow Cooker Quinoa Stuff Bell Peppers.
Day 10: Penne Rosa with Shrimp.
Day 11: Simple Grilled Fish Fillets served with Greek Quinoa Salad.
Day 12: Chicken Tostadas (easy to leave off the chicken and just do the black beans for a meatless meal).
Day 13: Butternut Squash Lasagna Roll-ups (look for butternut squash at the farmer's market at the end of the summer!).
Day 14: Slow Cooker Creamy Turkey and Butternut Squash Chili – use leftover squash from Day 13.
Sides for dinner.
If they aren't included in the recipe collection, then add whatever veggies you have on hand. I love to sauté up zucchini with a little onion, butter, and salt. Eat sliced garden tomatoes with salt and cottage cheese, or fresh cucumbers sliced with salt and pepper. This is such a good time to eat what fruits and vegetables are available! I plan on lots of corn on the cob in the summer too. Use melons in all shapes and sizes, cherries, berries, and peaches to round out the meal. No garden? Bug your neighbor (I'm begging for people to take things off my hands in the summer and I know I'm not alone!) or hit up the farmers' market. When things are in season, they're not only fresh and super tasty, but they are also cheap. Roadside stands are also good options for local produce.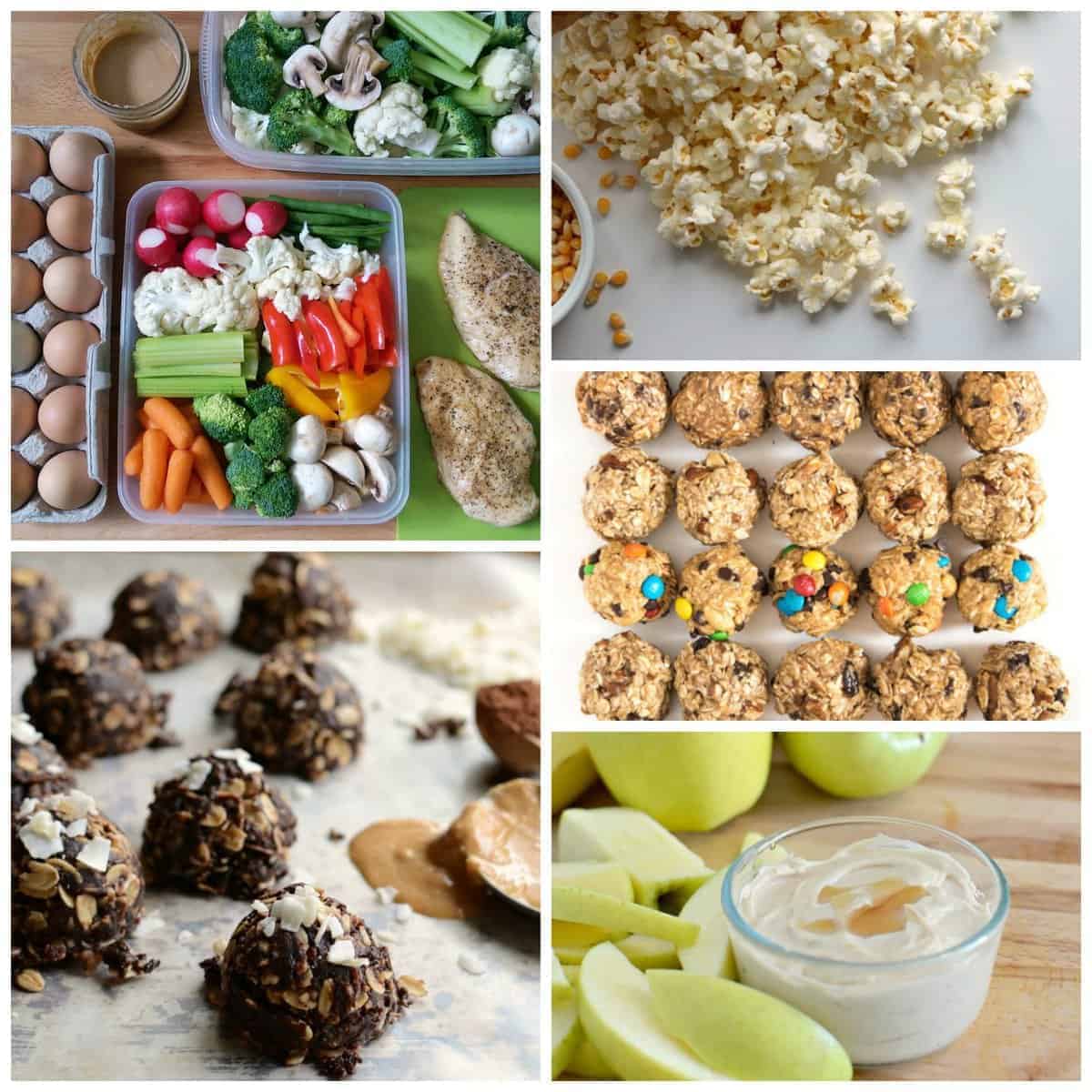 Snacks:
You have lots of snack options that go beyond sliced fruit, vegetables, and string cheese sticks, but don't discount those simple options as well.
I always keep a veggie box in my fridge. It's the best thing ever, and makes it way easier to eat veggies regularly!
One of my 8 No-Bake Oatmeal Bites are always in my fridge! My kids LOVE these.
Smoothies in all shapes and sizes.  Just don't get tricked into using sugar if your recipe calls for yogurt. Read that label!
Whole Peanuts. Peanuts in the shell are so much more fun to eat if you don't mind the mess. Trust me.
Popsicles. Strawberry banana are a favorite around here. I make a double batch of smoothies and freeze half in popsicle molds all the time, but you can also try freezing a 100% fruit juice for easy popsicles. Popsicles are the easiest way for my kids to enjoy fruit and hidden veggies.
Boiled Eggs.
No-Bake Date Balls. The peanut butter and jelly ones are our favorite.
I always have a loaf or two of 100% whole wheat bread ready to slice and butter. Just toast a piece and spread peanut butter on it for a really good and filling snack.
Healthy Fruit Dip. This is perfect with apples for some extra protein and fat.
Eating whole foods (meaning you are cutting out things that are processed, ingredients you can't read, and refined sugars and flours) is so much more than food. Keep reading to see my food philosophy and how to make this a lifestyle change and not just a 2 week diet.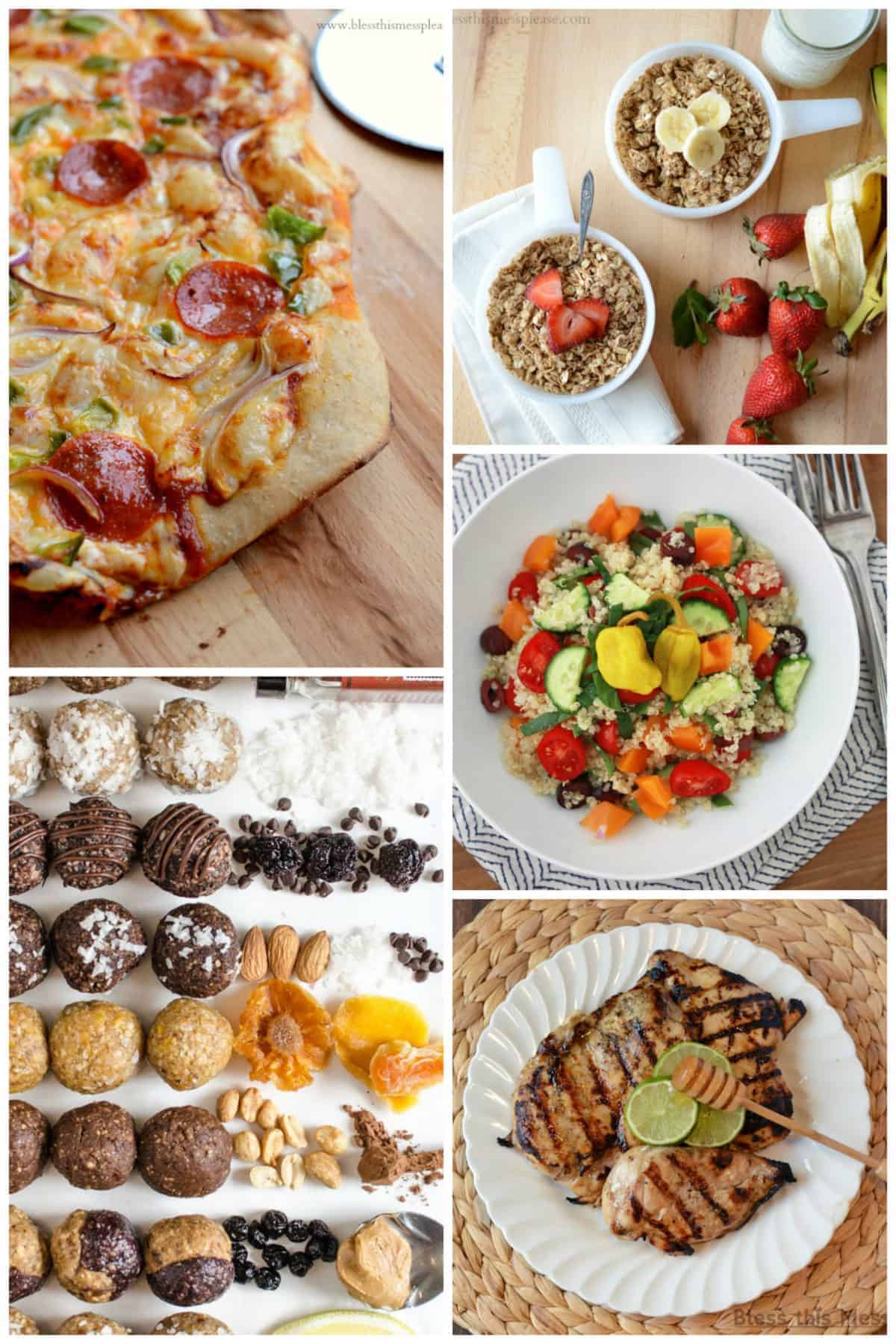 It's taken me just about 5 years to decide what eating well meant for me, and I feel like it's totally accessible. You don't need a health food store and a million dollars to eat well; just making a few small changes will get you on the right track!
Eating clean to me is:
80% of the time: Clean Eating
Avoiding: Processed foods, artificial colors/flavors/preservatives, refined flours and sugars.
Enjoying: Whole grains, lots of protein, green vegetables, and fruit. I don't have a pantry full of health-food-store-only-products; I tend to learn towards traditional or "old-fashioned" ingredients.
We eat whole wheat/grain everything (almost…). I have a wheat grinder (awesome investment) and grind my own flour for bread, muffins, biscuits, and rolls. We always eat brown rice and whole grain pastas.
We aren't afraid of fat. There are way creepier things used in fat-free foods to make them taste OK than the calorie savings are worth.
I know where most of our meat comes from, and we also enjoy lots of meatless meals. In fact, we are trying our hand at raising our own meat this year (!!). More on that here.
Buying local is more important to me than buying organic.
The more vegetables, the merrier. Grow a garden… it's amazing how much kids LOVE what they have invested themselves in and watched grow!
I'm scared of artificial sweeteners, colors, and flavors. I'm not kidding; avoid them like the plague!
If I understand what's in it and/or how it's made, then I generally will eat it.
Natural sugars like honey and pure maple syrup are worth the cost and are great things to learn how to use. No need to figure out all those crazy natural sweeteners when bees and trees got us covered.
You don't need a health food store to eat well… a back-to-basics method goes a long way.
The other 20% is: real life
I don't want to eat whole wheat cake with zucchini and agave for my birthday. We enjoy "normal" sugary treats when we have them.
I'd much rather have my kids eat my butter, sugar, and white flour chocolate chip cookies than anything made with a box of sugar-free Jell-O. I'm more scared of all that fake stuff than normal old flour, sugar, chocolate, and butter.
I don't tell my kids they can't have things when they are out of our house. Fruit snacks at play group? Sure. Cheetos at Grandma's? Go for it. I do however, try to make sure what they get in my house is good for them, 80% of the time.
I am intentional in my efforts to raise well-rounded kids who will try most anything, enjoy green smoothies, and who will never say no to ring pop.I don't want kids with food issues; balance is key.
Why am I telling you all this? Because it's something I feel passionately about and want to share with you: I want you to do it, too! Healthy, local, and sustainable food practices are good for you, your family, your community, and our world. What's not to love?!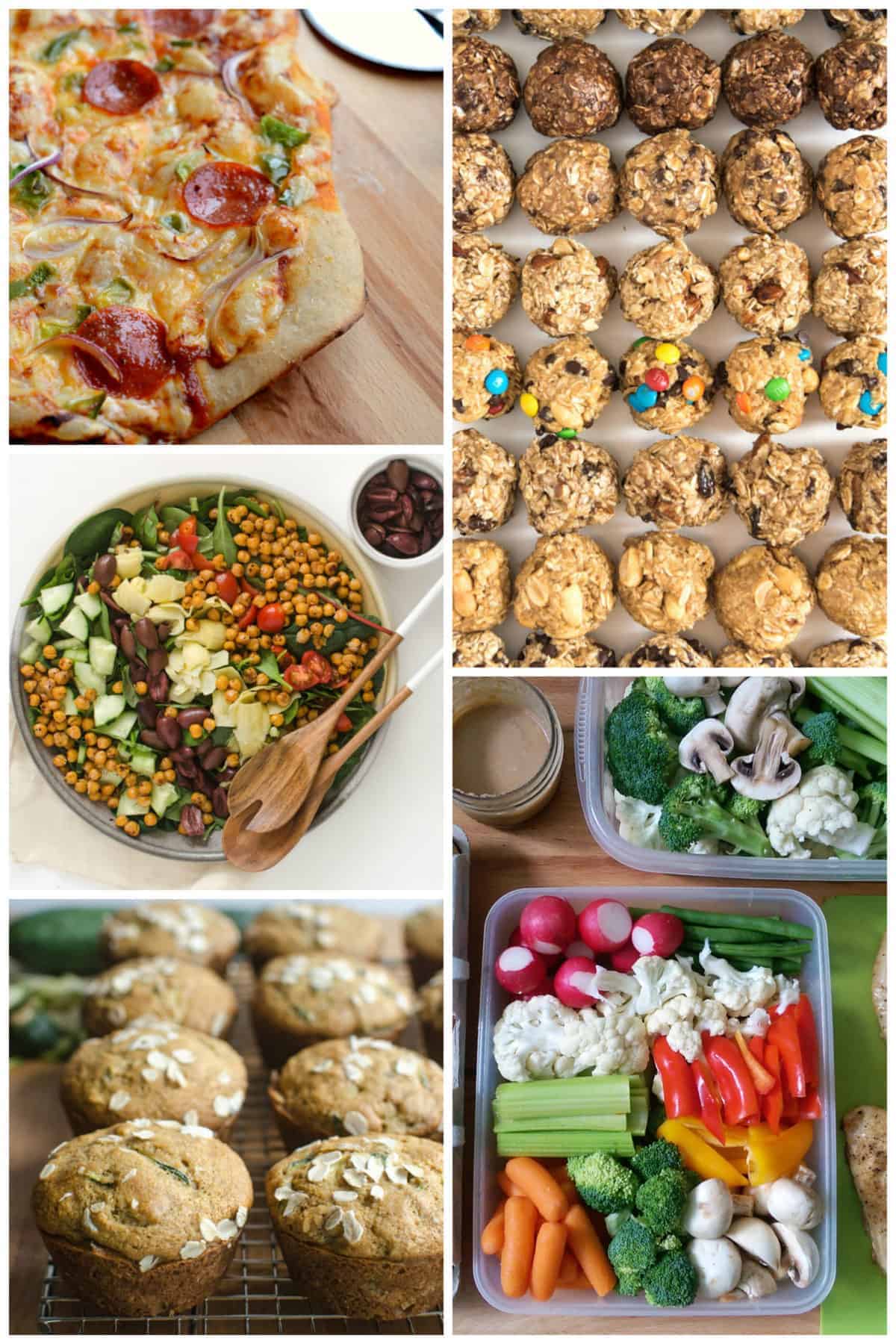 This is a message that I love to tell people about and hope that the message reaches lots of ears. I'd totally love you to pin and save this post for later to help spread and share the love. Together we can all eat a little better without feeling totally crazy about the process, and I think this is a pretty great place to start!
Thank you SO much for reading. I love blogging and it's because you all are there to love, help, support, and make my day.
Wait! It gets even easier!
I first wrote this post ages ago and MILLIONS of people have enjoyed it! I loved the post so much that I wrote a detailed ebook about feeding your family real food. It's a gorgeous full color PDF that will help you feed your family well and take the "What's for dinner" questions off your mind! Get all the details about Real Food for Real Families here. You are going to love it! It's a super long version of this post. It takes the guesswork out of real food, and helps you to feed your family well, no health food store needed.
Sign up to receive emails from Bless This Mess and get a FREE Clean Eating Summer Menu Printable Grocery List to make it even easier for you!
You'll get a once a week newsletter with freebies, exclusive recipes, and other great content that only comes in email from Bless This Mess. No spam. No junk. You can unsubscribe at any time.