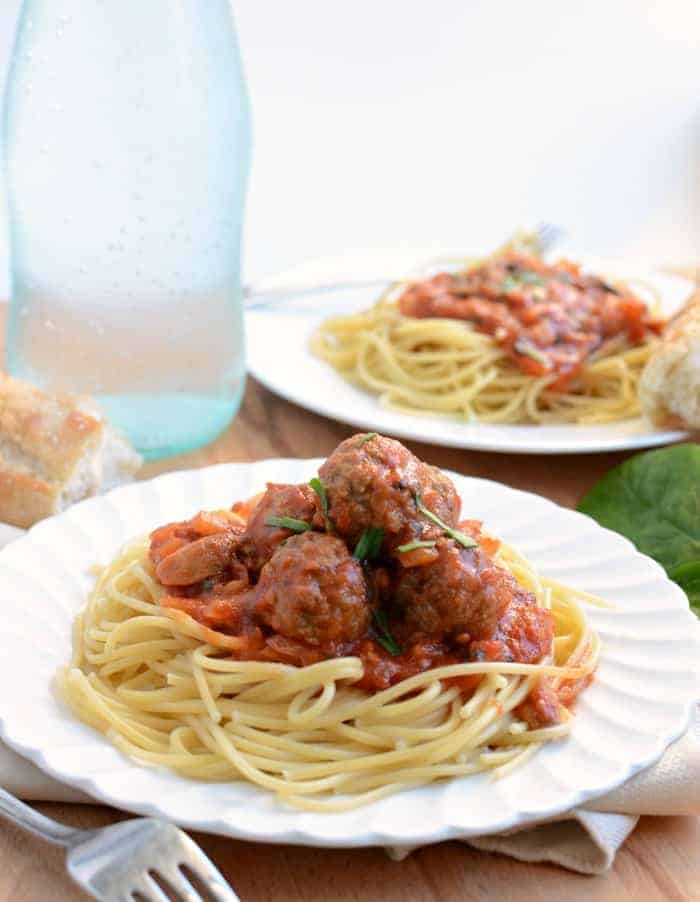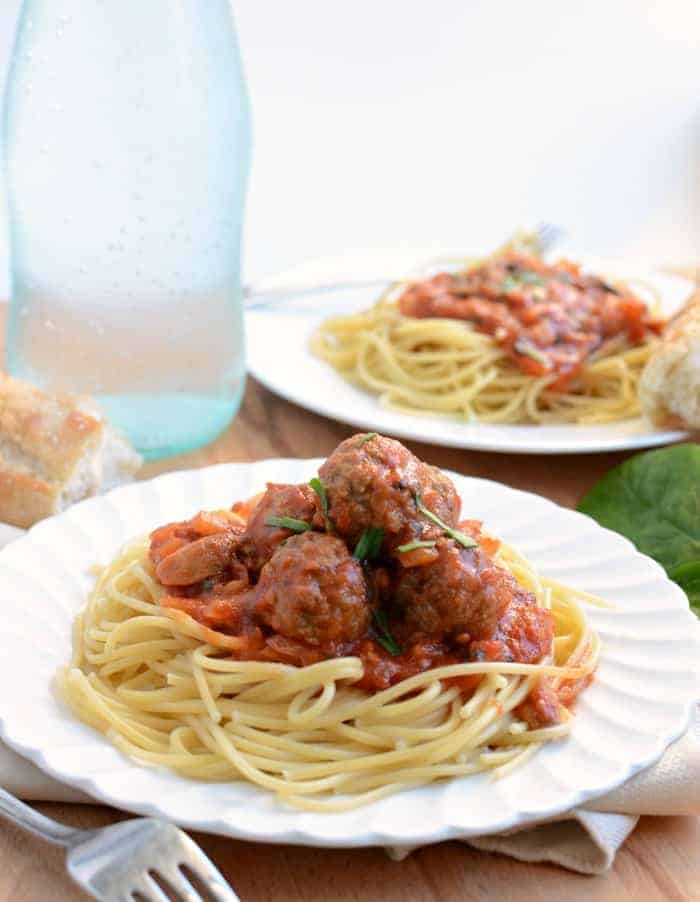 When I was growing up, my mom bought spaghetti sauce in a jar and that was fine, but I would  beg her to let me "doctor it up." I would sauté all kinds of things like mushrooms, peppers, carrots, and onion, then add the jarred sauce, extra seasonings, and a can of diced tomatoes. Just a few little changes made all the difference to that store-bought sauce, and I loved making the change.
Now that I'm cooking on my own, I've realized that making pasta sauce from scratch doesn't take much more effort than "doctoring" that jarred stuff. The idea is the same, but I skip all the extra ingredients in the jarred sauce that I don't want (lots have a heavy hand of high fructose corn syrup in them) and just use plain-Jane canned tomato sauce and a jar of home canned whole tomatoes (if you didn't can tomatoes last summer, you'll use diced tomatoes from the store). It's simple, comes together really quickly, and the results are delicious. The recipe I have for you today, Spinach and Mushroom Marinara with (or without) Meatballs, is full of spinach and mushrooms, both ingredients that are in season right now. The spinach cooks down beautifully and just looks like you used a heavy hand of fresh basil and the mushrooms add great depth of flavor. Not a mushroom fan? Chop them up nice and small and I promise you won't even know they are in there. And if you have kids in the kitchen, mushroom chopping is a great job for them. Soft mushrooms cut well with just a butter-knife so even your younger kids can help.
You can add meatballs to this dish or leave them out, totally up to you. I have a whole paragraph on meatballs for you after the recipes if you need a bit more information.
This spinach and mushroom marinara is also part of March's Eat Seasonal group, so keep reading, there's so much down there!

If you try this spinach and mushroom marinara, let me know what you think! Leave a comment, pin it, and don't forget to tag a picture #blessthismesseat on Instagram. I love to see your kitchen skills in action!
Print
Spinach and Mushroom Marinara with (or without) Meatballs
---
Author:

Yield:

Serves 8
Ingredients
1 tablespoon olive oil
1 large onion, chopped (about 1 cup)
4 cups fresh baby spinach, finely chopped
8 ounces white mushrooms washed and chopped or sliced
2 cloves garlic, minced
2 14-ounce cans diced tomatoes or 1 quart home-canned tomatoes
2 14-ounce can tomato sauce
1 tablespoon sugar
1 teaspoon dried parsley
1 teaspoon dried basil
1 tablespoon Italian seasoning
1 to 1 1/2 pounds cooked meatballs, optional
salt and pepper to taste
1 pound hot cooked spaghetti (or pasta of your choice)
---
Instructions
In a large skillet heat the olive oil over medium-high heat. Add the onion, chopped spinach, and mushrooms and cook until the onion is soft and translucent. Add the garlic and cook until fragrant, about 1 minute. Add the diced tomatoes and the tomato sauce as well as the sugar and all of the seasoning.
Stir to combine and cook over medium heat, stirring often, until the sauce thickens slightly, about 15 minutes. If you are going to add precooked meatballs, do that now. Cook until the meatballs are hot all the way through.
Salt and pepper to taste and then serve over hot cooked pasta with grated Parmesan.
Thoughts on meatballs:
This spinach and mushroom marinara is excellent without the addition of meatballs, but the meatballs also make it really fun. This is my normal meatball recipe – the recipe picture is old, don't laugh. I like to make a double or triple batch of them and stick lots in the freezer after they are baked. I just toss the cooked and still frozen meatballs in the sauce and let it gently simmer until the center of the meatballs are heated through. You could also use store-bought precooked meatballs and that adds no extra work on your part (I toss them in frozen too). If you are looking for a meatless "meatball" option, I love this chickpea meatball recipe from Wholefully. It's very good in the sandwich she recommends and I'm sure it would be fabulous in this sauce too. Take or leave the meatballs, the choice is yours.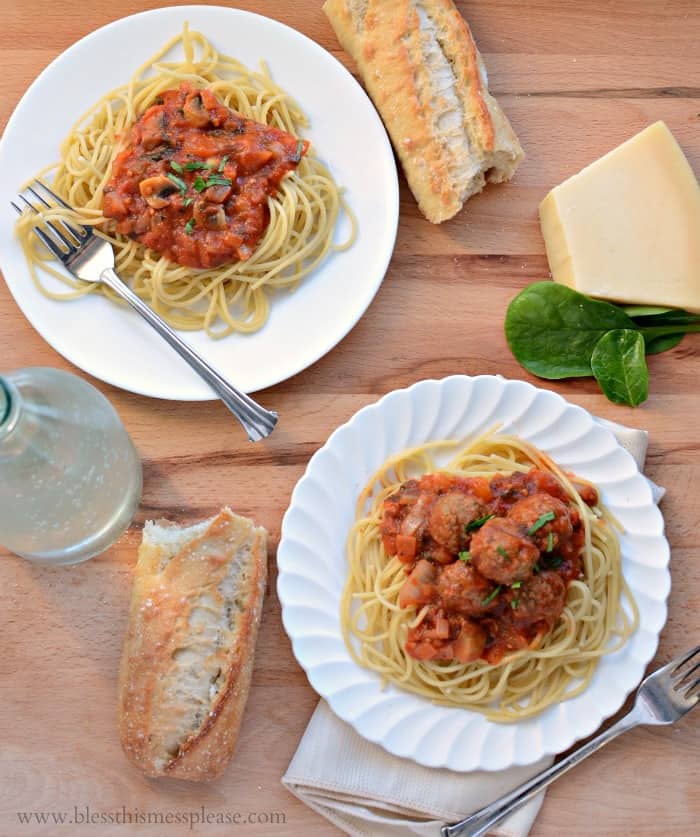 Here's that gorgeous infographic (that makes a great desktop background!) that Becky from Vintage Mixer put together. Who knew mushrooms had a season?! I love taking a long look at this seasonal produce guide every month. Now I have a better idea of what will taste the best and will often be on sale this time of year.
A few other bloggers and I have teamed up to make seasonal recipes and I have a whole list of their dishes for you today. So now you know what is in season and have a pile of new recipes to try using your seasonal produce. If you make any of these recipe, or any recipe for that matter using seasonal produce, you can use the #eatseasonal on social media and I'll be able to see your creations.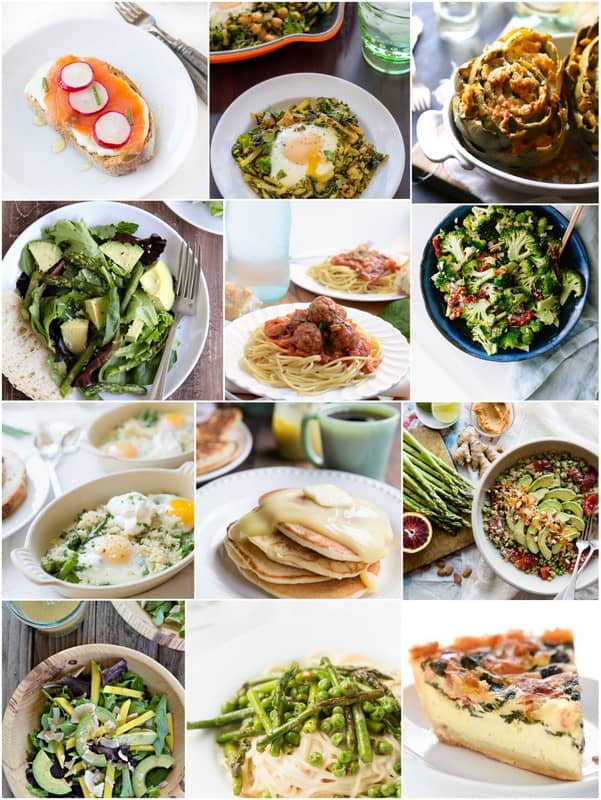 March Eat Season Recipe Guide
A Zesty Bite – Whipped Lemon Ricotta Open Faced sandwich
Well Plated – Curried Broccoli Chickpea Hash
Climbing Grier Mountain – Baked Buffalo Chicken Stuffed Artichokes with Blue Cheese
Completely Delicious – Roasted Asparagus and Avocado Salad with Lemon Vinaigrette
Cookie and Kate – Greek Broccoli Salad
Kitchen Confidante – Baked Eggs with Asparagus and Peas
Vintage Mixer – Lemon Ricotta Pancakes
Cafe Johnsonia – Blood Orange Asparagus Salad with Ginger Miso Dressing
Kelley Mountain Mama Cooks- Avocado and Mango Salad with Citrus Poppyseed Dressing
Oh, Sweet Basil- Creamy Garlic Lemon Butter Pasta
Foodie Crush – Spinach, Leek and Bacon Quiche
I can't wait to try those Lemon Ricotta pancakes this weekend! Enjoy this detailed post and have a great day friends.