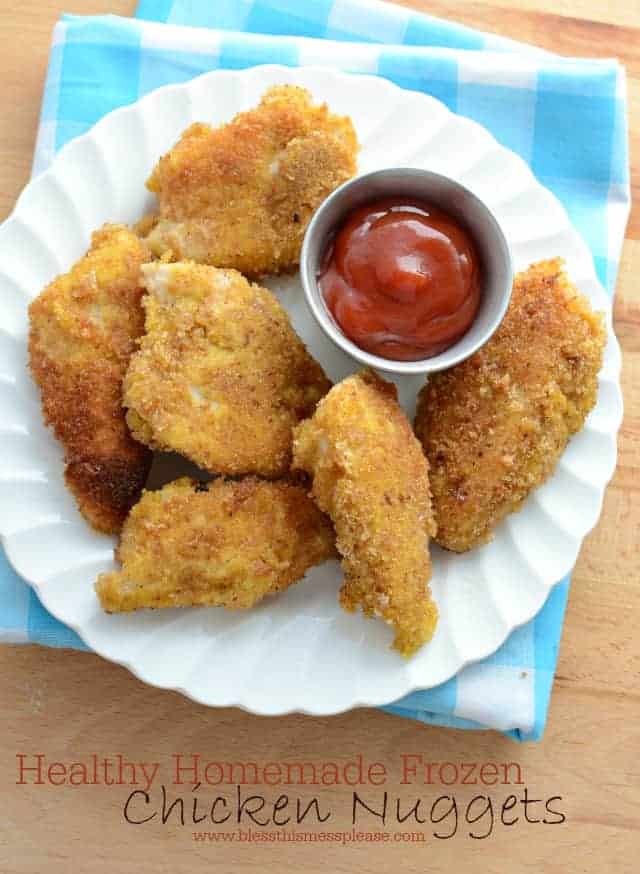 Some people get excited about new movie releases or album debuts, but what gets this girl is new America's Test Kitchen cookbooks, and boy do they have a new cookbook! I've been a longtime fan of America's Test Kitchen. My husband got me two of their books back in 2010 for Mother's Day and I've been hooked ever since; I've been adding to my ATK (America's Test Kitchen) collection for years and I have to tell you about their newest book that just came out yesterday! And because I like you, you can win a copy for yourself. Keep reading!
I thought ATK did a great job explaining their new book, The Make Ahead Cook
. Here's what they have to say about it.
During the extensive testing for The Make Ahead Cook, we developed 8 different strategies that provide solutions for the time-pressed cook who appreciates the ease of make-ahead meals, but demands great taste. Each chapter focuses on a different path in make-ahead cooking, taking into account a variety of needs, budgets, and lifestyles, adding up to what is essentially eight cookbooks in one. With one chapter dedicated to "Shopping Smart: One Grocery Bag Makes Three Dinners," you'll have the power to plan 8 different menus of 3 dishes each from 1 single grocery bag. Another genius chapter is our "The Sunday Cook: Big Roasts Plus Creative Second Meals" which makes use of one big roast for 3 pre-planned meals—think two roast chickens on Sunday transforming into chicken bread salad or penne with roasted chicken the next night. Whichever route, this book is here to help busy cooks along the way.
These are all of the chapters:
Make-Ahead 101
Prep Ahead: Ready-to-Cook Meals
Reheat and Eat: Make-Ahead Stews and Braises
Bake and Serve: Oven Ready Casseroles
From Fridge to Table: Ready-to-Serve Entrees
Shop Smart: One Grocery Bag Makes Three Dinners
The Sunday Cooke: Big Roasts Plus Creative Second Meals
Come Home to Dinner: Easy Slow-Cooker Favorites
Stock the Freezer: Big Batch Summers
You guys! I'm in love! ATK is so great about using real ingredients very smartly. You aren't going to find a can of "cream-o-anything" here, which I love. Every recipe takes up two whole pages. Each one has a large paragraph before the recipe about why it works, what they tried and didn't work, and why they eventually went with the method they did. I think this is why I love their books so much; I get an education every time I open them and I really love that.
I found myself spending a lot of time in the "Stock the Freezer" section and I've picked a homemade frozen chicken nuggets recipe from the book to share with you today!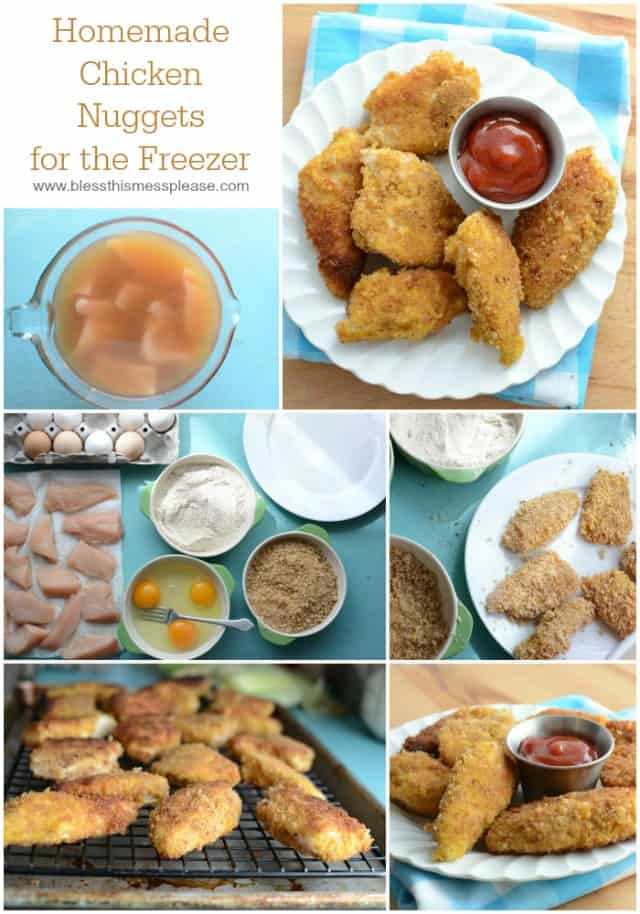 I'm always on the hunt for meals to stash in the freezer, but I'm never sure where to start. I make a few things, but I was so excited to get a list of recipes that I knew would work perfectly. Here are some of the recipes in the Stock the Freezer chapter: Creamy Macaroni and Cheese, Shepherd's Pie, Beef Tamale Pie, Chicken Pot Pie, Meaty Lasagna, Cheese Pizza, Meatballs and Marinara, and Chicken Fingers. Totally normal delicious food made to go in the freezer to be reheated and served at my convenience! And all of the recipes make enough for two meals, not just one.
Living in the middle of no where and having little to no access to restaurant eating took me a long while to get used to. Everyone needs a little convenience in their life, and I've struggled finding in when it comes to food. This my friends, this book just found it for me.
My kids, like all others, love chicken nuggets. They aren't something that I buy due to a high price tag and a long list of unnameable ingredients, so when I saw the recipe for make ahead and stash in the freezer chicken fingers I knew I had to try them. I'm excited to not only have options for me to use on busy nights, but also for Thomas to have and reheat on nights that I might go to a church function or blogging conference and leave him in charge of dinner.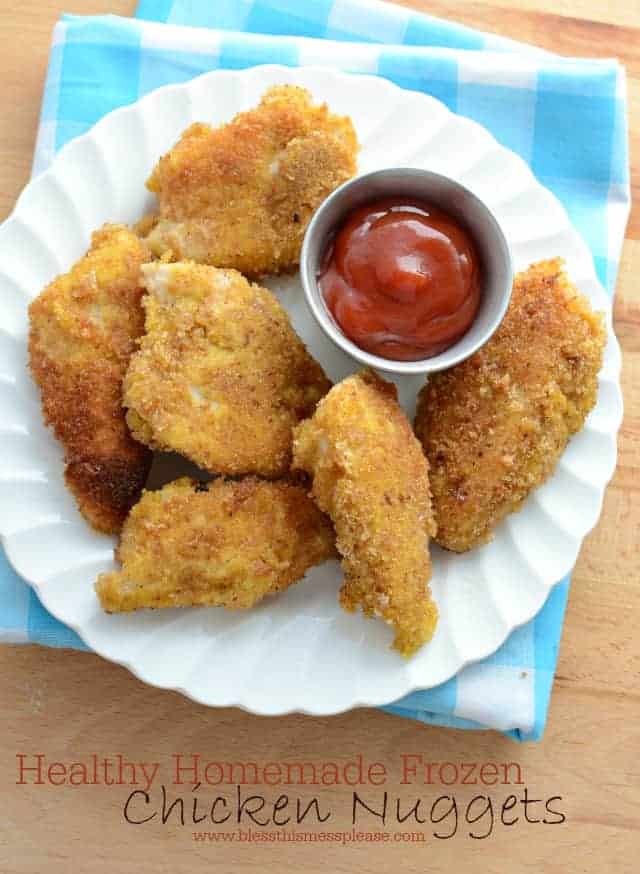 These were just as good as they look! A little pan frying went a long way in the initial cooking method. Then you just reheat them in the oven like any other frozen chicken nugget and they come out amazing. The trick to moist and delicious homemade chicken nuggets from the freezer comes from two things that The Make Ahead Cook
taught me. One was to cut the chicken into larger pieces (more chicken finger and less nugget) so that they don't dry out. The second was one I hadn't thought of. A quick 30 minute brine adds so much flavor and moisture to the chicken. See, aren't the folks at ATK smart? I ended up making a double batch of this recipe and now have enough nuggets in the freezer for 3 meals for our family! I'm pretty pumped about it.
Today I'm going to try the pizza (the crust sounds like it might actually work! It has things like half-and-half, corn starch, and baking powder along with all of the traditional yeast dough ingredients to make a great transition from freezer to table), and the macaroni and cheese. Because if anyone could pull off noodles that still look like noodles coming out of the freezer, ATK can.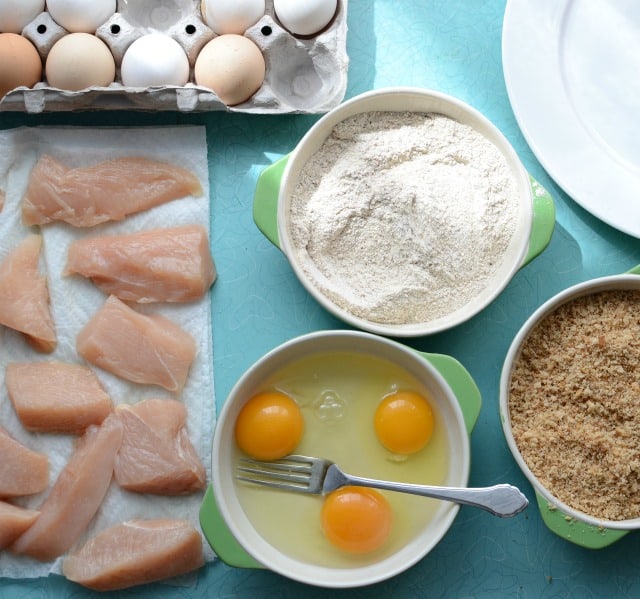 Print
Healthy Homemade Frozen Chicken Nuggets
---
Scale
Ingredients
Salt and peper

2 tablespoon

s Worcestershire sauce

1 1/2

pounds boneless, skinless chicken (Cut into strips that are

3/4

inch wide)

1/2 cup

whole wheat flour

1 tablespoon

onion powder

1 teaspoon

granulated garlic

3

large eggs

2 cup

s homemade whole wheat bread crumbs (see notes)

3/4 cup

vegetable oil
---
Instructions
To Prep:
Add 2 cups of cold water to a large bowl. Add 1 tablespoon of salt and Worcestershire and stir to dissolve. Submerge chicken in brine, cover, and refrigerate for 30 minutes.
Remove the chicken from the brine and pat dry with paper towels. Combine the flour, onion powder, granulated garlic, 1/4 teaspoon salt, and 3/4 teaspoon pepper in a shallow dish. Beat the eggs in a second shallow dish. Add the bread crumbs to a third shallow dish. Working with a piece at a time, toss the chicken in the flour, then dip it in the eggs, then coat with the bread crumbs. Transfer to a large plate.
Heat 1/4 cup of oil in a 12-inch skillet (cast iron works great here) and heat over medium high heat until the oil is shimmering. Cook one third of the coated chicken in the skillet until golden brown on each side (about 3 minutes per side). Remove the chicken from the pan and place it on a wire rack sitting inside a baking sheet to cool. Wipe out the pan and repeat with the remaining chicken, 1/3 at a time (so you'll cook a total of 3 batch of chicken nuggets). Let the chicken cool to room temperature, about 30 minutes.
To Store:
Transfer the cooled chicken nuggets to a freezer zipper-lock bag and seal. Freeze up to 1 month. Do no thaw before reheating.
To Finish and Serve:
Preheat the oven to 350 degree. Bake nuggets on a wire rack, set on a rimmed baking sheet until crisp and heated through, about 30 minutes. Flip the chicken half way through cooking time. Serve hot.
---
Notes
America's Test Kitchen's original recipe called for all-purpose flour (I used whole wheat), and Panko bread crumbs (I used homemade whole wheat), so use what you think is best. I rarely substitute things in their recipes, but did this time because that is what I had on hand.
Don't brine more than the 30 minutes or your chicken will be too salty.
I'm calling this recipe healthy because it is SO MUCH BETTER for you than traditional store bought chicken nuggets. Frying isn't bad, it's a very traditional cooking method. If vegetable oil isn't your thing cook them in olive oil or coconut oil.
Homemade Whole Wheat Bread Crumbs: Dry 6-8 pieces of your favorite homemade wheat bread in a 350 degree oven for about 10 minutes, until the bread feels dry. Tear the bread into large pieces and process in a blender or food processor until you have bread crumbs. Easy!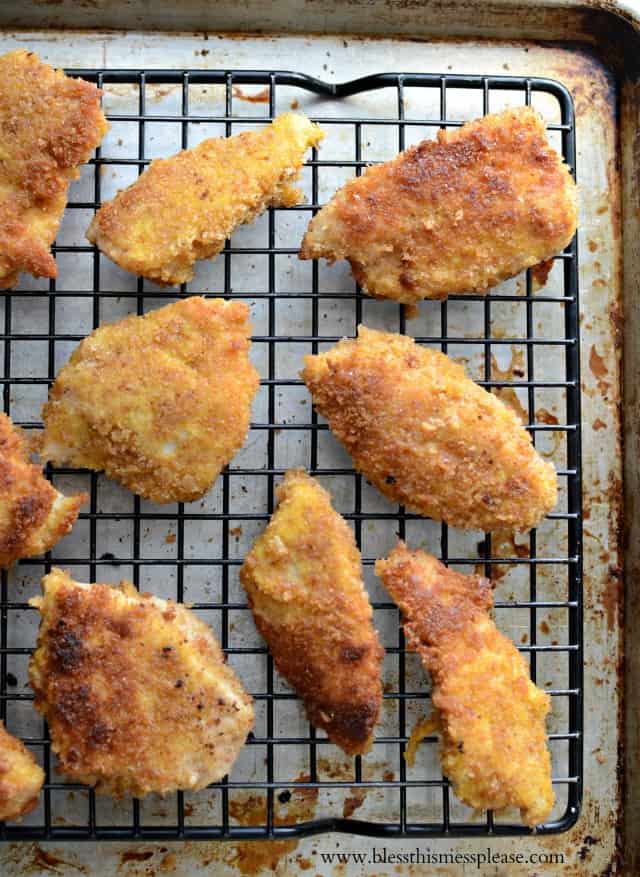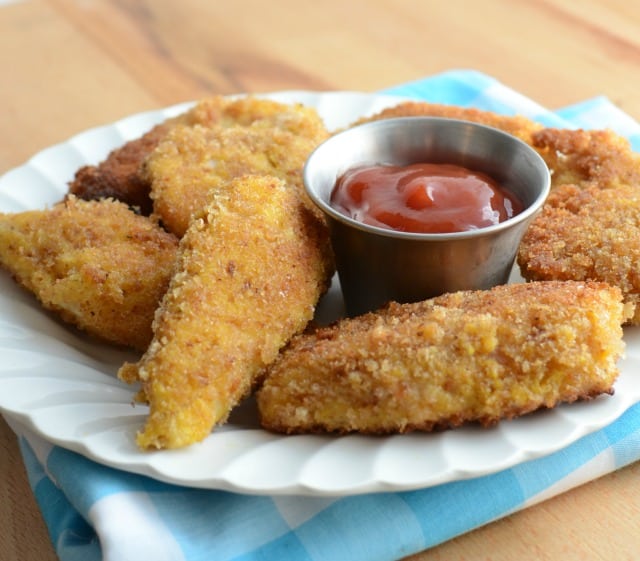 Here's where you can enter to win a copy of the book for yourself. If you already ordered it from Amazon, store this copy away; it will make a great Christmas or wedding gift!
Here are some of my other favorite America's Test Kitchen recipes:
The Best Chocolate Chip Cookies Ever (seriously, they are perfection)
Triple Chocolate Brownies (also perfection, I sell these at the farmer's market and people love them)
The Best Banana Bread (are you seeing a trend here?)
Disclosure: America's Test Kitchen sent me an email asking if I wanted to review this cookbook and after I finished screaming in delight and called my husband I replied with a very happy yes. They sent me a copy of the cookbook and are also providing the cookbook for the winner. I wasn't paid for this post but it does contain affiliate links. All opinions are my own.