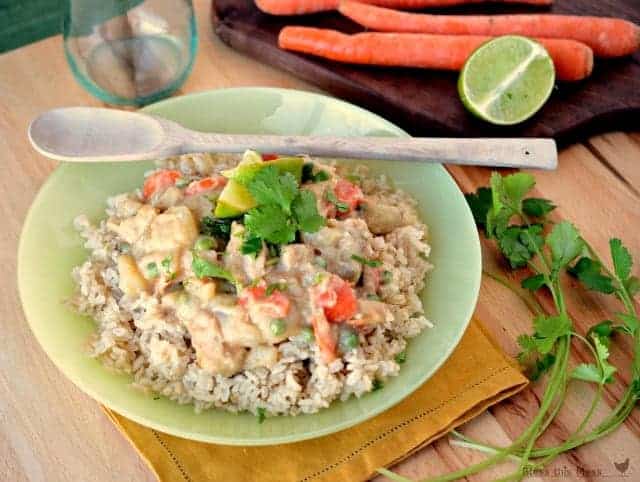 Green Thai Chicken Coconut Curry is one of my very favorite meals. Sweet and creamy, spicy to taste, and pungent with just the right amount of salt… it's a recipe that you've got to try.
Thomas and I had a best friend couple in college (and we still love them though they live way too far from us). It was one of those relationships that you just cherish. They were our next door neighbors, we were both newly weds, our husbands were both in the Engineering program and studied constantly together, and we ate dinner at our place 3-5 nights a week together. It was awesome! I'd call Rivka to see what she had in the fridge and I'd make something based on our mutual ingredients. Some days one of us would cook the main dish and the other make the bread, salad, and/or dessert. It was such a fun arrangement and worked really well for us all.
I had never tried curry, in any form, until after this wonderful nightly dinner party plan was hatched. I don't think there were a lot of curry joints in Southern Indiana and it is certainly something my mom never made. One magical day Rivka made this curry, served over hot rice, with cilantro and lime. Magic, I tell you. I've loved curry, in all forms, ever since.
This was a recipe that I never made for years. I would always ask Rivka to make it and it was often what I requested for my birthday dinner. It wasn't until after they moved to Chicago from BYU that I had to make it on my own, and I dare say, I make it very well now. This is one of our favorite dishes and we eat it at least once a month. It takes a few oddball ingredients, but I don't mind finding and buying them because I know I'll use them over and over again, even if they are just for this dish.
The recipe is very flexible, so read the notes in the recipe if you are curious about substituting veggies and things. You can't really go wrong with this one. And if you are looking for another great curry recipe, you might like my Curried Coconut Chicken with Squash and Dried Cherries. Mmmm.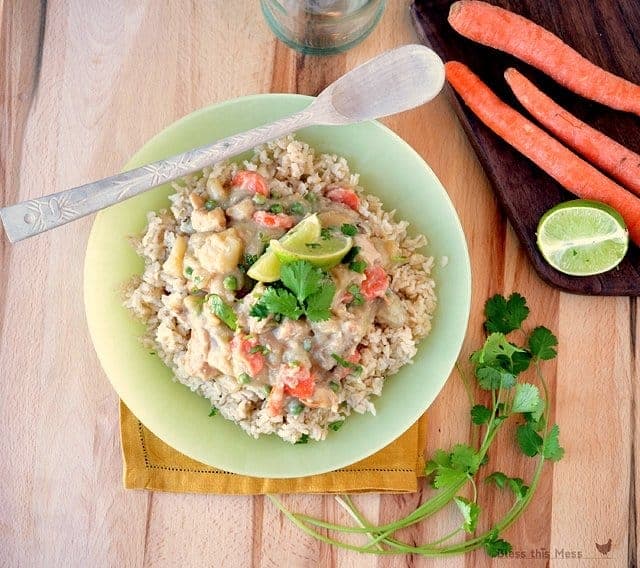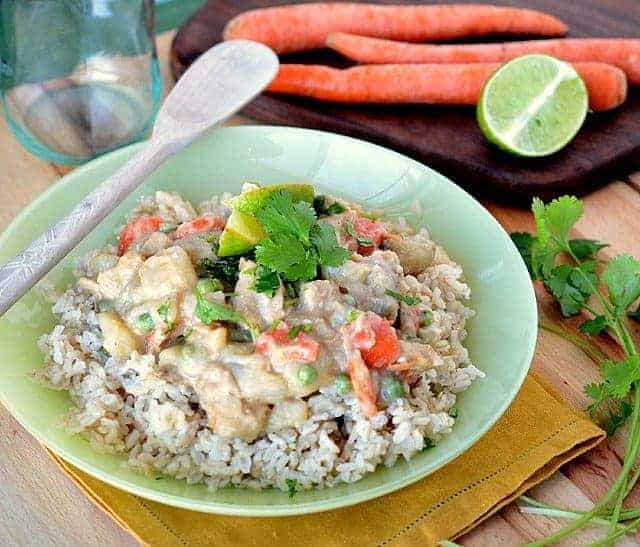 Print
Green Thai Chicken Coconut Curry
---
Cook Time:

1 hour 20 minutes

Total Time:

1 hour 20 minutes

Yield:

Serves 8
Ingredients
1/4 cup oil (oil, peanut, coconut)
2-5 T. green curry paste
1 medium onion, chopped
6 cloves garlic, minced
2 lbs. chicken breast cut into bite sized pieces
1 T. fresh ginger, minced
2 cans coconut milk
3 T. fish sauce
3 T. soy sauce
2 T. sugar
4 potatoes, cubed
4 carrots, sliced
1/2 cup peas, fresh or frozen
1 bunch cilantro, chopped
2 limes cut into wedges
hot cooked rice
---
Instructions
In a large soup pot or dutch oven heat the oil and green curry paste over medium heat. Stir to combine and cook for 3-5 minutes. You are giving the oil and curry paste a chance to merry and this is an important step. Add the onions and garlic and cook for an additional 5 minutes over medium heat. If the mixture seems to be sticking to the bottom of the pan just add a little more oil as needed. A little sticking is ok, but you don't want to burn it.
Add the raw chicken and cook until the chicken is cooked through and no longer pink, about 10 minutes. Add the ginger, coconut milk, fish sauce, soy sauce, and sugar. Stir to combine. Add the potatoes and carrots. Allow the the curry to gently simmer, uncovered, until the mixture thickens and the vegetables are cooked through, 45 minutes to an hour. Add the pea 5 minutes before serving.
To serve, dish the hot curry on top of hot rice and then sprinkle with chopped cilantro, fresh lime juice, and if it needs more salt, additional fish sauce on top.
Notes
Notes:
The cilantro, lime, and fish sauce aren't optional garnishes, they really make the dish and it wouldn't taste nearly as good without them.
Curry is one of those things that only improve with time. The longer it can cook the better. It's always phenomenal the second day, so plan on left overs.
I've never been to Thailand, and I have no idea what vegetables traditional curry has in it. Potatoes are a great base, but feel free to add just about anything else you have on hand. Sometimes I don't add chicken either… just skip that step and add lots more veggies.
Curry pastes varies from brand to brand. Ask around for suggestions of friends, hit up the local Asian market, and when you find a good one stick with it!
The spiciness in this dish comes from the curry paste, so if you don't like it hot start with less. If you like a little heat add a bit more. We like a medium heat and I'll normally do about 3 tablespoons of curry paste. It has a kick but isn't so hot my kids won't eat it, it would be way too hot for my Mother-in-law though…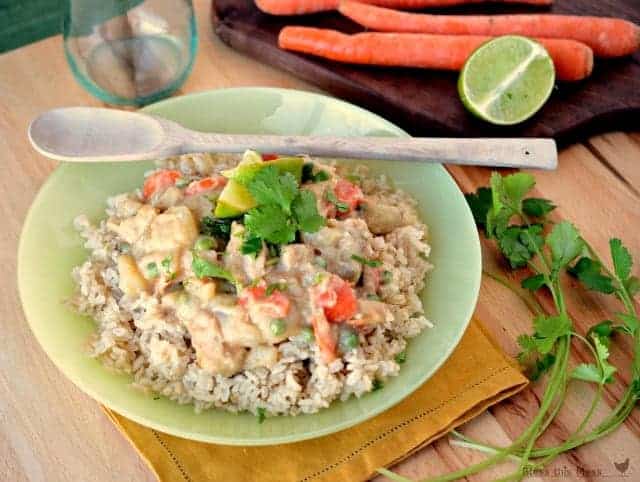 And just because I can… This recipe is floating around in my archives somewhere and this is the old picture for it. Aren't you glad things are improving!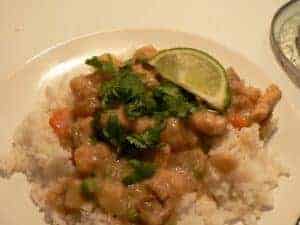 Have a great day and thanks so much for reading. I also picked a winner for that great cookbook! Congrats to Staci. Thanks so much to everyone who entered. It was a ton of fun for me, but don't worry, I have lots of giveaways like that this month, so stick around.