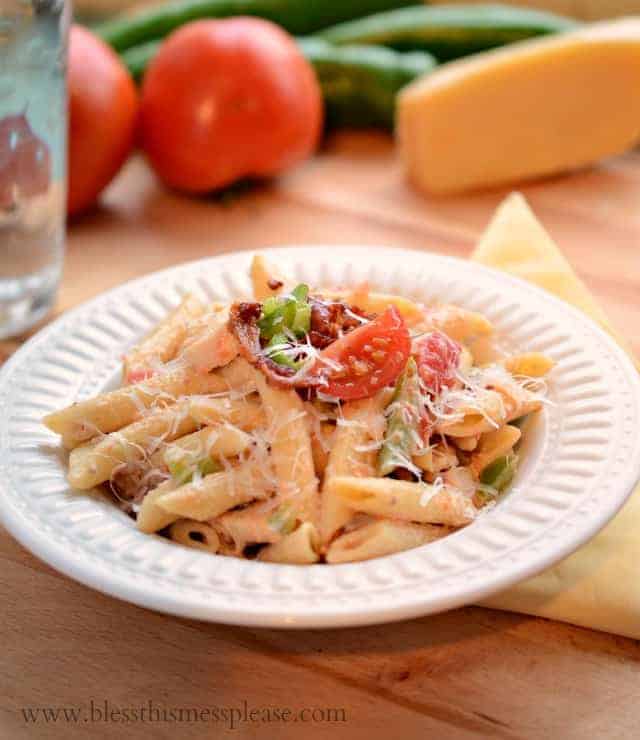 My in-laws own the grocery store here in town. We moved home to this tiny town almost a year ago so that my husband could start working with his dad, build and open a hardware store that is connected to the current grocery store (should be done and open this June!), and to be closer to family. There are a few perks to owning a grocery store and one of my favorites is the gifts that my mother-in-law gives me.
For Christmas she gives all of her kids 10-15 cases of whatever they want from the grocery store. I love this gift and look forward to it every year. I'm great at stocking my shelves with canned goods, bottling lots and lot in the summer, keeping lots of dried wheat on hand, and stockpiling other essentials (I'm Mormon, I can't help it!), so when Christmas rolls around I indulge a little on things I might not get otherwise. I'll get a few cases of chocolate chips, paper products, boxed cereal, and I always get a case of Bertolli Alfredo sauce. You know, the kind that comes in the glass jar. It's totally not a whole food, but it is quick, easy, and delicious. I save those convenient jars of sauce for nights that I'm going to be gone and someone else (husband or babysitter) will be making dinner. You can't get much easier than boiling some noodle and pouring on a can of sauce and my kids love it.
Once in a while though I'll use them in this dish. My sister introduced me to this recipe years ago and we absolutely love it. You will love this creamy chicken and bacon pasta with a few veggies and some pre-made sauce. It tastes like it took forever to prepare but can be on the table in about 30 minutes.
If you are going to go for quick and convenient, it might as well taste amazing!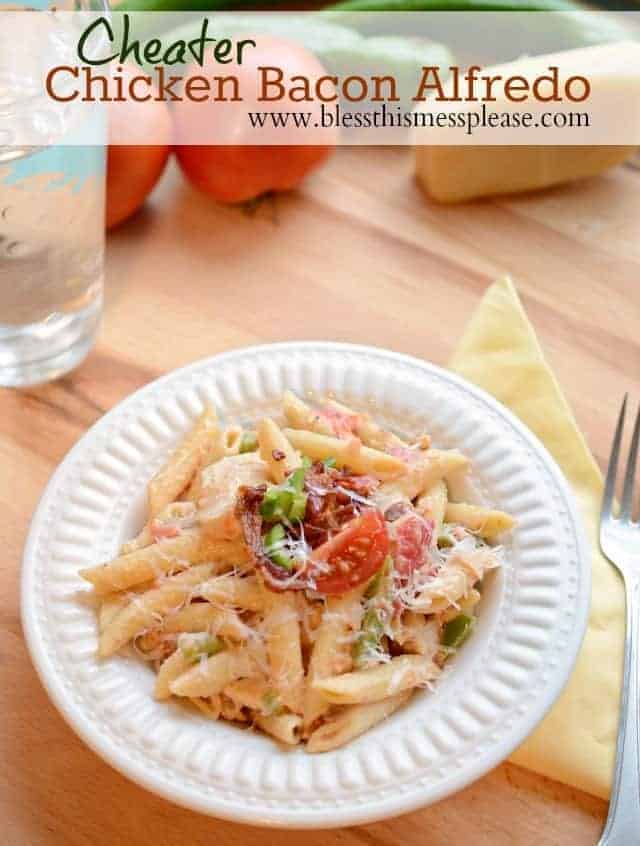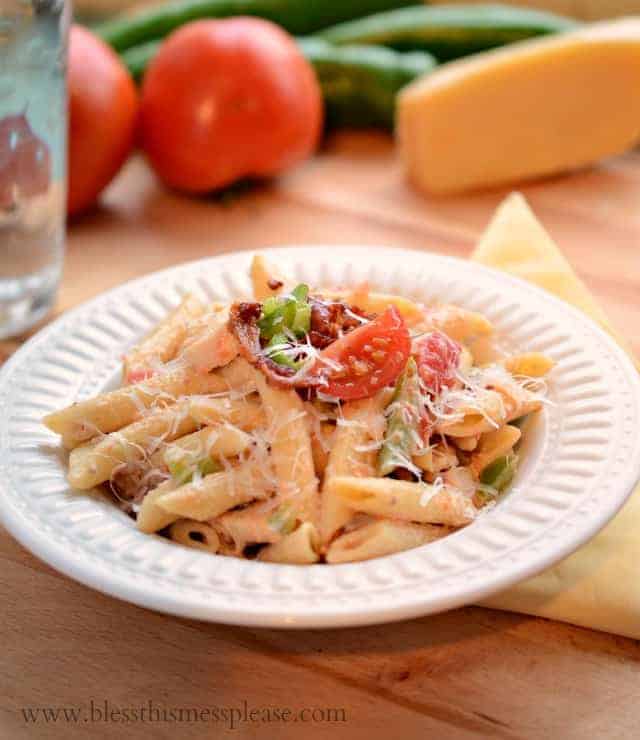 Print
Creamy Chicken and Bacon Pasta
---
Ingredients
1 pound bacon
1 pound chicken, cut into bite-size peices
1 large onion, diced
1 or 2 bell peppers, diced
1 pound hot cooked pasta
1 jar 15-ounce jar Bertolli Alfredo sauce
1 or 2 large tomatoes, chopped
salt and pepper to taste
Fresh grated Parmesan
---
Instructions
In a large skillet fry the bacon until crisp (working in batches if needed). Remove the bacon from the pan and let it cool on paper towels to absorb the grease. Reserve 4 tablespoons of bacon fat. Discard the remaining bacon grease.
Heat the same skillet over medium-high heat and add back 2 tablespoons of bacon fat. Add the chicken and cook until the chicken is done and no longer pink in the center. Remove the chicken from the pan and set aside.
Return the skillet back to the heat and add the remaining 2 tablespoons of bacon fat. Add the onions and bell pepper and cook until the onion is soft and translucent, about 5 minutes.
While all this is cooking you can be cooking your pasta.
Chop the cooked bacon into small bits.
In a large bowl combine the chopped bacon, chicken, cooked onions and peppers, cooked pasta, Alfredo sauce, and chopped tomatoes. Stir to combine and salt and pepper to taste.
Serve right away with freshly grated Parmesan.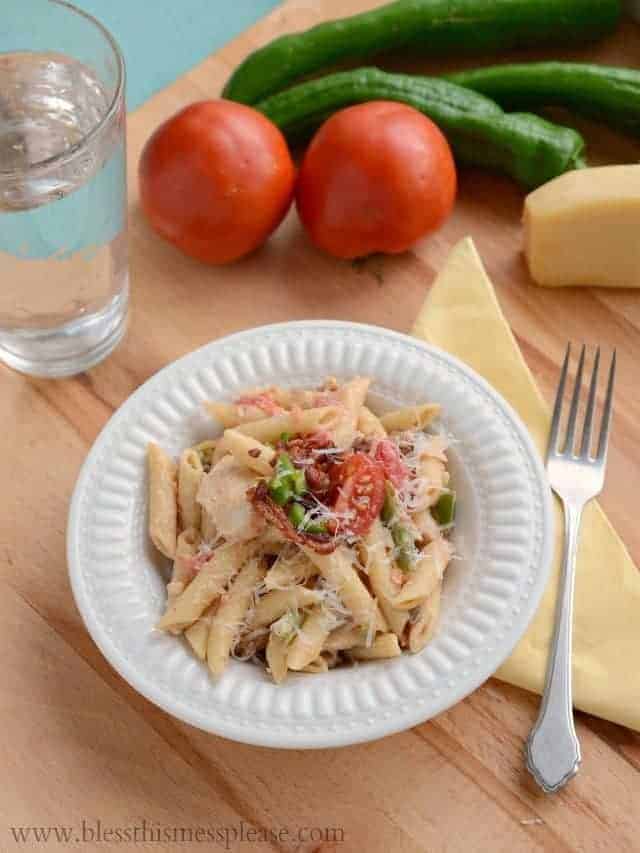 So tell me…
If you could order a few cases of just about anything from the grocery store, what would you get?!
And if you are in the mood for pasta, you might also like these recipes:
Linguine Rose with Shrimp from Bless this Mess
Garden Vegetable Pasta from Bless this Mess
Creamy Pea and Bacon Pasta from Bless this Mess
Steak and Mushroom Marinara from Bless this Mess
Creamy Sausage and Spinach Tortellini from Everyday Reading