A few weeks ago my friends over at America's Test Kitchen sent me an email asking if I wanted to try out a brand-spankin' new cookbook that was just released and they also wanted to know if I'd host a giveaway. It took me about a half of a second to respond with a big old yes! If you are new to the blog then you might not know my love for America's Test Kitchen, fondly referred to as ATK.
A few years ago my husband bought me three of their cookbooks for Mother's Day and it was all love and sunshine from there. I make and post lots and lots of their recipes here (like the world's best chocolate chip cookies, lightened up stove-top Mac-n-Cheese, and the most delicious rustic Italian bread). I'm always super pleased with how recipes turn out and I really like all the extra tips and tricks that their books include. I get smarter every time I crack one open!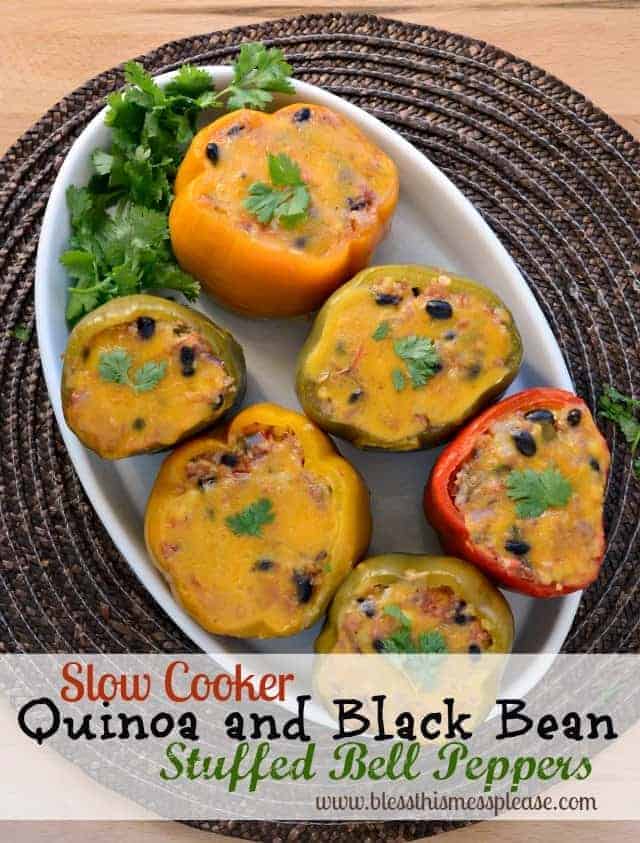 Slow cooker stuffed bell peppers are loaded with all kinds of delicious things like quinoa, black beans, corn, peppers, onions, cheese, and more. If you aren't into quinoa or don't know what it is you can easily sub in cooked rice instead. The filling is so ridiculously full of flavor and made, by far, the best stuffed peppers I've ever had.
I was a little worried about what the slow cooker would do to the peppers but they came out perfectly tender and delicious, without getting mushy. This was one of the best Meatless Monday dishes I've made in a long time and one I'm putting into my regular recipe rotation (say that three times fast!).
Two of my three kids didn't love the outside peppers but they polished off the filling in no time; one gobbled up the whole thing. Even with them not eating the whole pepper they still really liked the meal, and I consider it kid approved.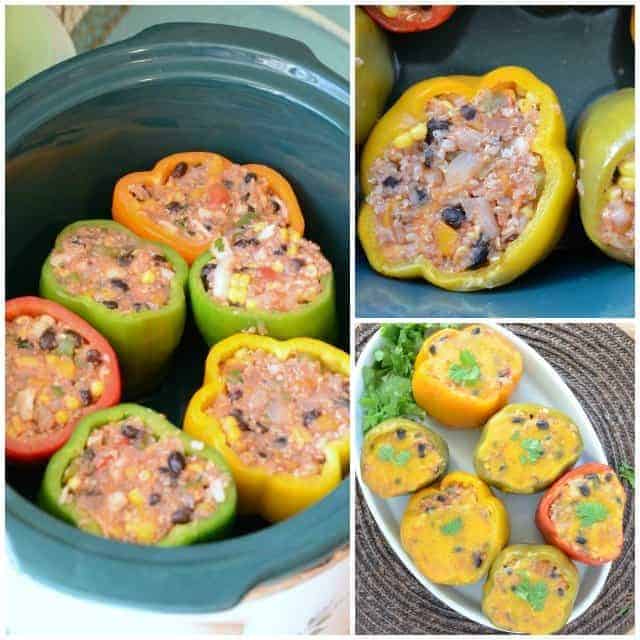 I bought the colored peppers but I grew the green ones in my garden! Aren't they pretty 🙂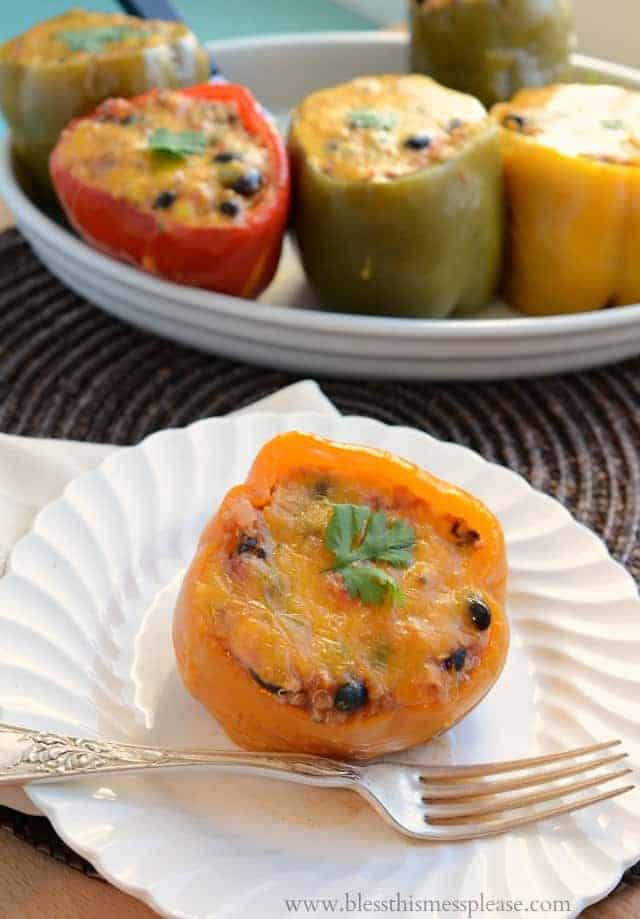 Print
Slow Cooker Stuffed Bell Peppers with Quinoa, Black Beans, and Corn
---
Scale
Ingredients
4

red, orange, or yellow bell peppers

1 cup

chopped onion

1 tablespoon

olive oil

1 tablespoon

minced garlic

1 1/2 cup

s shredded sharp cheddar cheese

1

(15-ounce) can black beans, rinsed

1 cup

cooked quinoa

1 cup

corn (frozen or freshly cut from the cob)

1 cup

jarred tomato salsa

2 tablespoon

s minced fresh cilantro

1/2 teaspoon

salt

1/2 teaspoon

cumin

1/4 teaspoon

pepper
---
Instructions
Trim a 1/2 inch from the top of each pepper. Discard the seeds and core. Remove the stem from the pepper tops and then finely chop the pepper tops. Add the chopped pepper tops, onion, and olive oil to a small saute pan and cook over medium heat until the peppers are soft and the onions are translucent, about 6 minutes. Add the minced garlic the last minute of cooking and cook until fragrant.
In a large bowl combine the cooked vegetable mixture, 1 cup of the cheese, black beans, quinoa, corn, salsa, half of the cilanto, and spices. Stir well to combine. Pack the filling evenly into each bell pepper.
Pour 1/3 cup water in the bottom of the slow cooker and place each pepper standing up in the bottom. Cover and cook until the peppers are tender, 4 to 5 hours on low or 3 to 4 hours on high.
Sprinkle the rest of the cheese evenly over the peppers, put the lid back on and cook until the cheese melts, about 5 minutes. Remove the peppers from the slow cooker and place on a serving dish. Sprinkle with remaining chopped cilantro and serve.
---
Notes
You will need a 5 1/2 to 7 quart slow cooker for this recipe.
The original recipe called for Monterey Jack cheese and cooked rice instead of quinoa. I also added the cumin.
I made a recipe and a half because I have more than 4 people to feed and it worked great, but the recipe as written is for filling 4 peppers.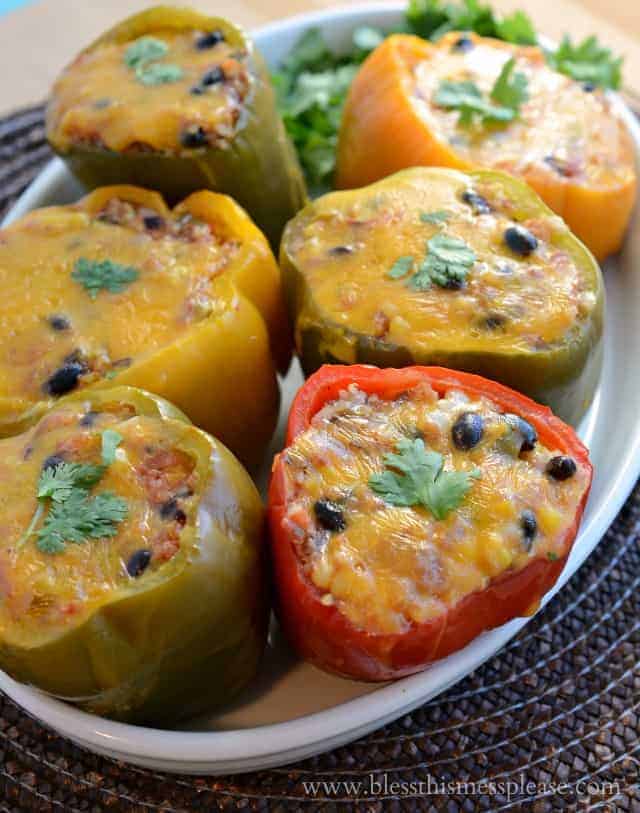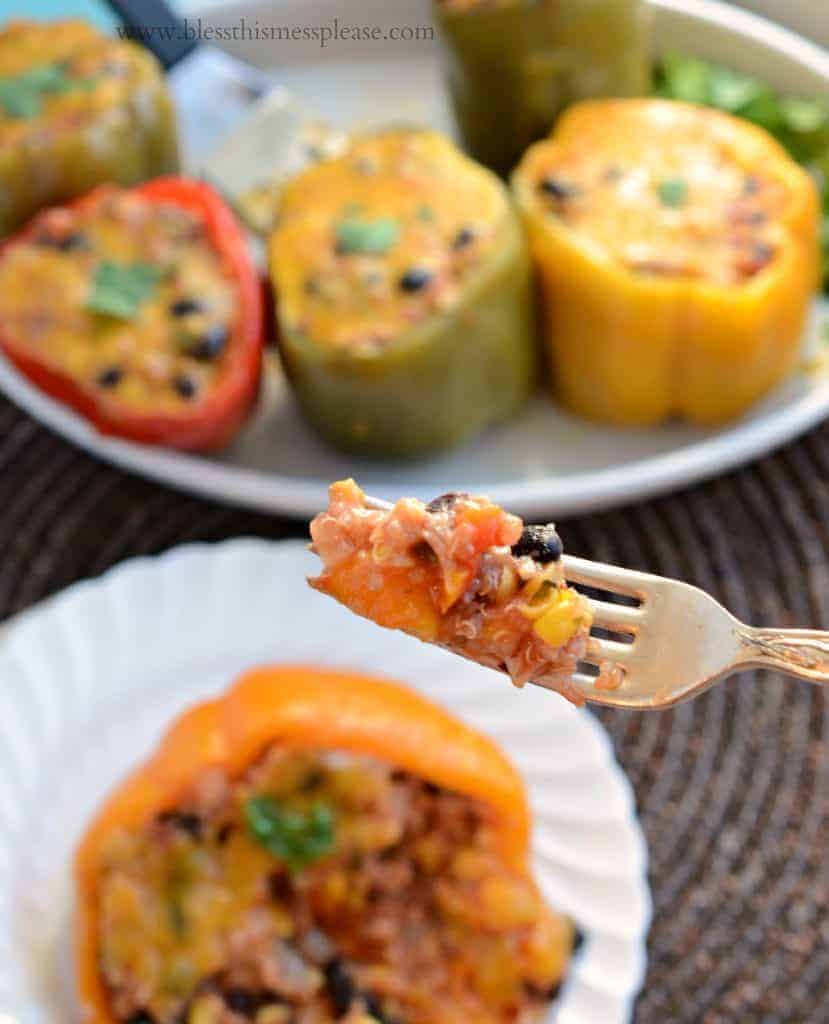 Other pepper recipes you'll love:
Good luck and thanks so much for stopping in to say hi! I sure like you guys.