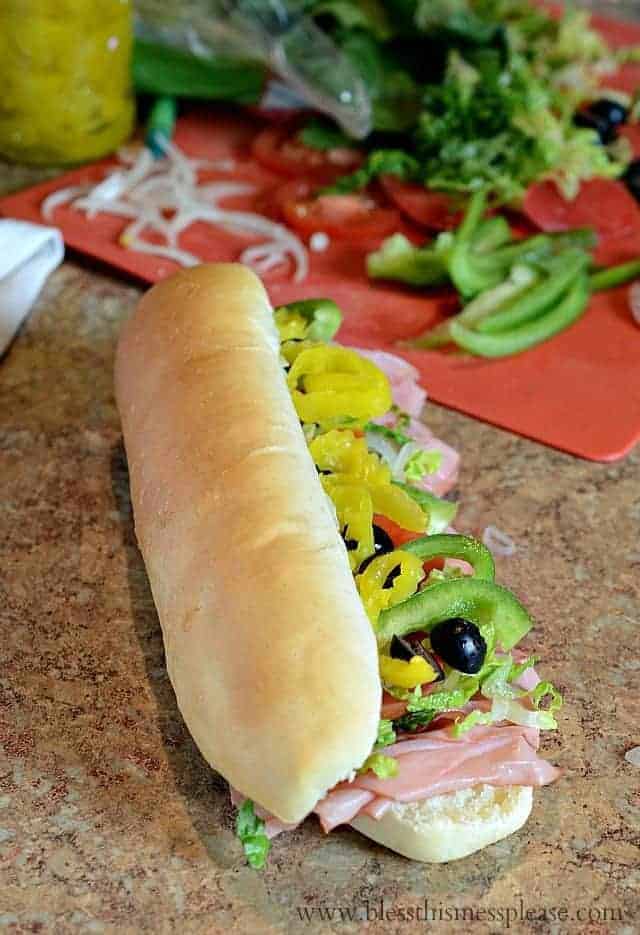 Perfect homemade Subway bread recipe, just like the restaurant. This recipes makes a perfect copycat loaf of Subway bread for sandwiches at home.
I've been subjecting myself to a crazy thing that I saw a friend on the interwebs doing. I don't know if she made it up, or saw it somewhere and wanted to do it, but either way, it's crazy. She vowed to only spend $20 a week for a whole month. $20 for food, gas, eating out, EVERYTHING! Everything except for bills and things you have to pay.
After a harsh slap in the face when we did our taxes and a few other bumps in our road, I decided it was something that I wanted and needed to do, too. The timing is great for me. Since we are planning on moving in a few weeks I don't mind that this little project is going to eat up my food storage (less to move!), and every penny saved before April 15th is needed… who knew you should be paying quarterly taxes when you become self-employed?! We missed that memo
$20 gets you nowhere, really. Last week I bought 4 gallons of milk, 2 loaves of bread, 6 tomatoes, and a package of salami. This week I need to buy gas (should have filled up before I decided on this little adventure…) and milk will suck up the rest. I wasn't even going to tell you about it because I was afraid I wouldn't be able to do it, but I think being accountable will be good for me.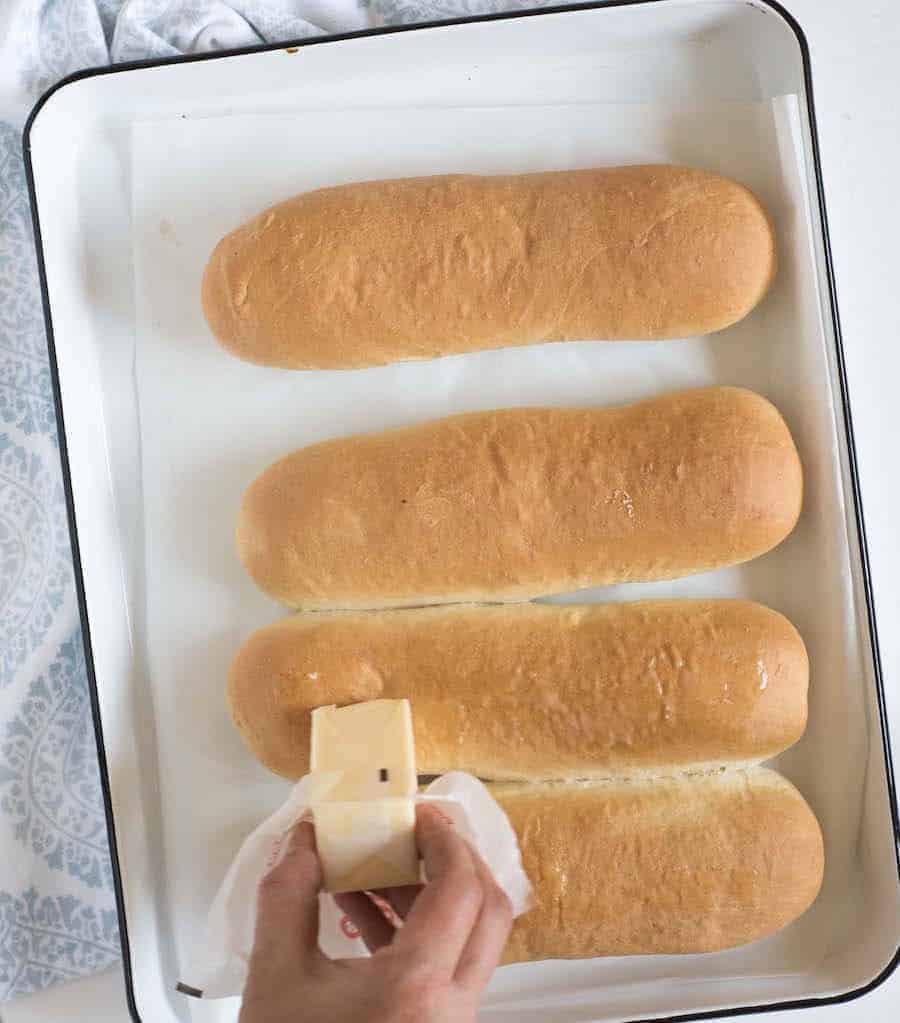 All that being said, I needed a Subway sandwich on Friday and I needed one bad. I had $6 left for the week and one foot-long isn't enough for our family of 5. So I decided I'd just make some at home (and spent the money on enough salami for about 6 sandwiches). The key to this was finding the perfect homemade Subway bread recipe. Those sub buns are key! I decided to just make white bread too which isn't normal for me, but I really wanted to make sure I felt like the experience was a treat.
You guys, they turned out amazing! Really and truly. Plus, it wasn't all that hard to do. Next time I'm going to double the recipe so that I have some leftovers and I'm going to try to freeze them. Lucky for me, I found a jar of pickled banana peppers in the pantry too. My sandwich was half banana peppers and half everything else because those are my favorite thing ever.
The homemade Subway bread was just perfect. It had a very soft crust (thanks to a little butter and letting them steam in a towel as they cooled) and a light middle, and it kind of smashed into nothing when you ate it. Just like the real thing. Sure, Subway is cheap, but it's pretty fun to make them at home. Your family will be shocked and amazed at your mad skills and you'll be able to put on as many banana peppers as your heart desires. Best deal ever!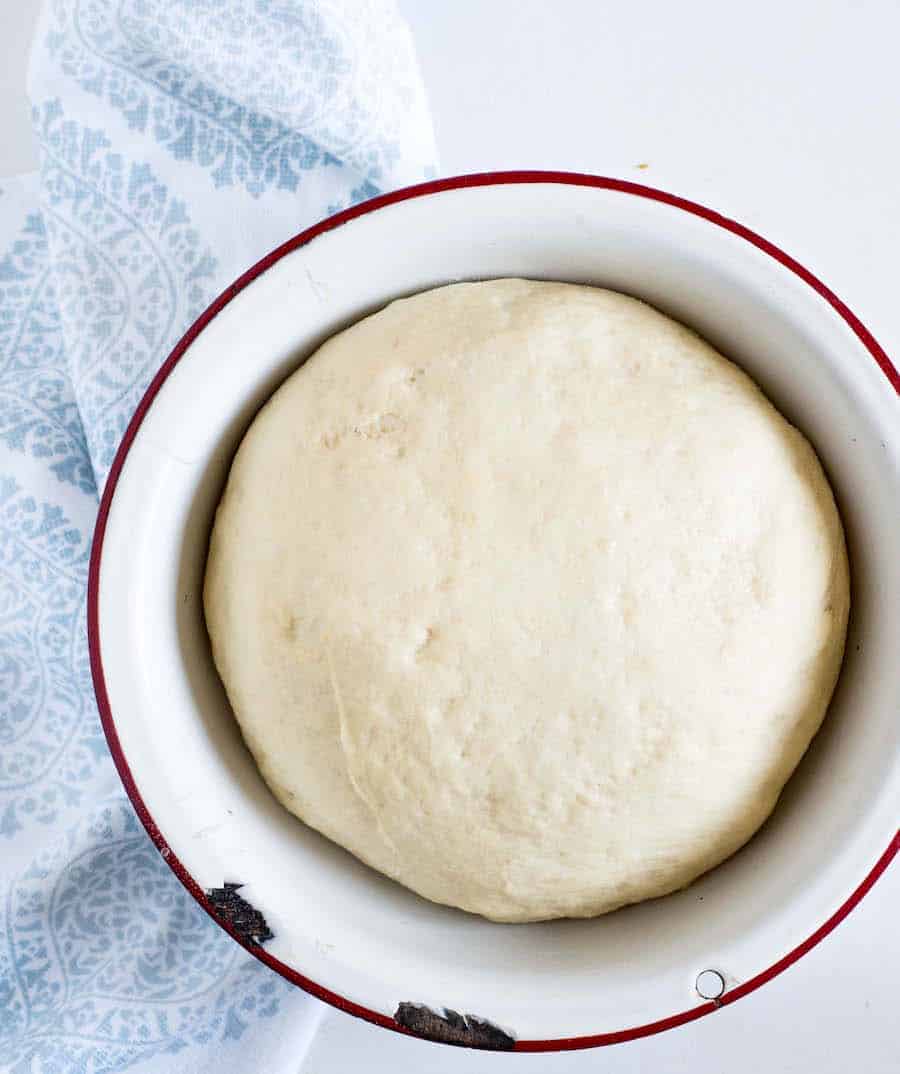 Here's a picture of the dough after it has risen. Below is a picture of the sub buns rolled out and ready to rise (they'll be about doubled in size before baking). Isn't bread dough pretty?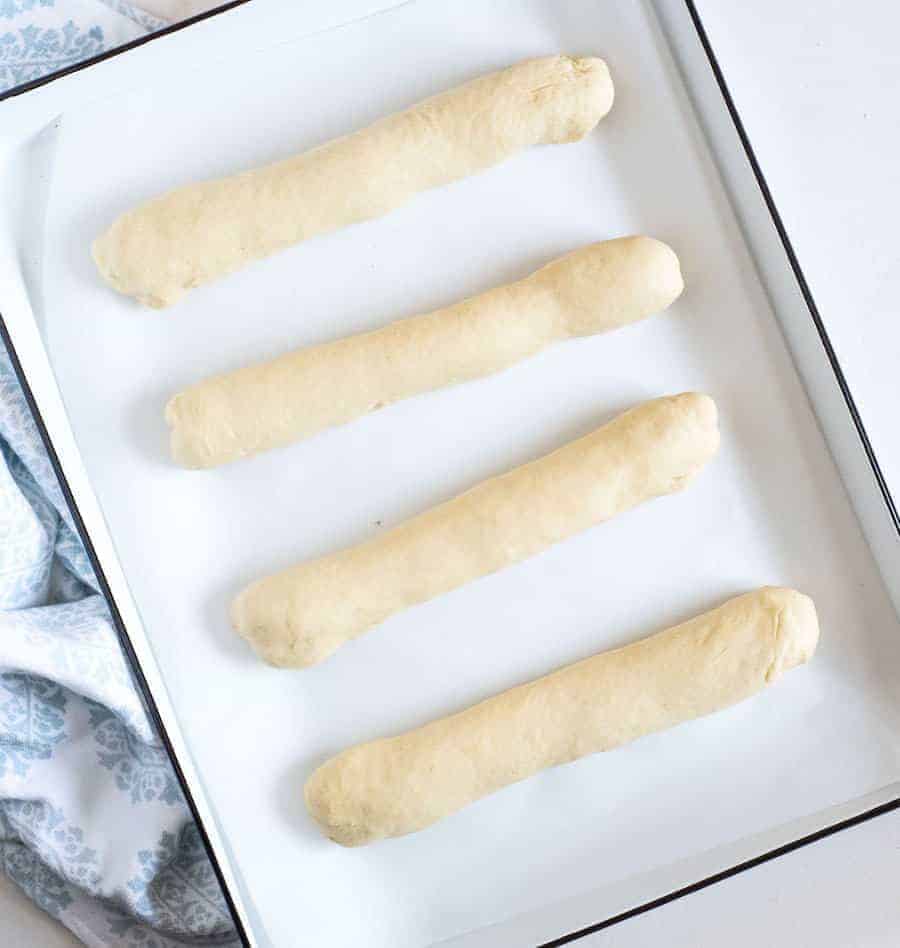 Tips and Tricks for Making Subway Bread at Home
If you haven't ever made dough before, the goal is to add just enough flour for it to be a soft but not sticky dough. If you add too much flour, you'll end up with Subway bricks instead of bread.
No stand mixer? This recipe can be made by hand, just be sure to knead it for a full 8 minutes. That's a long time but developing the gluten helps the bread to be soft.
This recipe works well with half whole wheat flour mixed with half all-purpose flour for whole wheat sub buns.
I have had a few people email me and say that just before baking they brushed the outside of the dough with olive oil or butter and then sprinkled on some Italian seasoning and some Parmesan cheese for a great homemade Subway Italian Herb and Cheese bread. I can't wait to try this myself.
I love making this bread and putting on these vegan meatballs. Tasty meatless meal!
This bread froze just about as well as other breads. It was still soft but seemed a bit dryer after freezing. Fresh is best but they do freeze and thaw well.
Like pickled banana peppers as much as I do? Check out my recipe on how to make easy refrigerated pickled banana peppers (great use for extra garden or farmer's market produce).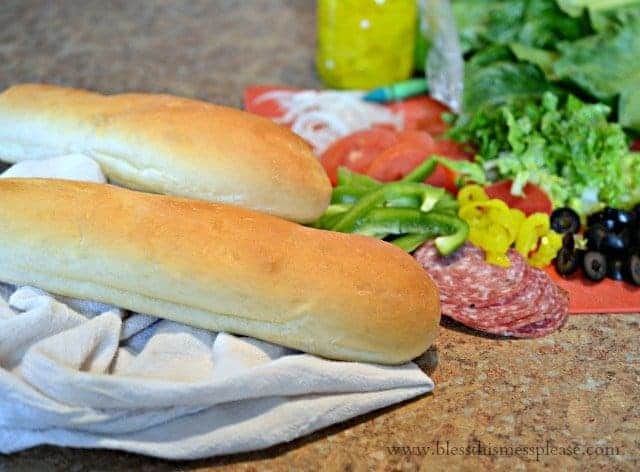 Craving more? Subscribe to Bless this Mess to get new recipes, meal plans, and a newsletter delivered straight to your inbox! If you try this recipe, let me know what you think! Leave a comment, pin it, and don't forget to tag a picture #blessthismesseats on Instagram. I love to see your kitchen skills in action!
Print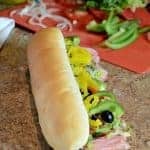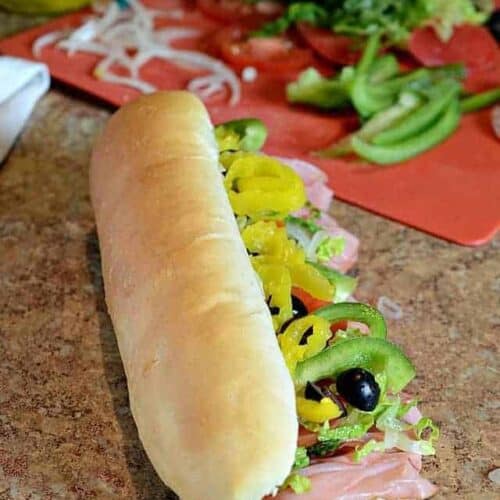 Homemade Subway Bread Recipe
---
Author:

Prep Time:

50

Cook Time:

25

Total Time:

1 hour 15 minutes

Yield:

Makes 4 9-inch sub buns

Category:

Bread

Method:

Oven

Cuisine:

American
Description
Perfect homemade Subway bread recipe, just like the restaurant. This recipe makes a perfect copycat loaf of Subway bread for sandwiches at home.
---
Ingredients
1 cup warm water (110 degrees F)
1 1/2 tablespoon yeast
1 tablespoon sugar
1 1/2 teaspoon salt
4 tablespoons olive oil
2 1/2 to 2 3/4 cups all-purpose flour
---
Instructions
In the bowl of your stand mixer, add the water, yeast, sugar, salt, and olive oil. Let the mixture stand for 5 minutes.
Add 1 cup of flour and mix with the dough hook for 3 to 5 minutes. Add an additional cup of flour and mix until well combined. Continue adding the flour, 1/4 cup at a time, until a soft dough is formed. The dough should still stick to the bottom of of the bowl, but pull away from the sides. Let the dough mix for around 8 minutes total.
When the dough has come together but is still sticking a bit to the bottom of the bowl, turn it out onto a lightly floured surface and knead until smooth. The dough should be very soft. Shape the dough into a ball and return it to the bowl. Cover the bowl with plastic wrap and allow the dough to rise for a half hour.
After the dough has risen, turn it out onto a clean surface and divide it into 4. Roll each piece of dough into a long skinny loaf that is about 9 to 10 inches long.
Place the rolled loaves onto a baking sheet lined with parchment or a baking mat. Repeat with the rest of the dough. Allow at least 2 inches between each loaf on the pan.
Cover the loaves with a greased piece of plastic wrap and allow the loaves to rise until doubled, about an hour.
Towards the end of the rising time, preheat the oven to 350 degrees. When the loaves are ready, bake them in the preheated oven for 25 minutes.
When the loaves come out of the oven, rub the tops with a stick of butter and cover them with a dish towel to cool.
Let the loaves cool for at least 30 minutes before cutting down the middle and topping with your favorite sandwich fixings.
Notes
Rubbing the loaves with butter and covering them with a towel to cool are part of what keeps them very soft, so be sure not to miss those steps.
Keywords: subway bread recipe, subway copycat recipe, easy hero bread recipe, best sandwich bread recipe, subway bread
Recipe adapted from Copycat Recipe Guide.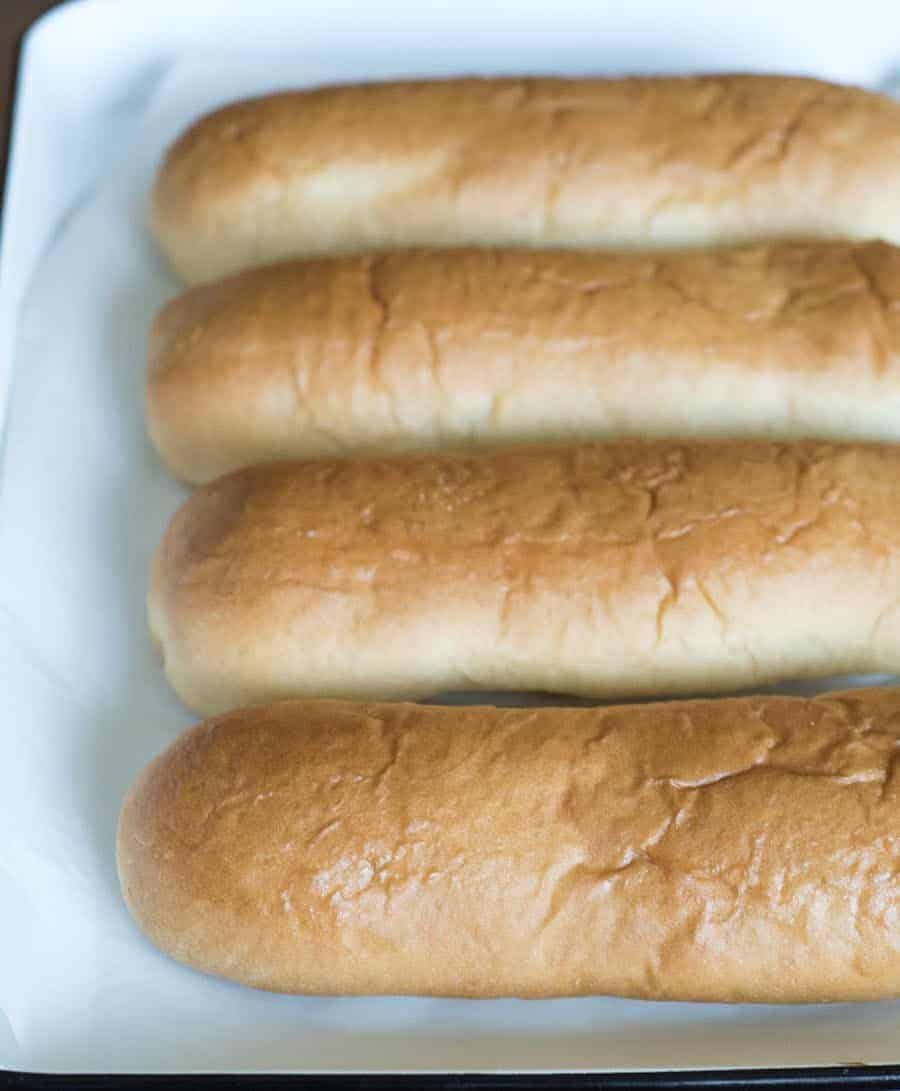 Just top with your favorite sandwich toppings and a heavy hand of mayo and you'll have yourself something ridiculously close to an authentic Subway sandwich made at home. Even if you aren't craving Subway, this homemade Subway bread recipe is a great one to keep on hand for any future hoagie needs.
This recipe was originally published in March 2013 and republished in July 2017 with new pictures, new text, and an updated based on retesting and reader feedback. Enjoy!