Are you ready for a nontraditional knock-your-socks-off dinner? Ok, good. I present to you – Curried Coconut Chicken with Squash and Dried Cherries. The name is a mouthful and so are the flavors. The sweet and creamy coconut pairs perfectly with all those spices. The sweet squash cooks up nice and soft and then you bite into little tart yet sweet pops of dried cherries that have started to come back to life from simmering in the dish. Mmmmm. I have half of this recipe hiding in my freezer for an easy meal later and I may just have to get it out tonight. If you are a curry lover this is sure to become a favorite fast.
Honestly, I never even tried curry until after I was married and our friends introduced us to it. Now I love all types from Thai to Indian. I think part of why I love food so much is because there is always something new to discover. If you are new to or shy of curry, have no fear and give it a try. A huge portion of the earth's population eats it daily, and there's no way all those people are wrong! Try it… you'll love it.
Keep Calm and Curry On.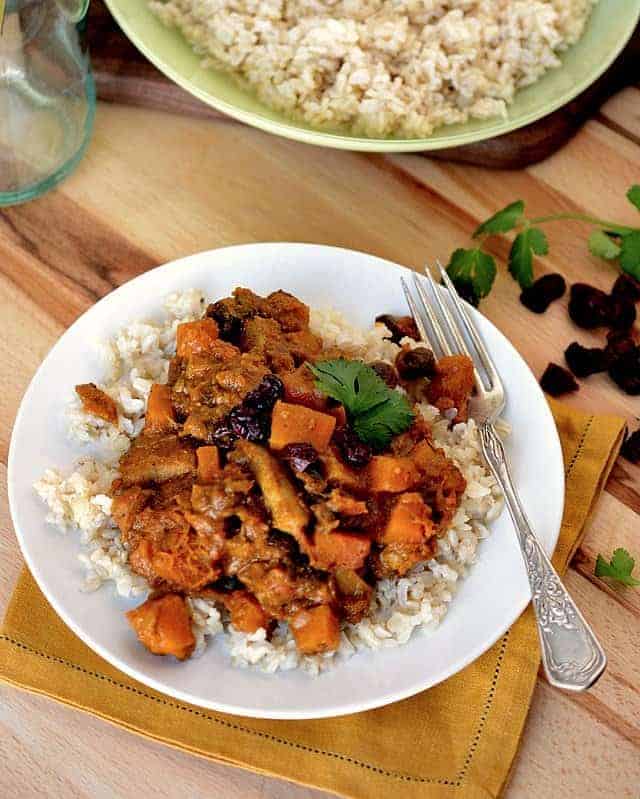 Curried Coconut Chicken with Squash and Dried Cherries
Adapted from Allrecipe.com
Serves 8
3 T. oil (peanut, olive, coconut)
2 T. curry powder
1 T. plus 1 tsp. garam masala, divided
1 onion, diced
4 cloves garlic, minced
2 pounds chicken, cut into bite-sized pieces
1 14-ounce can coconut milk
1 14.5-ounce can diced tomatoes, with the juice
1 cup chicken broth
3 T. sugar
1 tsp. salt
1 tsp. pepper
4 cups cubed winter squash (banana, butternut, pumpkin)
1/2 cup dried cherries
salt and pepper to taste
Hot cooked rice for serving
In a large stock pot or dutch oven heat the oil, curry powder, and 1 tablespoon of garam masala over medium heat. Cook for 5 minutes. If it starts to stick add more oil, you don't want it to burn. Add the onion and garlic and cook for an additional 5 minutes. Again, add more oil if it starts to stick too much. Add the chicken and cook until the chicken is no longer pink in the center, about 10 minutes. Add the coconut milk, undrained tomatoes, chicken broth, sugar, salt and pepper. Stir to combine. Add the squash and dried cherries. Cook the curry at a low simmer until the squash is very soft and the mixture thickens, 45 minutes to an hour. 5 minutes before serving stir in the last 1 tsp. of garam masala. Serve over hot cooked rice.
Notes:
Curry is one of those dishes that only improve with time. If you have more time, let it cook! The leftovers are better the second day too.
No cherries? Traditional or golden raisins are a great sub (but the cherries were SO good…).
The garam masala is added twice because some of its flavor is heightened while cooking and some of it is lost. Adding it in the beginning and again at the end helps to not miss out on any of its goodness.