Pioneer Woman's glazed donuts are light, fluffy, and truly the best homemade donuts I've ever made (or eaten, for that matter!) — they're my absolute favorite!
If you are new to donut making, this is the perfect recipe. They are soft, tender, and so fun to eat. Your family will cheer your name when make donuts.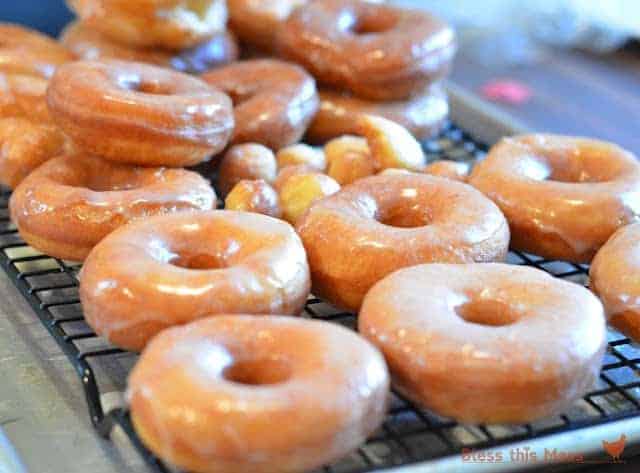 Pioneer Woman's Glazed Donuts
Can I tell you a secret? I am in love with glazed donuts. There's just something about the fluffy and light, yet sweet richness to them that is positively addicting, in the very best way. We don't live near any donut shops — in fact, even the closest grocery store that carries donuts is more than a half-hour away — so I've had to learn to improvise.
And with this Pioneer Woman glazed donut recipe? I happily oblige. They're actually better than any store- or bakery-bought glazed options I've ever tried… Yep, they're THAT good. They practically melt in your mouth when you take a bite, and even though they do take a bit of time, it's so worth the end result.
We love to make these for my son's birthday every fall instead of birthday cake, and we'll also work up a batch sometimes when we have friends over. It's a fun group activity, and you'll have some help eating them when they're all finished!
Tips and Tricks for making Homemade Glazed Donuts
The chilling time is a must for these donuts. The butter needs a chance to solidify in the fridge which makes the dough much less sticky than when it went in the fridge. Don't skip it.
The oil temperature is hard to gauge without a thermometer. I recommend getting one. I like to use this candy thermometer for my candy making and for keeping an eye on my oil frying temperature. That being said, make sure your thermometer is calibrated so that you know it's showing the correct temperature. Here's a good post about how to calibrate your thermometer.
No donut cutter? No worries! You can use a wide-mouth canning ring and anything to make the smaller hole. I have used a piece from my kid's marble tracks (love these!), the fat end of a large piping tip, and even a pop bottle lid (that one is a bit annoying because the dough sticks in it). I also have this great set of round cookie cutters that I love and use for all kinds of things (like these amazing biscuits).
I love a traditional buttery glaze on glazed donuts, but feel free to make a maple, chocolate, or colored glaze. The possibilities are endless.
What is a glazed donut?
If you haven't had a glazed donut before, bless your heart, and get your mixing bowl out. You MUST try them — they're like heaven on earth! They're little airy fried pastries shaped like a circle with a hole in the middle, and they're light, fluffy, and covered with a sugar icing called glaze.
Do glazed donuts have dairy?
They do! They're made with whole milk, eggs, and butter. So if you or someone in your family has a dairy allergy, just be careful!
What is glaze made of?
Glaze is very easy to make. All you need is melted salted butter, vanilla, powdered sugar, and a generous splash of milk. Combine until all the ingredients until the mixture is smooth and dip your warm donuts halfway into the glaze to cover the tops with the sweet icing.
What if I don't have time to chill the dough?
No worries! I have another great donut recipe: Beth's Famous Glazed Yeast Donuts that comes out almost just like these and it does not need the chilling time that this recipe does. I'd recommend making that recipe if you are in a hurry to get your donuts in your belly.
Print
Pioneer Woman's Glazed Donuts
---
Author:

Prep Time:

8 hours

Cook Time:

3 mins

Total Time:

8 hours 3 minutes

Yield:

2

dozen donuts

1

x
Description
Pioneer Woman's glazed donuts are light, fluffy, and the best homemade donuts I've ever eaten. These glazed donuts are my absolute favorite!
---
Scale
Ingredients
For the Donuts:
1

and 1/8 cup whole milk, warm

1/4 cup

sugar

2 1/4 teaspoon

s (

one

package) Instant Or Active Dry Yeast

2

whole large eggs, lightly beaten

1

and 1/4 stick unsalted butter (

10 tablespoon

s), melted

4 cup

s all-purpose flour

1/2 teaspoon

salt
Shortening/oil for frying
Glaze for hot yeast donuts:
1/2 cup

 butter, melted

2 teaspoon

s vanilla

4 cup

s powdered sugar
Enough cream or milk to thin, about 3 tablespoons
Dash of salt
---
Instructions
To make the dough: warm the milk until it is getting nice and warm when you dip your finger in it (about 105 degrees). Add the milk to a mixing bowl or the bowl of your stand mixer. Add the sugar and stir to dissolve. Add the yeast and stir to combine. Let the yeast rest for 5 minutes.
Add the beaten eggs and melted butter to the bowl and stir to combine.
While the mixer is running slowly, add the flour and salt and mix until the dough comes together. Mix for a whole five minutes to work the dough well. Turn off the bowl and let the dough sit in the bowl of the mixer for 10 minutes.
After the rest period turn the dough out into a lightly oiled bowl, cover the bowl with plastic wrap and refrigerate the dough for at least 8 hours up to overnight.
To form the donuts: Remove the dough from the fridge and roll it out on a lightly floured surface until it is 1/2 to 1/3 of an inch thick. Use a three-inch donut cutter to cut out the donuts.
Place the cut donuts and holes on a lightly greased baking sheet.
Repeat with the remaining dough.
Cover the donuts and let them rise until doubled in size, about one hour. The donuts will be very puffy and airy looking.
To fry the donuts: Heat a few inches of oil or shortening in a large cast iron skillet or fryer over medium heat until the oil reaches 365 to 375 degrees (use a thermometer!). Carefully add the donuts to the hot oil and fry until golden brown, about 1 1/2 minutes per side. The donut holes will only take about 30 seconds per side.
Use a slotted spoon to remove the donuts from the hot oil and place them on a paper towel lined baking sheet to remove extra grease. Let them cool slightly. Dip the hot donuts in the glaze (I like to flip on both sides so it's fully covered) and enjoy right away.
For the Glaze: Melt the butter in a medium bowl. Add the vanilla and stir to combine. Add the powdered sugar and stir to form a thick paste. Thin out the paste with milk, one tablespoon at a time, until the mixture is about as thick as school glue.
---
Notes
This is the most amazing donut recipe and the only one I have made for years. ENJOY!
Didn't realize this recipe needed so long to chill? No worries! I have another great donut recipe: Beth's Famous Glazed Yeast Donuts that comes out almost just like these and it does not need the chilling time that this recipe does. I'd recommend making that recipe if you are in a hurry to get your donuts in your belly.
To Make Chocolate Glaze: Add 2-3 tablespoons of cocoa powder when you add the powdered sugar. You'll need to increase the milk by a bit too to form a smooth glaze.
To Make a Maple Glaze: Replace the vanilla extra in original recipes with 1/2 teaspoon maple flavoring (you can use up to 1 teaspoon, adjust to your liking).
These donuts are much better eaten fresh. They store about as well as most grocery store donuts.
Category:

Dessert

Method:

Stovetop

Cuisine:

American
Keywords: homemade glazed donuts, easy donuts recipe, pioneer woman donuts, how to make glazed donuts, how to make glazed doughnuts, best glazed doughnuts, best doughnut recipe, how to make donuts at home, how to make homemade donuts
Want To Save This Recipe?
This recipe is from The Pioneer Woman. She is amazing in general but has really come through with this recipe. She has lots of comments on the process of making these glazed donuts, so if you need some more pointers on how this should come together, check out her details post, recipe, instructions, and lots of tips on making glazed yeast donuts here.
The only thing I changed was the glaze. I think that a little butter in a glaze that might only call for milk and powdered sugar is a must. The butter makes it more like an icing in taste and less like eating powdered sugar. Butter makes everything better, though; we already knew that.
Other sweet recipes you'll love:
Feel free to comment on the life-changing experience that making these glazed donuts leads to. You'll never be the same.
This post was originally published in 2013 and has been updated in June 2019.
I know you're going to just love Pioneer Woman's glazed donuts — the light and fluffy and just-sweet-enough flavor is divine! There's something magical of fresh homemade donuts and this recipe is a perfect place to experience that.