Confession: I love me some donuts. And I especially love Pioneer Woman's Glazed Donuts recipe.
There is no donut-providing bakery anywhere near me. Sure, the Wal-Mart has "donuts" but they are not donuts. Are you with me?
What do you do when hours away from a donut source? Become the source; making donuts from scratch is my only option and my, what a delicious option it is.
This recipe hails from The Pioneer Woman's blog and I dare say it is the best homemade glazed donuts recipe ever. These donuts are better than anything you can buy, that I can promise you. The secret is in the dough. You make the dough with a heavy hand of melted butter. The dough is light and sticky, but then you stick that dough in the fridge for a good long while. The butter gets firm again in the fridge and works its magic when you pop these donuts in the hot frying oil. These light donuts almost melt in your mouth when you eat them.
Donut making is quite a bit of work and the recipe takes a while to make (the perk is that you can make the dough ahead of time and keep it in the fridge). I like to think of donut making as party time. We like to make glazed donuts for my son's fall birthday party instead of serving cake and we love to make a batch when we have friends come over. It's a lot of fun and fresh donuts are one of those things no one can say "no" to. If you share enough, you won't have to worry about eating them all yourself. You are going to love these. Mark my word.

If you try this recipe, let me know what you think! Leave a comment, pin it, and don't forget to tag a picture #blessthismesseat on Instagram. I love to see your kitchen skills in action!
Print
Pioneer Woman's Glazed Donuts
The best homemade yeast glazed donut recipe on the face of the earth. Trust me, I've tried them all.
Author:

Melissa Griffiths

Prep Time:

8 hours

Cook Time:

3 mins

Total Time:

8 hours 3 minutes

Yield:

2 dozen donuts
Ingredients
For the Donuts:
1-1/8 cup whole milk, warm
1/4 cup sugar
2-1/4 teaspoons (one Package) Instant Or Active Dry Yeast
2 whole large eggs, lightly beaten
1 and 1/4 stick unsalted butter (10 tablespoons), melted
4 cups all-purpose flour
1/4 teaspoon salt
Shortening/oil for frying
Glaze for hot yeast donuts:
4 tablespoons salted butter, room temperature
1 teaspoon vanilla
3 cups powdered sugar
Enough milk to make a thin icing (about 1/2 cup)
Instructions
To make the dough warm the milk until it is getting nice and warm when you dip your finger in it. Add the milk to a mixing bowl of the bowl of your stand mixer. Add the sugar and stir to dissolve. Add the yeast and stir to combine. Let the yeast rest for 5 minutes.
Add the beaten eggs and melted butter to the bowl and stir to combine. While the mixer is running slowly add the flour and salt and mix until the dough comes together. Mix for a whole five minutes to work the dough well. Turn off the bowl and let the dough sit in the bowl of the mixer for 10 minutes.
After the rest period turn the dough out into a lightly oiled bowl, cover the bowl with plastic wrap and refrigerate the dough for at least 8 hours up to overnight.
To make the donuts:
Remove the dough from the fridge and roll it out on a lightly floured surface until it is 1/2 to 1/3 of an inch thick. Use a three inch donut cutter to cut out the donuts. Place the cut donuts and holes on a lightly greased baking sheet. Repeat with the remaining dough. Cover the donuts and let them rise until doubled in size, about one hour. The donuts will be very puffy and airy looking.
To fry the donuts: Heat a few inches of oil or shortening in a large cast iron skillet or fryer over medium heat until the oil reaches 375 degrees (use a thermometer!). Carefully add the donuts to the hot oil and fry until golden brown, about 1 1/2 minutes per side. The donut holes will only take about 30 seconds per side. Use a slotted spoon to remove the donuts from the hot oil and place them on a paper towel lined baking sheet to remove extra grease. Let them cool slightly. Dip the hot donuts in the glaze and enjoy right away.
For the Glaze: Just combine all the ingredients in a medium bowl and mix until smooth. Add just enough milk to make thin icing. Once the donuts are dipped halfway in the icing take them out, turn them icing side up, and place them on a cooling rack set inside a baking sheet (to catch the drips).
Notes
This is the most amazing donut recipe and the only one I have made for years. ENJOY!
For this recipe, I recommend:
[asa_collection btmp]donuts[/asa_collection]
This recipe is from The Pioneer Woman. She is amazing in general but has really come through with this recipe. She has lots of comments on the process of making these glazed donuts, so if you need some more pointers on who this should come together check out her details post, recipe, instructions, and lots of tips on making glazed yeast donuts here.
The only thing I changed was the glaze. I think that a little butter in a glaze that might only call for milk and powdered sugar is a must. The butter makes it more like an icing in taste and less like eating powdered sugar. Butter makes everything better though; we already knew that.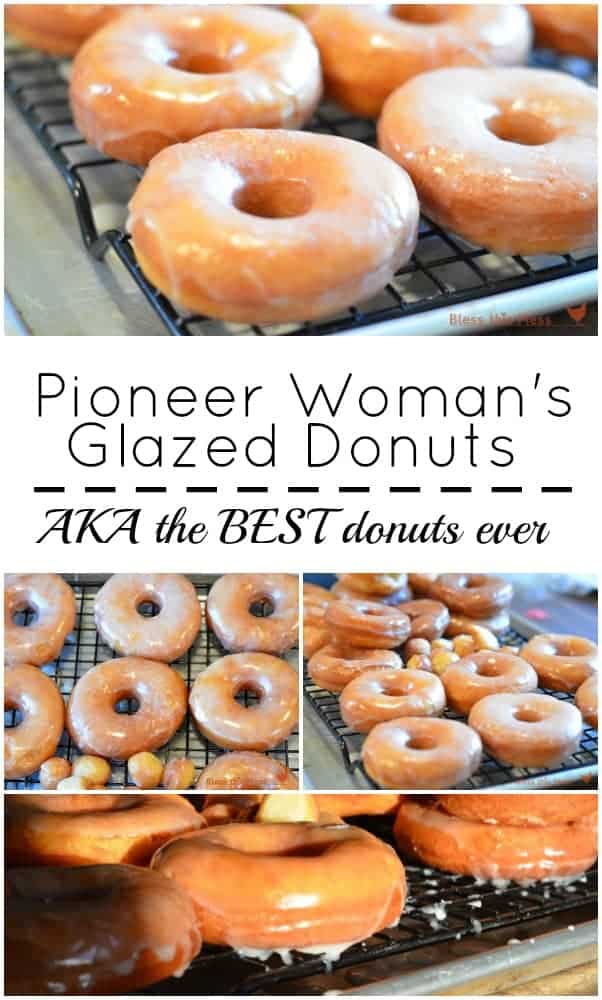 Feel free to comment on the life-changing experience that making these glazed donuts leads to. You'll never be the same.