This family-friendly, two-week healthy meal plan is designed for the fall and winter months and is full of recipes the whole family will love that are easy to make -- plus, it comes with a free printable shopping list.
I love having a plan when I'm cooking, if you do too, look at these posts: My Approach to Eating, What to Make for Dinner: Stop the 5 Oclock Dinner Planning and 3 Tips for Making Meal Prep EASY!
Healthy Meal Plan + Tips
If you want to feed your family well but aren't sure where to start, this is the post for you. I have a whole foods approach to eating that your whole family will gobble up (with no health food store needed… score).
This meal plan is ideal for families because all of the recipes are beyond simple, the ingredients are easy to find, and your whole family will chow down the meals. If you are new to healthy eating or trying to eat with a focus on whole foods, this a great place to start because the recipes are very traditional while also being simply delicious, if I do say so myself.
I do want to mention that "healthy" is a relative term, and we may not agree on what it means. To me, it's about balance, eating foods that make you feel good, and not restricting yourself. You can check out my food philosophy here (LINK).
Healthy Eating Meal Plan: Fall and Winter Menu
Let me take the thinking out of feeding your family! This eating clean meal plan is great for busy families who want to eat at home more! You are going to love all of the tried-and-true recipes I've been making for my family of seven for years.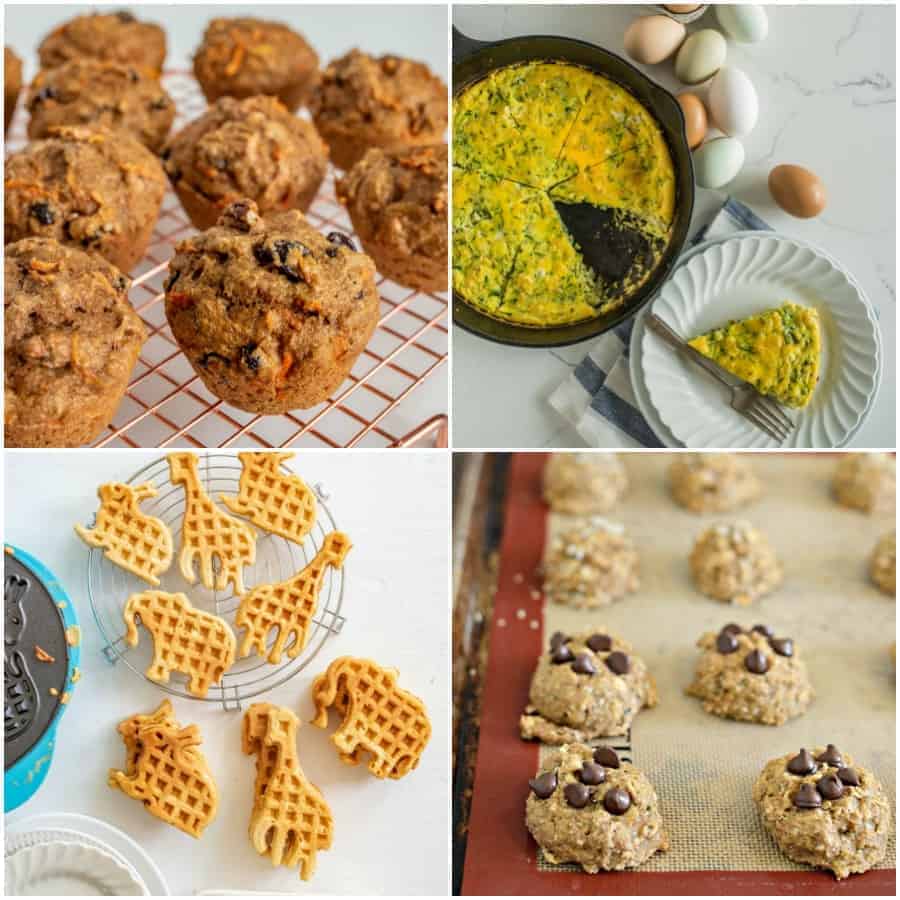 Breakfast:
Here are 14 breakfast ideas to start your morning off well.
Scrambled Eggs +

Muffins

Breakfast Burritos

(with roasted sweet potatoes)

Oatmeal (with frozen berries)

Granola

+ berries + milk (like cold cereal)

Scrambled Eggs +

Muffins

Oatmeal or

Overnight Oats

Granola + berries + milk
Tip: Make a double batch of the waffles and pancakes on the first day, and freeze half for the second time you plan to serve them for breakfast. Thaw in the fridge overnight, and reheat in a toaster. Easy as can be!
Lunch:
Here are some simple lunch ideas for your family that can be made at home or taken on the go to work, school, or the park.
Peanut Butter and Honey Sandwiches

Leftovers
Remember: Don't overthink lunch! I feel like this should be a fuss-free meal in the day.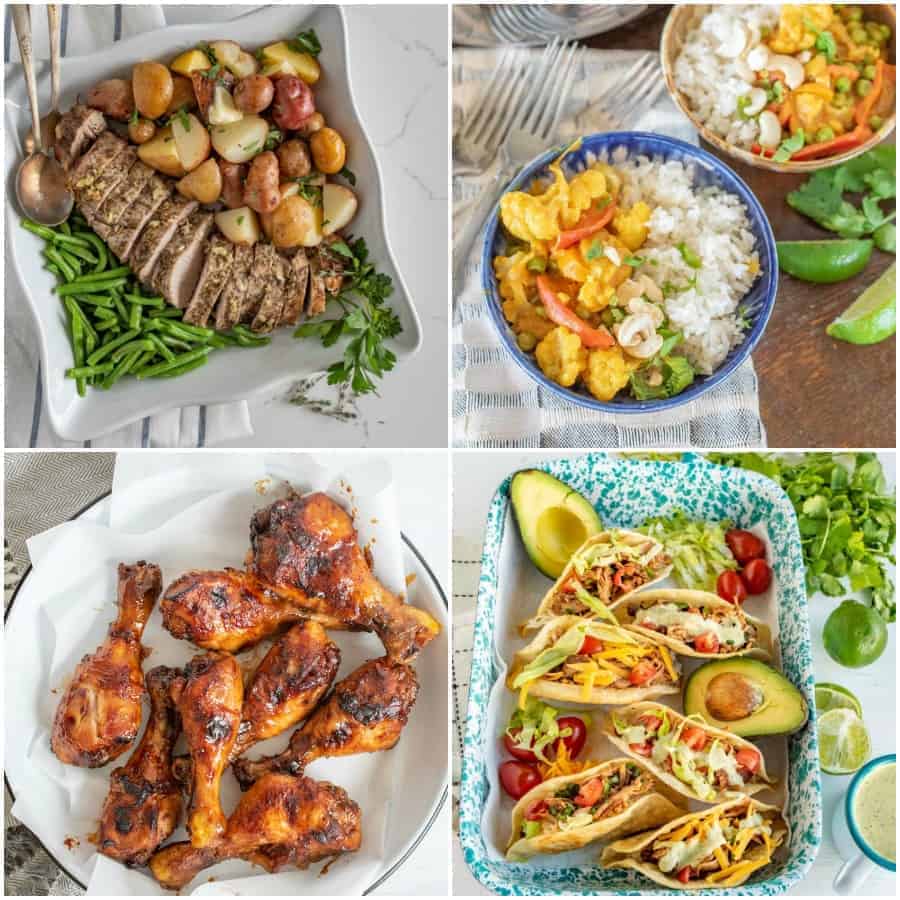 I've made this EVEN EASIER! Sign up here to get a free PDF printable shopping list for the dinners included in this meal plan.
2 Weeks of Dinners the Whole Family Will Love
Dinner is the hardest meal of the day because everyone's a little bit tired, and there's still a lot left to do (homework, sports practice, baths, bedtime, cleanup, etc.). Here's my easy meal plan that is perfect for fall and winter dinners that'll take the stress out of getting the final meal of the day on the table! They're hearty and will warm you up from the inside out during the chilly months.
Week 1
Day 1: Slow Cooker Pork Tenderloin and Potatoes
Day 2: Ground Beef Enchiladas
Day 3: Tortellini and Vegetable Soup
Day 4: Ground Beef Stroganoff
Day 5: Stove Top Chicken and Rice
Day 6: Sticky Chicken Legs
Day 7: Leftovers/Eat out
Week 2:
Day 1: Slow Cooker Whole Chicken (use leftovers for chicken tetrazzini night)
Day 2: Slow Cooker pork for tacos
Day 3: Chicken Tetrazzini
Day 4: Slow Cooker Potato Corn Chowder
Day 5: Pumpkin and Cauliflower Curry
Day 7: Leftovers/Eat out
Sides for dinner:
I rely on frozen veggies a lot in the winter months because there aren't as many fresh options available as warmer months. If you need a side for your meals, consider adding baked or roasted potatoes, roasted fresh veggies, steamed frozen veggies, or making a simple side salad (with a great dressing) to go with your meal.
Hard squashes like butternut, spaghetti, and acorn are in season, as well as other dark greens like Brussels sprouts, kale, and cabbage.
Fruits like apples, pomegranates, oranges, and other citrus fruits are also prime in the winter. Frozen fruit such as summer berries or peaches are also great (stock up and freeze them yourself when they are in season for added savings).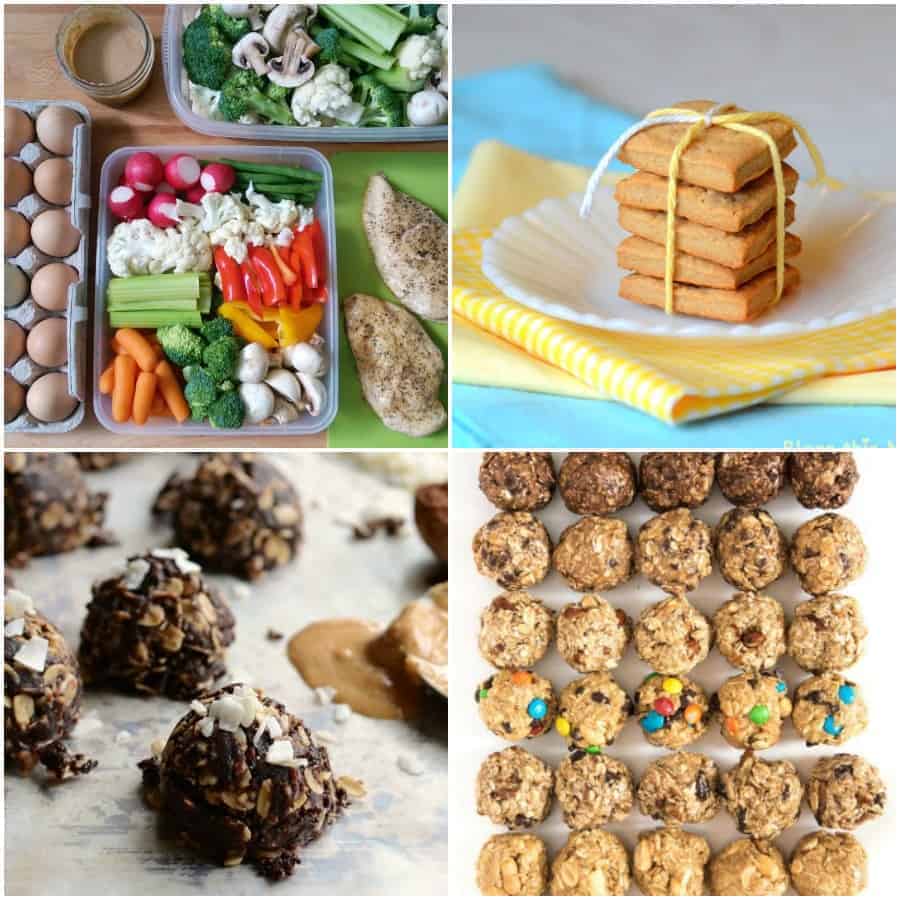 Snacks:
If your kids are like mine, I bet they come home hungry from school. This snack list is also great for things to send in school lunches.
You have lots of snack options that go beyond sliced fruit, vegetables, and string cheese sticks, but don't discount those simple options, as well.

I always keep a

veggie box in my fridge

. It's the best thing ever, and makes it way easier to eat veggies regularly!

One of my

8 No-Bake Oatmeal Bites

are always in my fridge! My kids LOVE these.

Smoothies

in all shapes and sizes. Just don't get tricked into using sugar if your recipe calls for yogurt. Read that label!

Whole Peanuts. Peanuts in the shell are so much more fun to eat if you don't mind the mess. Trust me.

Popsicles.

Strawberry banana

are a favorite around here. I make a double-batch of smoothies and freeze half in popsicle molds all the time, but you can also try freezing a 100% fruit juice for easy popsicles. Popsicles are the easiest way for my kids to enjoy fruit and hidden veggies.

Boiled Eggs.

No-Bake Date Balls

. The peanut butter and jelly ones are our favorite.

I always have a loaf or two of

100% whole wheat bread

ready to slice and butter. Just toast a piece and spread peanut butter on it for a really good and filling snack.

Healthy Fruit Dip

. This is perfect with apples for some extra protein and fat.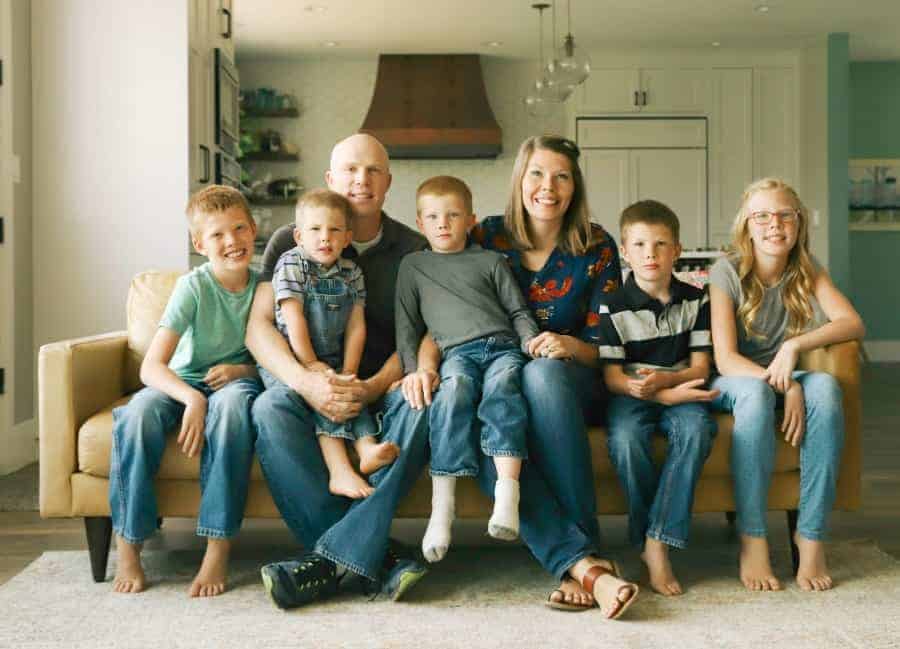 See? Meal planning is easy… Just let me do it for you!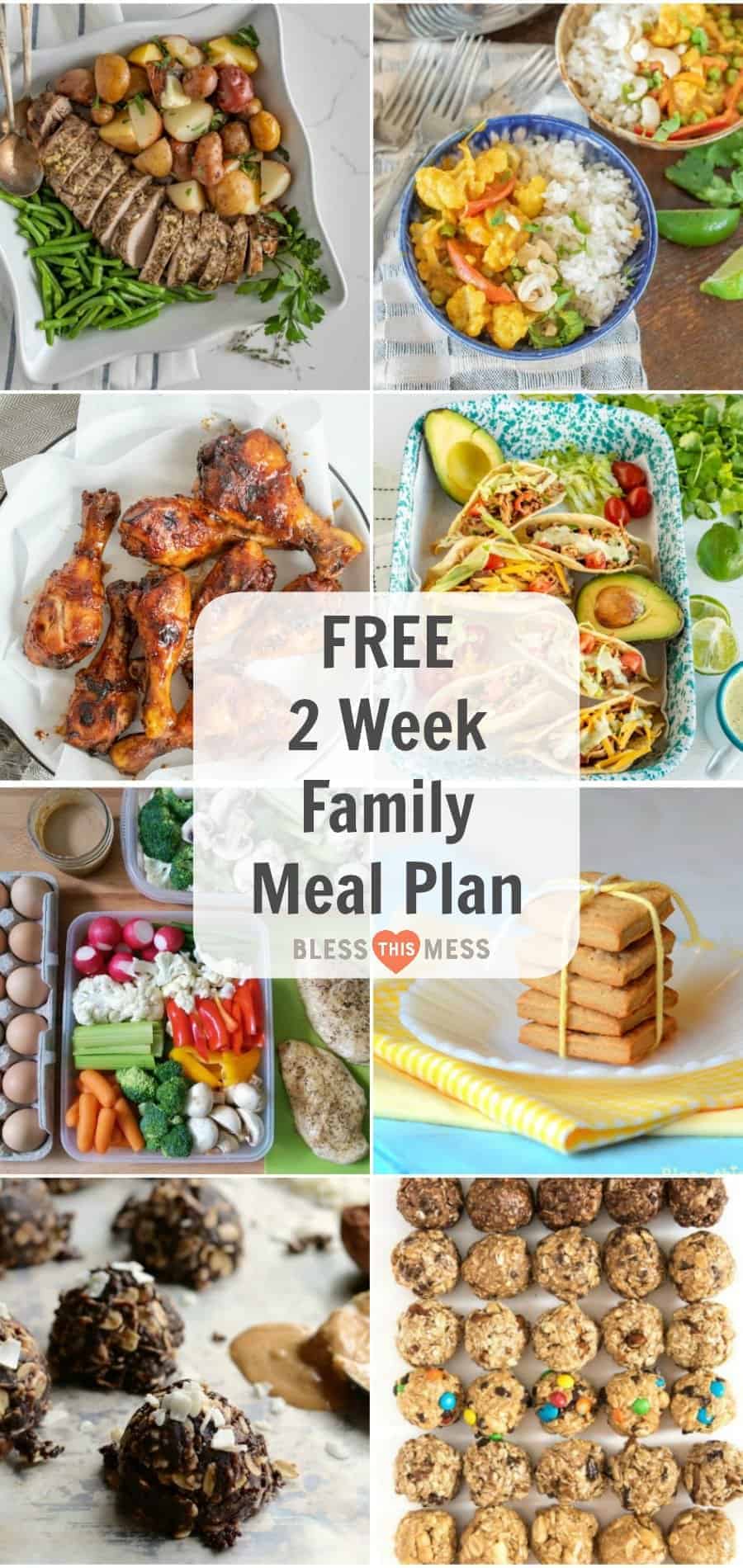 I've made this EVEN EASIER! Sign up here to get a free PDF printable shopping list for the dinners included in this meal plan.
Love a fall and winter meal plan? Don't worry, I have a summery one too! You can find my summer meal plan here.
I hope this free meal plan for families really helps you out, saves you time, and takes some of the thinking out of "what's for dinner?"!