Rainbow popsicles are naturally sweet, loaded with real fruit,  and so simple to make that your kids can almost make them by themselves!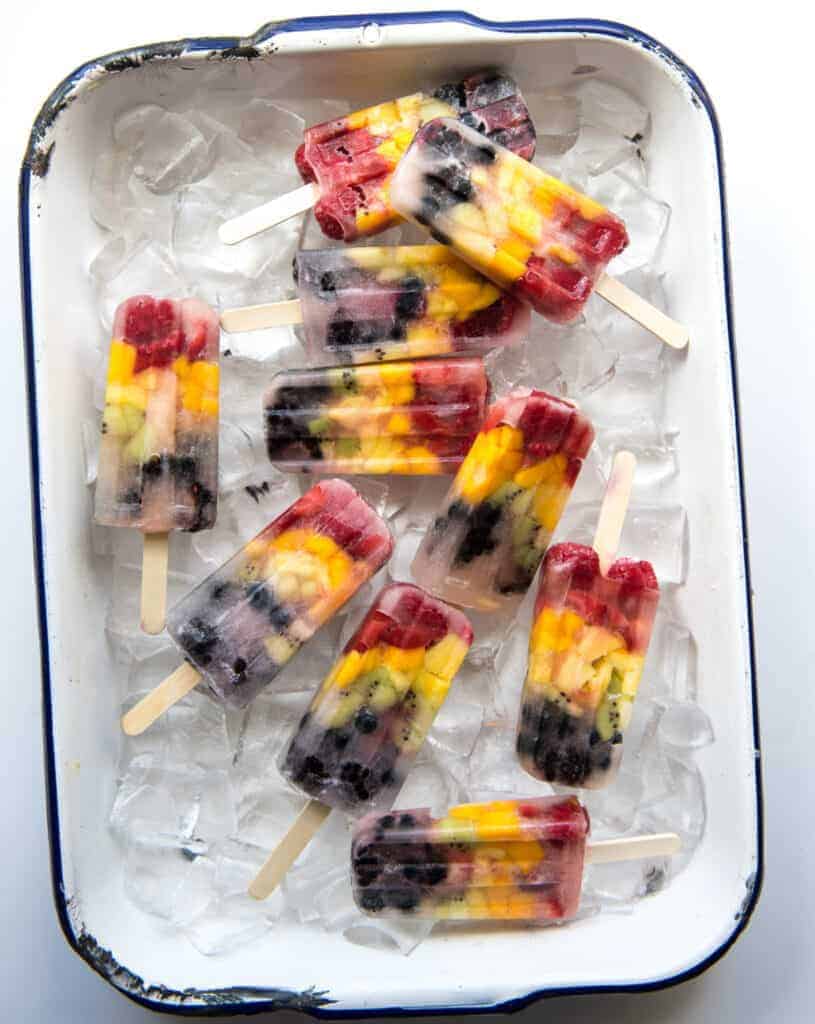 Easy Healthy Rainbow Popsicles
We're heading into popsicle season here in Southern Utah and we aren't sad about it, at all! Let's be honest though, my kids eat popsicles pretty much year round and I have no proplem with that. When you start making your own popsicles and you load them up with all kinds of healthy real foods, you start to think of popsicles as frozen healthy smoothie on a stick. I don't care if my kids eat a frozen smoothie on a stick for breakfast, lunch, or dinner.
These beautiful fruity rainbow popsicles are a little different than my normal "smoothie on a stick" kind of popsicles and my kids went bananas for them. They loved making them, couldn't wait for them to freeze, and ate the whole batch in one afternoon (big family problems, who's with me?!).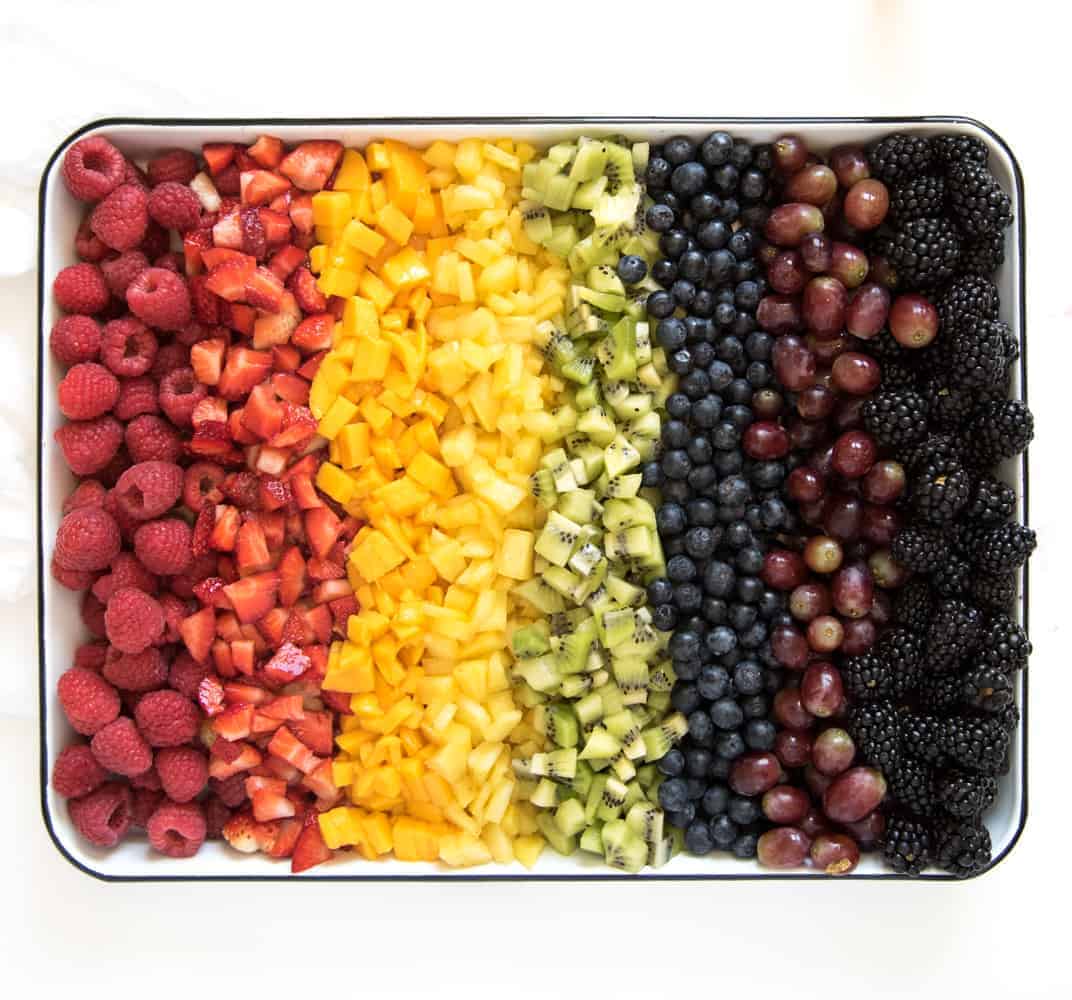 What I love about these rainbow popsicles is how easy they are to make. You literally just put fresh fruit into a popsicle mold (this is my favorite popsicle mold, FYI) and then fill up the gaps with some light colored juice (I used white grape) or coconut water. The coconut water was infused with all of the delicious fruit flavors, but my kids definitely preferred the sweet juice for their rainbow popsicles. You can pick just about any light colored or clear liquid that you'd like to use though (I think I might try sweetened almond milk next time).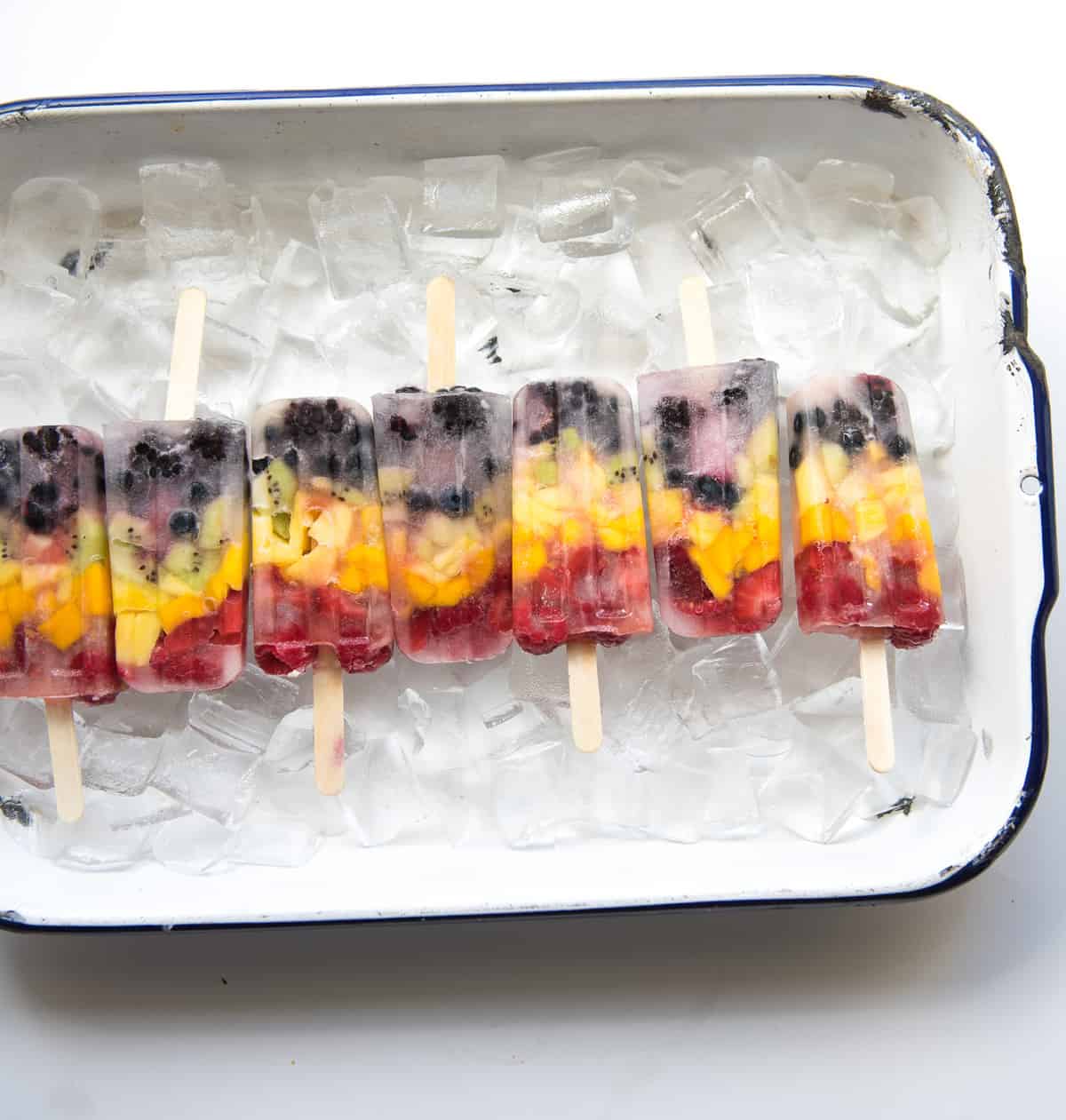 What is it about putting the colors in rainbow order that makes things so much prettier? Rainbow popsicles would be a fun addition to any party, picnic, or stay-at-home date with mom. They look great, taste great, and are full of delicious fruit. Everyone will love these popsicles, adults included.
Here's a collection of popsicle gear, if you are needing to stock up for summer.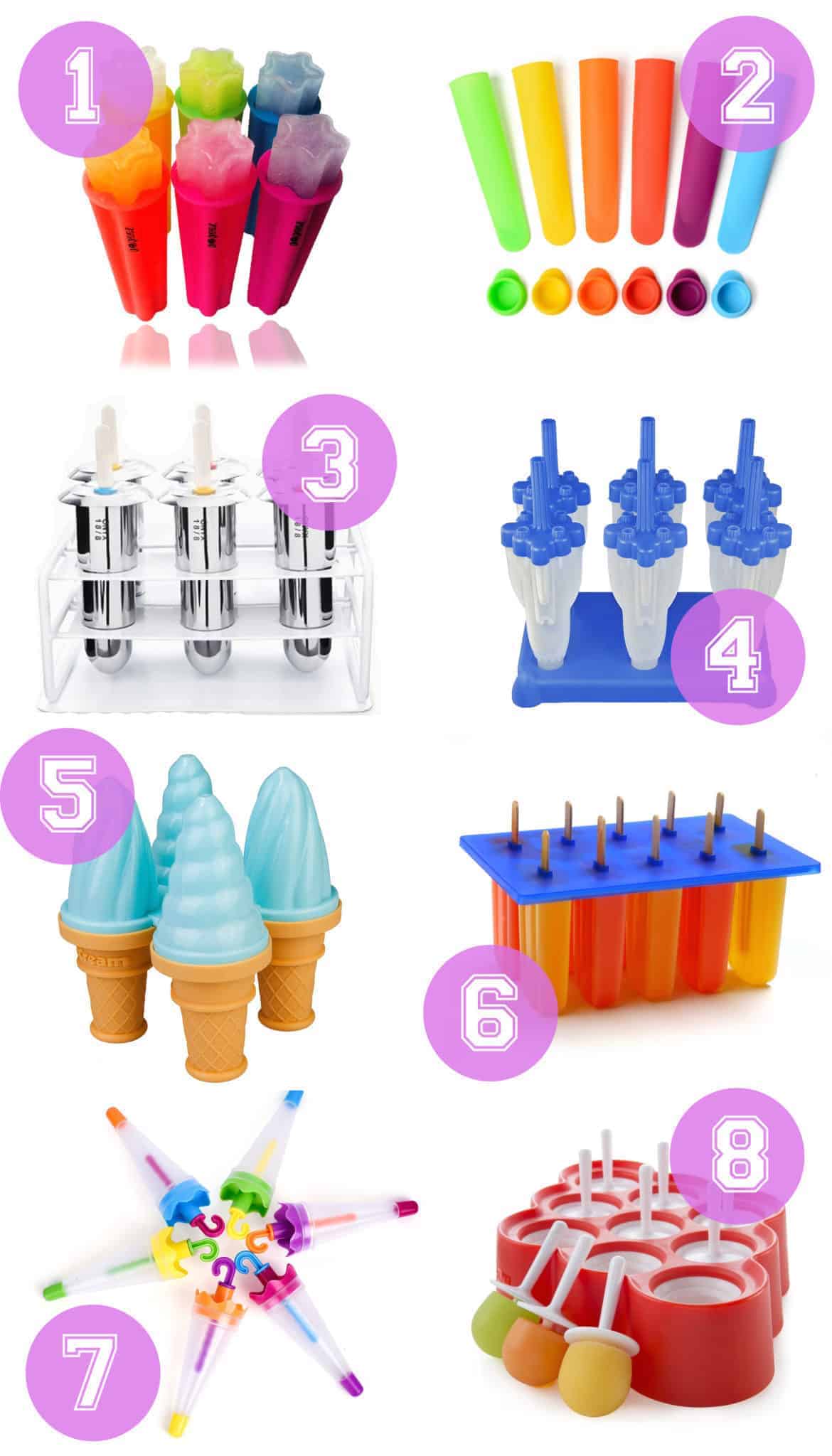 1. Star Mold
2. Squeezable Mold with Cap
3. Onyx Mold (I have and love this one)
4. Rocket Mold
5. Ice Cream Mold
6. Standard Mold (I have and love this one too)
7. Umbrella Mold
8. Ring Pop Mold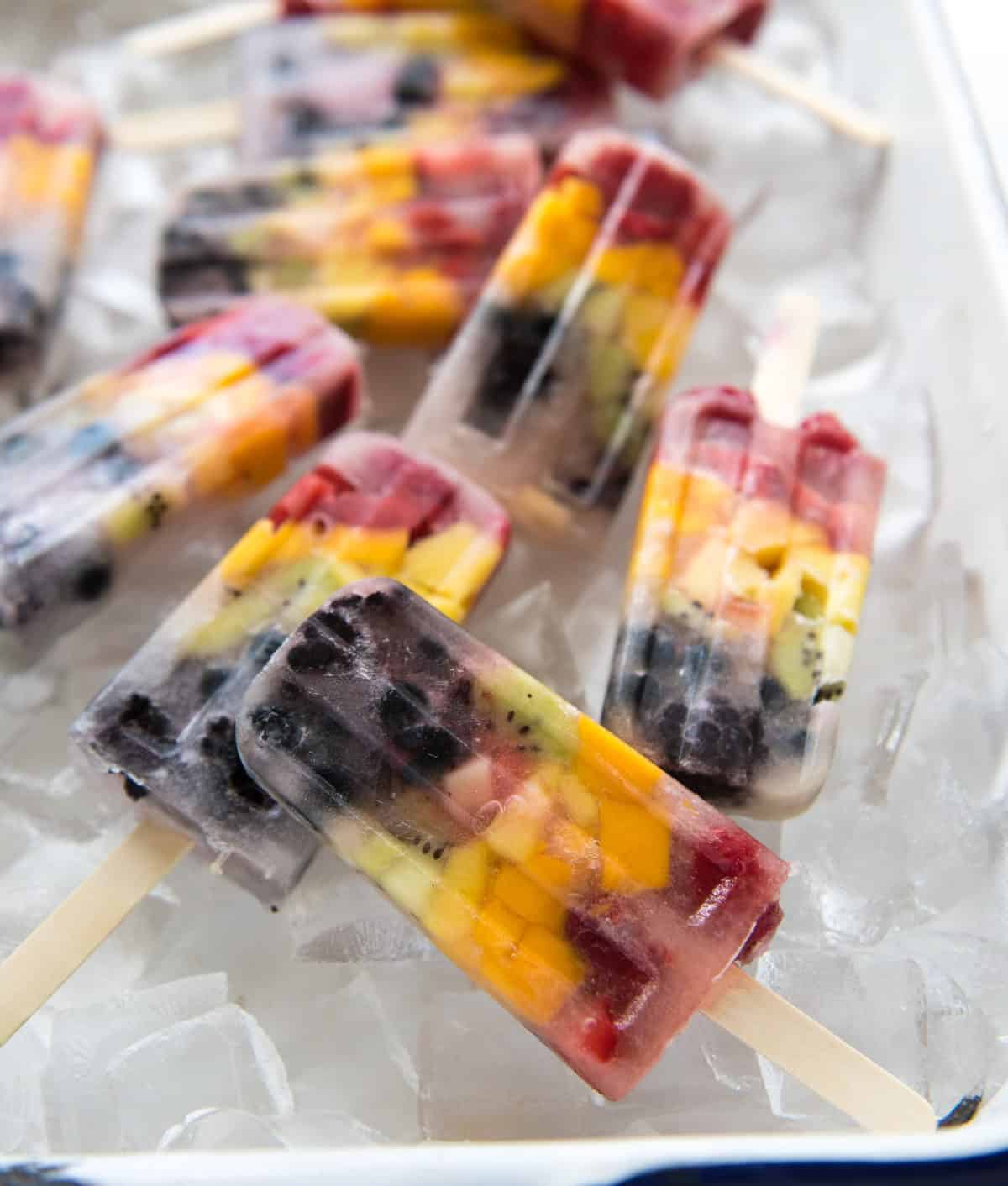 Print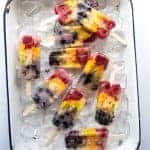 Easy Healthy Rainbow Popsicles
---
Author:

Prep Time:

15 mins

Total Time:

15 mins

Yield:

6-12 rainbow popsicles
Description
Rainbow popsicles are naturally sweet, loaded with real fruit,  and so simple to make that your kids can almost make them by themselves!
---
Ingredients
Red fruit (such as raspberries, strawberries, or pomegranate)
Orange fruit (such as mango or mandarin orange segments)
Yellow fruit (such as pineapple)
Green fruit (such as kiwi or green grapes)
Blue fruit (such as blueberries)
Purple fruit (such as grapes or blackberries)
White grape juice or coconut water
Popsicle molds
---
Instructions
Prepare your fruit by washing it, removing any skin it might have (for things like pineapple, oranges, and mango) and then cut it into small pieces. Cut the pieces as small as you would if you were serving them to a toddler (the chunks will still be in the frozen popsicle, so cut them small enough that they won't be a choking hazard). I like to arrange the fruit on a plate in a rainbow order so if my kids are helping so they can easily see the color pattern.
Fill (or have your kids help fill) the popsicle mold in rainbow order. You can start at the bottom of the rainbow or at the top, it doesn't matter. Gently press the fruit into the mold so that it's full but not so full it'll be solid fruit.
Carefully fill the rest of the mold with white grape juice or coconut water. Add the popsicle stick and freeze until solid (8 hours to overnight).
To remove the popsicle from the mold, run the outside of the mold under warm water and gently pull on the popsicle stick until the rainbow popsicle is released from the mold.
---
Category:

Dessert

Method:

Freeze

Cuisine:

American
Keywords: Popsicles, Summer, Sweet Treat
Here are a few more popsicle recipes that I know you'll love:
I have a feeling that these simple fruit-packed rainbow popsicles are ones that you are going to be making over and over again with your little people. I can't wait to hear how much they enjoy making and eating them with you.