How to cook Pork Tenderloin for Tacos in the Crock-Pot! Moist, super flavorful meat, with only 5 minutes of hands-on time and 4 hours of cooking.
Crock Pot Pork Tenderloin for Tacos
Does anyone else wish everyday was Taco Tuesday? No, just me? I have a deep and tender spot in my heart for Tex-Mex. It's always fairly easy to throw together, it's satisfying no matter the time of year (or time of day), and it's always a crowd pleaser. And this slow cooker shredded pork tenderloin is no exception.
Truly, this might be THE easiest Tex-Mex item to add to your lineup of favorite meals. It takes no more than (prepare yourselves) FIVE MINUTES to get ready before you toss everything into the Crock-Pot for about four hours. And in the end? You've got a juicy, tender, flavorful meat that you can use in just about anything.
Put it in the usual Mexican dish suspects--tacos, burritos, taco salads, or quesadillas--or get fancy and use it to make a delicious homemade pizza, nachos, fried rice, or an omelette. If you want to scale up the recipe, just add another hour or so to the slow cooker, depending on how much more meat you use.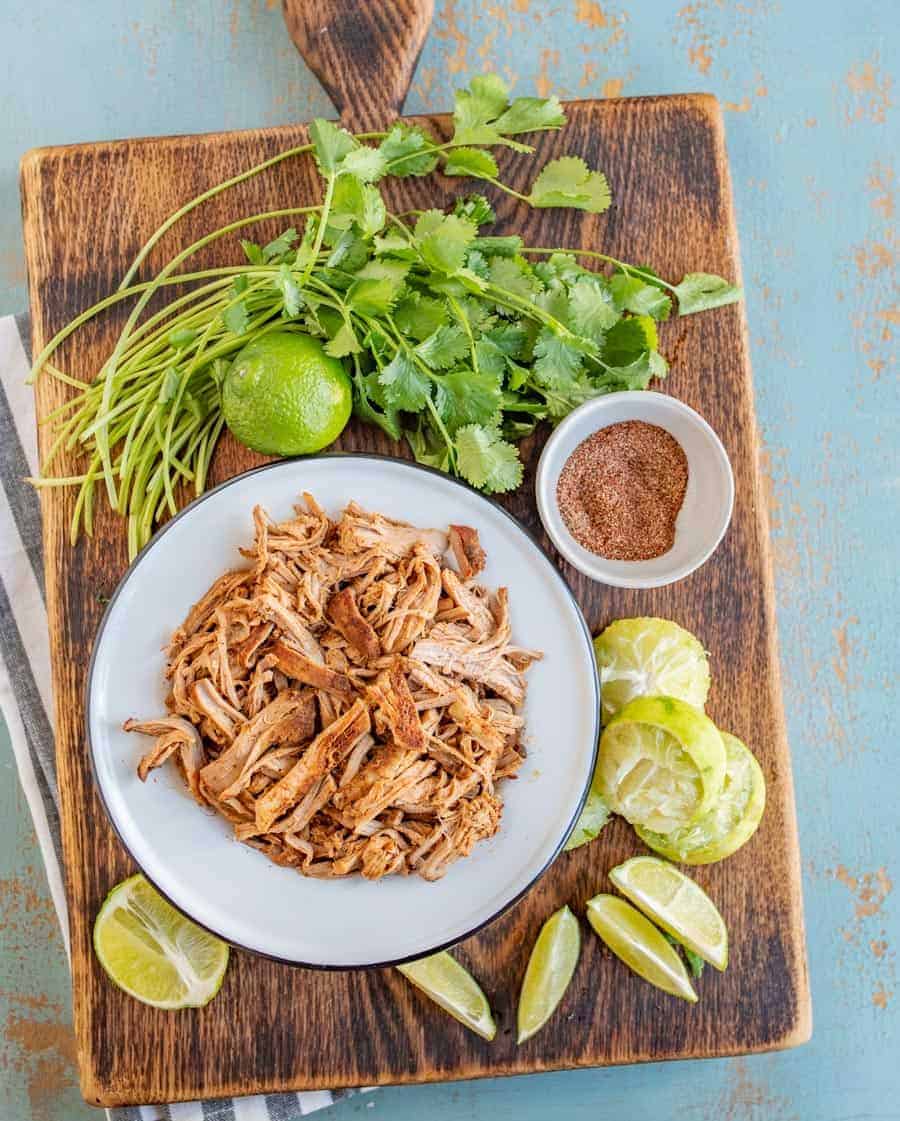 Can you overcook pulled pork?
It's pretty darn hard to overcook pork in a slow cooker. Really, the worst that might happen is it'll get drier and a bit chewier. But this would only happen if for some reason you totally forgot about the cooking pork and left it in there for more than six hours. But with the scrumptious smells filling your house from your Crock-Pot, I doubt that will happen!
How do you keep pork tenderloin from drying out?
When you cook pork tenderloin in a slow cooker, the cooker will trap a lot of that good moisture that makes the meat nice and tender. Throwing a half-cup of water or broth into the slow cooker before turning it on will also reserve enough moisture to keep the meat from drying out.
Can you use a different cut of meat for slow cooker taco meat?
Yes! Actually, the traditional cut used for pulled pork is the pork shoulder, but pork tenderloin is just a bit leaner and has a great consistency when cooked this way. You can also use beef brisket for shredded brisket or chicken breast for shredded chicken, if you prefer, but you may have to adjust the cooking time depending on how many pounds of meat you cook.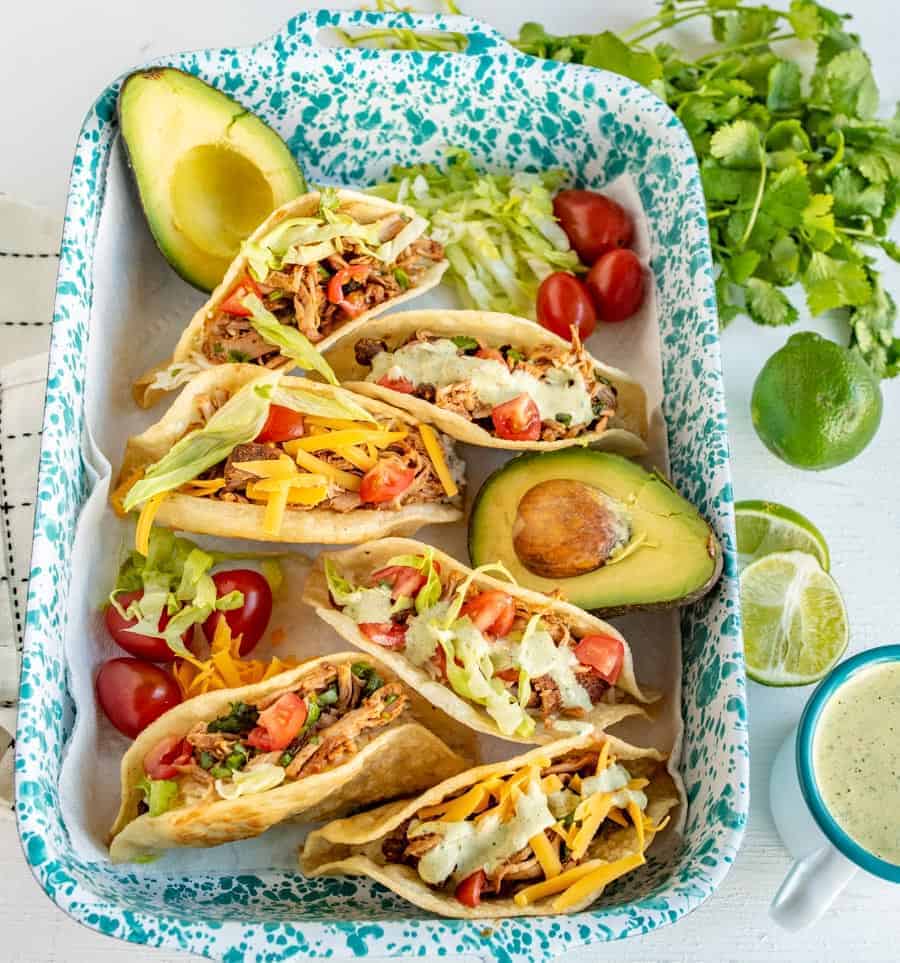 Complete the meal by making:
Print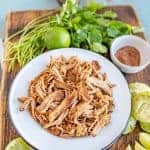 Pork Tenderloin for Tacos in the Crock Pot
---
Author:

Total Time:

4 hours 5 minutes

Yield:

Serves

6

-

1

0

1

x
Description
How to cook Pork Tenderloin for Tacos in the Crock-Pot! Moist, super flavorful meat, with only 5 minutes of hands-on time and 4 hours of cooking.
---
---
Instructions
Remove the pork tenderloin from the package, and place it on a cutting board.
In a small bowl, combine the salt and the taco seasoning.
Rub your spice mixture all over the tenderloin, and then place it in the bottom of your slow cooker.
Add the water or chicken stock to the bottom of the slow cooker (don't pour it over the pork, though, so that you don't wash off your spice rub).
Add the lid, and cook on high for 4 to 5 hours, or until the tenderloin is easy to shred with a fork.
Remove the pork from the Crock-Pot, and place it on a cutting board. Cut into 4 equal parts, and then shred with two forks.
Return it to the slow cooker, and mix it with any liquid that might have remained in the bottom of the slow cooker. Adjust salt to taste.
Serve hot in your favorite tacos, burritos, or on a salad or nachos.
Notes
This recipe is really easy to scale up. You might need to cook it an hour longer or so, but it's a great recipe to keep on hand when feeding a crowd.
If you didn't make the homemade taco seasoning and use store-bought, hold off on the additional salt. Commercial tends to be saltier than mine. Then, adjust the salt to taste after the pork tenderloin is shredded.
Prep Time:

5 min

Cook Time:

4 hour

Category:

Dinner

Method:

Crock Pot

Cuisine:

American
Keywords: pork, pork tenderloin, crock pot pork tenderloin, pork loin crock pot recipes, crock pot pork, easy pork tenderloin, slow cooker pork tenderloin, best pork tenderloin recipe
For more pork tenderloin recipes, check out:
For more taco recipes, check out: