If you want meals at home to be simplified but don't know where to start, check out my top 3 tips for making meal prep easy to be able to eat well all week long.
Tips for making meal prep easy
I know meal prep is one of those buzz phrases we hear about all the time, and you might be wondering who actually has the time to plan and cook a bunch of meals for the week in one sitting? It can feel overwhelming or maybe even downright impossible, especially if your schedule is already packed to the brim with kids or work or other responsibilities.
I'm no meal prep expert, but I have picked up a few helpful tips and tricks for finding simple ways to meal prep throughout my years feeding five hungry, growing kids' mouths. It doesn't have to take a whole day or require massive and expensive grocery hauls. All it takes is a little planning and foresight, and you'll be golden! So, let's jump into my top 3 tips for making meal prep easy.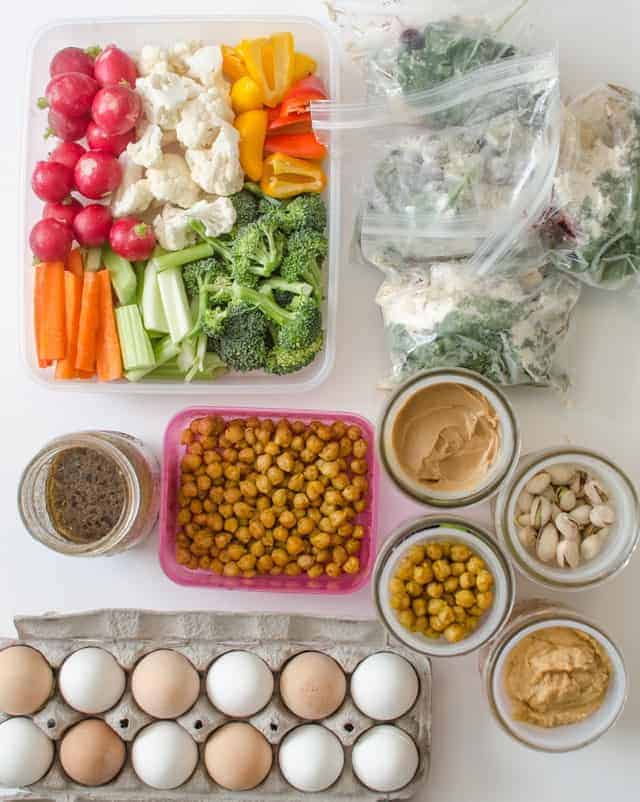 Plan a big prep session one day a week
When you have your meals all planned out for the week, prepping ahead of time is not a big deal. It takes a bit of time, but you've already done all the thinking. You can precook chicken breast to use on top of salads; you can make grains (like rice, quinoa, or beans) ahead of time in batches; you can prep boiled eggs, make smoothie freezer packs, prep salad in a jar, pre-chop vegetables, and make a batch of date balls all in a couple of hours to have to eat on the rest of the week.
All of these ideas store very well in the fridge and are easy to reheat when you need them. The first time you do a big meal prep day, you might feel like it was a whole lot of work, but then you'll slowly reap the benefits all week and earn back the time spent prepping as you use the food that you already have ready to go. I promise, after one week, you'll love it.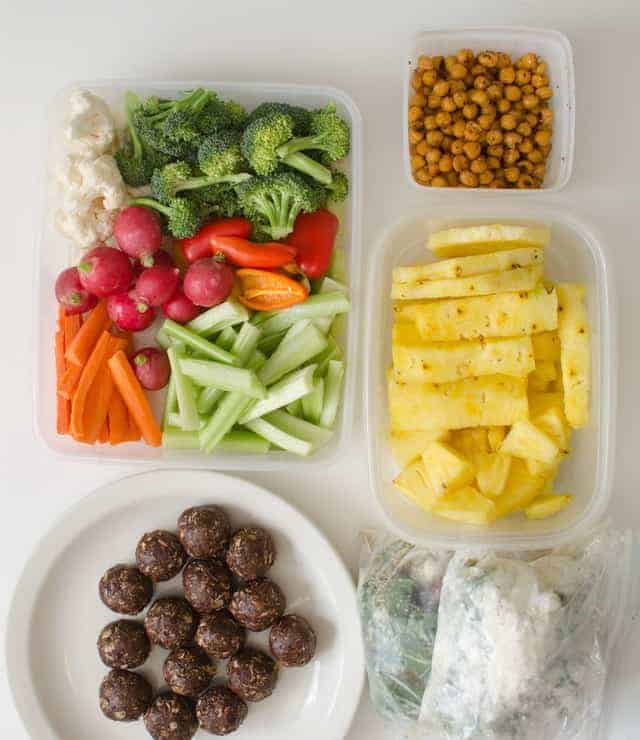 Prep a little as you go
Sometimes, I don't get a big prep session in, but that doesn't mean that I can't prep a little here and there. If I'm making a smoothie in the morning and have all my ingredients out, I can make a few freezer smoothie bags while I'm at it. Then I don't have to get all of the ingredients out again for a while. If I'm making tacos for dinner on Tuesday and I'm chopping up all kinds of veggies to go in them, then I can chop a few extras and make a few salads in a jar while my meat is browning. If I'm chopping up vegetables to saute with eggs, I can chop a few extras and keep them in the fridge until dinner when I'm going to roast them. Cooking rice for one meal? Make a double batch, and plan on using it later in the week.
This way takes less time than big meal prep days, but you are still saving yourself time later from small, proactive steps here and there. If your cutting board is out and your knife is being used, think ahead to what else you can chop while you are at it.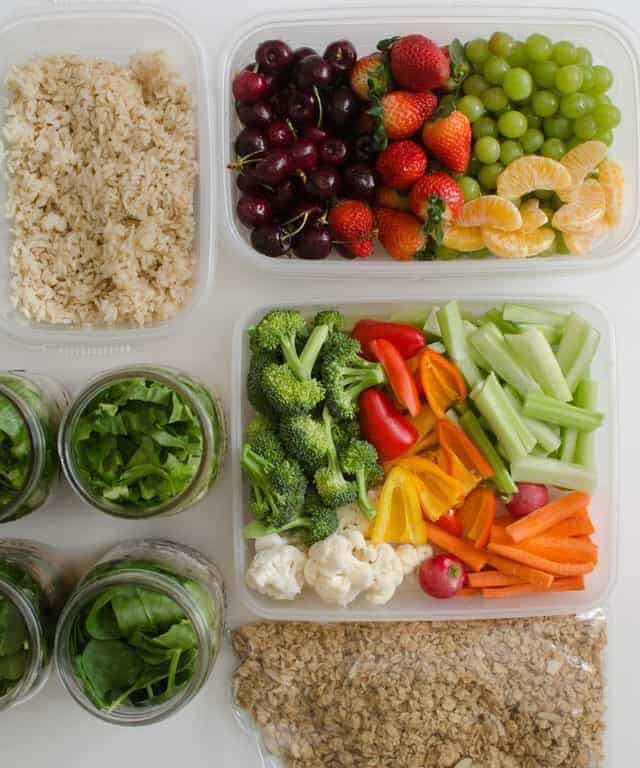 Take advantage of freezer meals
About every 3 months, I plan and prep a batch of freezer meals. I love having these kinds of meals already done and in the freezer! They are such a gift for crazy long days! When I have a great plan but life happens, I have these go-to meals on hand. These are some of my favorite glass dishes with snapping lids that are great for storing freezer meals or any leftovers that require an airtight container! (And they're pretty affordable for a big set... Score!)
I also like make a few recipes that I know go into the freezer and then into the oven well. I make a tetrazzini recipe, lasagna, chicken and rice, as well as enchiladas that all freeze well. When I have lasagna (or any of these freezer-friendly meals) on my meal plan, then I'll plan on making two batches -- one for that night at dinner and another to stick in the freezer. I love cooking once and eating twice. This method doesn't stock your freezer, but it also doesn't take much more time, energy, or mess than making one dish does. It's a great habit to get into.
By the way, for less than 4 bucks, you can also grab my e-book, The Busy Mom's Guide to Freezer to Slow Meals, that teaches you how to prep slow cooker ingredients and store them in the freezer to easily pop into the Crock-Pot on chaotic days. It makes freezer meals so, so easy!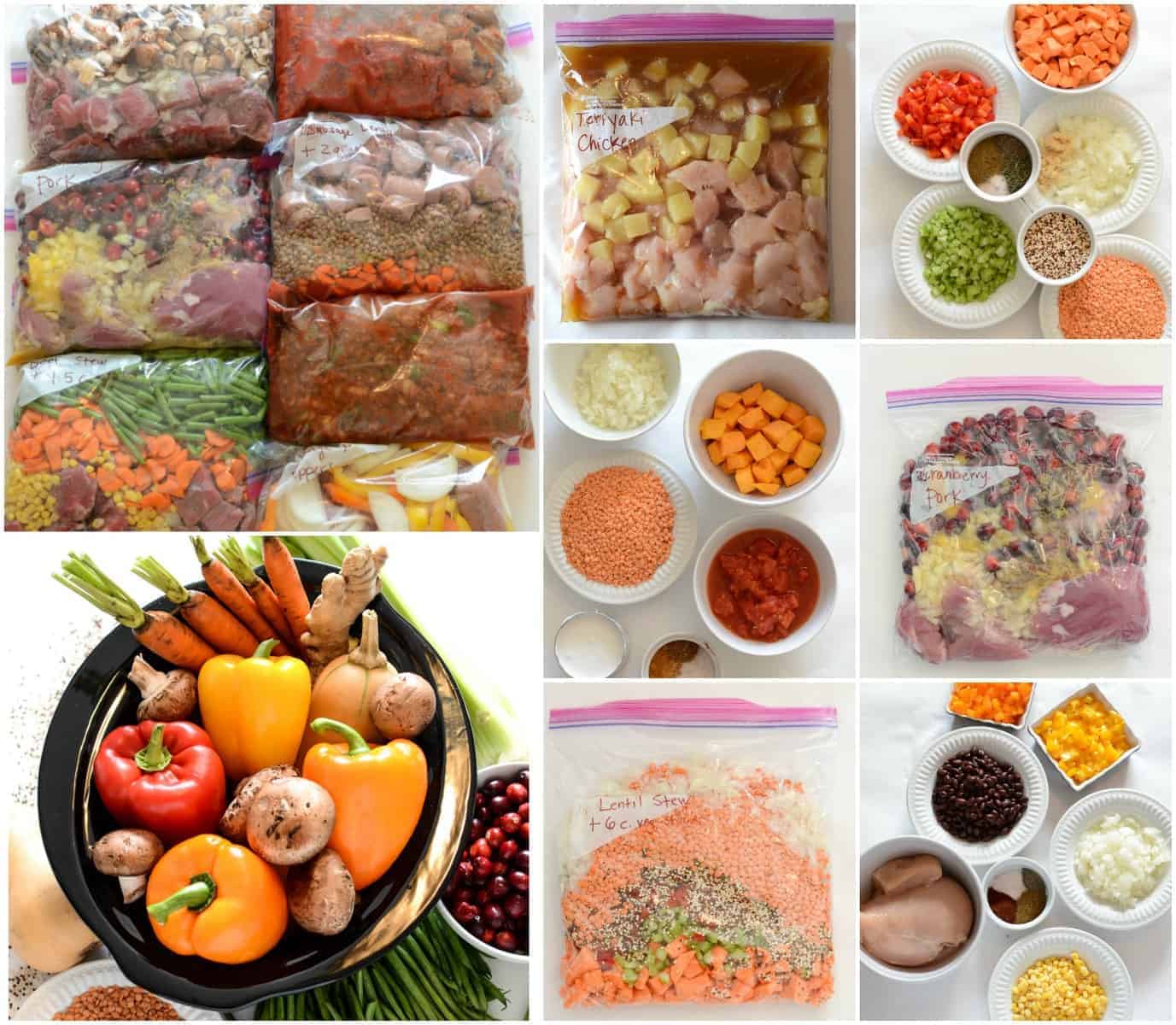 Want an extra pro tip?
When you head home from the grocery store, don't put any of the veggies away UNTIL you prep them! Only put them up when they are ready to go. This practice has mad my life SO much easier! Prepping veggies doesn't take too long, and I'm always grateful that they're ready to throw into a pan or onto a plate.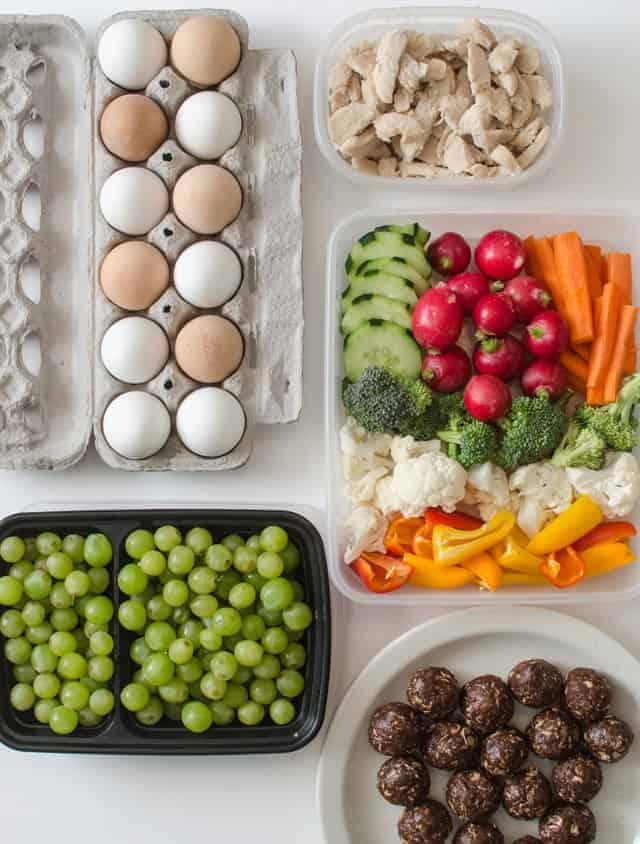 Some ideas for easy meals and snacks to prep ahead:
If you want meals at home to be simplified but don't know where to start, check out my top 3 tips for making meal prep easy to be able to eat well all week long.