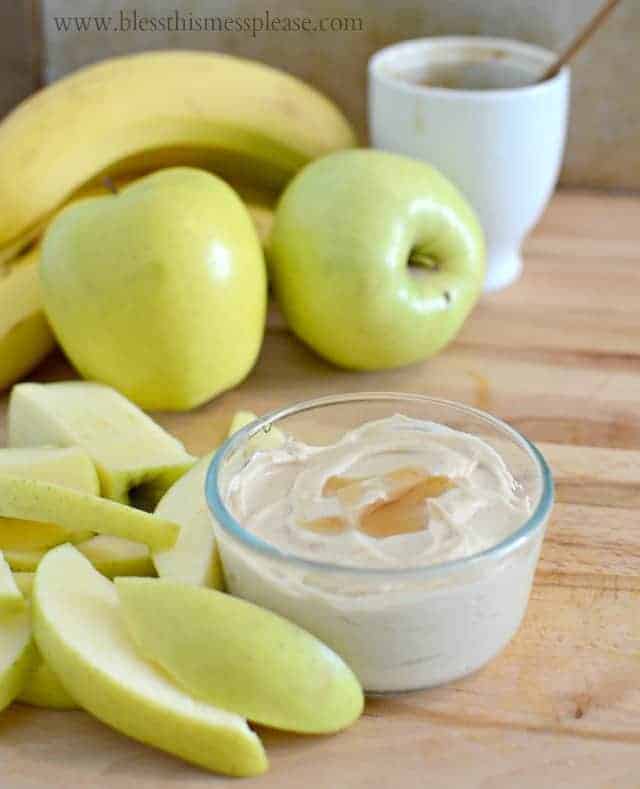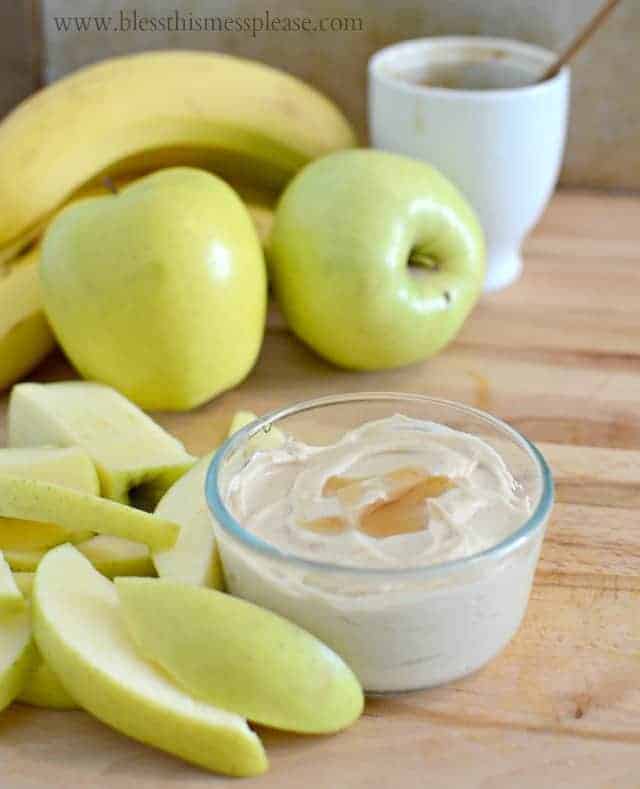 Healthy is so in right now at my house!
I am knee-deep in a really fun and well thought out 8 week health challenge and I am loving it! It isn't uncommon for me to be super healthy for a full two weeks at a time (no sugar, no white flour… that really does cut out a ton of foods!), but 8 weeks is a lot lot longer! So I've had to plan, prepare, and add a few new tricks to my plan. And you know what, it's working. I'm a week in and I've lost 4 pounds. It's all baby weight, so it needs to come off and is a bit easier to shed in my mind, but I'd be a liar if I said I wasn't super exited. The weight loss was just what I needed to keep on track for week two. Working out, eating awesome, and counting calories is working it's magic.
This healthy fruit dip is the current love of my snack time. When you don't eat refined sugar your palate really changes and things that are simply naturally sweet becomes so much sweeter than before. This dip with a big old Golden Delicious apple is practically dessert. I love it! Plus the Greek yogurt in it helps to keep me full with all that yummy protein and fat. This dip is a keeper! My kids are liking it with apples and pretzel sticks too.
So grab a tub of yogurt, some honey, and some peanut butter, and you are good to go. I make a big batch of this on Monday, along with my salads in a jar, and that takes some of the prep and effort out of eating well. A little forethought goes a long way.
Eating clean or not, this dip is delicious. Enjoy!
Craving more? to Bless this Mess to get new recipes, meal plans, and a newsletter delivered straight to your inbox! If you try this recipe, let me know what you think! Leave a comment, pin it, and don't forget to tag a picture #blessthismesseat on Instagram. I love to see your kitchen skills in action!
Print
Scale
Ingredients
2/3 cup

plain greek yogurt

3 tablespoon

s peanut butter

3 tablespoon

s honey
---
Instructions
Add all the ingredient to a bowl and stir well to combine. Dip in your favorite fruit (pretzels sticks are good in it too).
Refrigerate any leftovers.
---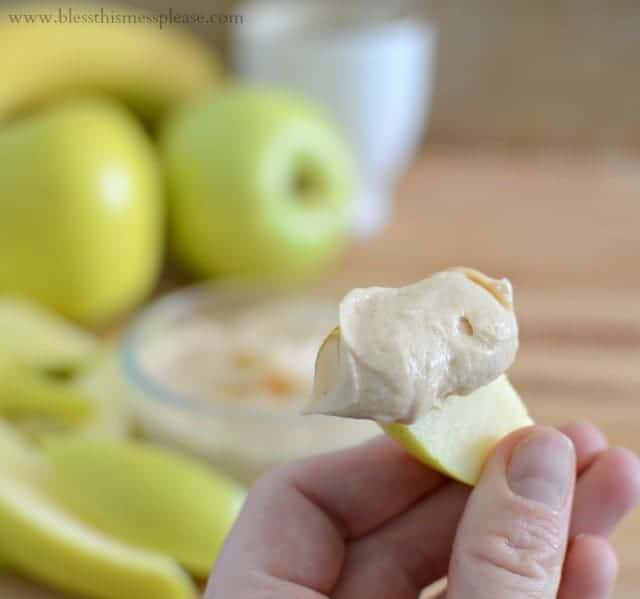 Wasn't that easy?
Here are a few other recipes that I'm loving right now:
Steak Carnitas in the Crock Pot
Healthy Chicken Tetrazzini
Egg and Potato Casserole
Raspberry Coconut Smoothie from Texan Erin Baking
Thanks a bunch for stopping in. What are you enjoying right now?