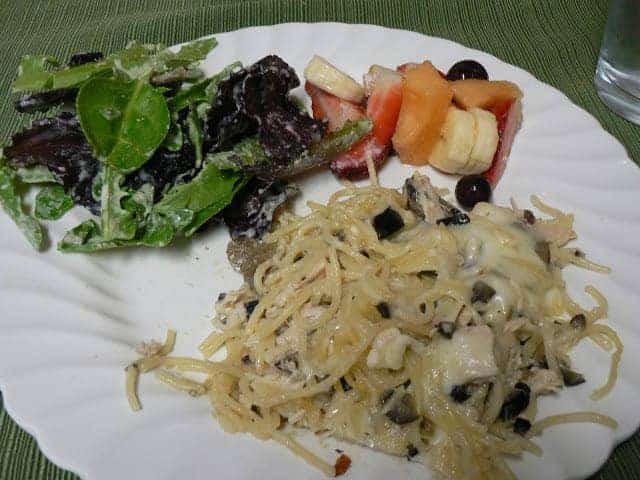 Oh that Pioneer Woman.  Every recipe I have tried has been divine.  This is the alcohol-free, only-a-tiny-bit-different version of her
Creamy Chicken Spaghetti Casserole
. I will call it Chicken Tetrazzini because I'll never make Chicken Tetrazzini another way!
PW wants you to boil up a whole chicken, remove the meat, yada yada yada, who has time for that?
I used cooked chicken I had in the freezer and homemade stock, also from the freezer.  This is the perfect way to use leftover chicken (or turkey) from a Sunday meal or when you bought that deli rotisserie chicken and didn't eat it all in one night…

If you try this recipe, let me know what you think! Leave a comment, pin it, and don't forget to tag a picture #blessthismesseat on Instagram. I love to see your kitchen skills in action!
Print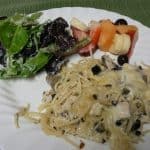 Chicken Tetrazzini
---
Ingredients
For the mushrooms
1/2 cup butter, divided
16 ounces, weight mushrooms, sliced
1/2 cup white grape juice or apple juice,divided
kosher salt and black pepper
For the tetrazzini
1 pound thin spaghetti
1/4 cup flour
2 cups chicken stock
1 1/2 cups whole milk
1/2 cup fresh grated Parmesan
1/2 cup mozzarella or swiss cheese, grated
1 can black olives, chopped (just over a cup when chopped)
2 cups cooked chicken or turkey, shredded
1 t. salt to taste
pepper to taste
Extra cheese for sprinkling on top
---
Instructions
In a large skillet over medium heat, add 2 tablespoons of the butter.  When the butter melts, add the mushrooms, 1/4 cup of the fruit juice, and the salt and pepper.
Cook over medium heat, stirring occasionally, until the mushrooms brown and all of the liquid is gone. This took 15 minutes or so.
While the mushrooms are cooking, heat a large pot of water to boiling, break the spaghetti into thirds, and cook in boiling water for 3 minutes.  Remove from water and set aside.
Preheat the oven to 350 degrees.
When all of the liquid is gone from the mushrooms, remove the mushrooms and return the pan to the heat.
Add the rest of the butter (6 tablespoons) and let melt. When butter is melted, add flour and whisk to combine. Cook for one minute.
Slowly whisk in chicken stock and milk.  Heat over medium heat until bubbly.  Cook for 2 minutes.
Remove from heat and whisk in cheeses.  When cheeses are melted, stir in the mushrooms, olives, and chicken.
Add mixture to cooked noodles.  Add salt and pepper to taste.
Transfer all of the cheesy goodness to a 9×13 baking dish. Top with extra cheese.  Bake at 350 for 30 minutes until everything is melted and bubbly.