This 14 day clean eating meal plan will change your life because it makes eating healthy easy for the whole family! In 2012 "eating clean" was a term that meant you were just cutting out sugar and white bread. It was a nice idea but man oh man has that idea evolved into so much more today. Eating clean is a lifestyle and I'm here to help you achieve your goals of eating better. The best part, it's not something you have to do alone! Getting the entire family on board with eating well had never be easier and I'm here to show you how.
You can do it! Here's the secret to making real food a lifestyle change and not just a fun idea or a weeklong diet.
My philosophy on eating well has always come with a little flack from the internet community. I don't want to live a life without chocolate chip cookies, and I'm here to tell you that you don't need to either.
Eating real food is what I strive for and is the motivating factor for my lifestyle (hello hobby farm!) As much as I love weeding and tending animals, I'm really in it for the FOOD! This lifestyle is made achievable, attainable, and desirable by focusing on one simple word: balance.
Let me introduce you to the magical idea I like to call: The 80/20 Rule.
80% of our diet is real food.
80% of the time I make a very deliberate effort to avoid processed foods;, artificial colors, /flavors, and /preservatives;, refined flours; and sugars.
80% of the time I make a very deliberate effort to include whole grains, lots of protein, vegetables, and fruit in our eating. I don't have a pantry full of health-food-store-only-products; I tend to learn towards traditional or "old-fashioned" ingredients.
Things to do 80% of the time:
Eat whole grains. Whole grains are popular and it's pretty easy to find great simple whole grain products.
Embrace fats. Butter makes everything better; consider is it a health food. Coconut oil, olive oil, and butter are easy to find and easy to use.
Shop Smart. Buy organic when you can, grow what you can, do the best that you can. I don't buy all organic food. It just is not available to me in my tiny middle-of-nowhere town, and I can't afford it. I am familiar with the "Dirty Dozen" and the "Clean 15" and try to either avoid the Dirty Dozen all together or buy those organic.
Eat your veggies. The more vegetables the merrier. Grow a garden. It's amazing how much kids LOVE what they have invested themselves in and watched grow! No garden? Make the farmer's market a Saturday morning tradition.
Avoid ingredients you don't know like the plague. Say no to artificial sweeteners, colors, flavors, and preservatives. You will clean up your diet tenfold by only buying things with ingredients that you know. It's an easy place to start.
Love natural sugars. Honey and pure maple syrup are worth the cost and are great things to learn how to use. No need to figure out all those crazy natural sweeteners when bees and trees got us covered.
You don't need a health food store to eat well. A back-to-basics approach goes a long, long way.
20% is real life
Homemade treats and desserts are king. I'd much rather have my kids eat my butter, sugar, and white flour chocolate chip cookies than anything made with a box of sugar-free Jell-O. I'm more scared of all that fake stuff than normal old flour, sugar, chocolate, and butter.
Don't tell your kids no when they are out of the house. I don't tell my kids they can't have things when they are out of our house. Fruit snacks at play group? Sure. Cheetos at
Grandma's? Sure. Pop at the friend's party? You got it. When you are doing well in your home, it's ok to let them eat a little junk when they are out. I don't buy Otter Pops, fruit snacks, or soda. It's never in the house and we never eat them here.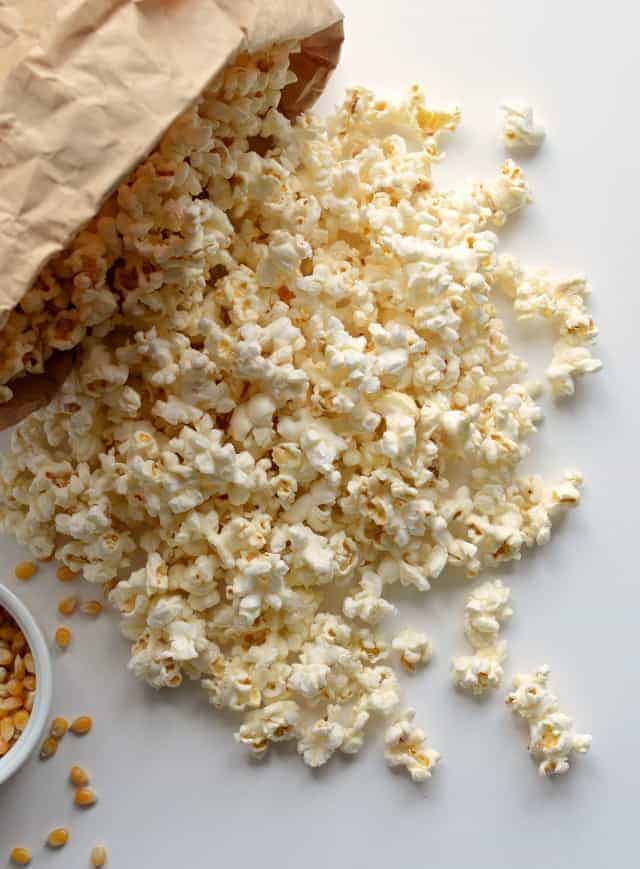 Balance. I don't want kids with food issues. I am intentional in my efforts to raise well-rounded kids who will try most anything, who enjoy green smoothies, and who will never say no to a sucker at the bank. Balance is key. I love this bullet point. 
Let's chat numbers. Say you eat 3 meals a day and 2 snacks a day. That is eating roughly 5 times a day. T, times that by 7 (the number of days in a week), and you have roughly 35 eating sessions in a week that you have to make decisions about. If you make healthy choices 80% of the time, that means you are eating 28 out of 35 meals or snacks in a week that are real food.
Or look at it this way, 1 of your 5 times eating in a day can be "normal", but that still means the other 4 should be pretty dang good for you.
That leaves you with lots of choices to make and that's where I come in. Here is a 2 week meal plan to help you know what healthy things to eat, serve, and enjoy! The junk (the 20%) is easy to figure out and comes pretty much without planning. The 80% takes a little more time and effort though.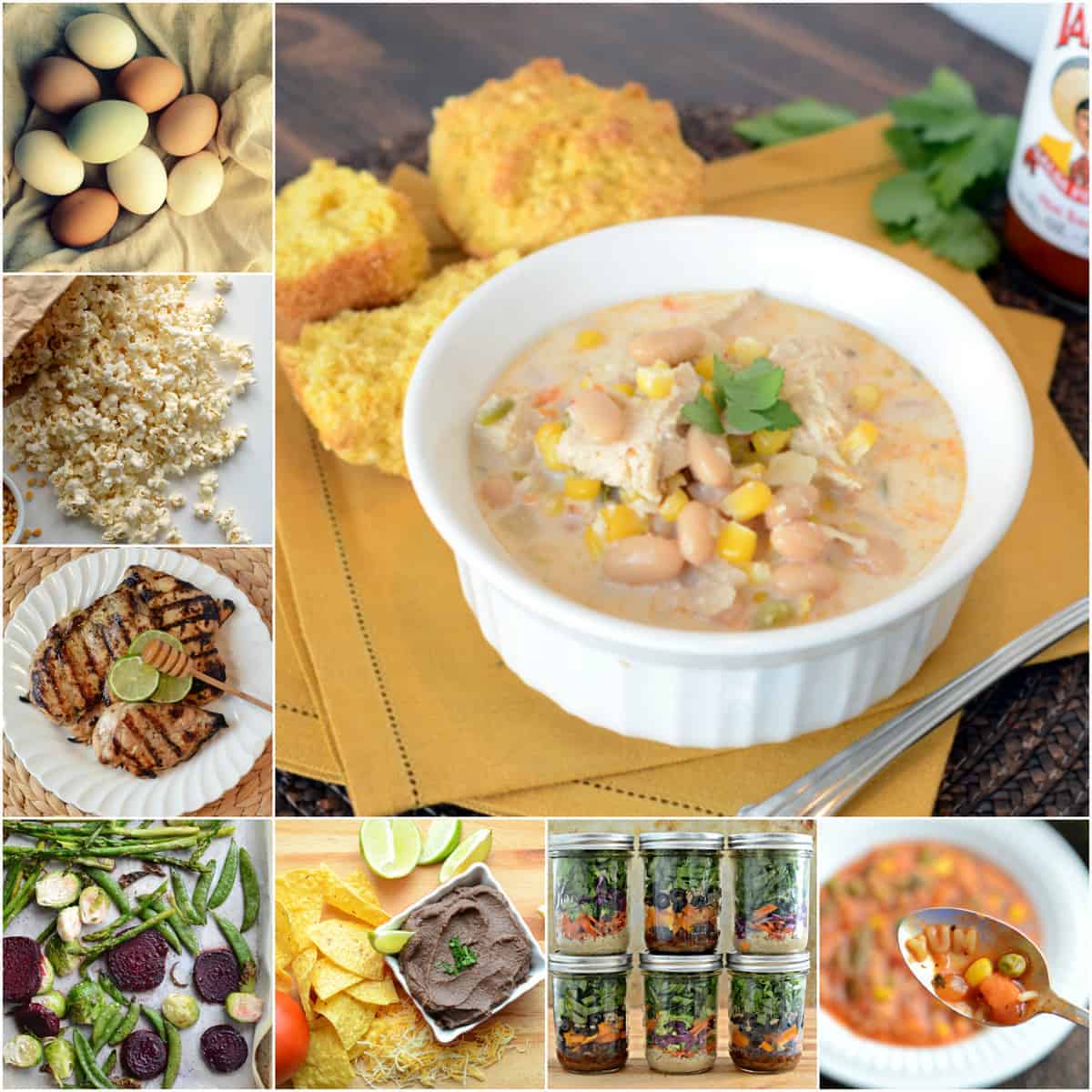 Two Week Clean Eating Meal Plan
Here's what's for dinner:
Linguine Rosa with Shrimp with a side of fresh green beans (or other seasonal vegetable of your choice)
Crock Pot Beef Carnitas Tacos (served as a salad, tacos, or burritos bowls)
Curried Coconut Chicken with Squash and Dried Cherries
Very Veggie Pizza on a 100% Whole Wheat Pizza Crust with a simple side salad
Quick, Easy, and Healthy White Chicken Enchilada Soup
Quick and Easy Stir Fry
Roasted Sweet Potato Tacos
Quick and Easy Chicken Nuggets with oven roasted or steamed vegetables and some seasonal fruit or applesauce
Crock Pot Butter Chicken with steamed veggies and brown rice
Honey Lime Tilapia with a shredded cabbage salad
Grilled Chicken and Veggie Kabobs and Herb and Olive Oil Rice with a side of fruit
Easy Egg Casserole with a side of fruit salad
Fajita Burgers with oven roasted sweet potatoes and a side of melon or other seasonal fruit
Garden Pasta with a simple side salad
I love these meals! They are totally family friendly and still feel really "normal" but I've cleaned them right up for you. Now you don't have to be a short order cook and make something for your family and something different for yourself. You can all be healthy together!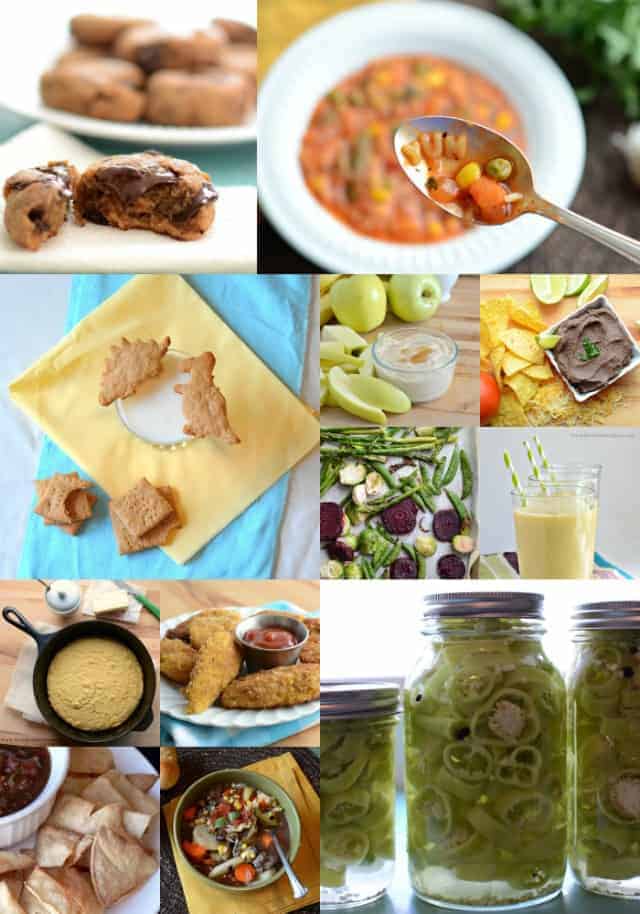 Wait! It gets even easier!
The links go to the recipes but some of the recipes can only be found in my EBook Real Food For Real Families.
You need this book to achieve your goals.
The book is awesome, it's a 50+ page version of this post. It's all of my tips, tricks, recipes, and thoughts on how to feed your family well, all in one place. Plus it comes with ideas and recipes for breakfast, lunch, and snacks (because we all know there's a lot more than just dinner to plan!!!), shopping lists, must-read book list, and about a million other things that made it much too long for one blog post. The recipes are printer ready and it even comes with a shopping list just waiting for you to print off!
If you are serious about feeding your family well this will be the best $9.99 you'll spend. Taking the planning out of life changes will make it attainable, reachable, and so much less of a headache. Read more about the book here or buy it now here.
The book is gorgeous and has everything you need in one place. You are going to love it! Enjoy a few free recipes on the house and be excited about eating clean with your whole crew. It's never been easier!