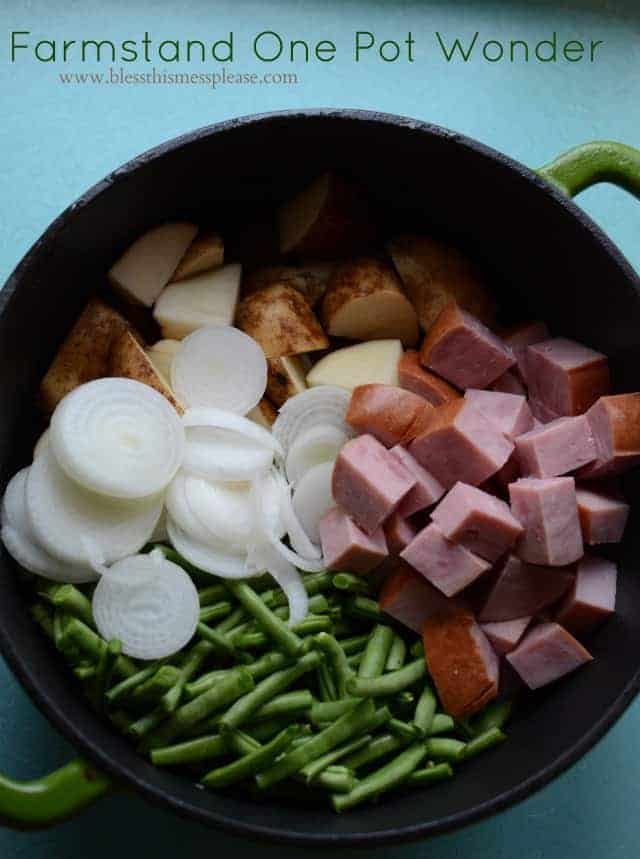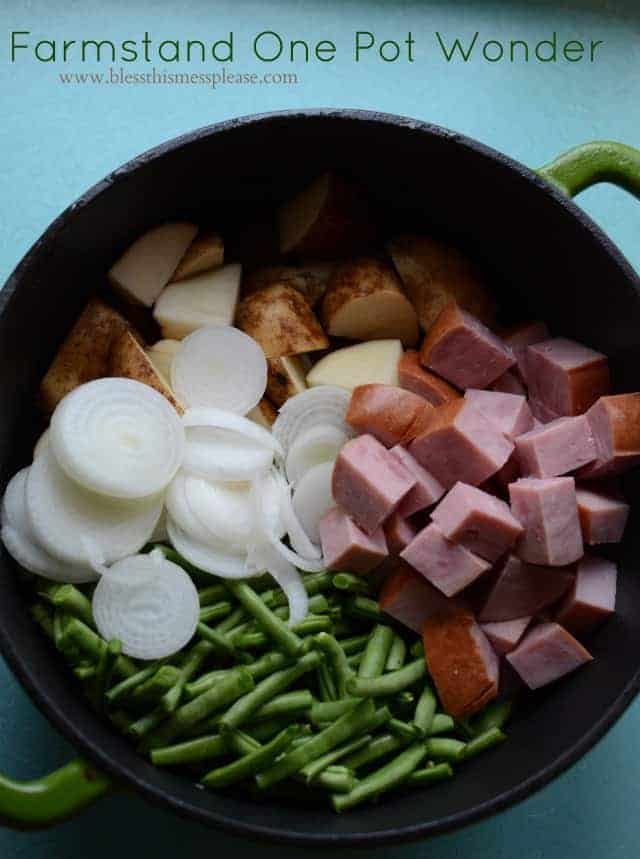 One Pot Wonders are dishes that you kind of throw everything in the pot, let it cook, and then it is done! I've made the One Pot Wonder Pasta with fresh tomatoes and basil from Barefeet in the Kitchen lots of times (it is awesome!), and we really like it. I thought I would share with you one of our family-favorite "one pot wonders" that is just perfect for this time of year!
Farmstand One Pot Wonder is green beans, new potatoes, onions, and ham that are all cooked in one pot. Half way through the cooking time you can place a few ears of corn on top of everything and they cook in the pot too. The ham makes everything taste awesome and the starchy potatoes kind of make their own sauce/gravy for everything as they cook. It's so easy and you will love it! This is comfort food at it's finest. And I'm proud to say that everything in the pictures, except for the ham, was grown by me (we are all out of pork from last year and this year's hog is still growing). If you didn't grow your own taters, beans, onions, and corn this year, I bet you can find some locally grown at a roadside farm stand or farmers' market this week.
This my friends, is real food at it's best. Simple seasonal ingredients cooked without a lot of fuss. I'm in! Are you?
This dish is very common in Indiana but no one here in Utah that I've met makes it. Do you make something similar? What are your favorite One Pot Wonders?!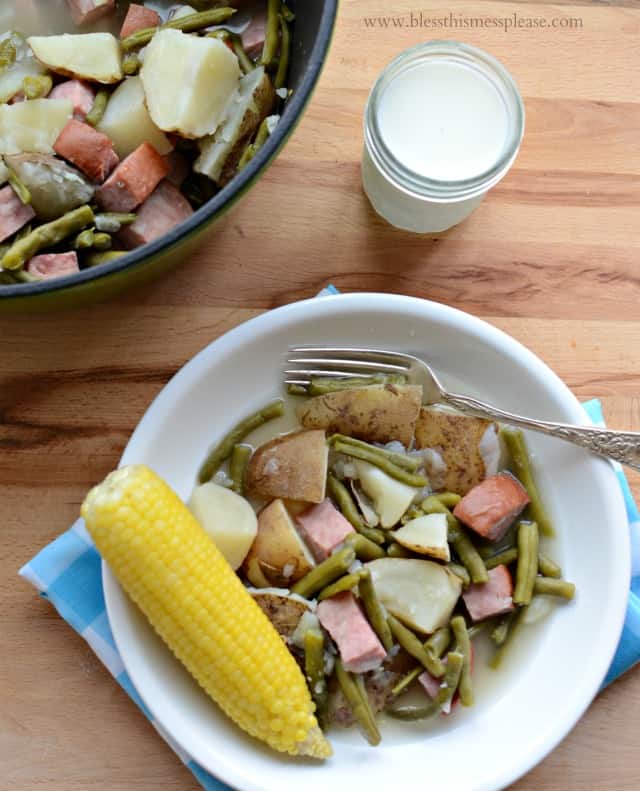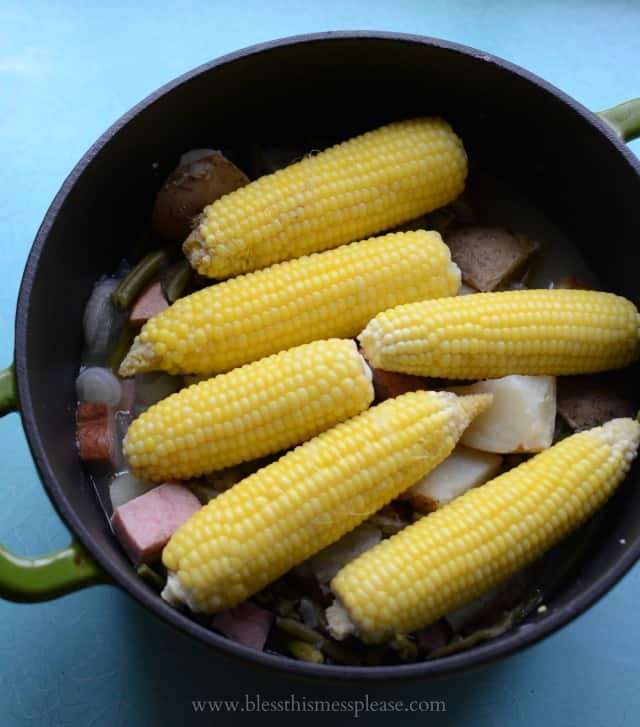 If you try this recipe, let me know what you think! Leave a comment, pin it, and don't forget to tag a picture #blessthismesseat on Instagram. I love to see your kitchen skills in action!
Print
Scale
Ingredients
1

to

1/2

pound fresh green beans, trimmed and broken

2

pound new potatoes, cut into 1-2 inch chunks (peel left on)

1

–

2

pound cooked ham, cut into

1

inch cubes

4 cup

s broth (chicken or vegetable are both good)

1

medium onion, sliced thin

1 teaspoon

salt

4

–

6

ears corn
---
Instructions
In a large pot add the potatoes, green beans, ham, broth, onion, and salt. Put a tight fitting lid on the pot and put it over medium heat. Bring the mixture to a low boil/simmer and allow it to cook for 25 minutes, stirring occasionally. Take the lid off the pot and carefully place the corn on top of the mixture in the pot, replace the lid and allow the dish to cook for an additional 15-25 minutes until the potatoes and green beans are cooked through.
Remove from the heat, remove the corn and place it on a serving dish, Add more salt and pepper to the pot, to taste, serve hot with corn on the side.
---
Notes
If you are using small new potatoes you can just throw the whole potatoes in. This recipe is very flexible when it comes to ingredients and measurements… just use what you have on hand!
For this recipe, I recommend:
[asa_collection btmp]one_pot_farm[/asa_collection]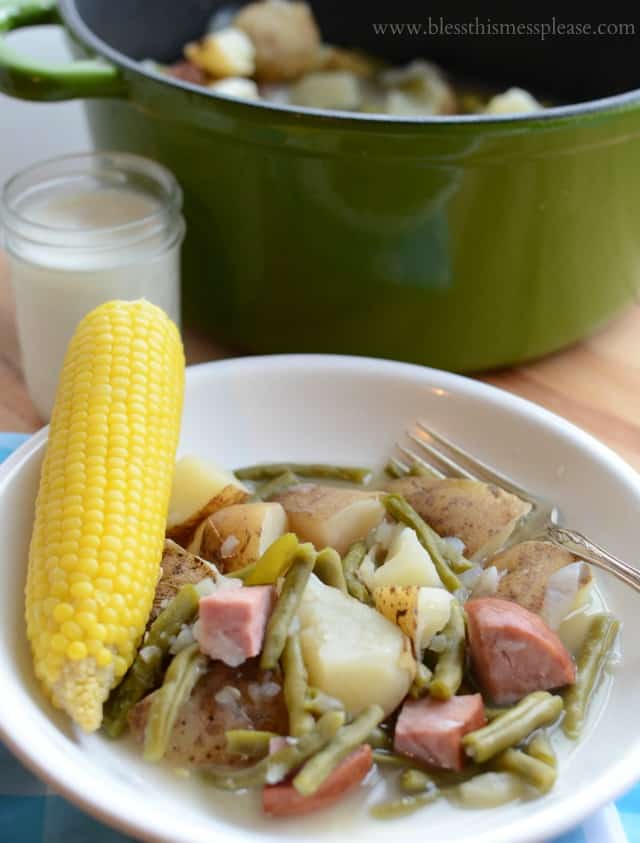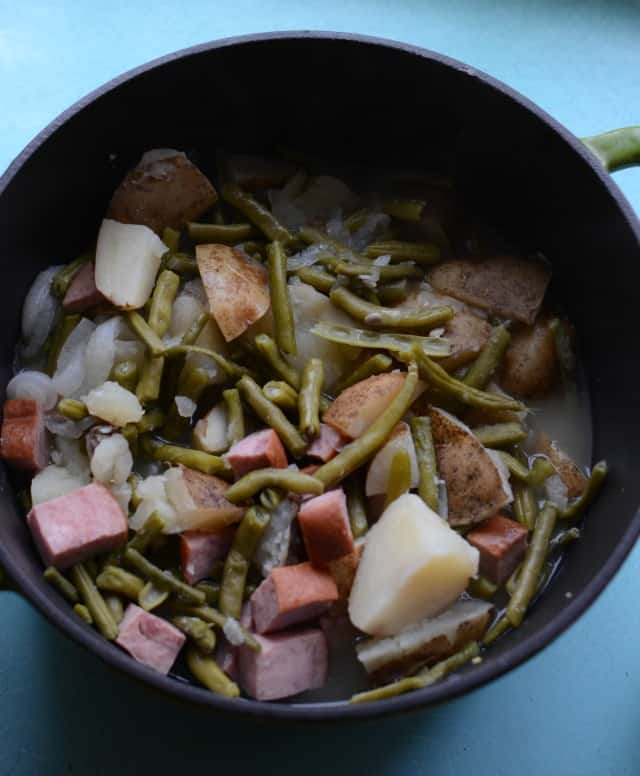 Bonus points if you make one of these to go on the side:
Whole Grain Cornbread (naturally sweetened cornbread perfection!)
Whole Wheat Clover Rolls
Chive Biscuits
Parmesan Focaccia
All are great options!
Hope you had a great weekend and thank you SO much for all of your love and support with the Etsy shop last week. You all are the best.