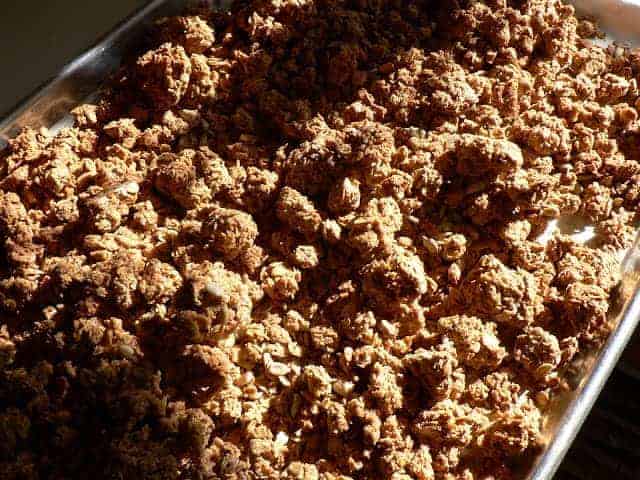 MMmmmm  who doesn't need a little granola in their life?  We eat this as a snack dry, more often than we eat it in a bowl with milk.
Always a good sign.
Cinnamon Granola
5 cup old-fashioned oats
1 cup wheat germ
1 cup shredded coconut, if you don't like it, add another cup of oats
3/4 cup whole wheat flour
pinch salt
2 Tbsp cinnamon (or mix it up with cinnamon, cloves, ginger, and or nutmeg… these will give it that pumpkin pie spice type of flavor)
1/2 cup water
1/2 cup coconut oil, melted
1 cup honey
2 1/2 Tbsp vanilla (or a mix between vanilla and almond extract… mmmm)
3/4 cup raisins, craisins, or none to taste
1 cup nut (you can certainly use sliced/whole/chopped)
Preheat oven to 250.  Line a big cookie sheet with parchment and grease lightly.
In a large bowl combine your oats, wheat germ, coconut, flour, salt, and spice.  In a small bowl whisk together your water, oil, honey, and vanilla.  Pour the wet over the dry.  Mix everything togther making sure there are no dry spots… no on likes powdery dry spots in their granola…
Spread granola onto the prepared cookie sheet.  The pan will be nice and full.  Bake for about an hour and half total, stirring every 20 minutes to make sure everything bakes evenly.  When you are stirring, don't get too crazy because you don't want to break up all of the clumps.  When granola starts to turn a light golden color (about an hour into cooking) add your nuts and your dried fruit.  Continue cooking until everything is a nice golden color, taking care not to burn the nuts.  The granola will still be slightly sticky when you take it out and will crisp up after it cools. 
Store in an airtight container and keep it in the fridge if you aren't going through it too quickly.