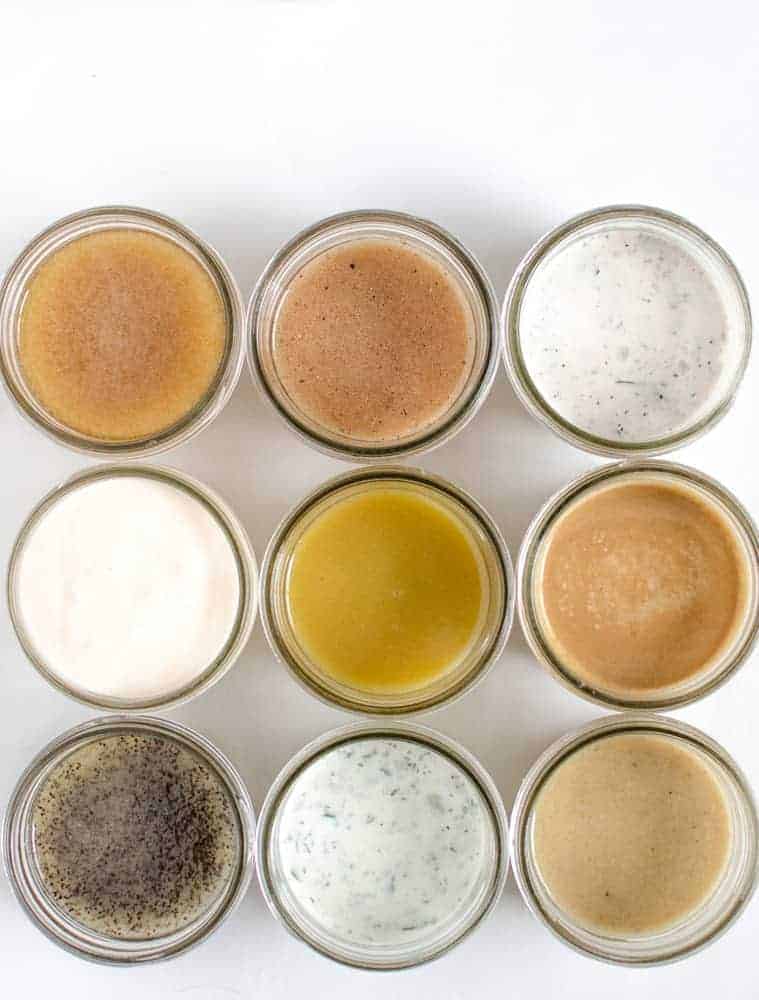 9 homemade salad dressing recipes that you'll make over and over again. Recipes include ranch, creamy Italian, honey poppy seed dressing and more!
I didn't start making my own salad dressings until a few years ago when I read a book that had a chapter about MSG (Monosodium glutamate) in it. It scared me to death and so I stopped purchasing things with MSG in them. That included normal bottled ranch dressing, canned soups, and canned "cream of's". So the first dressing that I started making on my own was ranch because who doesn't love a nice classic ranch? My kids sure do! After that I realized that I could make all kinds of really simple dressings quickly and easily.
I actually like making my own dressing now because I like to make a small amount (all of these recipes makes between 3/4 of a cup and 1 cup of salad dressing) which means my already tiny fridge isn't filled with a bunch of condiment bottles. I also like that I can control the ingredients. Making dressing isn't hard and there's no need to have a mile long list of ingredients in them. You can have more variety when you make your own, and you'll quickly learn what flavors you love together.
Sign up to receive emails from Bless This Mess and get a FREE copy of 9 Staple Salad Dressings You Should Know How to Make.
You'll get a once a week newsletter with freebies, exclusive recipes, and other great content that only comes in email from Bless This Mess. No spam. No junk. You can unsubscribe at any time.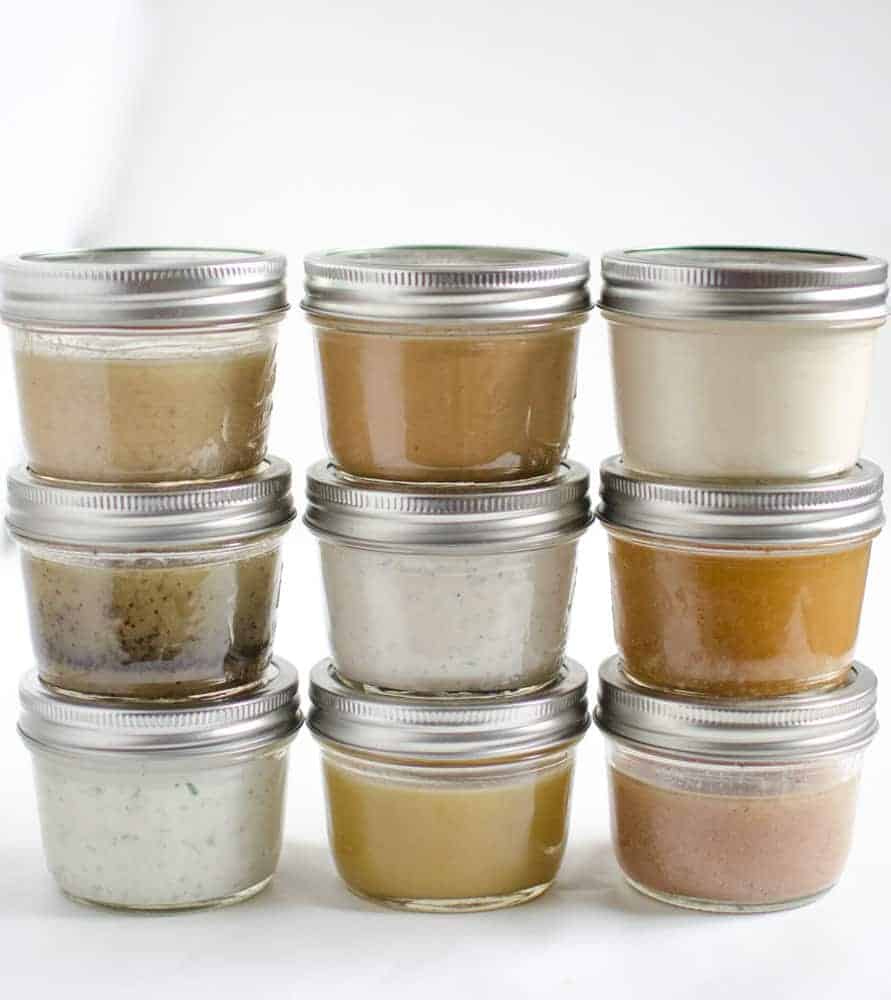 When it came time to narrow down the 9 homemade salad dressing recipes I had a tough time deciding what should go in the mix. Here's what I decided on and I know you are going to love them all. I went for a little bit of everything on the list and you are going to find the perfect dressing for just about any salad or dish you are making.
Homemade salad dressing recipes included in this post:
Creamy Italian
Ranch
Classic Vinaigrette
Roasted Garlic
Honey Mustard
Honey Poppy Seed
Asian Sesame
Peanut Lime
Creamy Blue Cheese
In the world of salad dressing recipes, this is going to be a list you come back to again and again.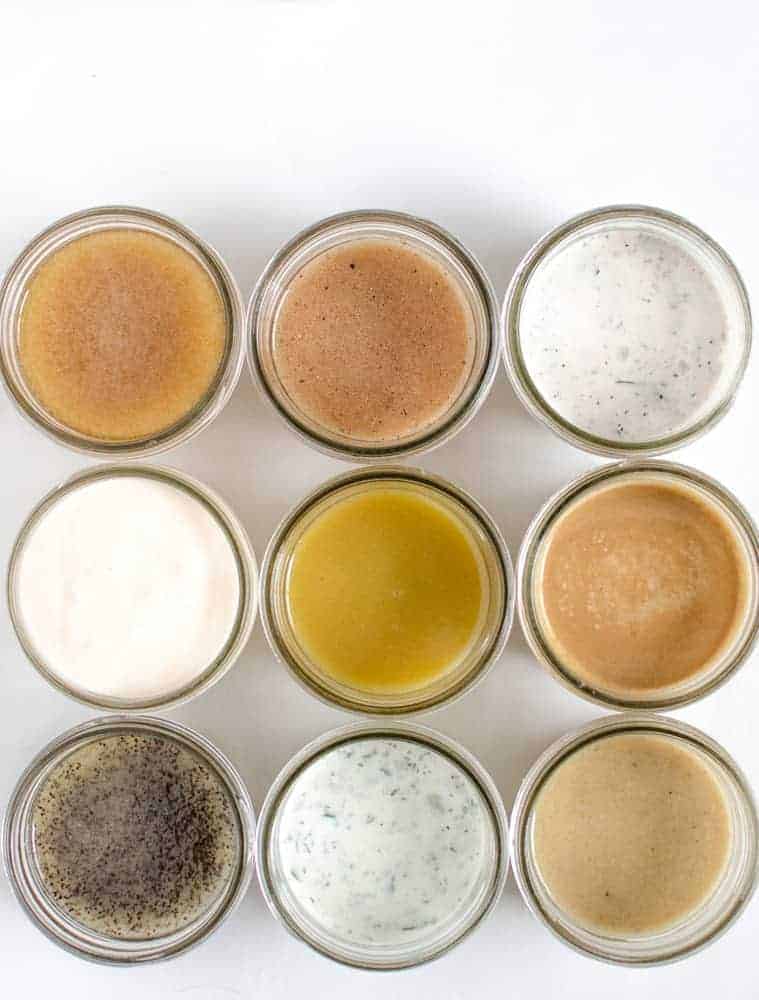 1. Classic Ranch Salad Dressing
Classic Ranch: whisk 1/3 cup buttermilk, 1/3 cup mayonnaise, 2 tablespoons each chopped parsley and chives, 1 teaspoon dried dill weed, 1/4 teaspoon each kosher salt, black pepper, and garlic powder. (You can sub 1 tablespoon each of dried parsley and chives for the fresh) Once you start making homemade ranch, you'll never go back to the store-bought stuff again. SO GOOD! This is perfect for cob salads, to dip fries in, over chicken salads, and most any other salads with romaine and other leaf lettuces as the base.
2. Homemade Creamy Italian Salad Dressing
Creamy Italian: Blend 1/4 cup mayonnaise, 2 tablespoons red wine vinegar, 2 tablespoon each sour cream and olive oil, 1 teaspoon Italian seasoning, 1 clove garlic, and 1/4 teaspoon kosher salt in a blender. Stir in 1 tablespoon chopped parsley.
3. Classic Vinaigrette Salad Dressing
Classic Vinaigrette: Whisk 2 tablespoons red wine vinegar, 2 teaspoons Dijon mustard, 1/2 teaspoon kosher salt, and pepper to taste. Gradually whisk in 1/3 cup olive oil.
4. Roasted Garlic Dressing
Roasted Garlic: Slice the top off 1 head garlic; drizzle with olive oil, wrap in aluminum foil and roast at 400 degree until tender, about 35 minutes. Cool and then squeeze out the cloves. Blend the roasted garlic cloves, 2 tablespoons red wine vinegar, 2 teaspoons Dijon mustard, 3 tablespoons freshly grated Parmesan, 1/3 cup olive oil, 1/2 teaspoon kosher salt, and pepper to taste in a blender. I'm obsessed with this one. SO good! Make a double batch and use part of it for a marinade for chicken breast. It's also amazing on roasted vegetables. I made my freezer to slow cooker Spaghetti and Meatballs and served it with a simple side salad and this dressing last night and I couldn't get enough. Super easy, healthy, delicious, whole food meal the whole family loves.
5. Honey Mustard Salad Dressing
Honey Mustard: Whisk 2 tablespoons each of honey, Dijon mustard, and white vinegar and 1/2 teaspoon kosher salt and pepper to taste. Gradually whisk in 1/4 cup olive oil. So easy, super classic, I love honey mustard dressing on all the things.
6. Honey Poppy Seed Dressing
Honey Poppy Seed: Whisk 2 teaspoon black poppy seeds, 3 tablespoons apple cider vinegar, 1 tablespoon honey, 1 teaspoon Dijon mustard and 1/2 teaspoon kosher salt. Gradually whisk in 1/3 cup olive oil. This one I have around most of the time because it always hits the spot. This is great on salads with berries and other sweet fruits in them, it compliments them nicely.
7. Asian Sesame Dressing
Asian Sesame: Whisk 2 tablespoons cider vinegar, 1 tablespoon honey, 1 1/2 teaspoons grated peeled ginger, 2 tablespoons sesame oil, 1/3 cup vegetable oil (or other neutral oil), 1/2 teaspoon kosher salt, and pepper to taste, and 1/4 teaspoon garlic powder. This dressing is also excellent on Asian inspired noodle recipes and chicken salads.
8. Peanut-Lime Dressing
Peanut-Lime: Blend 1/4 cup creamy peanut butter, 2 tablespoons water, the juice of one lime, 1 tablespoon each rice or white vinegar, chopped peeled ginger, soy sauce, and honey in a blender. This dressing is awesome on "quinoa" bowls (roasted veggies/protein/quinoa) and it's also excellent on fish.
9. Creamy Blue Cheese Salad Dressing
Creamy Blue Cheese: Whisk 1/4 cup each butter milk and sour cream, 1/2 cup crumbled blue cheese, the juice of 1/2 a lemon, and salt and hot sauce to taste. Here's a little secret, if blue cheese is too strong for you, you can actually make this with crumbled feta for a more mild dressing that is still wonderfully creamy and cheesy. Dip everything in this including hot wings.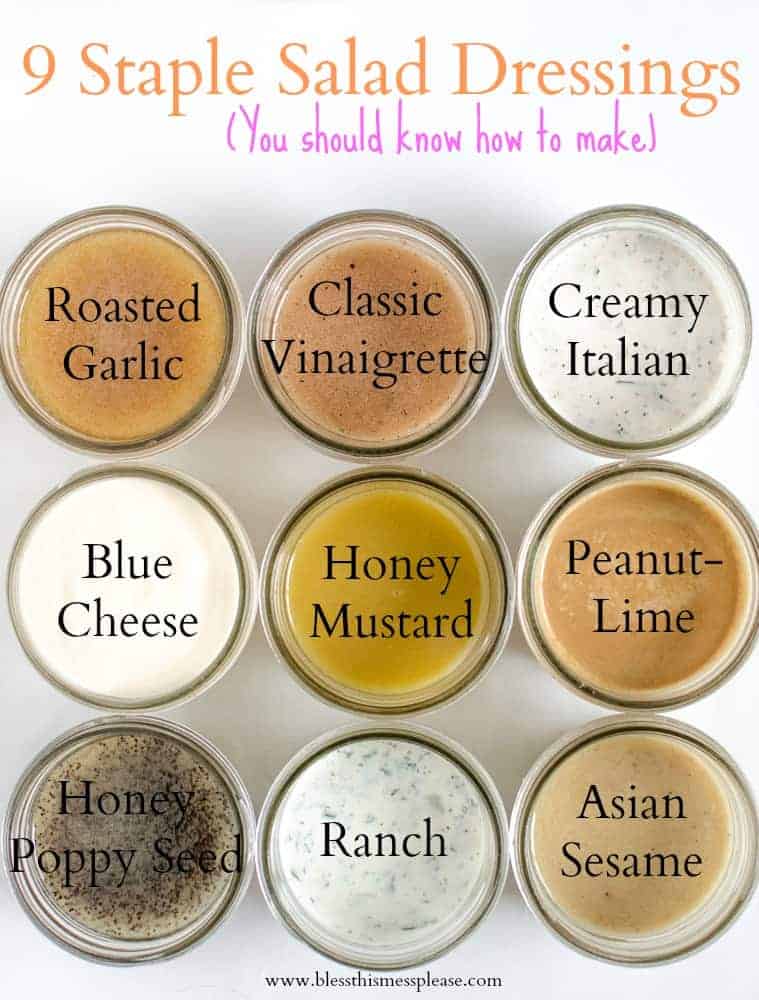 Tips for Making Homemade Salad Dressing:
The Dijon mustard in these is a must because it acts as en emulsifier between the vinegar and the oils. Whisk up the mustard/vinegar/whatever else and then slowly add the oil while you are whisking. This will help the oil to not separate out of the dressing. Store any extra dressing in the fridge for up to 2 weeks.
The dressings store so well in wide-mouth half-pint mason jars. These lids are also really nice to have on hand! Each recipes only makes about a cup which is great if you ask me.
If you need some salad inspiration to put your new dressings on, I'd start here.
Here's some of my favorite salad recipes:
Long live making something at home that you previously bought. So much freedom in learning the basics.