Did you all know that my post on Eating Clean – a 2 week plan is the most popular post on my blog? It didn't take off right away but thanks to a general interest in the topic and pinterest that post invites thousands of people to this blog every day. That is awesome to me for two reason. I love page views (it's how I get paid)!  And two, I love that people are interested in something I love to talk about.
If you missed the post the first time around it might be worth taking the time to go over. But I also thought that I'd put some of the same thoughts here. Sharing my food philosophy is something I like to do and something I want you all to know.  The difference this time around is the menu. The last post is definitely a winter menu and this is much more of a spring and summer menu (it highlights seasonal foods and lots of fruit which don't play as big of role in the winter.)
And JUST SO YOU KNOW: I get rude comments on my past post nearly every day (which don't get published… sorry) because people don't agree that it's a truly "clean" menu. Eating clean is such a fluffy term that comes with different criteria for different people. My emphasis is no sugar, no refined flours, and no processed foods. I don't include ingredients that you can only get at a health food store because I don't shop at the health food store. It's very budget and family friendly because that's where I am in life. I can't tell people to only eat organic everything when it's not something I do myself. I can't afford that and it isn't available here in the middle of no where. Instead I grow a garden, I can and bottle summer's bounty, and I raise a bit of my own meat. Those aren't all things others can do so it isn't a must… let's all just do the best that we can and be gentle with one another.
Think of this as a starting point and when you are ready to go a little more hard-core in your clean eating check out Cassie at Back to Her Roots (her way of eating is awesome!) or Emily from One Lovely Life who is eating gluten and dairy free to help her two-year-old in her battle with autism. Both women are amazing, have inspiring blogs, and eat great. So get started here and move on to them when you are ready.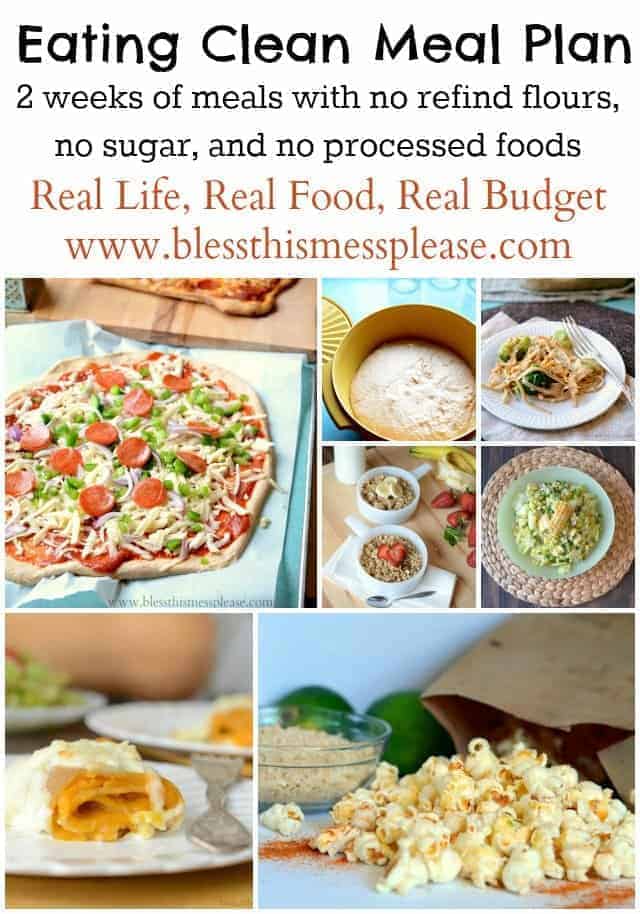 This meal plan is something that I cycle through. We try to eat by my 80/20 rule (more on that at the bottom of the post) but when I feel like we are getting lazy or have had too many treats and cheat meals (read long weekends, holidays, vacations,and birthday parties) then I'll stick to a super clean menu for 2 weeks to get us back on track and feeling a little more in control. I also do this pre-holiday season to gear up for the bounteous eating. That's just how I roll, you do how you please :) If you are wanting to make some changes in your own life this is a great place to start… you can do anything for two weeks!
On to the 2 week menu for Summer Clean Eating, more of my thoughts on food and eating clean is at the bottom of the post! If you are new to this you might like my 80/20 approach; it makes things feel more manageable to me.
Eating Clean Meal Plan: Spring/Summer Menu
(Most links are to my own posts and a few are recipes from other blogs that I've tried and loved. If the link is sending your to another blog I've let you know.)
Breakfast:
Quick and Easy Egg and Potato Breakfast Casserole
Garden Vegetable Breakfast Hash from Cafe Johnsonia
Whole Wheat Pumpkin Waffles - this is an old post but I love this recipe. Veggies with breakfast are always a plus!
Healthy Banana Waffles
Eggs in any form (we LOVE our backyard chickens)
Homemade Healthy Honey Granola
Homemade Yogurt (made in the crock pot!) with Berries and Granola
Steal Cut Oats
Raspberry Museli (One Lovely Life)
I always have a huge batch of the honey cinnamon granola on hand that way we can eat it with cold milk and frozen blueberries for day I don't have time or don't want to cook breakfast. You've got to plan on a few "convenient" things to fall back on or you'll feel like eating this way is way too hard.
Lunch:
Egg, tuna, chicken salad, PB & honey, or lunch meat (nitrate-free) sandwiches – Plain yogurt instead of mayo is awesome in tuna, egg, and chicken salad
Nachos, taco salad, bean burritos, quesadillas (Homemade baked corn tortilla chips are just what you need!)
Green salad with lots of eggs and veggies
LEFTOVERS!! Embrace the goodness of a meal already cooked. This is definitely what we eat for lunch the most. You'll see when you are cooking every night that you'll have lots in the fridge!
Notes: Nachos, you say? Yes! I can read everything on the back of that bag and I understand what frying food is. Costco has a huge bag of organic tortilla chips that are only like $4 and are super tasty. I feel no guilt… don't judge.  Melt a little cheese, throw on some fresh veggies and salsa and you have a perfect lunch. The tortilla chips are probably the biggest "cheat" for my whole foods, but we all need a little convenience. I do sometimes make my own baked corn tortilla chips which are good, too (Recipe linked above).
Dinners:
Day 1: Healthy Chicken and Broccoli Tetrazzini
Day 2: Quick and Easy 30-minute Stir-fry (use brown rice instead of white)
Day 3: Whole Wheat Over-night Pizza - Personal favorite and it's SO good
Day 4: Perfect Baked Potatoes with Spinach Cucumber Strawberry Salad (salad from Cafe Johnsonia)
Day 5: Grilled Honey Lime Chicken Breast with Fresh Corn and Zucchini Succotash
Day 6: Burgers (elk if you have it) or black bean burgers (Back to her Roots) on whole wheat buns with perfect oven fries and/or spicy baked zucchini wedges (Cafe Johnsonia) – And grill the chicken for tomorrow night while the grill is hot tonight!
Day 7: BBQ Ranch Chicken Salad with Corn and Black Beans *replace the mayo in the dressing with sour cream
Day 8: Crock-pot Steak Carnitas in corn tortillas with all the veggies they can hold (have you ever tried cucumber on your tacos?! SO good!)
Day 9: Mexican Stuffed Bell Peppers with quinoa and black beans – One Lovely Life (no quinoa? Just sub brown rice)
Day 10: Penne Rosa with shrimp - Back to Her Roots (this is the most popular recipe on her blog for a reason. It's divine!)
Day 11: Honey Lime Tilapia served with confetti quinoa salad with lime vinaigrette (or serve the fish in fish tacos!) – both recipes from One Lovely Life
Day 12:Burrito Bowls – Heaven, in a bowl. From Back to Her Roots
Day 13: Butternut Squash Lasagna Roll-ups (look for butternut squash at the farmer's market at the end of the summer!)
Day 14: Curried Coconut Chicken with Squash and Dried Cherries – use left-over squash from Day 13
Sides for dinner- if they aren't included in the recipe collection then add what is on hand. I love to sauté up zucchini with a little onion and butter and a heavy hand of salt during the summer. Eat sliced garden tomatoes with salt and cottage cheese and fresh cucumbers sliced with salt and pepper. This is such a good time to eat what is available and that is fruits and vegetables. I plan on lots of corn on the cob too. Use on melons in all shapes and sizes, cherries, berries, and peaches to round out the meal. No garden? Bug your neighbor (I'm begging for people to take things off my hands in the summer and I know I'm not alone!) or hit up the farmers market. When things are in season they aren't only fresh and super tasty but they are also cheap. Road-side stands are also good options for local produce.
Snacks:
Cheesy Chili Lime Popcorn
Whole Wheat Graham Crackers (this does have one odd ingredient to replace sugar)
Whole Peanuts (peanuts in the shell are so much more fun to eat. Trust me.)
Smoothies in all shapes and sizes.  Just don't get tricked into using sugar if your recipe calls for yogurt. Read that label!
Popsicles – Strawberry banana are a favorite at our house, any 100% fruit juice frozen is great too (and easy)
Homemade Fudgecicles (GF, DF and no sugar added from One Lovely Life)
Sea Salt and Maple Glazed Beet and Sweet Potato Chips (Bakeaholic Mama) – These are amazingly good!
Boiled eggs
I always have a loaf or two of 100% whole wheat breadready to slice and butter. Homemade bread is always a tasty snack and something that is easy to make ahead. When I'm starving (after aerobics or a long day) I'll toast a piece and spread peanut butter on it for a really good and filling snack.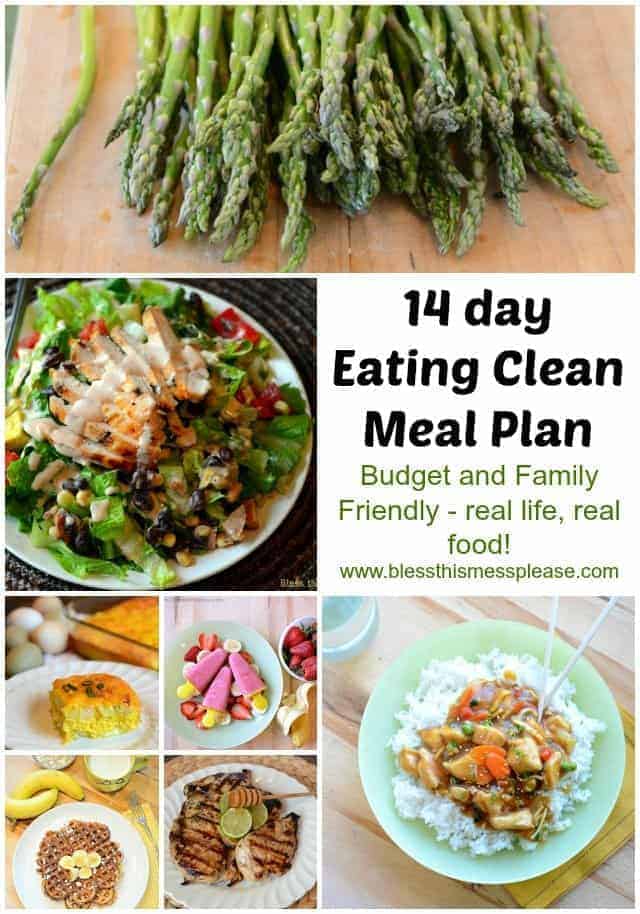 Here's a recap from the original (and more wintry) eating clean meal plan. The thoughts are the same because my philosophy hasn't changed. It's taken me just about 5 years to decide what eating well meant for me and my family and I'm really happy with where we are. And I feel like it's totally attainable. You don't need a health food store and a million dollars to eat well… making a few small changes will get you on the right track!
Eating clean to me is:
(80% of the time) Avoiding: processed foods, artificial colors/flavors/preservatives, refined flours and sugars Enjoying: whole grains, lots of protein, green vegetables, and fruit. I don't have a pantry full of health-food-store-only-products;I tend to learn towards traditional or "old-fashioned" ingredients.
We eat whole wheat/grain everything (almost…). I have a wheat grinder (awesome investment…) and grind my own flour for bread, muffins, biscuits, and rolls. We always eat brown rice and whole grain pastas.
We aren't afraid of fat; there are way creepier things used in fat-free foods to make them taste OK than the calorie savings are worth.
I know where most of our meat comes from, and we also enjoy lots of meatless meals. In fact, we are trying our hand at raising our own meat this year (!!) More on that here.
Buying local is more important to me than buying organic.
The more vegetables the merrier. Grow a garden… it's amazing how much kids LOVE what they have invested themselves in and watched grow!
I'm scared of artificial sweeteners, colors, and flavors. I'm not kidding; avoid them like the plague!
If I understand what's in it and/or how it's made then I generally will eat it.
Natural sugars like honey and pure maple syrup are worth the cost and are great things to learn how to use. No need to figure out all those crazy natural sweeteners when bees and trees got us covered…
You don't need a health food store to eat well… a back to basics approach goes a long long way.
The other 20% is: real life
I don't want to eat whole wheat cake with zucchini and agave for my birthday. We enjoy "normal" sugary treats when we have them.
I'd much rather have my kids eat my butter, sugar, and white flour chocolate chip cookies than anything made with a box of sugar-free Jell-O. I'm more scared of all that fake stuff than normal old flour, sugar, chocolate, and butter.
I don't tell my kids they can't have things when they are out of our house. Fruit snacks at play group? Sure. Cheetos at Grandma's? Share with Dad. Pop at the friend's party? Ok. I do however try to make sure what they get in my house is good for them (80% of the time). I don't buy otter-pops, fruit snacks, or soda. It's never in the house and we never eat them here.
I don't want kids with food issues. I am intentional in my efforts to raise well-rounded kids who will try most anything, enjoy green smoothies, and who will never say no to ring pop. Balance is key.
Why am I telling you all this? Because it's something I feel passionately about and want to share with you: I want you to do it, too! Healthy, local, and sustainable food practices are good for you, your family, your community, and our world. What's not to love?!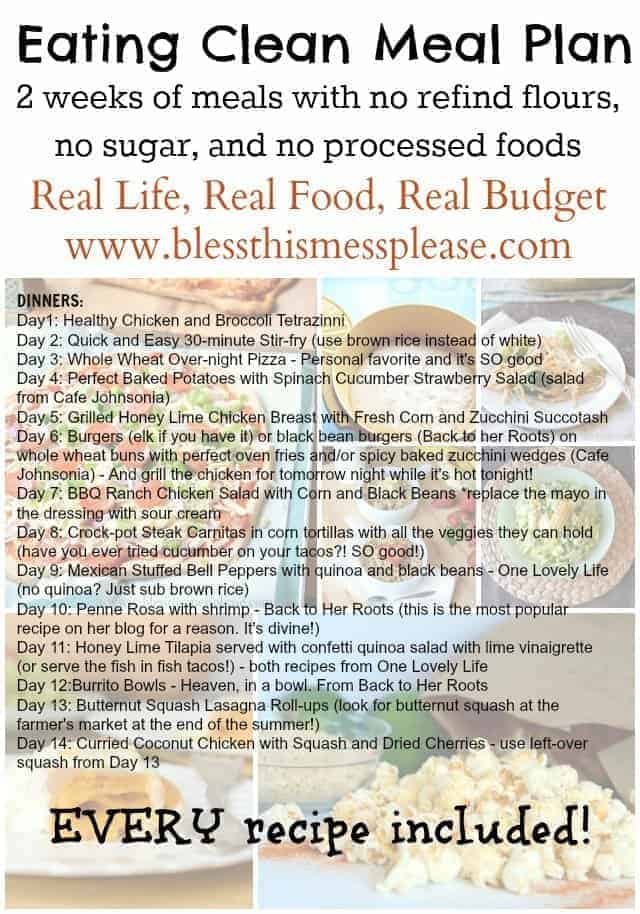 This is a message that I love to tell people about and hope that the message reaches lots of ears. I'd totally love you to pin and save this post for later to help spread and share the love. Together we can all eat a little better without feeling totally crazy about the process, and I think this is a pretty great place to start!
Thank you SO much for reading. I love blogging and it's because you all are there to love, help, support, and make my day.
So what do you think? Could you "eat clean" for two weeks to give it a try? Would your family eat the recipes I posted? Enjoy!