These are my 5 Secrets to Healthy Packed Lunch Success! With the school year already upon us, here are some lunchbox recipes filled with vegetables, fruits, deli meat, cheese, and more! Pack your kids some easy and healthy lunches that they will still love.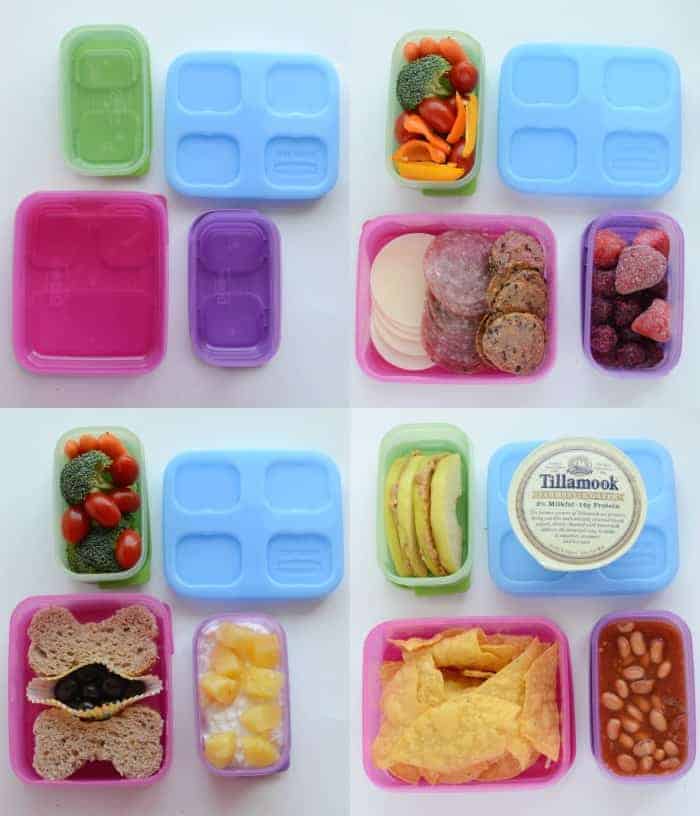 Easy Lunchbox Ideas for the School Year
It's so easy to fall into a lunch rut isn't it?! It seems like I get into the habit of making the same three or four things and before you know it we are all sick of what I'm serving. Today I'm sharing some fun ideas for lunches, specifically packed lunches. This is great if you plan on making lunches for your kids for school in the fall, to take to the park to enjoy on a sunny afternoon, for the kids headed to day camp, or even for your spouse if they work out of the house and takes a lunch. Heck, my friend Cassie from Wholefully packs a lunch for herself and she works from home. This little trick helps her to eat her best, even when her kitchen is only a step away from her office.
Long live the sack lunch!
I love making lunches during the summer for us to take on our adventures away from the house (most often enjoyed by the river or in a blanket fort in the backyard) and I'm looking forward to packing school lunches again this fall. I can't believe I'm going to have two kids who eat lunch away from home. Lunch is my way of saying "I love you" to them in the middle of the day.
This post is also a review for a new lunch box Rubbermaid has out. I LOVE lunch boxes and I'm really excited about this product. Keep reading; you'll get excited too.
5 Secrets to Healthy Packed Lunch Success
1. Divide and conquer:
Stop thinking of lunch as one big meal and think of it in four little sections: protein, whole grains, fruit, vegetable. I like to keep a list of ideas for each of these categories on the fridge and then the kids or I can simply pick something that falls into each category (often depending on what the Fridge Gods have to offer at the time.
Here are some serving suggestions for each category:
Protein:
Peanut Butter/Nut Butters
Lunch Meats like turkey and ham (find a nitrate-free brand if you can)
Hard Salami
Cheese
Hummus
Nuts and Seeds
Hard Boiled Eggs
Cottage Cheese
Yogurt
Whole Grains:
Whole Grain Bread Mini Pita Pockets
Tortilla and/or Wraps
Crackers
Tortilla Chips
Homemade Muffins
Pasta
Beans
Popcorn
Fruit:
Apples
Oranges
Grapes
Bananas
These fruits are our normal staples and are easy to find in our little town. I tend to keep seasonal fruit on hand as it is available and we enjoy home canned fruit in the winter. I like to serve organic frozen fruit during the winter because the price is so much better than trying to get fruit that is out of season. Watermelon is just meant to be enjoyed in the summer months isn't it?
Don't forget the occasional treat like freeze dried fruit, homemade dried apple slices, and fruit leather.
Smoothies
Vegetables:
Olives
Carrots
Tomatoes
Sugar Snap Peas
Broccoli
Cauliflower
Salsa
Cucumber
Homemade pickles
Optional Dessert:
Roasted Coconut Chips
Dark Chocolate Chips
Chocolate Covered Nuts
Examples of Some Healthy Lunch Combos:
1. Homemade "Lunchables" - hard salami + provolone cheese + whole grain crackers, veggies, frozen organic strawberries + cherries
2. The Classic - whole grain bread + peanut butter + honey, chocolate covered assorted nuts (cupcake wrappers make easy dividers), veggies, cottage cheese + pineapple
3. Chips and Salsa - chips + salsa + pinto beans, apple sandwich, Greek yogurt
Don't forget that things can be all mixed up too like a slice of cold homemade pizza, cold pasta salad, or a very veggie wrap, salad, or sandwich that might have the meat and cheese in the mix.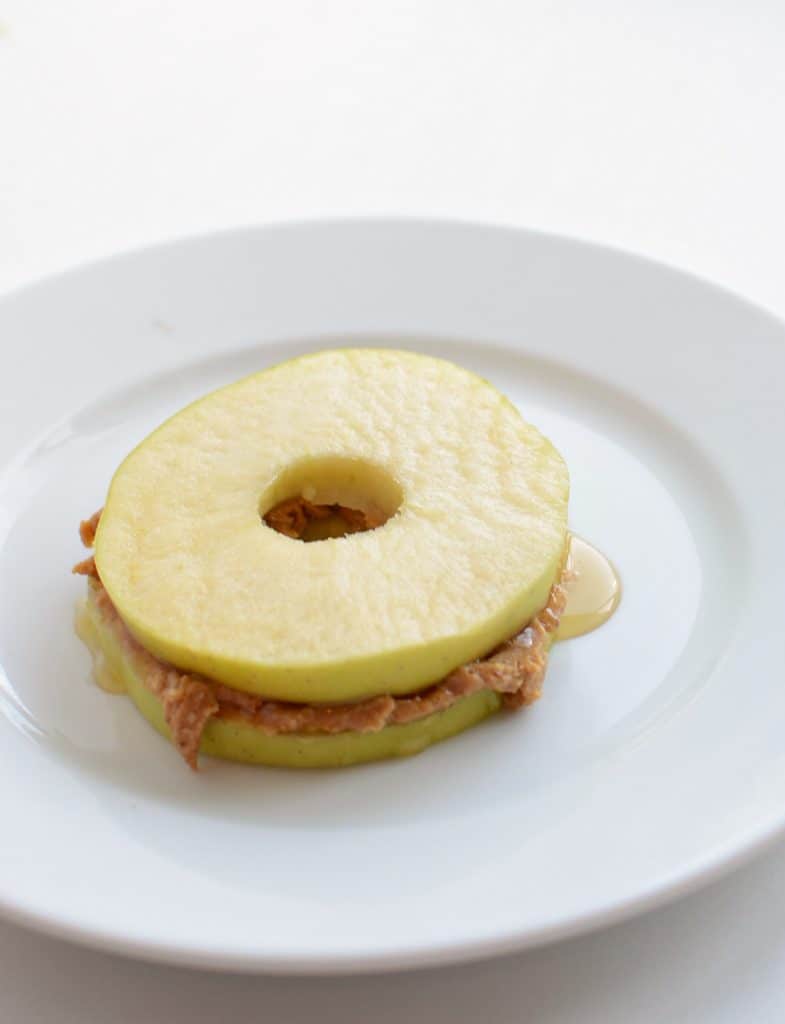 How to Make a Fruit Sandwich:
The ever popular apple sandwich. Just slice an apple like you would to make apple chips. I used big the end of a metal icing tip to cut out the center. Add some peanut butter (or other nut butter), honey if you'd like, and a dash of cinnamon (again, optional), and top with another slice of apple. We love this.
Sometimes the kids will pick different things from each category and I think the combination is a little weird, but that doesn't really matter. If they are going to eat it and their bodies will be well fed, who cares if it's not a totally "normal" meal. That leads me to my next point...
2. It's all about that box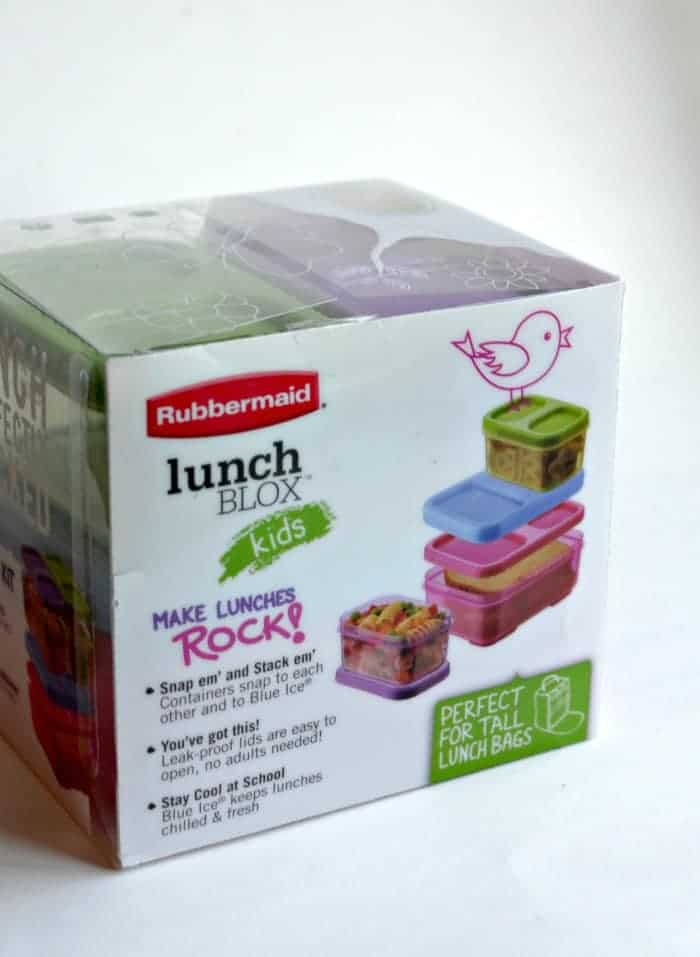 Your lunch box and containers are important. If you are going to the effort to prepare a lunch, it needs to show up in great condition and stay that way until it's time to eat. How are you going to keep food cold? Can the kids open what you are sending them without adult help? Do they leak in transit? Can you reuse them? Rubbermaid sent me their newest lunch box to review and I'm so pleased with it that I agreed.
All of the little boxes snap together and they also snap to the blue ice pack; they are called LunchBlox, such a clever name. I thought this was super clever; everything stays put. It fits in all of my taller lunch boxes (I have drawstring muslin bag that I like to use and it doesn't fit in that, but of the four other boxes I have it all fit nice and stacked). It also passed my other "rules" that apply to lunchboxes before I'll even purchase them - it's BPA free, they are freezer safe, microwave safe, and even dishwasher safe. And the real test... can the kids open them? I had my 7, 5, and newly 4 year-old each take a turn opening the lids and they all passed with flying colors. I'm excited to use these this year and after 2 years of his sister getting to pack her lunch, my soon-to-be Kindergartner has claimed them as his own.
Their cost is very affordable and considering they are made by such an accessible brand they should be easy to find yourself (I just saw them at Costco!). In our short experimenting time with them we only found things we liked. I'm confident they'll be a fun lunch box that you'll like too.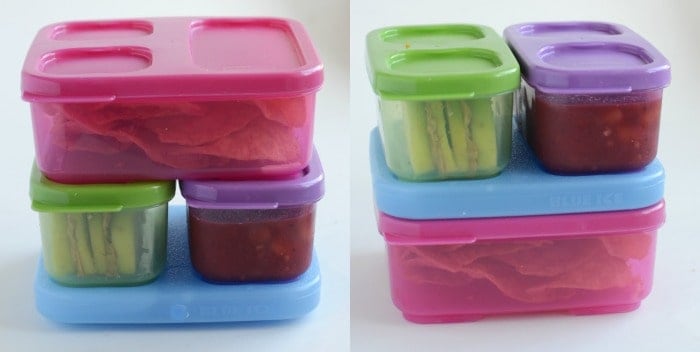 3. Let the Littles Take Charge
Our little people have opinions, let's be the listeners now and again. I highly recommend sitting down on the weekend and planning out their school lunches a week at a time. They can pick what they want (again, this is why that list above is so helpful), you can shop accordingly, and when it comes time to make and prep you both know what to expect. My kids don't take a lunch every day, they enjoy the hot lunch at school and that's ok with me. We sit down with the lunch menu once a month and decide what days they want to pack a lunch and what days they are going to eat at school. This works great for us.
4. Surprises are worth their weight in gold
Pinterest is plum full of cute lunch box "surprise" ideas. My favorites are the banana secret message, all things printable jokes (what kid doesn't love a corny joke?!), and the ever classic love note on a napkin. Nothing fancy, but letting your kids know you are thinking about them in the middle of the day can only be a good thing.
Nothing says love like a little dessert 😉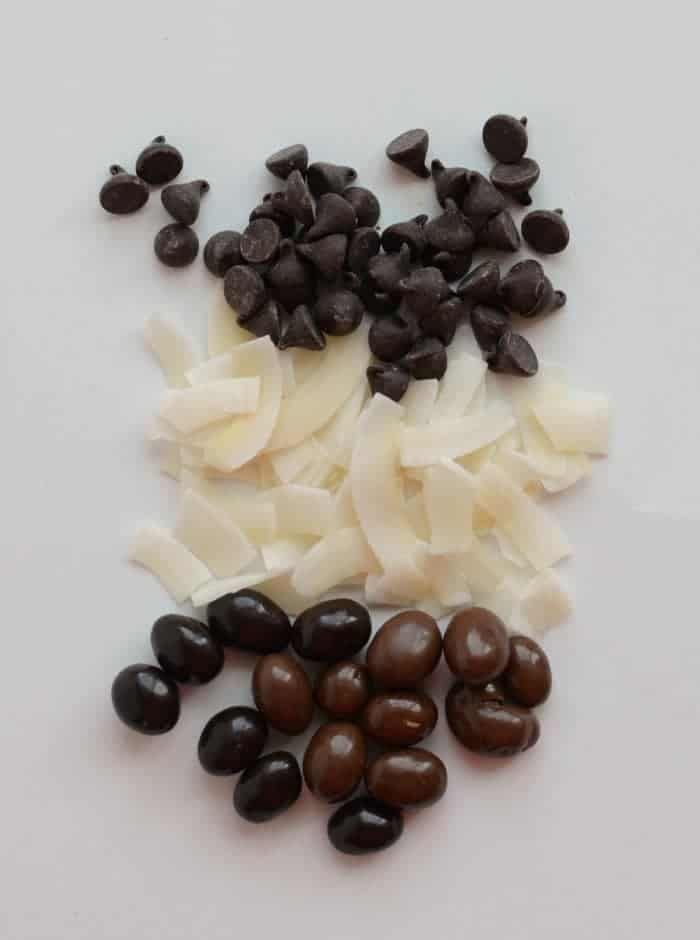 5. Don't under-estimate the power of a cookie cutter
Not many of us have time to handcraft Disney characters out of salami for our kids in the morning, but pulling out a cookie cutter now and then really is fun. Who doesn't love a simple heart or dog bone shaped sandwich!? Without being over the top, cookie cutters can really make things fun. My kids also like carrot rounds and cucumbers cut in little shapes too, and the best part: they can do this themselves one afternoon and prep their cute veggies for the whole week.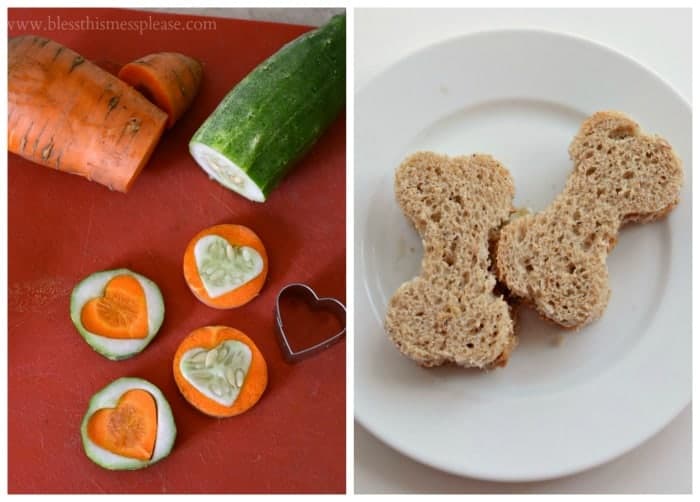 I hope these little tips save you some time and make lunch awesome for everyone in the house. Be on the lookout for that Rubbermaid lunch box too; it's a good one.
I'm becoming quiet the lunch box aficionado and I was excited to review Rubbermaid's newest lunch box product. Disclosure: This post was sponsored by Rubbermaid through their partnership with POPSUGAR. While I was compensated by POPSUGAR to write a post about LunchBlox, all opinions are my own. Thank you for supporting the brand I thoughtfully choose to work with.