This 100% Whole Wheat Bread is quite literally perfect. Thanks to a few special ingredients, this bread is pillowy soft and delicious.
Making homemade bread is such a great skill to have. It is satisfying, tastes better than store bough bread, and it's something you can teach others. I have created many memories teaching my children and friends the art of bread making.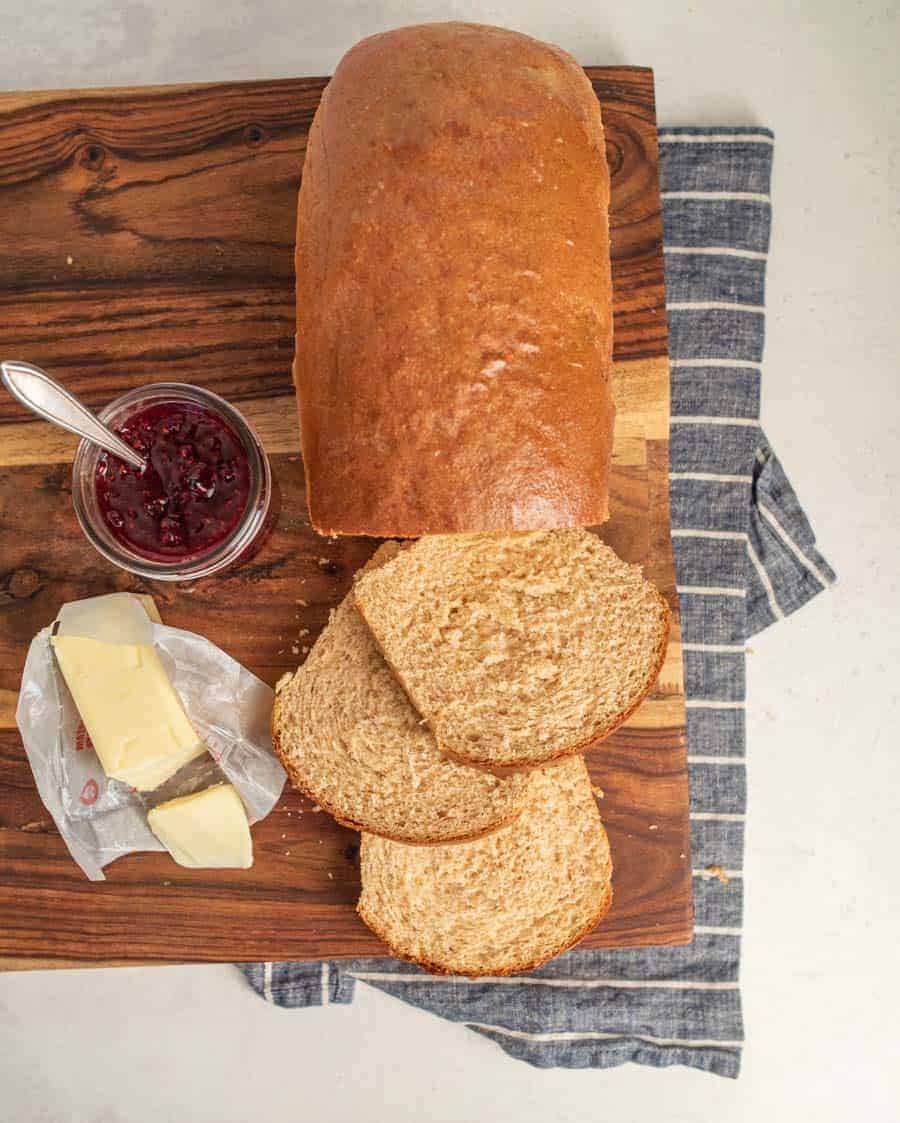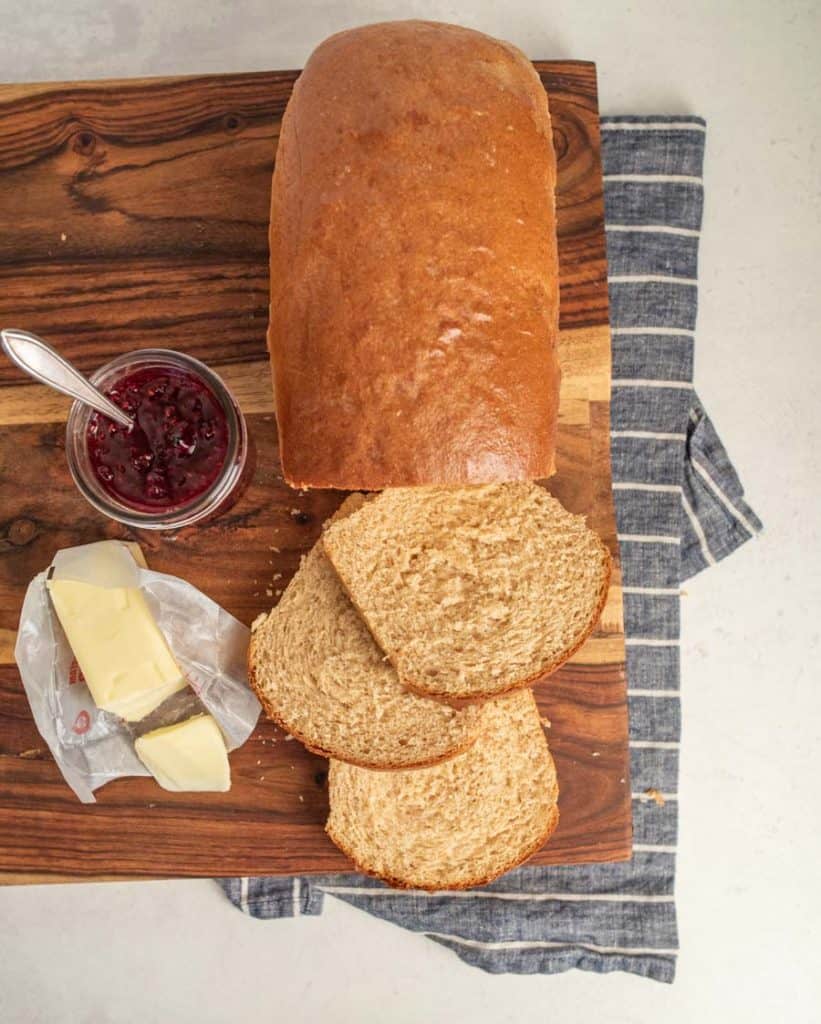 Jolyn's Wheat Bread Recipe
I've come across some whole wheat bread recipes that turn out dense, heavy, and dry. Not super appealing. Whole wheat flour doesn't contain as much gluten as white flour does which in turn can make bread turn out like a brick. Nobody likes eating bricks! The magic to incredibly soft whole wheat bread is adding gluten.
Jolyn's wheat bread also includes vinegar, powered milk, and potato flakes. These ingredients contribute to the light and fluffiness of the bread along with adding gluten. You won't believe it's 100% whole wheat!
I love to make this bread because it works great with dinner, you can make amazing sandwiches with it, or you can gift a loaf to a friend. Is there anything better than a neighbor showing up with a warm loaf of bread!?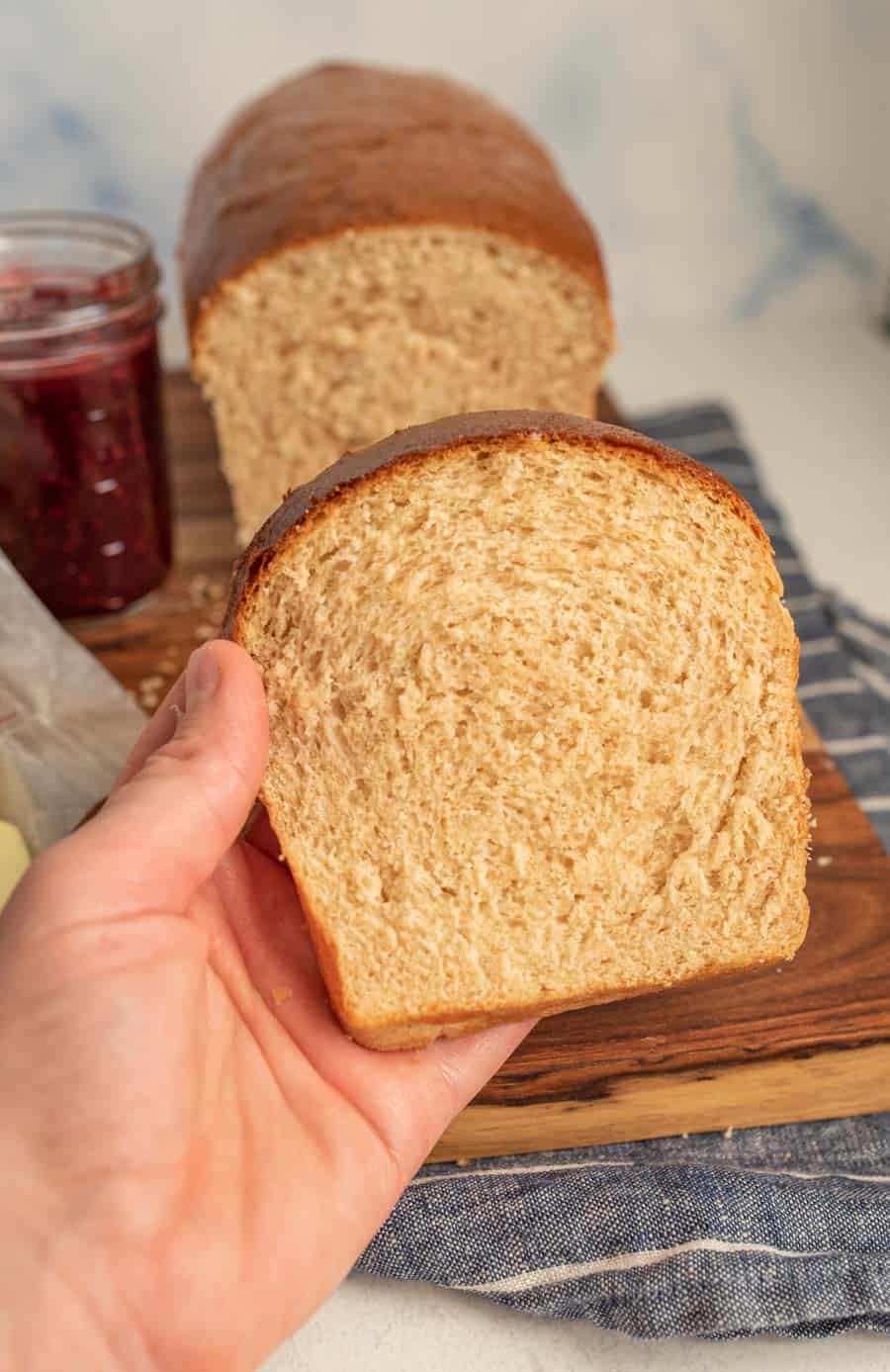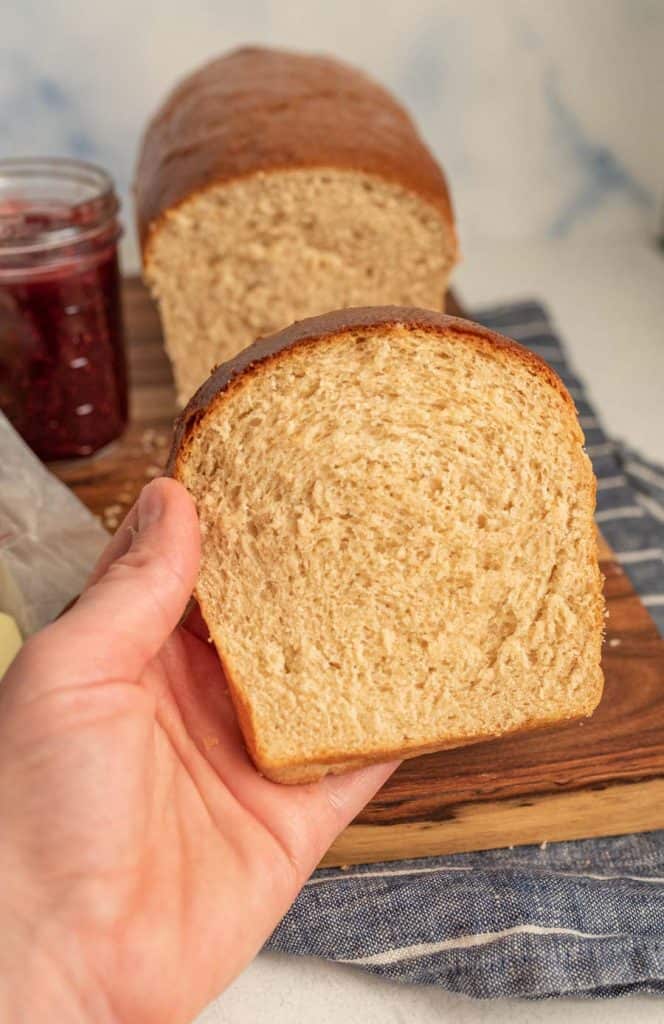 What does vital wheat gluten do?
Incorporating vital wheat gluten into your whole wheat bread will help with the texture and density of the loaf. The gluten helps dough to rise and hold structure instead of collapsing.
What is the best mixer for making bread?
This is debatable and depends on who you ask. The Kitchen aid stand mixer is popular as well as the Bosch stand mixer. However, if you don't have either, you can knead the dough by hand. It'll take some elbow grease on your part but it can be done!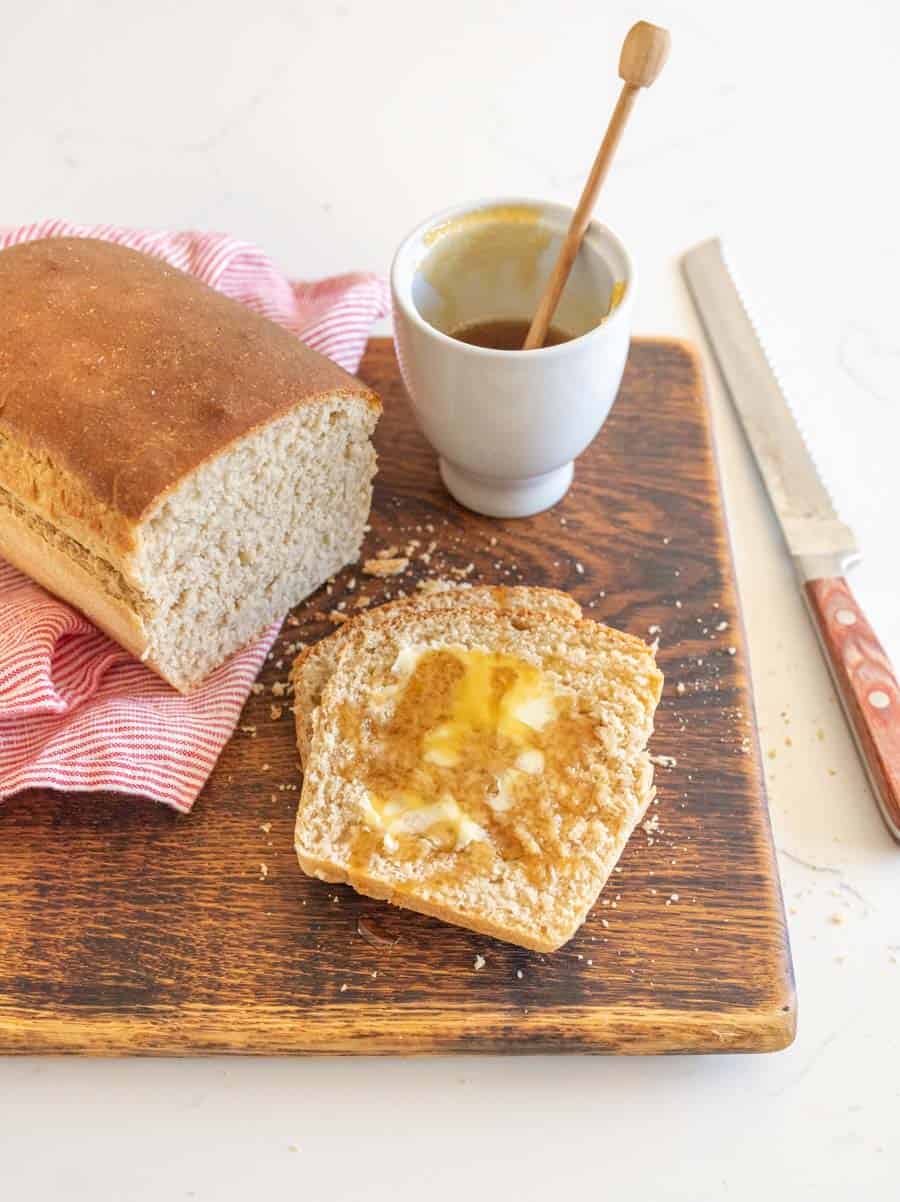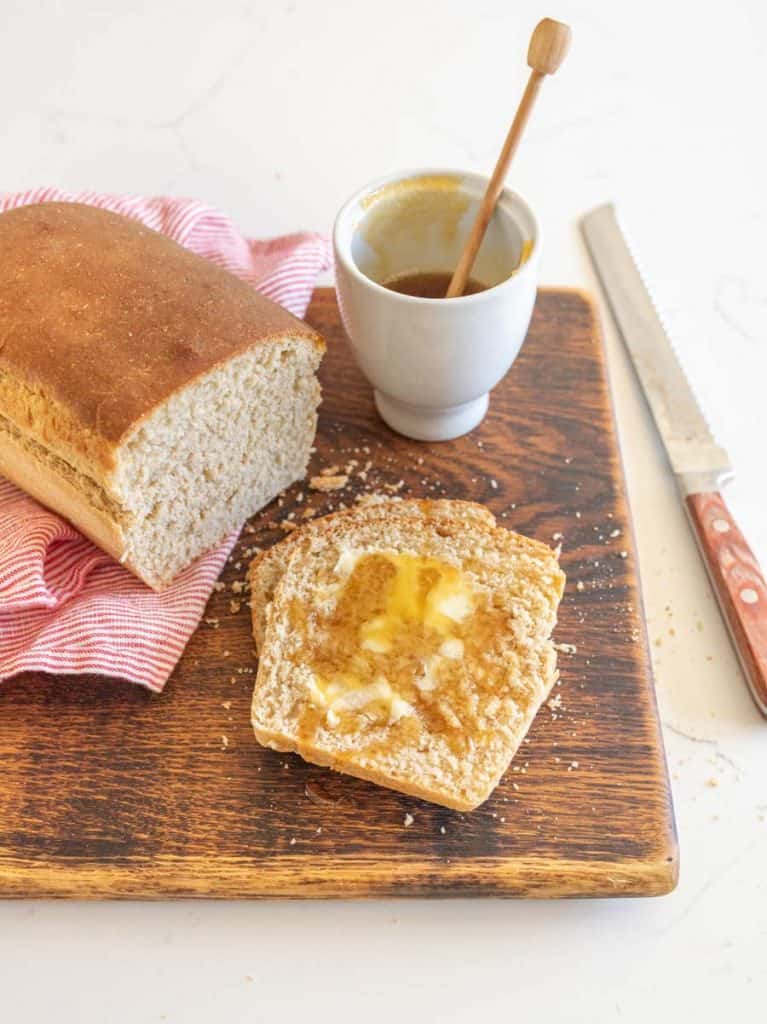 Is whole wheat bread healthy?
Whole wheat bread offers more nutrients than it's white flour only counterparts. Whole wheat bread contains more fiber too. Most of the time when you make things at home it is a healthier alternative than buying it at the store or in a restaurant.
How to serve 100% whole wheat bread?
I like to serve a fresh loaf right out of the oven to accompany dinner. Whole wheat bread also makes delicious sandwiches. One of my favorite ways to use whole wheat bread is making toast. There is really never a wrong time to enjoy homemade bread.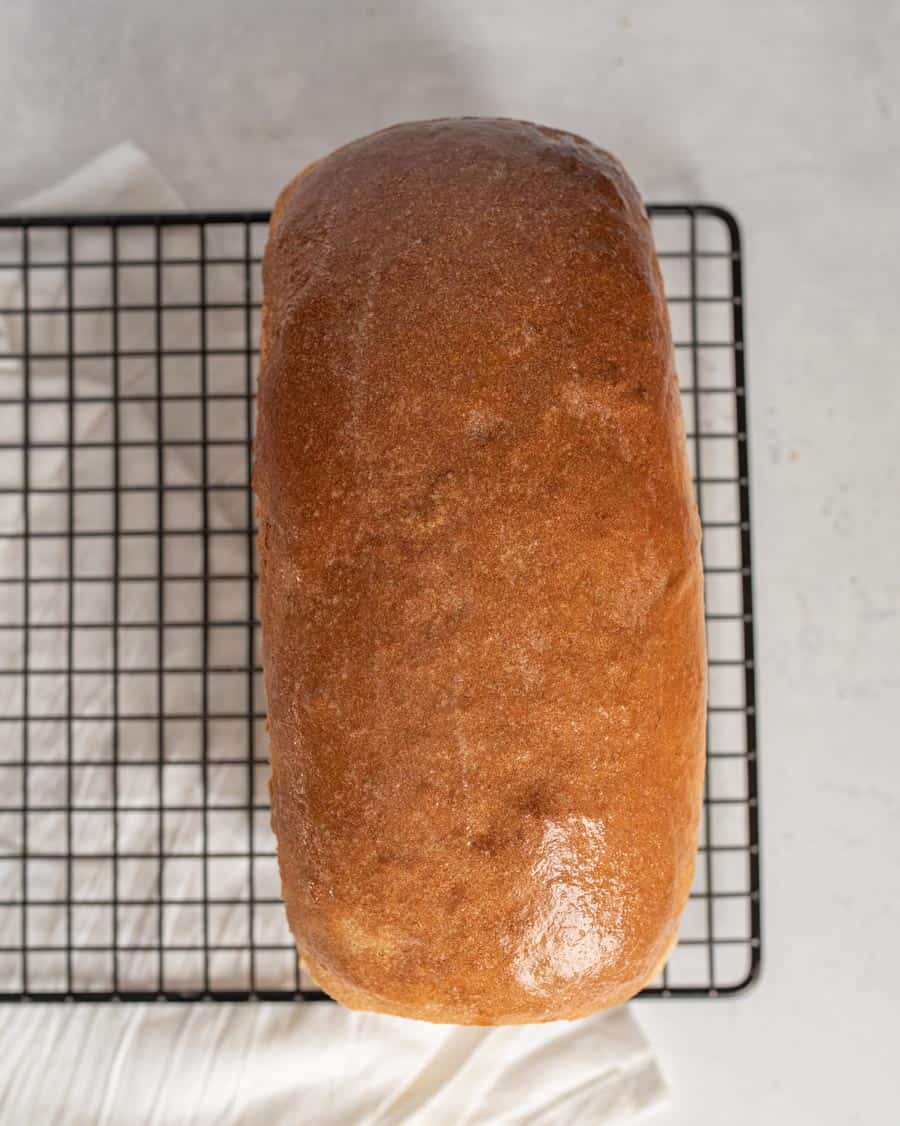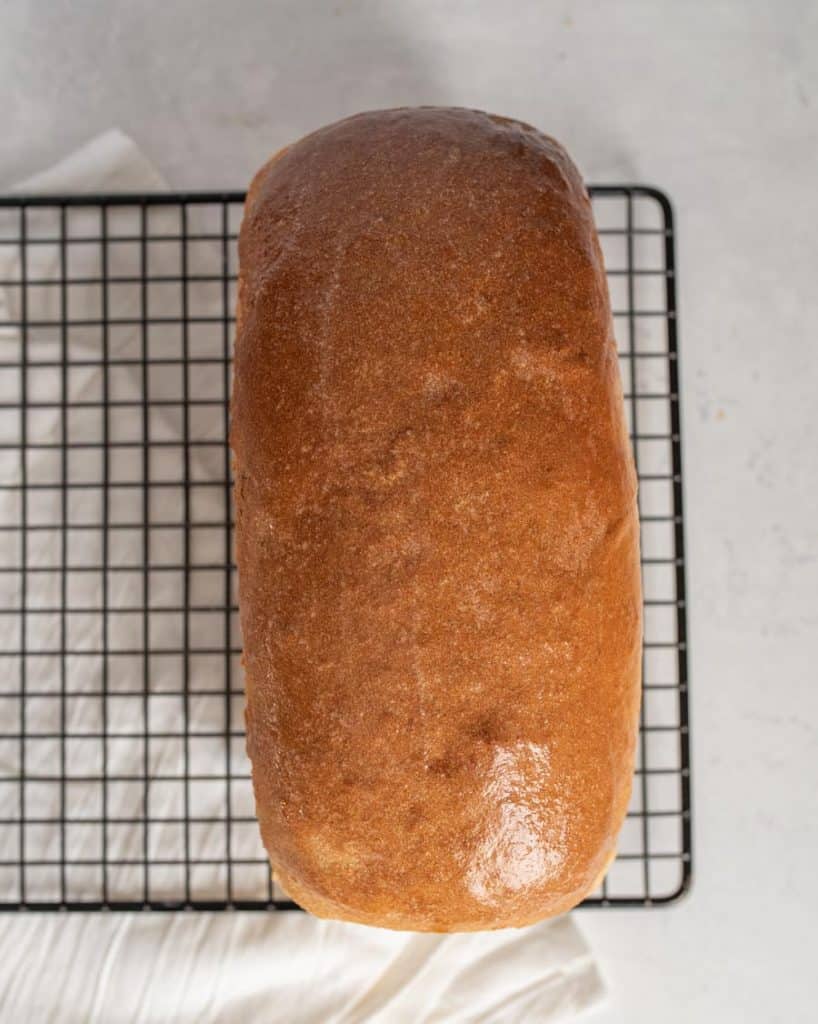 Here's why I love this bread recipe:
It's SUPER soft and still made with 100% whole wheat, most soft wheat recipes still include some amount of all-purpose or bread flour.
It holds together SO well. It doesn't get crumbly like other homemade bread recipes which makes it perfect for sandwiches and toast.
It turns out every time. I've made this recipe over and over again and it just doesn't flop.
Want the white bread version of this amazing bread? Here's the white flour bread recipe.
Print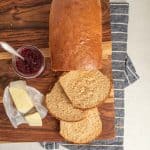 100% Whole Wheat Sandwich Bread
---
Author:

Total Time:

2 hours 55 minutes

Yield:

2

loaves

1

x
Description
This 100% Whole Wheat Bread is quite literally perfect. Thanks to a few special ingredients, this bread is pillowy soft and delicious.
---
2 ½ cups

warm water

2 tablespoons

active dry yeast

½ cup

honey or

⅔ cup

sugar

½ cup

wheat gluten

2 teaspoons

salt

¼ cup

nonfat dry milk

2 tablespoons

melted butter or oil

2 tablespoons

vinegar

½ cup

potato flakes

5

to

5 ½

cups whole wheat flour
butter to rub on the top of the loaf
---
Instructions
Add water, yeast, sugar, wheat gluten, salt, dry milk, oil, vinegar, potato flakes, and 4 cups of flour to the bowl of a stand mixer with a dough hook attachment.

Mix on low for 10-12 minutes (this is machine kneading).

After the mixing time, add additional flour, 1 tablespoon at a time. The dough is ready when it isn't too sticky and can be handled. Give the dough time to work the flour in before adding more.

If it is gooey, add flour and mix after each addition, until the dough can be worked with your hands without sticking to them. I generally add 5 cups total flour for this recipe. It will depend some on your kitchen conditions and flour (it'll depend a lot on how your flour is milled, whole wheat flours vary more than other kinds in my experience).

Form the dough into a smooth bowl and add it back to your mixing bowl. Cover tightly with plastic wrap.

Let dough rise for 1 hour or until about doubled in size.

Remove it from the bowl.

Divide the dough into two even pieces and form each piece into a loaf.

Place the dough in 2 greased loaf pan and let rise in a warm place for 1 hour or until the dough is about 1 inch above the rim of the bread pan.

Bake at 375℉ for 25-30 minutes until golden brown and sounds hollow when lightly tapped.

Remove from the oven and grease the tops of the loaf with a little bit of butter.
Remove the bread from the pans and allow to cool on a wire rack before slicing (you can slice warm but the texture is best once it has cooled and the bread has set).
Once the bread has completely cooled, store leftovers in an air-tight container at room temperature for up to 3 days, in the fridge for up to 5 days, and in the freezer for up to 3 months.
Notes
Non-fat dry milk can be found near the canned evaporated milk and sweetened condensed milk. You can also find it near specialty flours (sometimes it's called baking milk blend). It's a dry milk product and it has a great shelf life. This is the only recipe I use it for and it keeps great.
I just use normal old potato flakes, like the kind you would make instant mashed potatoes with, for this recipe. Nothing special there and again, they are very shelf stable.
Vital wheat gluten will be near the specialty flours or just in the baking isle. Again, you might need to collect up these "specialty" ingredients but they won't spoil quickly and you'll make this bread often enough to use them up!
This recipe is from my friend Jolyn. You can find her white bread recipe here.
Prep Time:

2 hours 30 min

Cook Time:

25 min

Category:

side

Method:

Bake

Cuisine:

American
Nutrition
Serving Size:

1/9 of a loaf

Calories:

278

Sugar:

11.8g

Sodium:

409.2mg

Fat:

3.9g

Carbohydrates:

56.12g

Protein:

9g
Keywords: whole wheat bread, 100% whole wheat bread, whole wheat sandwich bread, soft whole wheat bread, whole wheat bread recipe, wheat bread, wheat bread recipe, how to make wheat bread, best wheat bread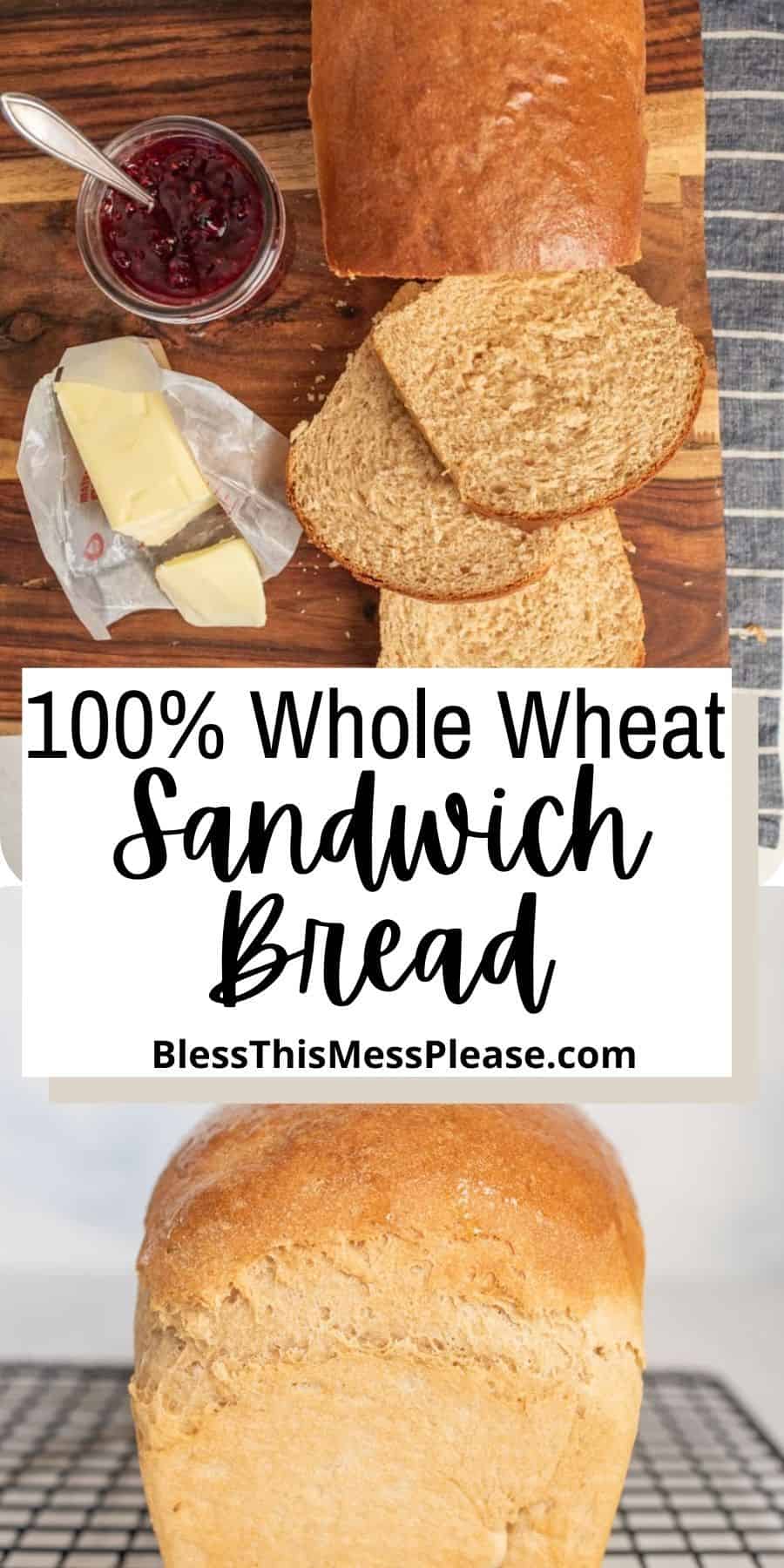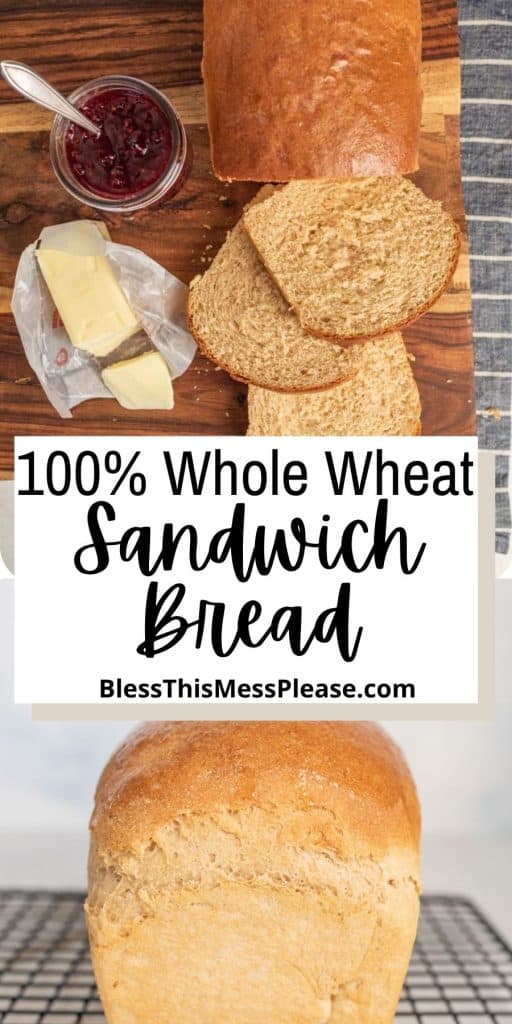 More bread recipes:
I realize that making the claim for this to be the best whole wheat bread is quite the statement. But it's true! Jolyn's 100% whole wheat bread is incredibly soft, moist, and hearty. I can't wait for you to try it.