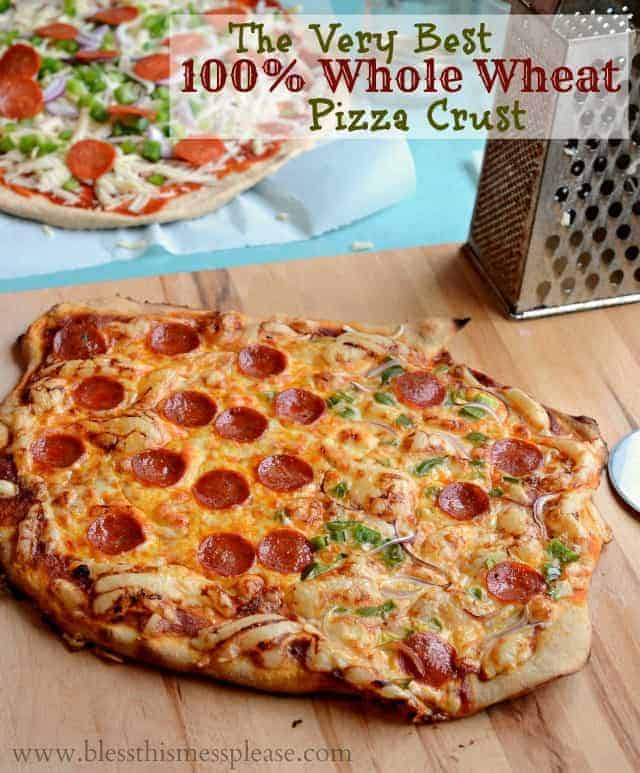 Let's talk pizza. I love pizza. It's probably one of my very favorite foods. It's just so full of carbs, cheese, and veggies and I can't get enough. I'm here to tell you that I think pizza can be health food and that you can make it healthy without your family even knowing it! I promise. Really! I make four pizzas just about every week and it's something we look forward to. Pizza night is always a hit!
Let's break down the components that make or break a pizza when it comes to the healthy factor.
The Crust: If 100% whole wheat pizza crust doesn't sound good to you then you just need the recipe that follows. It's an overnight recipe (though it works just about as well if you make it in the morning and let it sit until dinner). There's something magical about letting the dough sit and giving the starches time to break down a bit. This recipe turns out amazingly chewy yet tender pizza crust and you'll never go back to your old recipe (or baking method for that matter) again! Those whole grains are just better for you in general and the fiber really keeps you (and those kiddos) full a lot longer.
The Sauce: Ditch the premade which generally has too much sugar and about a million extra ingredients you don't need hiding in it. [affiliate link] The America's Test Kitchen Family Baking Book
suggests this recipe and I've been making it ever since I saw it: 2 T. olive oil, 2 cloves garlic, 1 (28-ounce) can crushed tomatoes (extra points if you home can them, which I do every summer!) – In a small sauce pan cook the oil and garlic together over medium heat until the garlic starts to smell good. Add the tomatoes and simmer until it thickens a bit, about 15 minutes. Season with salt and pepper to taste. DONE! Really. Three ingredients and it tastes amazing! When I'm feeling really lazy I just open up the tomatoes and add salt, pepper, and garlic powder to taste and stir it all together right in the can. It's not as good but man is it better than any other pizza sauce and it's quick. Sauce equals extra veggies, so cut out all that extra stuff and just stick to the tomatoes!
The Cheese: Dairy is pretty controversial when it comes to healthy eating but I love the stuff. Just buy a brand of cheese that doesn't have extra ingredients and don't feel like you have to drown the pizza in it. I only use about a cup to a cup and a half of mozzarella per large pizza and it's plenty. I also recommend buying some good Parmesan that you can grate over the top of the sauce (and then add the Mozzarella) just a little bit of a more expensive cheese that has lots of flavor goes a long ways in the taste department.
Toppin's: Go heavy on the veggies! You can't lose there. And if you are eating clean skip the meats or try to find nitrate-free pepperoni (good luck with that… I can't find it anywhere). When I let my kids pick what they want on it and then have them help me "decorate the pizza" aka add the toppings, they are much more likely to eat all the veggies. We love all the traditional vegetables – mushrooms, black olives, bell peppers, red onion, and diced tomato top our list.
I'm sure that none of that info was mind-blowing to you but the real secret to amazing pizza is in a good crust. The magic in this crust comes letting it sit over night and the baking method of the pizza. When you combine the two you have the world's best whole wheat pizza in town. I promise! Put this on your to-try list and pin it for later because it's one you are going to come back to again and again.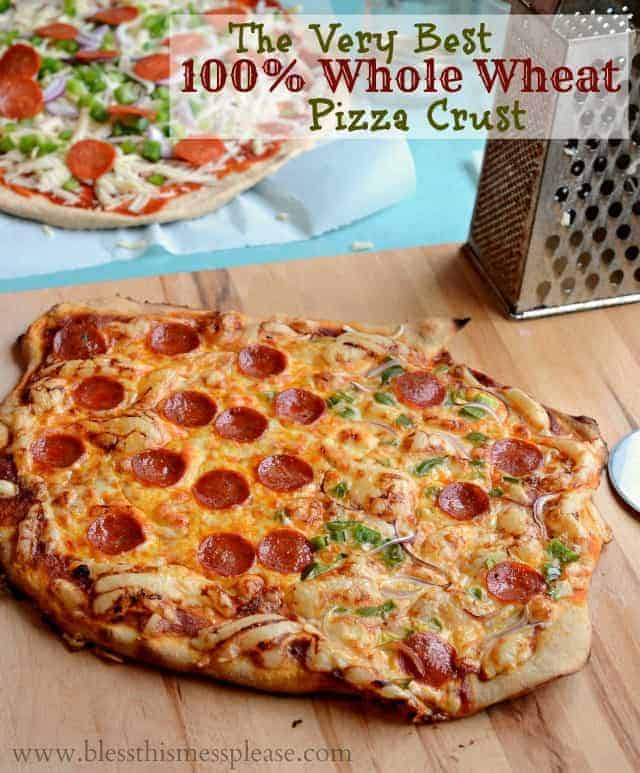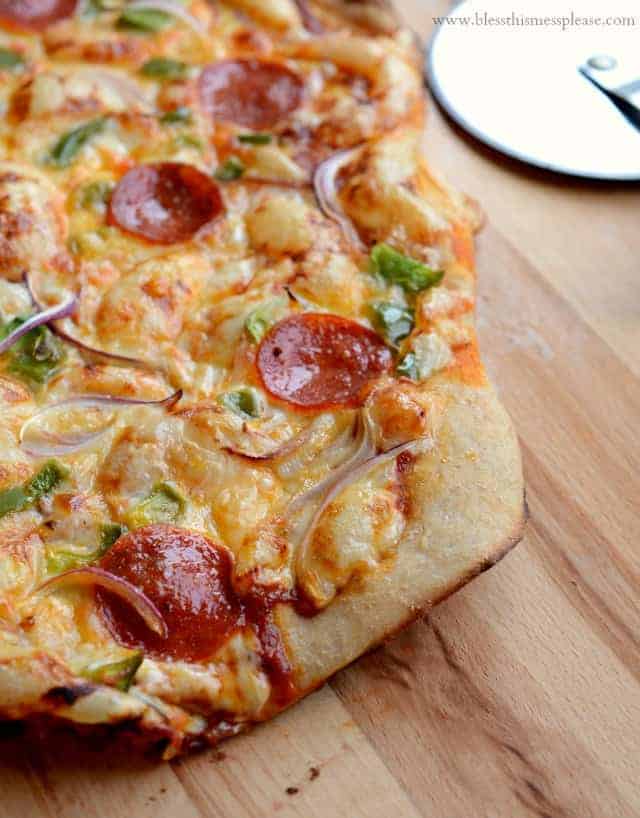 Print
100% Whole Wheat Pizza Crust
---
Yield:

2

medium to large pizzas

1

x
Scale
Ingredients
3 cup

s whole wheat flour

2 tsp

. sugar

1 1/2 tsp

. salt

1/2 tsp

. yeast

1 1/3 cup

s cold water

1 Tbsp

olive oil
Pizza sauce (see notes or farther up in the post for a great recipe)
Cheese
Toppings
---
Instructions
In a large mixing bowl add the flour, sugar, salt, and yeast. Mix to combine. Add the cold water and oil and mix until a soft dough forms. The dough will be sticky to the touch and a lot wetter than a traditional yeast bread dough. This is how it's supposed to be.
Cover the bowl with plastic wrap and refrigerate for at least 24 hours or up to 3 days. The dough will not rise much in the fridge and that's ok.
Pull the dough out the the fridge and let it sit at room temperature for one hour before using. While the dough is resting preheat your oven to 500 degrees.
If you have a baking stone, put it in the oven to heat, too. I would recommend using a stone for baking this pizza. If you don't have a stone you can turn your biggest cookie sheet upside down (so that the flat side is up) or use a rimless sheet. If you are using a stone let the stone heat for 30 minutes. If using a baking sheet, let it heat for 15 minutes.
When the oven is hot, cut your dough in half. Place half of the dough on a piece of parchment paper that is 18 inches long. Using a rolling pin, roll the dough (on top of the parchment paper) into a 12 to 14 inch circle. The dough should be pretty thin (and the thickness of the dough determines the size of pizza in the end). I like mine very thin so I roll it out to about 1/4 inch in thickness. My husband likes a more "bready" pizza so I make one that is about 1/2 inch thick for him. The dough will rise a bit while baking and the very thin does not get crispy. I say try a few thicknesses out and see which you prefer.
Top with 1 cup of pizza sauce, 1/4 cup grate Parmesan, 1 to 1 1/2 cups of shredded mozzarella, and toppings of your choice.
When the pizza is all ready, slide the pizza, which is on the parchment paper, onto a rimless cookie sheet or one that is upside down. This will help you get the pizza to the oven.
Open the oven and slide the pizza which is still on the parchment paper, from the cookie sheet onto the hot baking stone or hot cookie sheet. I just tug on the edge of the parchment paper with my hands and slide it on to the stone. BE CAREFUL! Your oven is set to 500. It's super hot, obviously! Make sure the babies are out of the way and be careful when sliding the pizza into the oven.
Bake for 10 to 15 minutes until the top is bubbly and the edges are starting to brown. When the pizza is done, tug the edge of the parchment paper and slide the pizza back onto the cookie sheet you used to transfer it to the oven. Again, be careful!
Let your stone reheat for 10 minutes. While the stone is heating, repeat the whole thing with the second half of the dough and bake the same way.
Enjoy, enjoy enjoy!
I serve it right off of the parchment paper (which gets all dark and cooked looking) or I'll tear off a new piece and serve it on a crisp white sheet of parchment. Very pretty!
---
Notes
Quick and Easy Pizza Sauce from America's Test Kitchen: 2 T. olive oil, 2 cloves garlic, 1 (28-ounce) can crushed tomatoes (extra points if you home can them, which I do every summer!) – In a small sauce pan cook the oil and garlic together over medium heat until the garlic starts to smell good. Add the tomatoes and simmer until it thickens a bit, about 15 minutes. Season with salt and pepper to taste. DONE!
For this recipe, I recommend:
[asa_collection btmp]wheat_pizza[/asa_collection]
This recipe was inspired by Emily of at One Lovely Life. Her recipe is not whole wheat and uses a food processor to make the dough. It's really good too!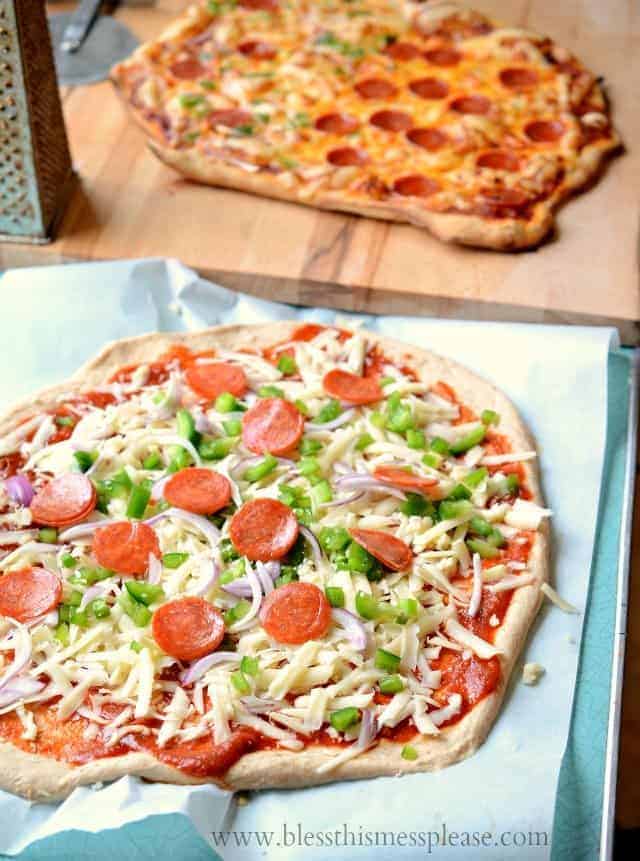 Whole wheat pizza dough perfection, after it's 24 hour chill.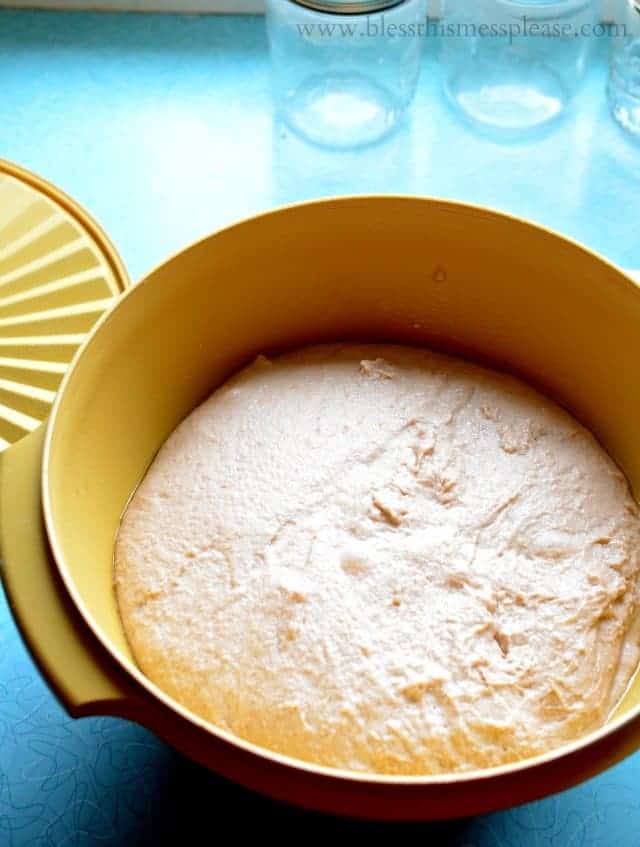 I feel like this post is such a treasure. It's such a good recipe and something that I make weekly. I hope that you love it as much as I do and try out that new baking method. Your pizza night will never be the same again.
Thanks so much for stopping in!
If you aren't in the mood to wait a day for the dough you can try out my other favorite recipe which can be made with whole wheat flour or not. The post for Momma's homemade pizza crust is right here.