Cheese Crackers are crispy, golden delights that are not only incredibly delicious but also surprisingly easy to make.
If you're a fan of savory snacks that pack a cheesy punch, you're in for a treat with homemade Cheese Crackers. These crispy, golden delights are not only incredibly delicious but also surprisingly easy to make.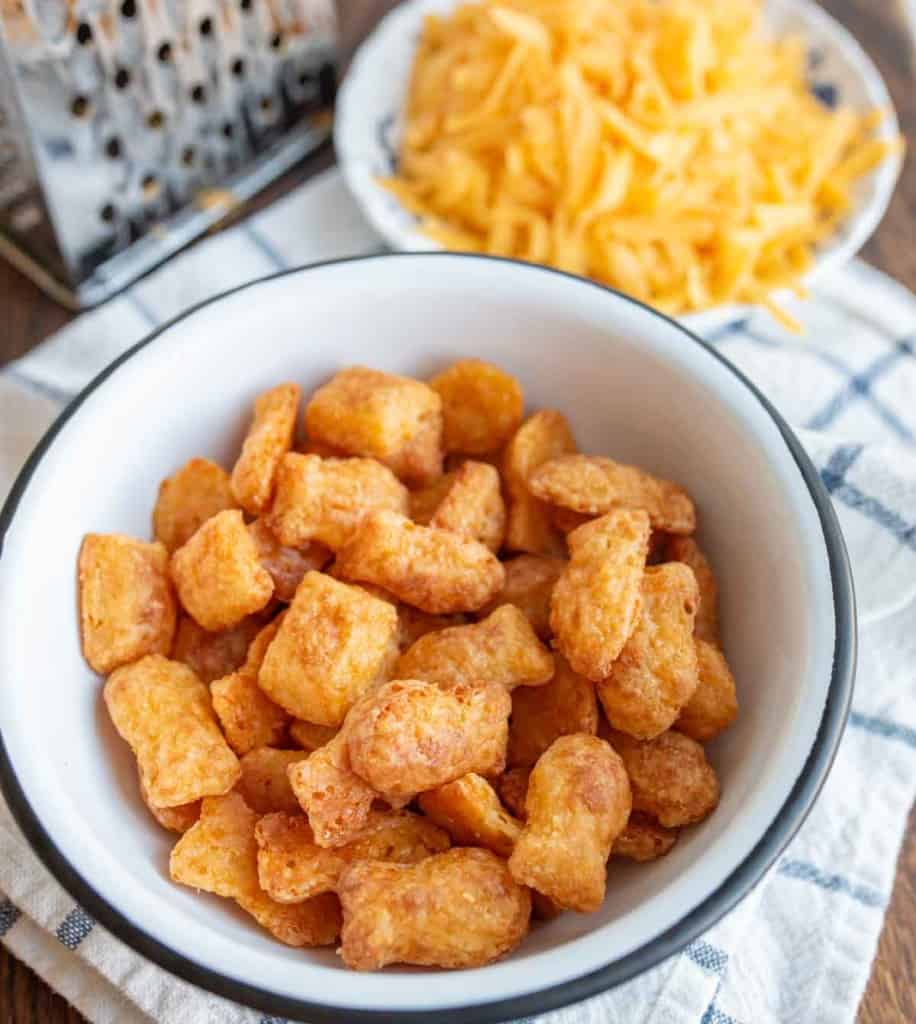 Table Of Contents
Whether you're looking for a crowd-pleasing party snack or a simple, satisfying treat for yourself, these cheese crackers will become your new go-to recipe.
These cheese crackers are versatile. You can experiment with different cheese varieties, herbs, and spices to tailor them to your taste.
Why You'll Love This Recipe
Homemade Goodness: Say goodbye to store-bought cheese crackers with questionable ingredients. This recipe allows you to control the quality of ingredients and create a healthier alternative.
Simplicity: With just a handful of basic ingredients, this recipe is perfect for both novice and experienced bakers. You'll be amazed at how quickly you can whip up a batch of these crackers.
Crispy and Cheesy: These crackers offer the ideal combination of crispiness and cheesy flavor that's sure to satisfy your snack cravings.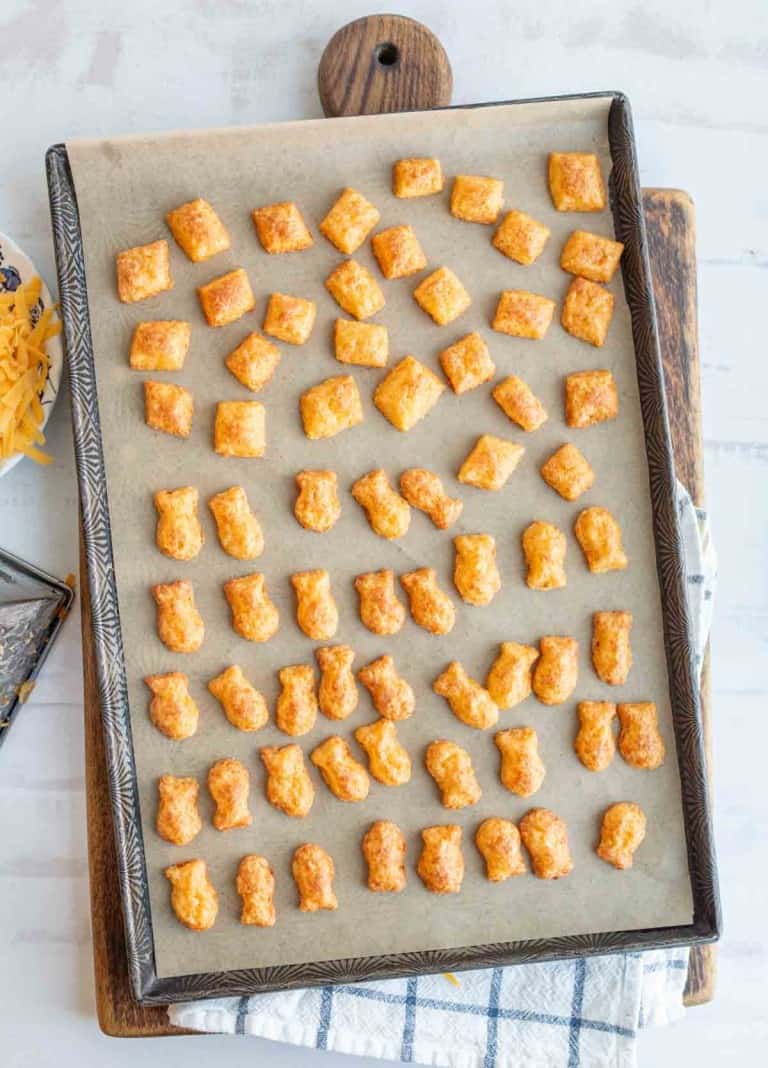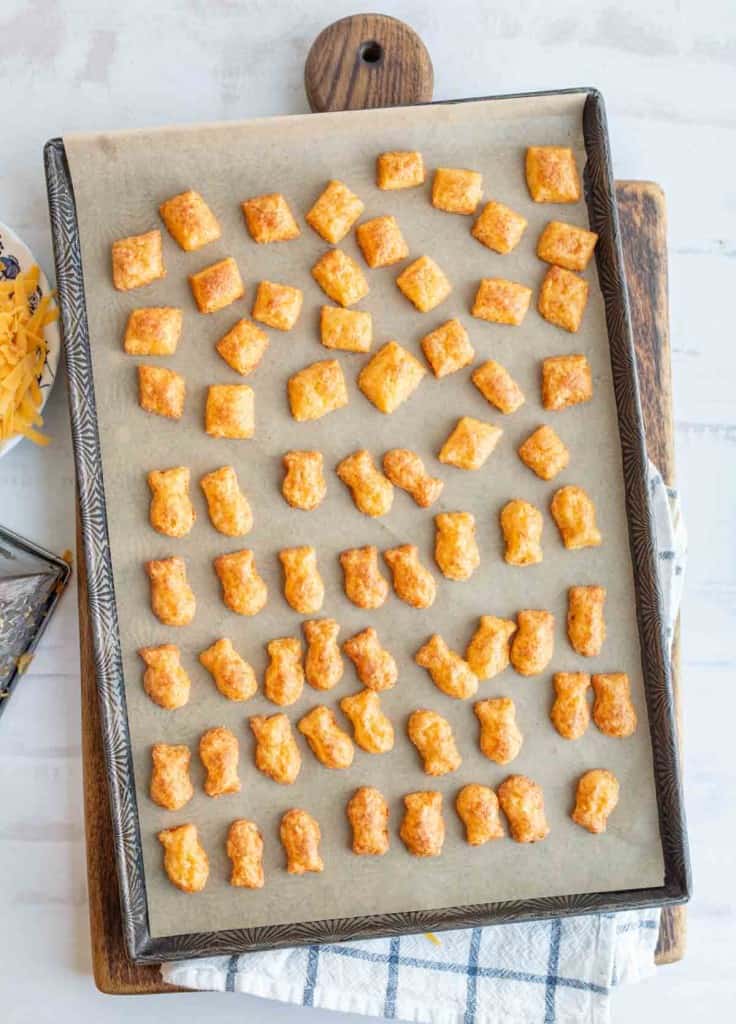 Recipe Ingredients
Sharp Cheddar Cheese (Finely Grated): Adds a rich, savory flavor and a creamy texture to the crackers, making them irresistibly cheesy.
All-Purpose Flour: Serves as the primary structure of the crackers, providing the necessary structure and crumbly texture.
Butter (Chilled and Cut into Small Pieces): Imparts a buttery richness and helps create a flaky, tender texture in the crackers.
Salt: Enhances the overall flavor of the crackers and balances the cheesy and buttery elements.
Ice Water: Maintains the dough's temperature, ensuring that the crackers turn out crispy and delicate rather than tough.
Popular Substitutions and Variations
Experiment with different cheese varieties like gouda, parmesan, or pepper jack for unique flavors.
Try using whole wheat flour for a slightly nuttier flavor and added fiber.
For a more savory twist, use herb-infused butter.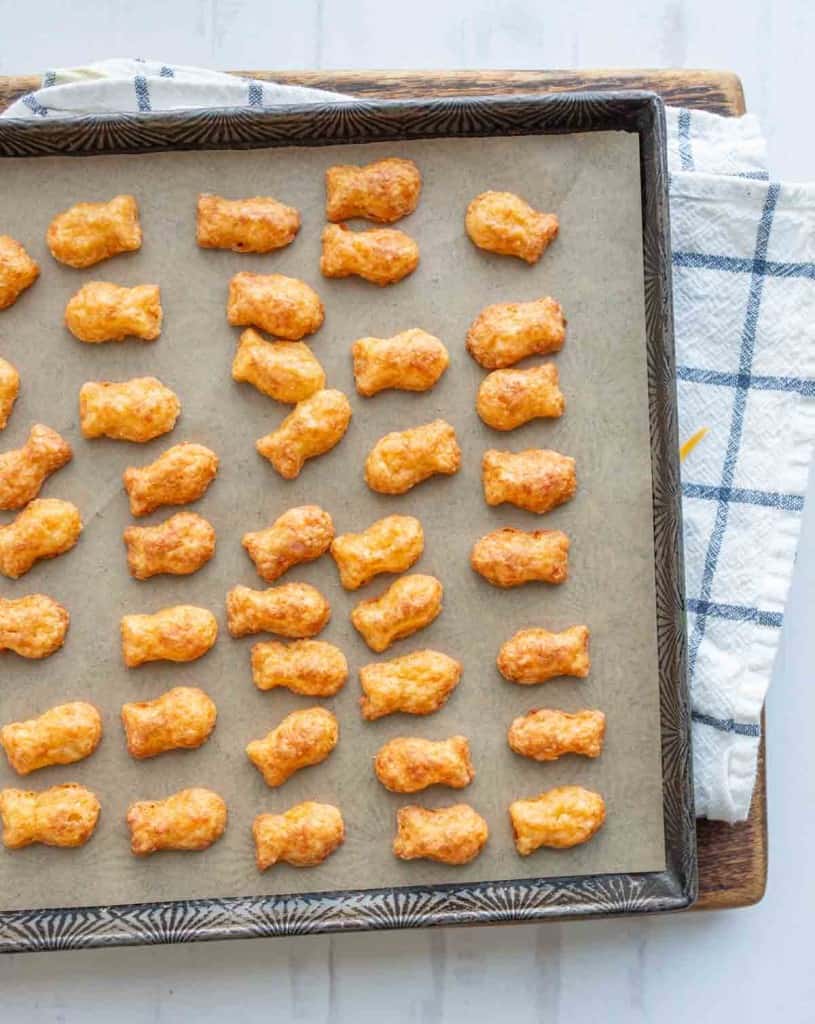 How To Make Cheese Crackers
Blend Ingredients: In a food processor, blend sharp cheddar, flour, chilled butter, and salt until it forms a sandy texture.
Add Water: Drizzle in 3 tablespoons of ice water while blending until a dough forms.
Chill Dough: Shape the dough into a ball, wrap it in plastic, and chill in the refrigerator for at least 1 hour.
Preheat Oven: Preheat the oven to 350°F.
Roll and Cut: Roll out the chilled dough to ¼ inch thickness, cut into desired shapes, and poke a hole in each with a toothpick.
Bake: Place shaped dough on a parchment-lined baking sheet and bake for 15-20 minutes until golden.
Cool and Enjoy: Let the crackers cool briefly on the sheet, then transfer them to a wire rack for complete cooling and extra crispiness.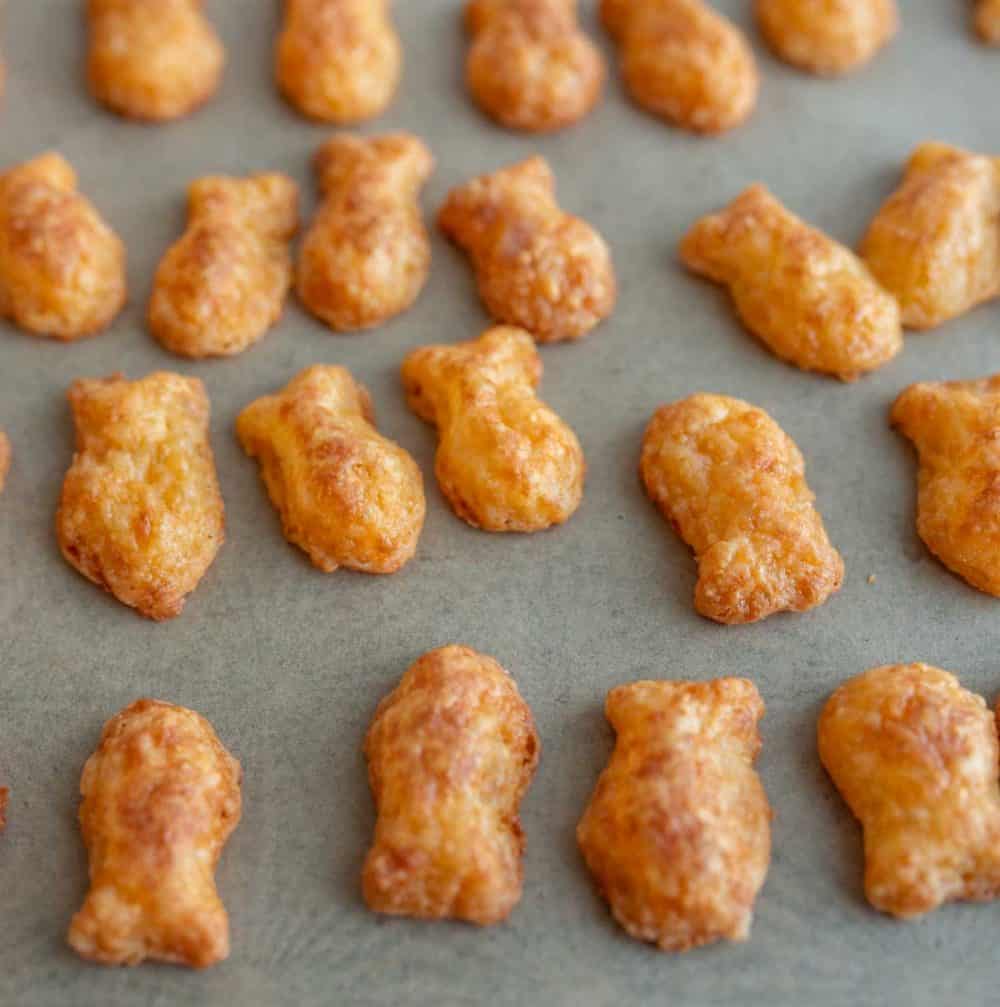 Frequently Asked Questions
Can I use pre-grated cheese?
While pre-grated cheese can be convenient, we recommend grating the cheese yourself for the best results. Pre-grated cheese often contains anti-caking agents that can affect the texture of your crackers.
Can I make the dough ahead of time?
Absolutely! You can prepare the dough in advance and store it in the refrigerator for up to 2 days. This allows for easy, on-demand cheese cracker baking.
What can I do if my crackers turn out too soft or chewy?
If your crackers aren't as crispy as you'd like, you can try baking them for an additional 2-3 minutes. Make sure they are properly cooled on a wire rack to achieve maximum crispiness.
Can I add herbs or spices to the dough for extra flavor?
You can customize the flavor of your cheese crackers by adding dried herbs like rosemary, thyme, or paprika to the dough for a tasty twist.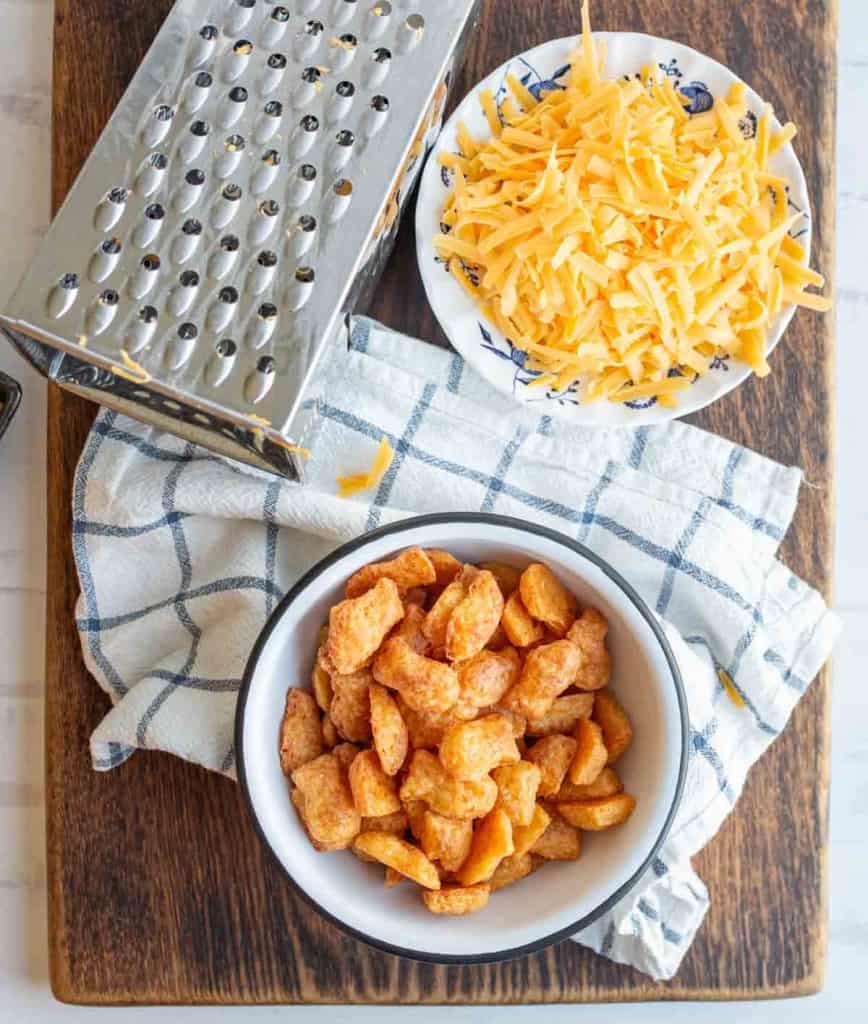 Expert Tips
Chill the Butter: Ensure your butter is cold and cut into small pieces. Cold butter creates a flakier texture in the crackers.
Proper Grating: Grate your cheddar cheese finely to ensure it blends evenly into the dough.
Use Ice Water: Cold water helps maintain the flakiness of the crackers. Make sure the water is as cold as possible.
Handle the Dough Gently: Overmixing can make the crackers tough. Mix the dough just until it comes together.
How To Store Cheese Crackers
Store the cooled crackers in an airtight container at room temperature. They should keep their crispness for up to a week.
Did you try this recipe? Leave a ⭐️ rating below and share it on Instagram, Facebook, and Pinterest!
📖 Recipe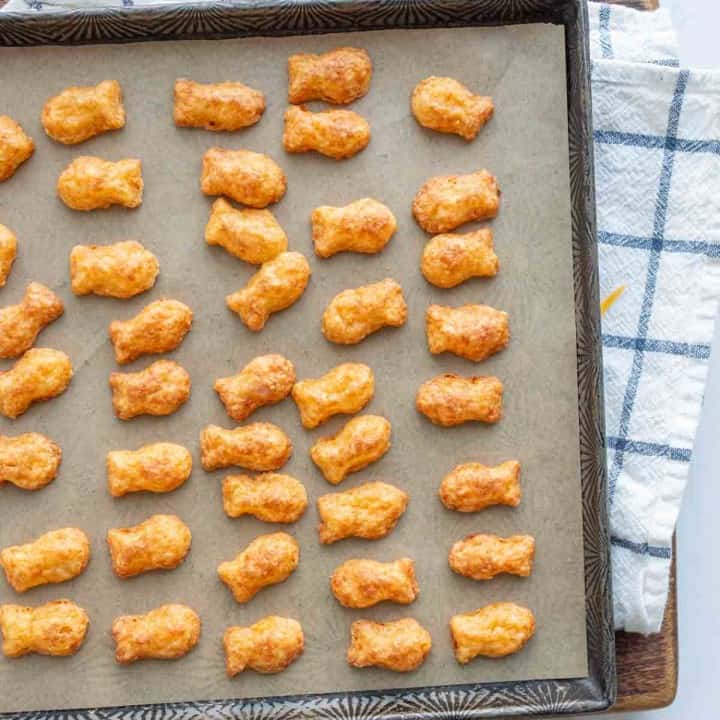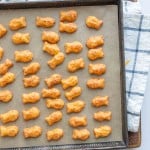 Print Recipe
Cheese Crackers
Cheese Crackers are crispy, golden delights that are not only incredibly delicious but also surprisingly easy to make.
Ingredients
8

oz

sharp cheddar cheese

finely grated

1

cup

all-purpose flour

4

tablespoons

butter

chilled and cut into small pieces

½

teaspoon

salt

3

tablespoons

ice water
Instructions
Place the finely grated sharp cheddar, flour, butter pieces, and salt into the food processor.

Use the pulse setting to blend the ingredients. Do this until the mixture reaches a fine, sandy crumb texture. The butter and cheese should be well incorporated into the flour.

Slowly drizzle in 3 tablespoons of ice water while pulsing the processor. Continue until the mixture begins to clump together and forms a cohesive dough.

Turn the dough out onto a clean surface. Use your hands to form it into a ball, being careful not to overwork the dough to keep the crackers flaky.

Wrap the dough ball in plastic wrap and place it in the refrigerator. Let it chill for at least 1 hour. This helps to firm up the dough and makes it easier to roll out.

Set your oven to preheat at 350°F (175°C). This allows it to reach the required temperature by the time the dough is ready to be baked.

Line a baking sheet with parchment paper to prevent the crackers from sticking and to allow for easy cleanup.

On a lightly floured surface, roll out the chilled dough to a ¼ inch thickness. Ensure it's evenly rolled out to allow uniform baking.

Use cookie cutters or a knife to cut the dough into your desired shapes. This is where you can get creative! It's good to keep them smaller though, think gold fish cracker or cheese cracker size.

Using a toothpick, poke a hole in the center of each cracker. This helps them bake evenly and gives them a traditional look.

Place the shaped dough pieces on the prepared baking sheet, spacing them out evenly.

Bake in the preheated oven for 15-20 minutes, or until the edges begin to turn golden brown. Keep an eye on them to avoid over-baking.

Allow the crackers to cool on the baking sheet for a few minutes before transferring them to a wire rack to cool completely. They will become crispier as they cool.
Notes
While sharp cheddar is recommended for its strong flavor, feel free to experiment with other types of hard cheese like Gruyère, Parmesan, or a mix of your favorites.
Handle the dough as little as possible to keep the crackers tender and flaky. Overworking the dough can make the crackers tough.
Consider adding a dash of spices like paprika, garlic powder, or cayenne pepper to the dough for an extra kick of flavor.
Store the cooled crackers in an airtight container at room temperature. They should keep their crispness for up to a week.
Nutrition
Calories:
297
kcal
|
Carbohydrates:
17
g
|
Protein:
11
g
|
Fat:
21
g
|
Saturated Fat:
12
g
|
Polyunsaturated Fat:
1
g
|
Monounsaturated Fat:
5
g
|
Trans Fat:
0.3
g
|
Cholesterol:
58
mg
|
Sodium:
502
mg
|
Potassium:
54
mg
|
Fiber:
1
g
|
Sugar:
0.2
g
|
Vitamin A:
612
IU
|
Calcium:
273
mg
|
Iron:
1
mg