Yep, you can make homemade cottage cheese -- AND it's super simple, fresh, and delicious! One of my favorite easy cheeses to make and a fun introduction to cheese making that doesn't require any special ingredients or tools.
For other creamy, homemade recipes made simple, checkout my Crock-Pot or Slow Cooker Yogurt, 4 Ingredient Healthy Strawberry Frozen Yogurt, and Cheesecake Ice Cream Recipe!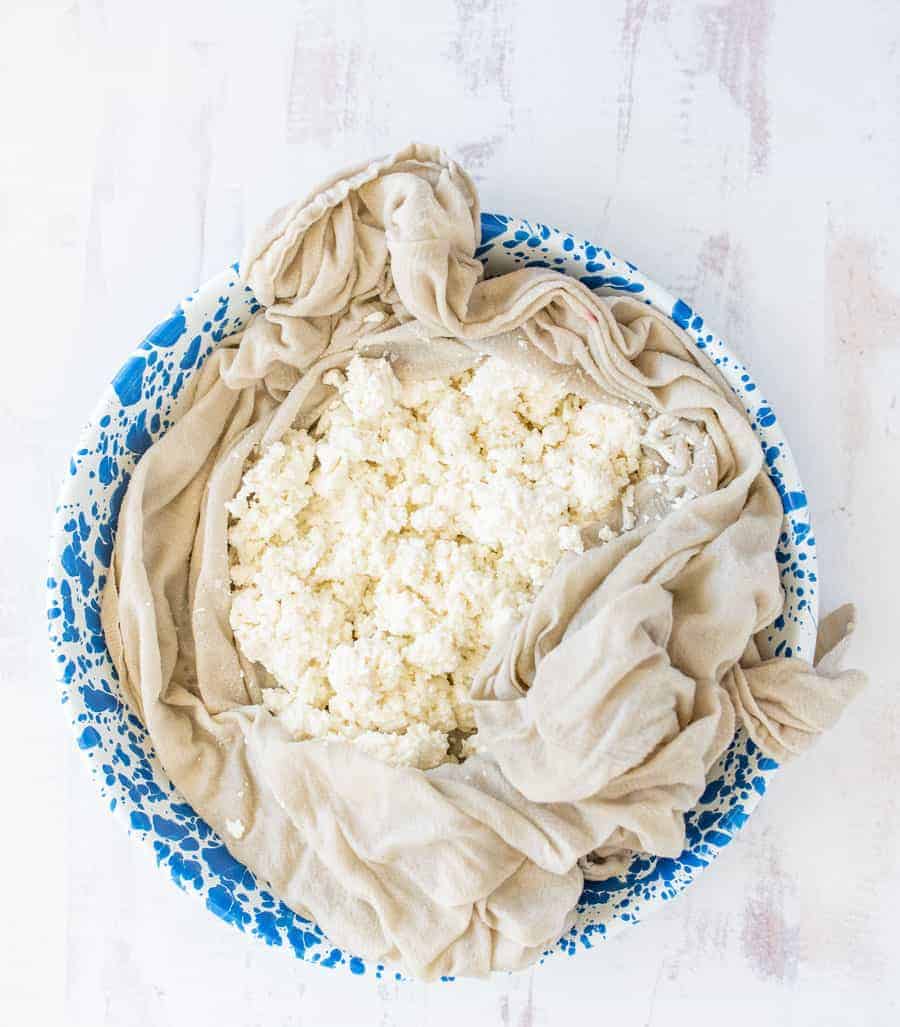 Homemade Cottage Cheese Recipe
Cottage cheese... YUM. We like cottage cheese around here, that's for sure. The store bought-stuff has a HUGE list of ingredients. Have you ever taken a look? It's just a bunch of stuff no one really wants to be eating. The solution: whip some up yourself. I promise you'll be able to name everything in it, for starters. Plus it's super easy, which you might not have expected -- only about 10 minutes of hands-on time and about 45 minutes total.
The first time I did this, I was shocked at how good this was. Thomas was, too. I love when I can create a recipe that's simple and pleasantly surprising! It brings me so much joy and affirmation in my line of work. This cottage cheese is about 10-times better than the store-bought brands, and we really like the taste of store-bought (even if I'm not a fan of the ingredient list). It's REALLY tasty! I'm nudging you to try it just so you can say you made cottage cheese -- and then fall in love with the end result like we did!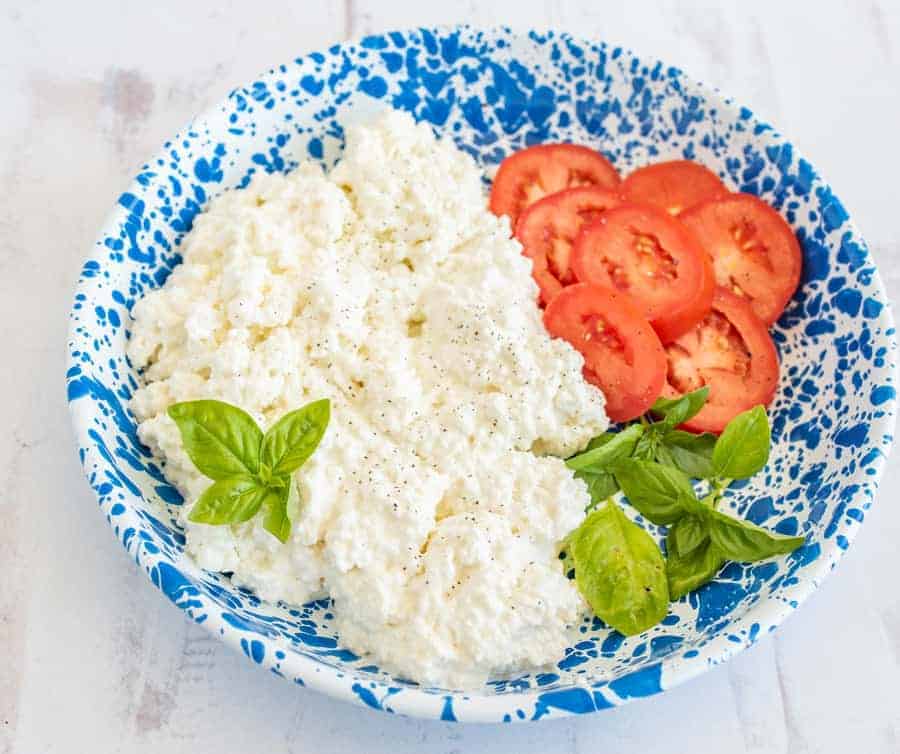 What ingredients are in cottage cheese?
If you buy cottage cheese from the store, you might see ingredients like potassium sorbate or guar gum -- but in my opinion, you should be able to eat things that have ingredients you recognize! My homemade cottage cheese is made simply of skim milk, white vinegar, coarse Kosher salt, and cream.
How do you make good cottage cheese?
Cottage cheese is surprisingly easy to make! Start by heating skim milk on the stove to 120 degrees F. and then remove it from the heat and slowly stir in your vinegar. A curd forms -- let it sit, covered, for about a half hour before draining it in a tea towel-lined colander. Wrap the curd with the towel, and run it under cool water for 5 minutes, massaging the curd from outside the towel. After the rinse, squeeze excess water from the towel and curd, place curd in a bowl, and serve with cream and salt on top! That's it!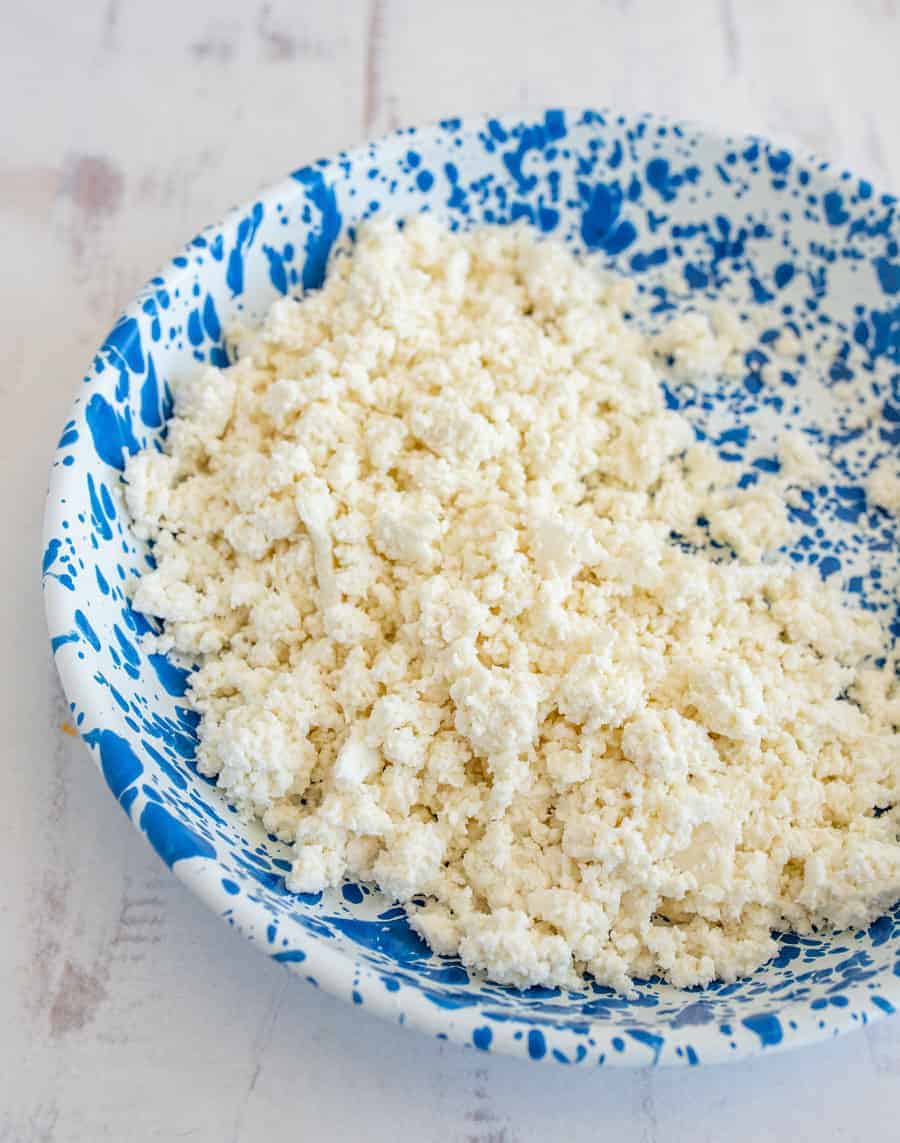 What do you eat cottage cheese with?
You can eat cottage cheese plain, and it's just delicious. You can also put it on toast, a salad, or served with fruits and veggies, like crushed pineapple, berries, melon, peaches, apple and cinnamon, celery, or carrots. It is so good no matter how you eat it!
Is cottage cheese good for you?
Yes! It's high in calcium, which is important for building and maintaining strong bones. It also has some protein in it.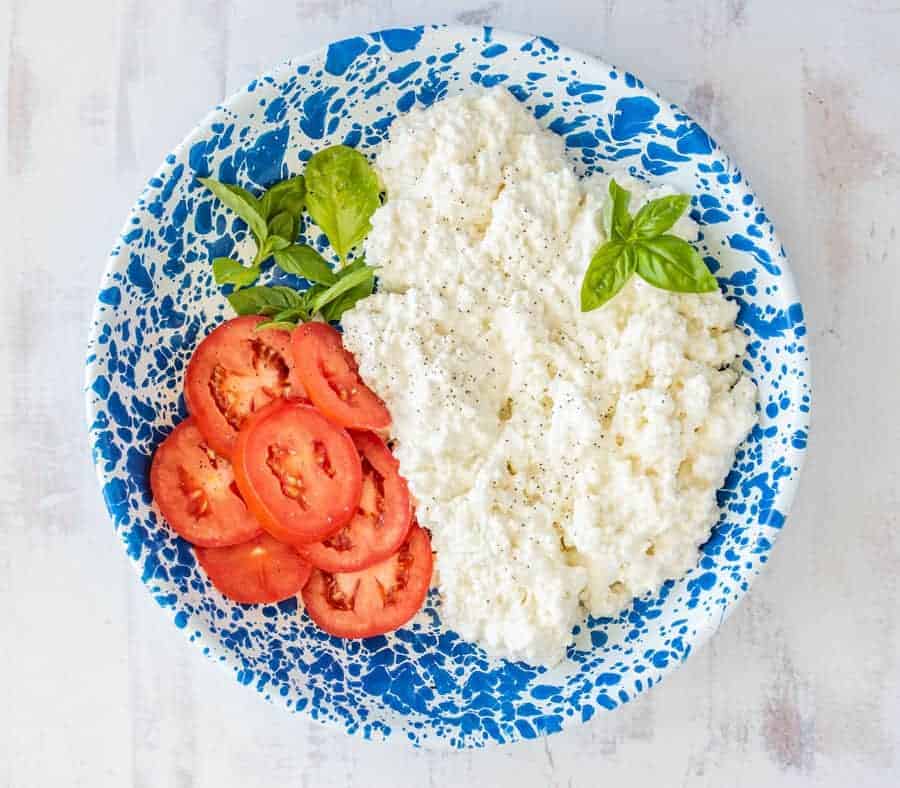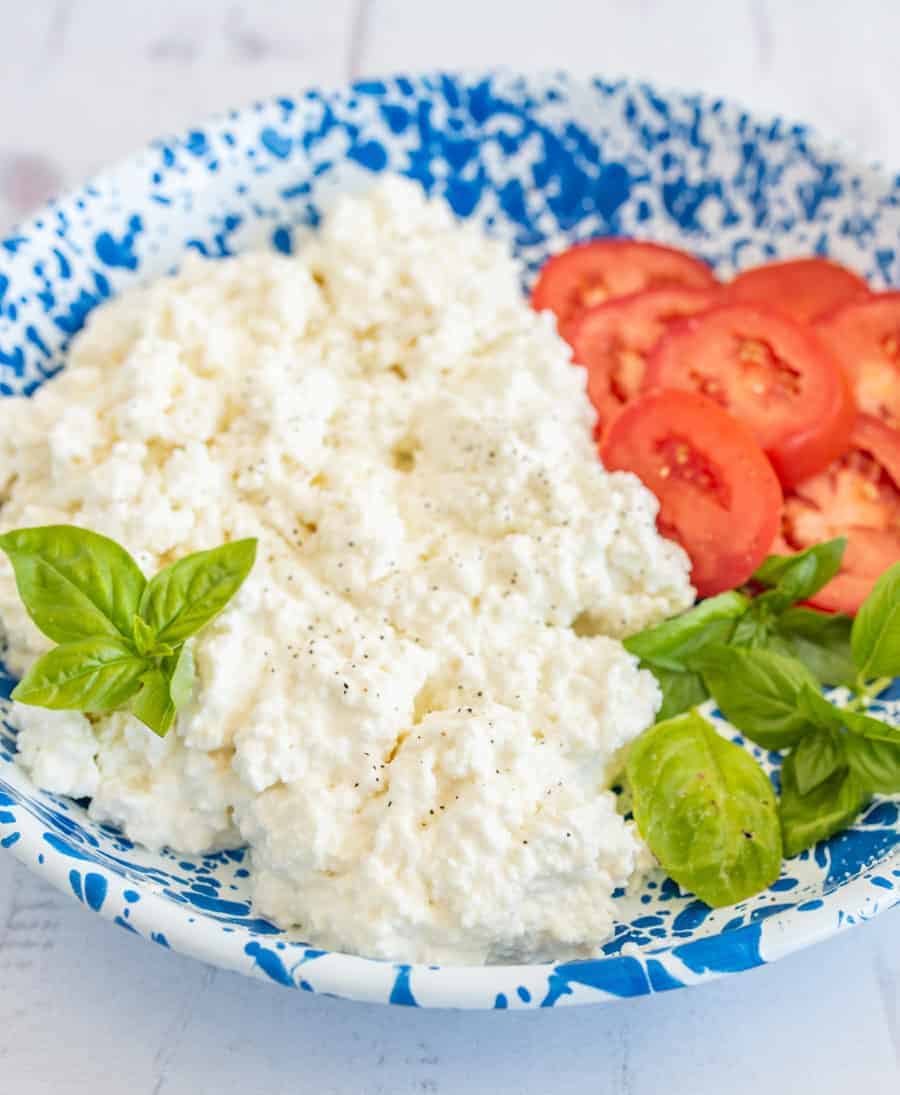 Print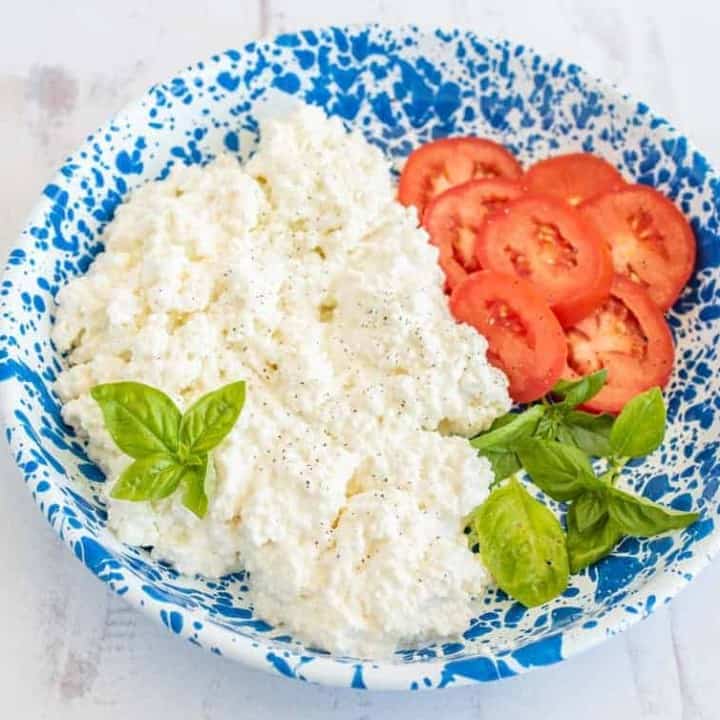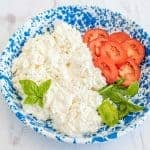 Homemade Cottage Cheese
---
Author:

Total Time:

50 min

Yield:

about

2 cups

1

x
Description
Yep, you can make homemade cottage cheese -- AND it's super simple, fresh, and delicious!
---
1 gallon

skim milk

¾ cup

white vinegar
coarse Kosher salt

½ cup

cream
---
Instructions
Place milk in a large pan, and bring up to 120 degrees F. over medium heat.
When milk reaches 120 degrees F., take it off the heat and slowly pour in vinegar while stirring. A big ole' curd will form. Cover the pot, and allow the milk/giant curd to sit for 30 minutes.
After the time has passed, place a cotton tea towel in a colander, and drain the curd from the whey.
Once the curd is in the towel, gather up all of the corners of the towel and wash the curd, under cold water, for 5 minutes. You are going to have this big chunk of curd inside the towel. Hold onto towel and future cheese under the water, and massage the curd to wash it until the water runs clear.
After you are done washing, squeeze all of the extra water through the towel. You will end up with small, dry curd when you are done.
Place curd in a bowl, and add the cream and salt (to taste) to the curd right before you serve it. If you are only going to eat half, only add half the cream to half the curd.
Store leftover curds and cream separately in the fridge until you are ready to serve.
Notes
Be generous with the salt; it's an important part of this recipe.
Prep Time:

1 minute

Cook Time:

10 min

Category:

side

Method:

stove top

Cuisine:

American
Keywords: Homemade cottage cheese, cottage cheese, fresh cottage cheese, cottage cheese recipe, how to make cottage cheese
Here's an old picture -- I'm updating this post, but I thought I'd leave this one. It show what the curd looks like after you add the vinegar!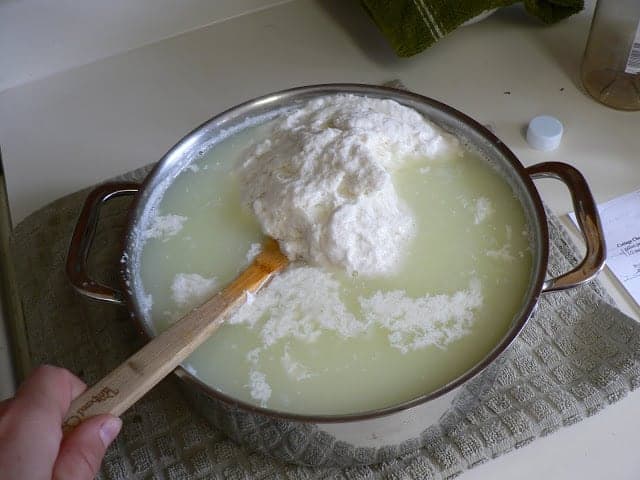 Other homemade skills recipes you'll love:
Other cheesy recipes:
This post was originally published in 2010, but has been updated and rephotographed in September 2019.
I just love this homemade cottage cheese recipe because it's easy to make and only requires 4 simple ingredients!