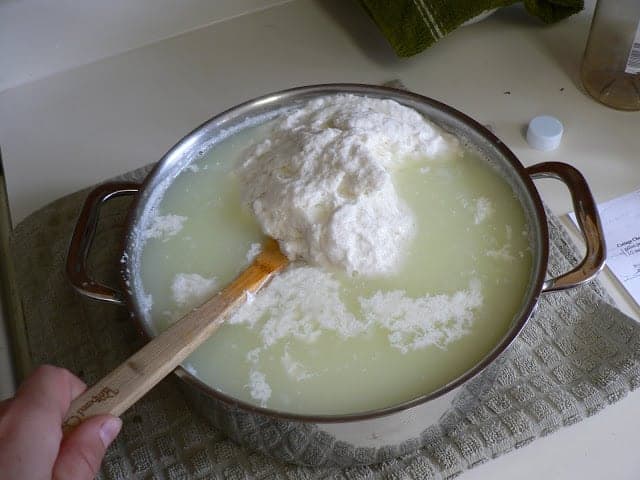 Cottage cheese… mmmm.  We like cottage cheese.  The store bought stuff has a HUGE list of ingredients… more of which no one really wants to be eating.  Solution:  whip some up your self.  I promise you'll be able to name everything in it 🙂  Plus it is super easy… only about 10 minutes of hands on time and maybe 45 minutes total.
I was shocked at how good this was.  Thomas was too.  It's about 10 x's better than store bought.  It was REALLY tasty!  You should try it just so you can say you made cottage cheese!
Cottage Cheese
1 gallon skim milk
3/4 cup vinegar (white or apple cider, I would use apple cider, more people use white)
coarse Kosher salt
1/2 cup cream
Place milk in a large pan and bring up to 120 degrees over medium heat.  When milk reaches 120 degrees, take it off the heat and slowly pour in vinegar while stirring.  A big ole' curd will form.  Cover the pot and allow the milk or giant curd to sit for 30 minutes.
After the time has passed, place a cotton tea towel in a colander and drain the curd from the whey.  Once the curd is in the towel, gather up all of the corners of the towel and wash the curd, under cold water, for 5 minutes.  Does that make sense?  You are going to have this big chunk of curd inside the towel, hold to towel and future cheese under the water and massage the curd to wash it… the water will run clear.  After you are done washing, squeeze all of the extra water through the towel.  You will end up with small, dry curd when you are done.
Add the cream and salt (to taste) to the curd right before you serve it…. if you are only going to eat half… only add half the cream to half the curd 🙂
The curd after washing and before adding cream.