How to make the smoothest hummus using only dried chickpeas, tahini, lemon juice, and salt! I learned this method in Israel and it's amazing!
Hummus is a rich and creamy dip made from a simple blend of chickpeas, tahini, and lemon juice, and topped with olive oil and spices. Hummus is versatile, delicious, and good for you too.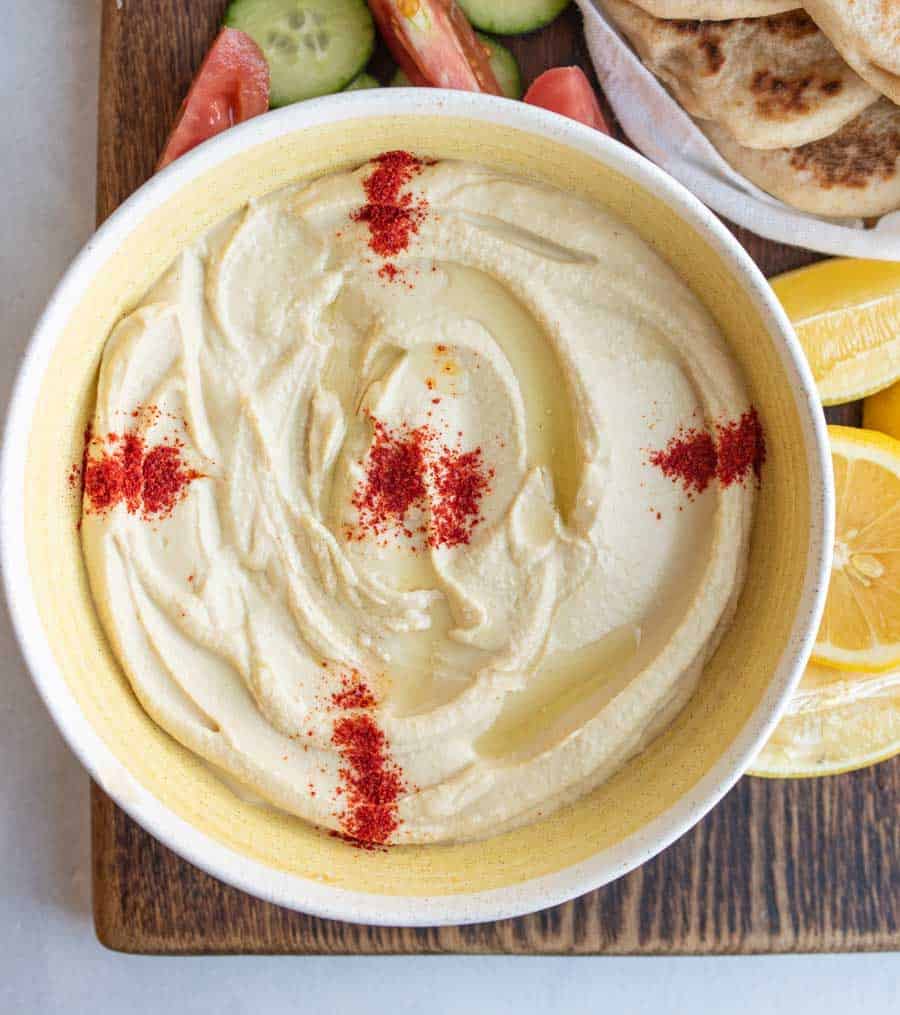 Hummus Recipe
I went on the most amazing food tour of Israel with Vibe Israel last month! We learned how to make hummus (among other amazing dishes) in the home of a beautiful Israeli woman named Doris. Doris taught me all of her tips and tricks for making the most amazing hummus and I'm going to share them with you.
The cooking class was part of a walking tour of old Jaffa by Hadas of Nice2Meet tours. I'd highly recommend going on one; we had the BEST time!
I'm looking forward to sharing more about Israel, the food, the tours, and the people (that'll be the next post!), so be looking forward to that. It was a life changing (and extremely delicious) experience I'll never forget.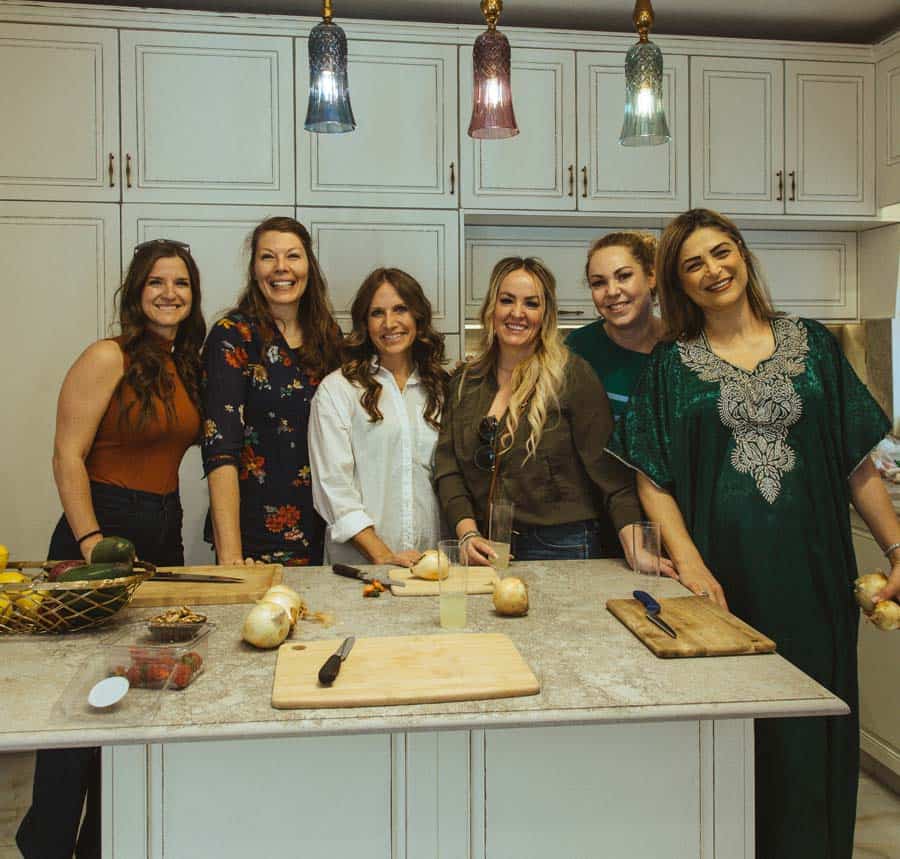 Ingredients in hummus:
Chickpeas or garbanzo beans: two different names but they are the same thing! For this recipe we are using dried chickpeas as they lend to the best texture. The secret: add a little baking soda to the cooking water to soften them up. If you only have canned chickpeas see the recipe notes on how to prepare them for use
Tahini: this is a ground sesame paste and is one of the ingredients that give hummus that traditional flavor. Look for it near the peanut butter in the store.
Fresh lemon juice: this adds so much brightness and flavor to the dish, be sure to use fresh lemon juice
Salt: this is the backbone of the flavor, so don't be skimpy here
Top with olive oil, paprika, cumin, and parsley: Dorris does NOT add oil to the blended hummus (I was surprised!) she simply drizzles it on top of the hummus once it is blended. You can also top with a little paprika, cumin, and some chopped parsley. These are just added on top to taste good and make it look pretty
Directions:
Soak your chickpeas overnight and then cook them with a little baking soda. This step can be done ahead of time.
Add the chickpeas, tahini, lemon juice, and a good pinch of salt to your food processor and blend until smooth, adding a little water as needed.
Add more salt and lemon juice to taste.
Place in a shallow bowl and then top with olive oil and any seasoning you might like. Enjoy right or pop it in the fridge for later.
Here's our hummus and some za'atar topped flatbread from the cooking class. Isn't it beautiful. One of the most delicious meals I've ever had.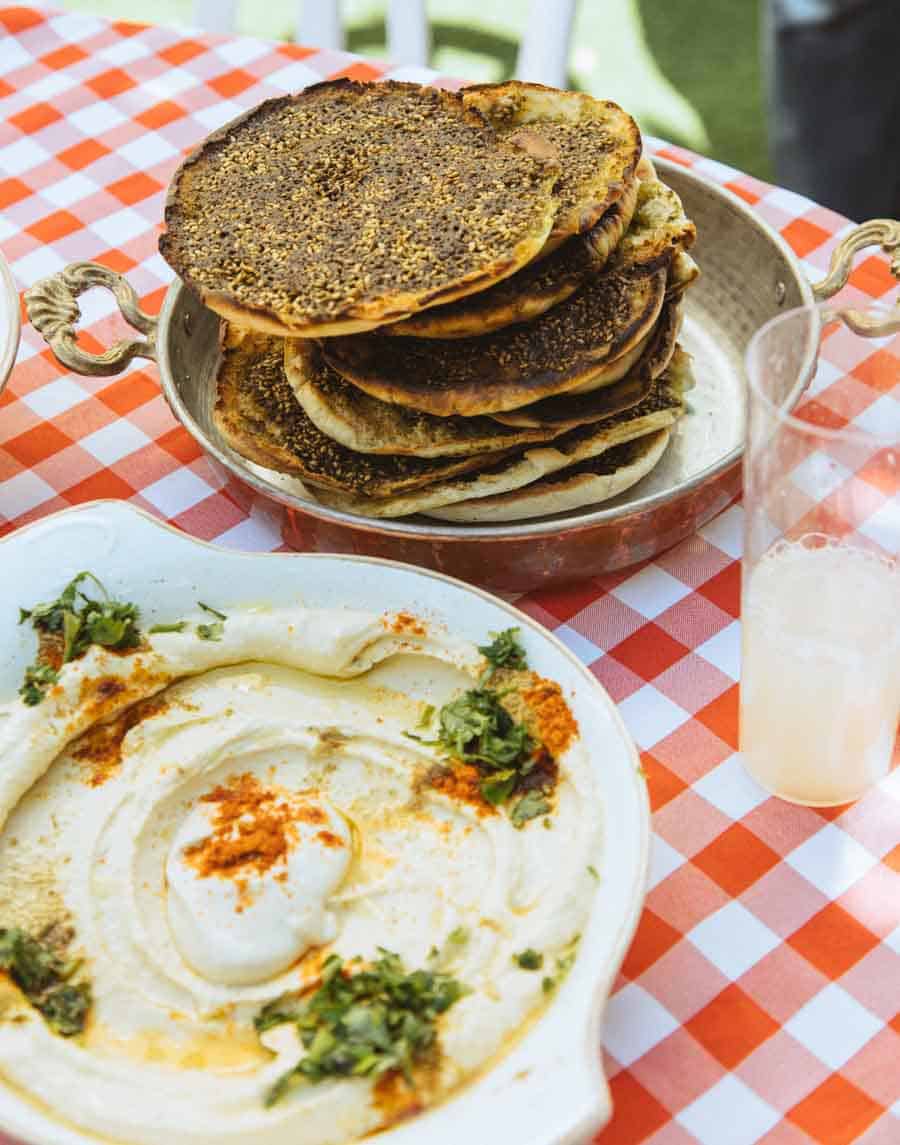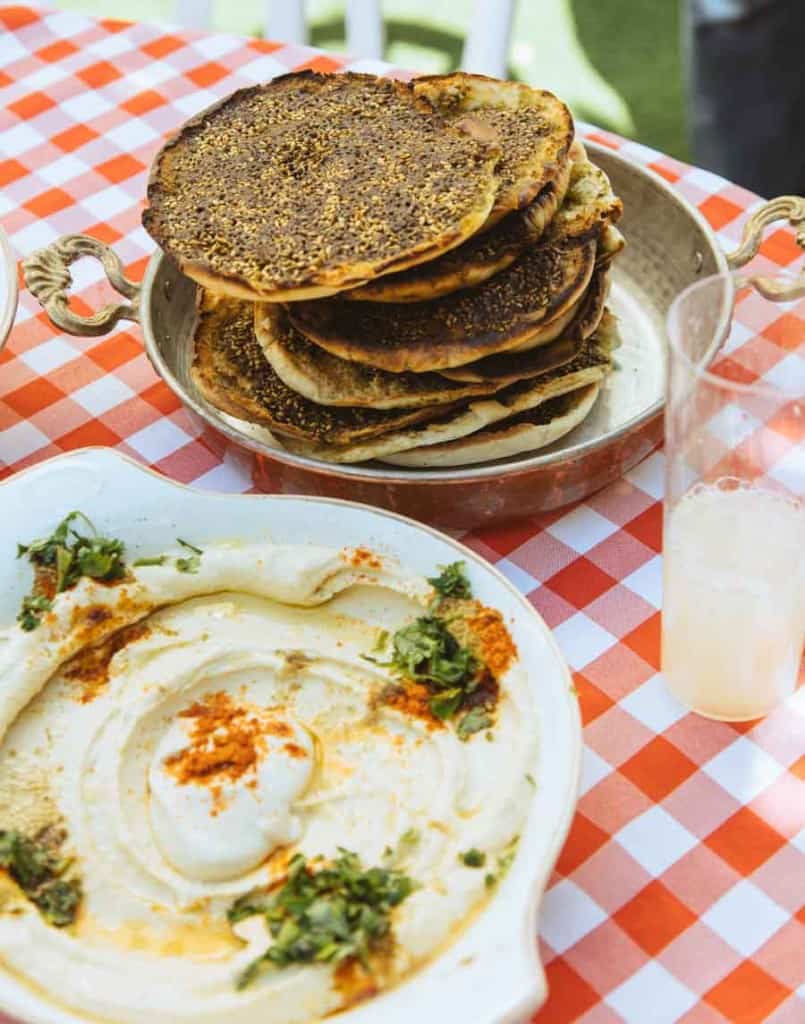 Creative Ways to Enjoy Hummus
While hummus is fantastic as a simple dip for pita bread, crackers, or fresh vegetables (it's particularly nice with carrots, bell peppers, and cucumber), its versatility makes it perfect for incorporating into various dishes. Here are some creative ideas to elevate your hummus game:
Stuffed Bell Peppers: Fill hollowed-out bell peppers with a mixture of hummus and cooked grains, then bake for a nutritious and satisfying meal.
Hummus Salad Dressing: Thin out hummus with a little water, lemon juice, and olive oil to create a creamy salad dressing (add as many spices as you like, za'atar would be great).
Hummus Veggie Wrap: Spread hummus on a whole-grain tortilla, then add a variety of fresh vegetables and roll up for a healthy, portable lunch option (here are more hummus lunch box ideas).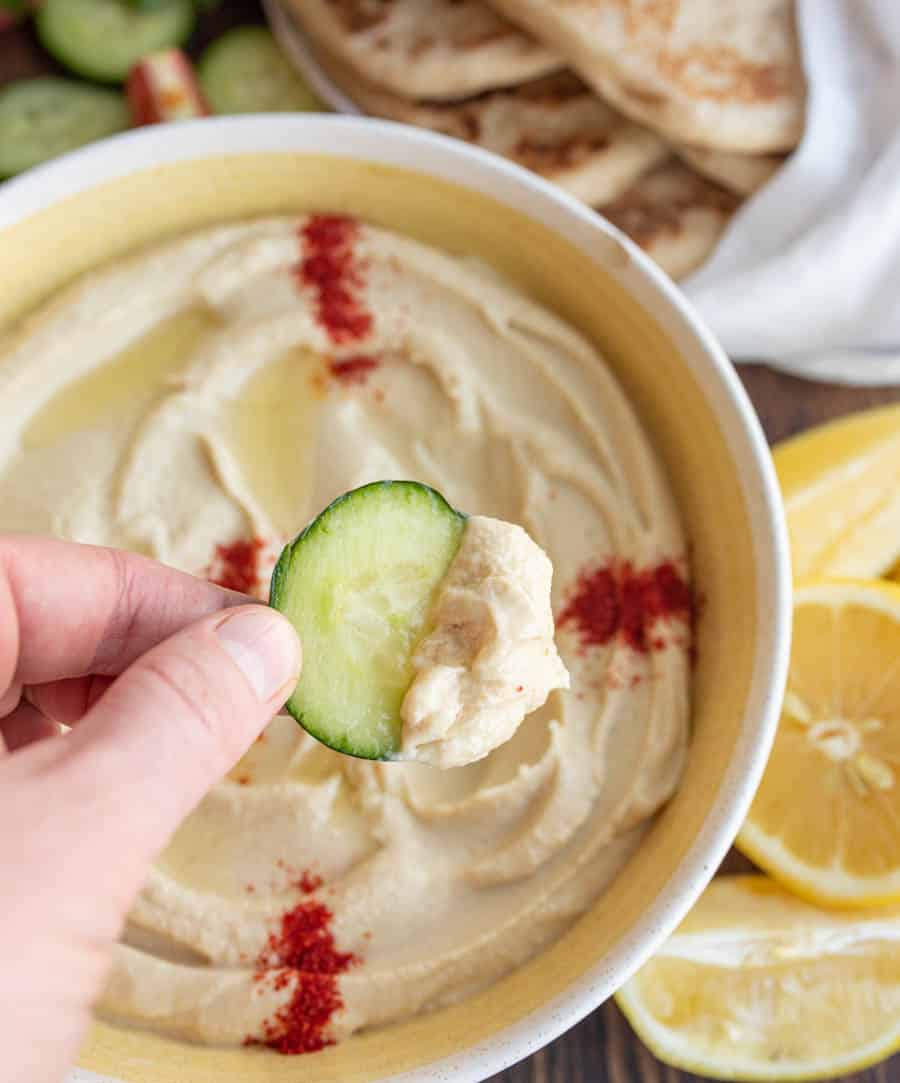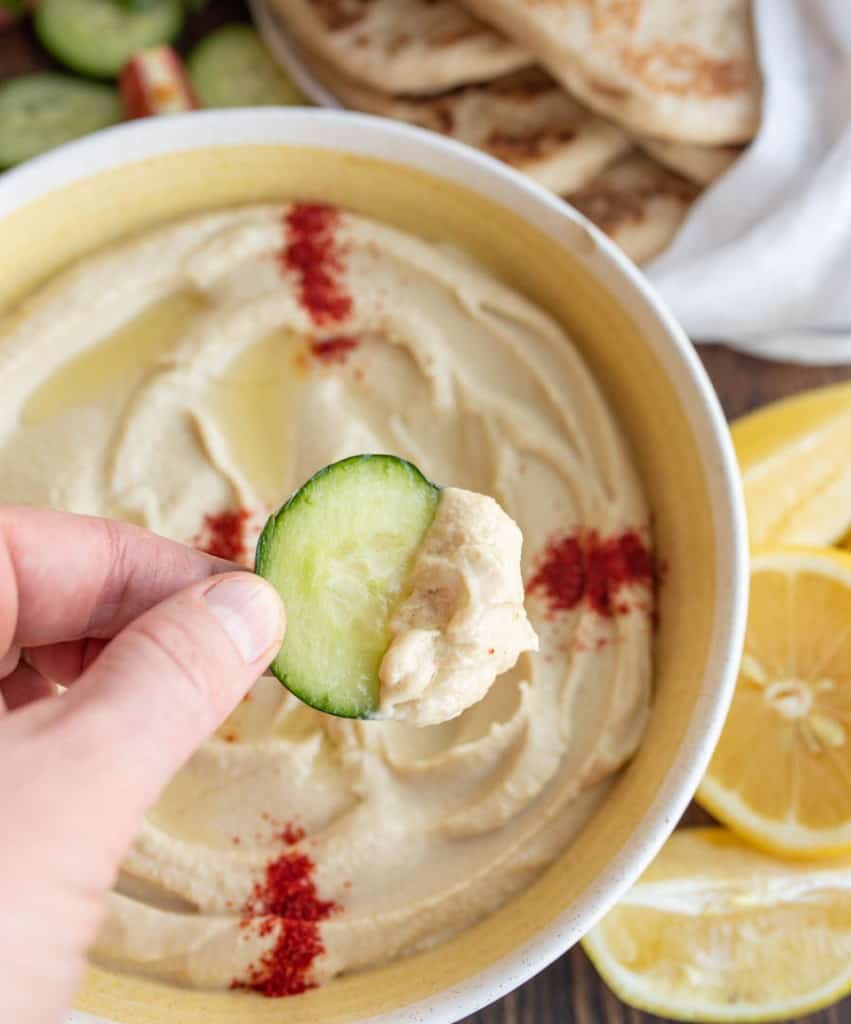 The Secret Ingredient That Makes Your Hummus Creamy and Delicious
Why Using Dried Chickpeas Is the Key
Dried chickpeas or garbanzo beans for hummus is key because you can cook them enough to make them really soft which in turns makes the hummus really smooth. Cook until the dried beans are very tender which may take longer than what it says on the bag. The perk of cooking them yourself is you are in control of how soft they are.
You can use canned chickpeas but you should boil them an additional 15-20 minutes to soften them up more (see the recipe notes for full instructions).
Adding baking soda to the cooking chickpeas was Doris' trick, she said it helps to soften the beans further and after making hummus using this method, I think she's on to something!
Soak your Chickpeas Overnight
For the best results, soak your chickpeas overnight before cooking. This is a crucial step in creating delicious, creamy hummus. Soaking the chickpeas softens them and begins the process of breaking down the starches, allowing for a smoother texture.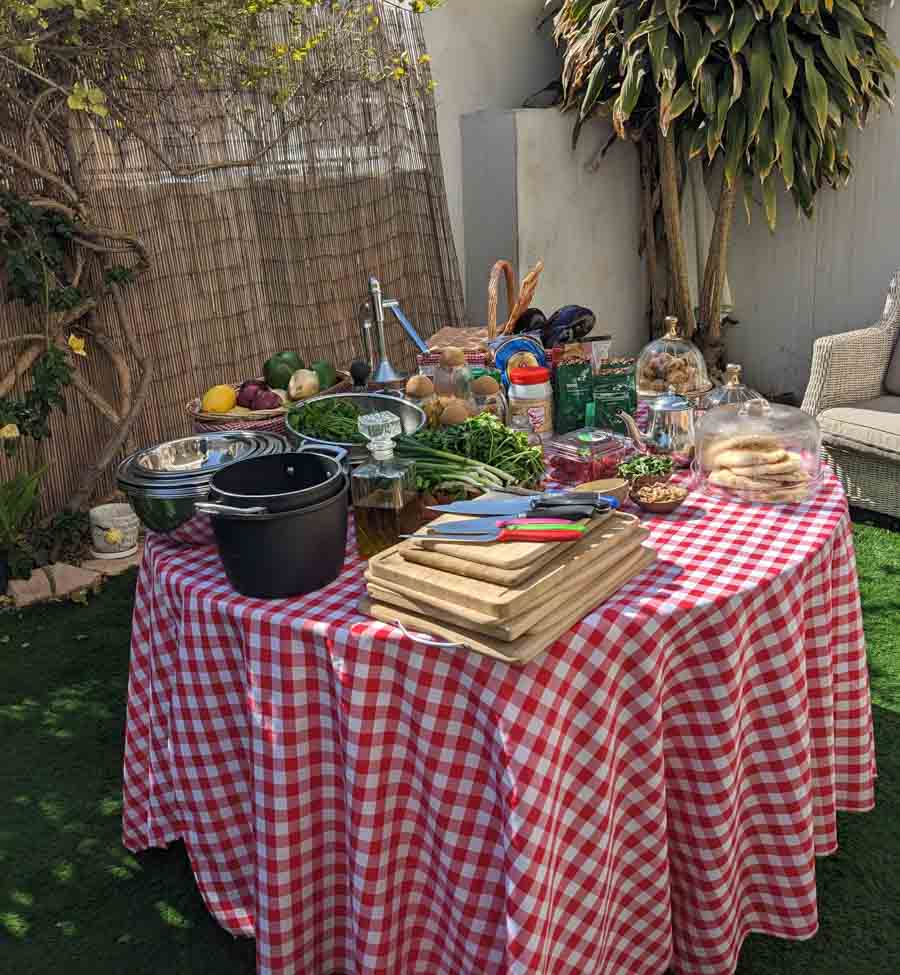 Top it Off with Your Favorite Toppings.
For a classic touch, drizzle a high-quality olive oil over the top of your hummus. This will add a luxurious richness and depth of flavor that perfectly complements the creamy texture of the chickpeas.
If you're feeling adventurous, try adding a sprinkle of za'atar, sumac, or paprika to the oil for an extra burst of flavor. You can also add roasted garlic, whole cooked chickpeas, caramelized onions, olives, and just about anything else that sounds good.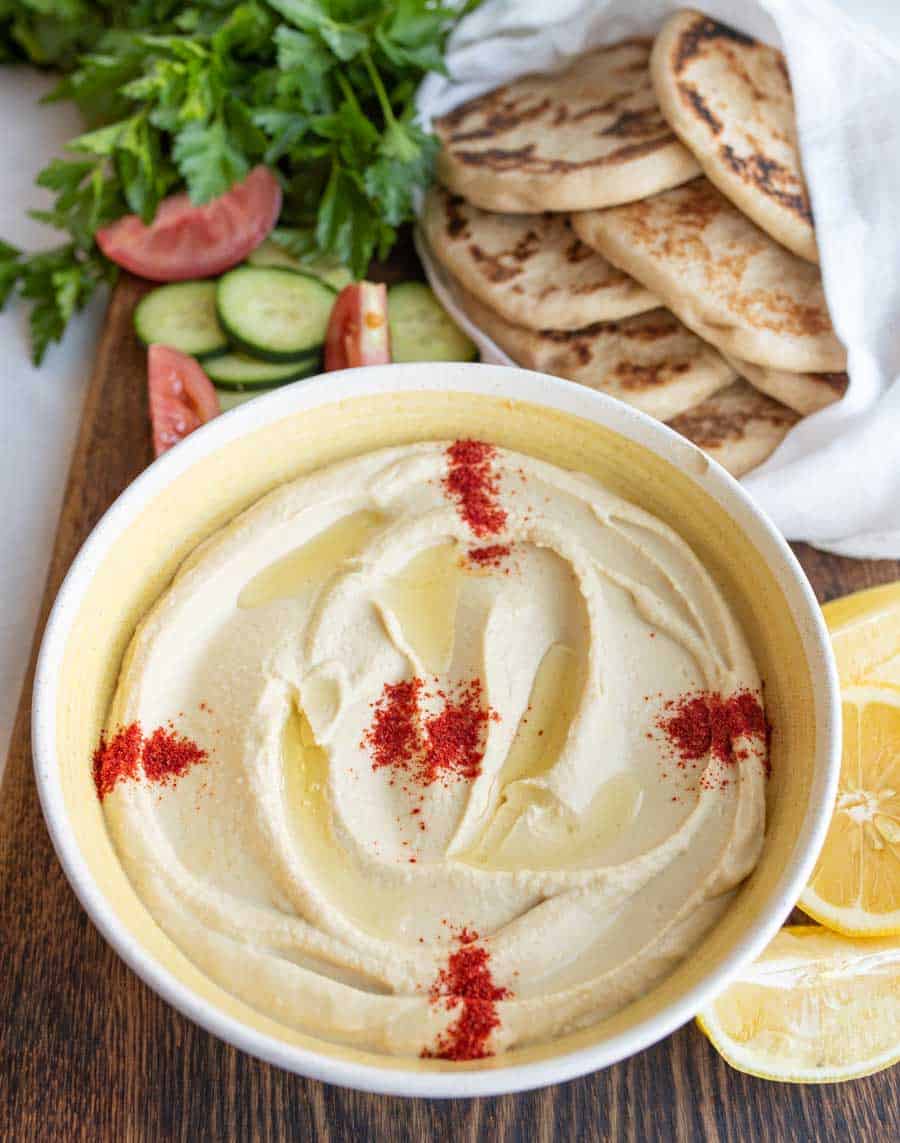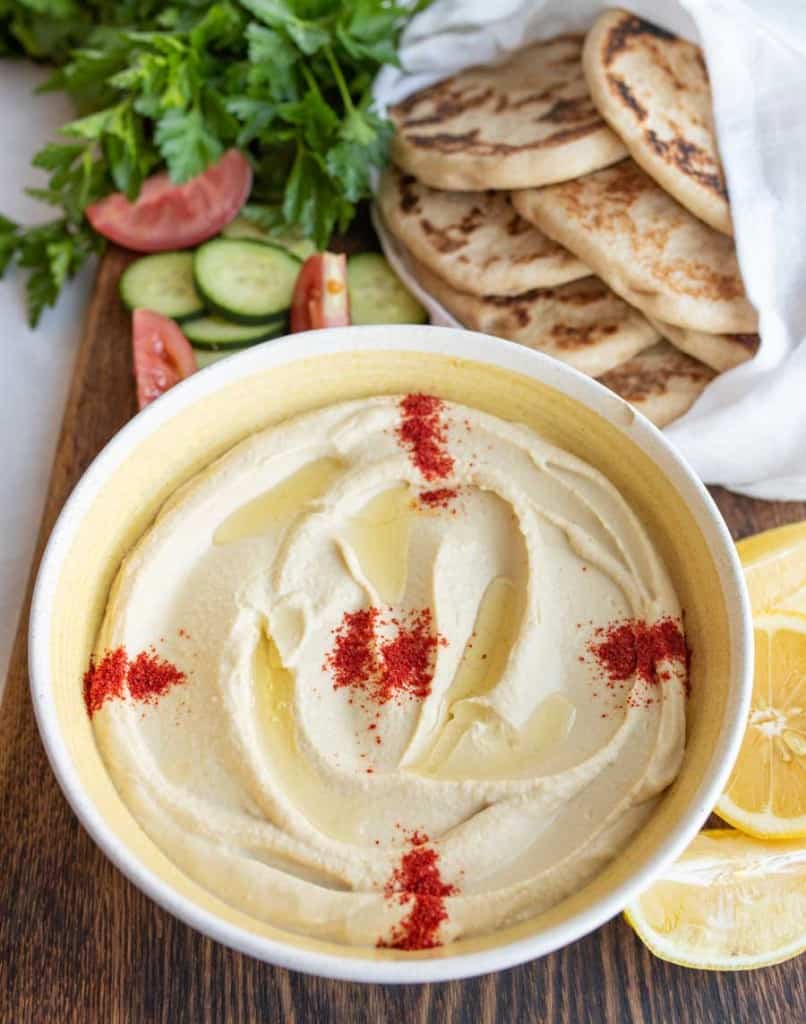 More recipes:
If you've tried this Homemade Hummus recipe or any other recipe on Bless this Mess, then don't forget to rate the recipe and leave me a comment below! I would love to hear about your experience making it. And if you snapped some pictures of it, share it with me on Instagram so I can repost on my stories.
📖 Recipe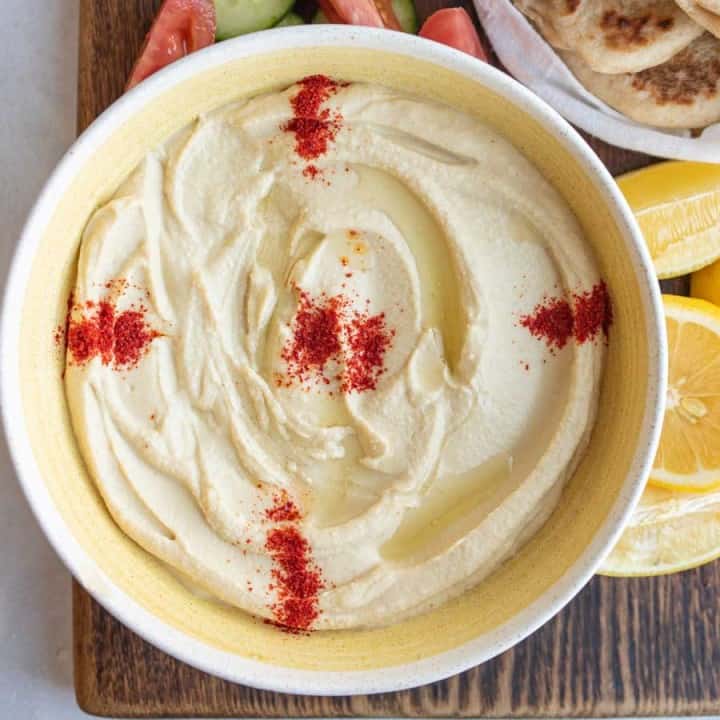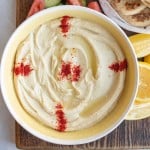 Print Recipe
How to Make Hummus
How to make the smoothest hummus using only dried chickpeas, tahini, lemon juice, and salt! I learned this method in Israel and it's amazing!
Ingredients
1

cup

dried chickpeas

about ½ pound

¼

teaspoon

baking soda

¼

cup

tahini

¼

cup

fresh lemon juice

about 1 large lemon

salt

to taste

2-3

tablespoons

extra-virgin olive oil

½

teaspoon

ground cumin

optional

½

teaspoon

paprika

optional

2

tablespoon

chopped fresh parsley

optional
Instructions
Soak the chickpeas by placing the dried chickpeas in a large bowl, and cover them with water (about 3-4 inches above the chickpeas). Allow them to soak overnight, or at least 8 hours. The chickpeas will expand as they absorb water, so be sure there's enough space in the bowl.

To cook the chickpeas, drain and rinse the soaked chickpeas. Transfer them to a large pot and cover with fresh water (about 2 inches above the chickpeas).

Sprinkle ¼ teaspoon baking soda over the water. Bring the water to a boil, then reduce the heat to low and simmer for 1 to 1.5 hours, or until the chickpeas are tender. Skim off any foam that rises to the surface during cooking.

Once the chickpeas are cooked to very very tender, drain from the water. Allow the chickpeas to cool for a few minutes.

To make the hummus, in a food processor, combine the cooked chickpeas, tahini, lemon juice, and a heavy pinch of salt. Process the mixture until smooth, scraping down the sides of the bowl as needed.

To adjust the consistency, while the food processor is running, if the hummus is too thick, add cold water, a tablespoon at a time, until you reach the desired consistency.

Taste the hummus and adjust the salt and lemon juice as needed. Don't be shy here, it should be bright and lightly salted.

Transfer the hummus to a shallow serving bowl, drizzle the top with olive oil, and sprinkle with paprika, cumin, and fresh parsley, if desired.

Serve with pita bread, fresh vegetables, or anything else you like.

Homemade hummus can be stored in an airtight container in the refrigerator for up to a week. Enjoy!
Notes
If you want to use canned chickpeas you can but they aren't as soft as they need to be and your hummus will not be as smooth as it could be. If using canned chickpeas simple drain and rinse and then add them to a small pot. Cover with a few inches of water and boil for 15-20 minutes or until the chickpeas are very tender. Drain and use as directed.
It's good to have an extra lemon on hand for this recipe incase it needs more than the one you used.
Nutrition
Serving:
8
g
|
Calories:
167
kcal
|
Carbohydrates:
17
g
|
Protein:
6
g
|
Fat:
9
g
|
Saturated Fat:
1
g
|
Polyunsaturated Fat:
3
g
|
Monounsaturated Fat:
4
g
|
Sodium:
43
mg
|
Potassium:
258
mg
|
Fiber:
5
g
|
Sugar:
3
g
|
Vitamin A:
85
IU
|
Vitamin C:
1
mg
|
Calcium:
38
mg
|
Iron:
2
mg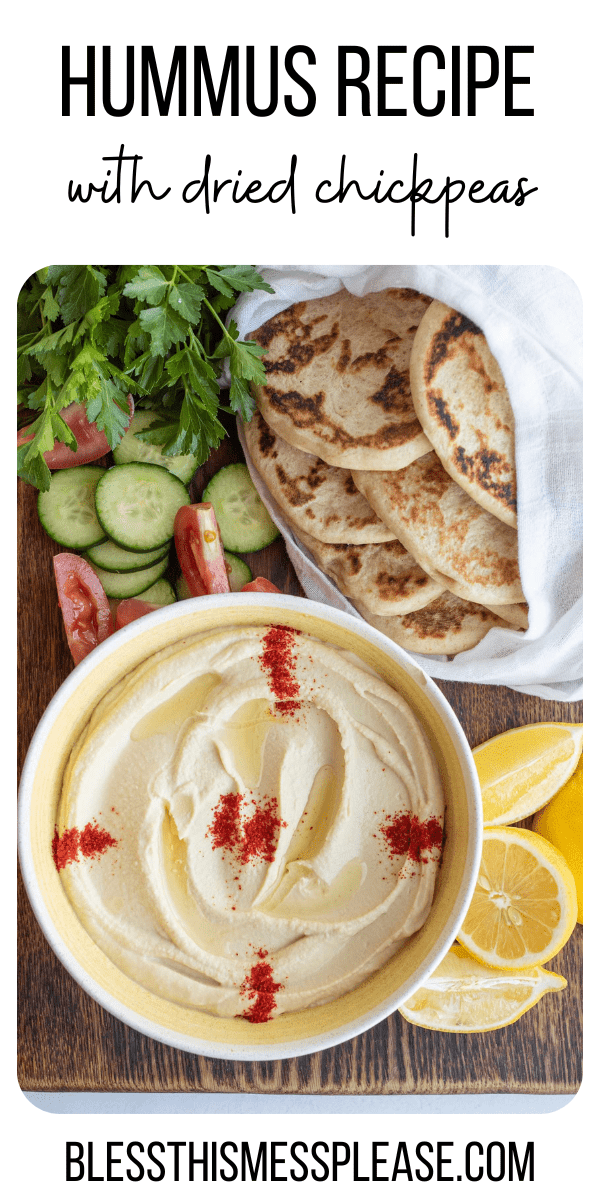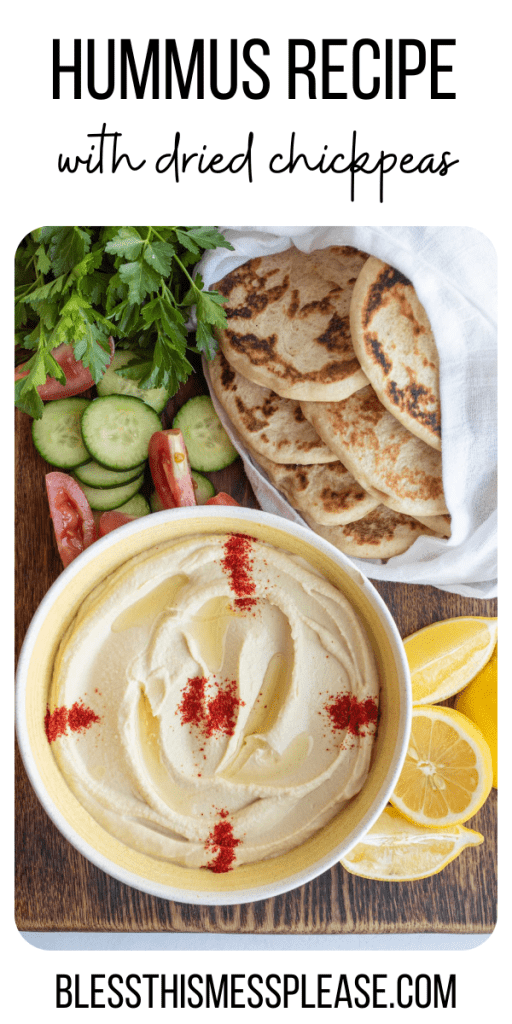 A big thank you to Vibe Israel for making this trip possible.
With endless possibilities for customization, topping off your hummus is a fun and easy way to elevate this classic dip to new heights. So get creative and experiment until you find your perfect combination of flavors and textures!,