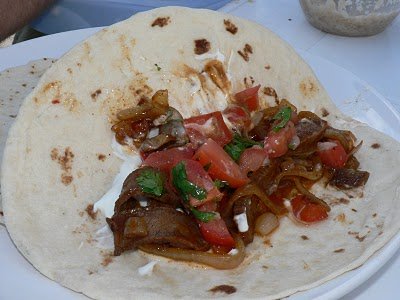 Fajitas are a favorite at our house.  To keep things simple I buy the fajita seasoning packets.  They taste great and are cheap!  I grilled up some of the cheap steak I bought when the grill was hot and used the steak the next day for these fajitas.  When the steak is cut thin you can't tell it's chewy.  Cooking the meat the day before made this meal come together in a snap.
Steak Fajitas
1 T. olive oil
1/4 cup canned salsa
1 meduim onion cut into strips
1 bell bepper, sliced
1 lb steak, grilled and sliced into 1/4 inch pieces
1 pkg. fajita seasoning
1/4 cup water
1 recipe fresh salsa
sosur cream
tortilla
In a large skillet over medium heat saute the onion with the oil and salsa.  After about 8 minutes add the bell pepper and cook until bell peppers are tender crisp and onions are soft.  If the veggies start to stick the the pan before they are done, add a little more salsa.  Add the cook steak and heat through.  Add the seasoning packet and water to the skillet and stir to combine.  Simmer for 1-2 minutes until things thicken up.  Serve over warm tortillas with fresh salsa and sour cream.