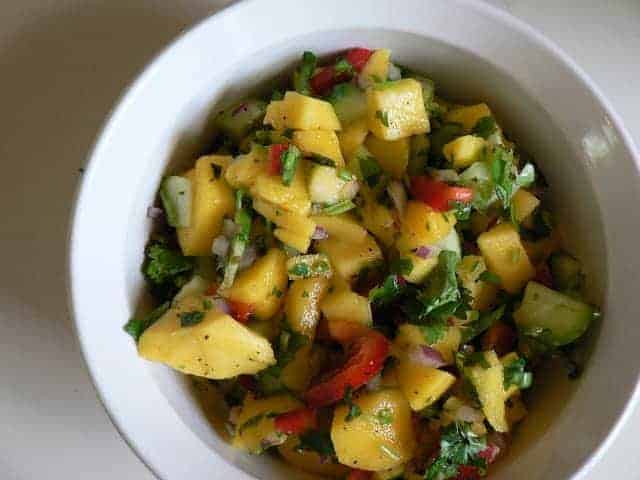 Don't get stuck in a "normal" salsa rut… this will liven up any taco.  I love this with fish tacos. 
Pick out a ripe mango by buying one that gives slightly when you touch it and smells sweet.  
Mango Salsa
2 ripe mangos
1/2 of a cucumber, chopped
1/2 of a small red onion, finely chopped
1 red bell pepper, chopped
1/2 bunch cilantro, chopped
1 japaleno, seeded and finely chopped, optional
juice of one lime
salt and pepper to taste
To cut the mango, remove the skin like you are peeling a potato with a knife.  Once the skin is removed, slice off hunks of the flesh to gradually remove the seed in the middle.  Chop all of the chunks to bite size.  Combine the mango with the rest of the ingredients in a medium sized bowl. All ingredients should be measured to taste.  Let stand at room temperature for 30 minutes to allow everything to blend.  Enjoy!