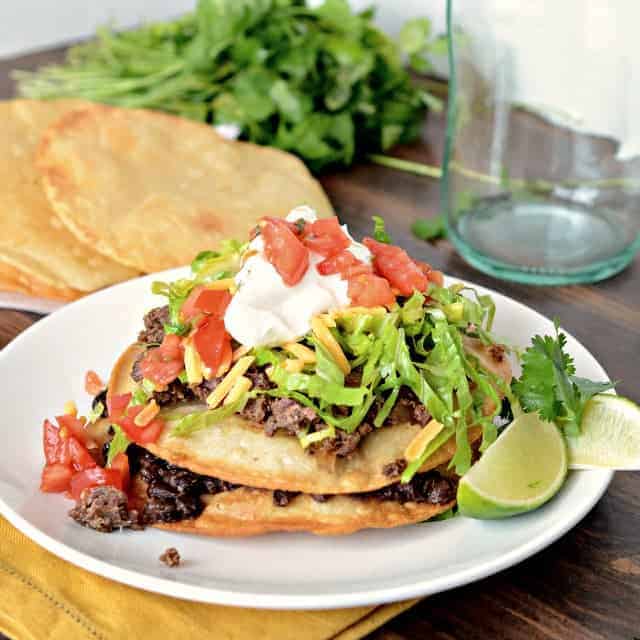 Monday! You all know I love this day of the week. Thomas is gone for the week to teach a training course in the big city. While he's away I hope to get lots and lots done before we head up to meet him for a few days. The blog is slowly getting whipped into shape, and I plan on making my alone-time this week productive. I've manually inputted about 50 recipes so far but have a lot more to go. I would definitely say moving to WordPress has been worth the effort for me though and I'm happy with how things are panning out. From your side of things how does it look? Anything you would tweek or change? I love input on this kind of thing, so if you have a suggestion or something you'd change, by all means, let me know.
On to some food! Living in the middle of no where means we don't eat out much and that is definitely something that I miss from city living. That being said, I've started to make things at home that I never would have before. Steak Tostadas are one such recipe. I never used to fry food at home, but part of the treat of eating out was indulging in that kind of food. Now I do fry a few things at home and it has a similar effect on my mental state as eating out. It's just more enjoyable because it feels special and more like a treat. My kids also love it, and from one mother of a too skinny child to another, sometimes it is just nice to know that they'll love dinner and gobble it up.
Tostadas are one of my favorite things to order at a Mexican restaurant. I love the crunchy shell with beans and meat and cheese. Mmm. And I just cannot get enough shredded lettuce. Making them at home is no harder than getting traditional tacos on the table, but eating them feels a bit more like a treat. So save yourself a $20 and make these at home instead of going out one night. Throw the cash in an envelope to me and I'll put it to good use. Enjoy!
Steak Tostadas Recipe
For the Tostada Shells:
Canola, corn, or vegetable oil
Corn tortillas
For Serving:
1 recipe Steak Carnita Meat (made in the crock pot)
Black beans or refried beans
Shredded cheddar cheese
Shredded lettuce
Tomatoes, diced
Limes
Cilantro
Sour Cream
Favorite Salsa
In a small skillet add enough oil to fill the bottom of the skillet about a half inch. Place the skillet over medium-high heat and allow the oil to heat for 10 to 12 minutes. When the oil is hot carefully place one corn tortilla in the hot oil. Let it cook for about 30 seconds on the first side. Using tongs or two forks flip the tortilla over. Once both sides are cooked crisp let the tortillas drain on paper towels to soak up the extra grease. Keep in a warm oven until ready to serve.
To serve spread hot refried or black beans on one tostada shell and sprinkle with a layer of shredded cheese. Warm the cheese (in a warm oven) until the cheese is melted. If your beans were hot enough to melt the cheese in the first place you can skip the melting step. Add another tostada shell on top of the melted cheese. Add a layer of steak Carnita meat and then top with your favorite toppings. Eat right away so that the shells don't get soggy.
There you have it one very delicious steak tostada recipe. And if you are in the mood for dessert, I'd make some
red velvet cheesecake bars
. Then it really will feel like a night out.