This is the best caramel dip. It is made on the stove with butter, sugar, and sweetened condensed milk, and the dip is the perfect consistency for dipping pretzels and apples.
This caramel dip recipe is something you need in your life. It is actually the very first recipe that I published on a blog way back in 2009. I didn't even have a picture of the end product, but wanted to share the goodness. And goodness it is! This is the perfect homemade caramel for dipping. It's thick and smooth, while still being scoopable.  I've made this recipe every fall since I first discovered it. I hope you try it and love it like I do.
I think of this caramel as party food and take it to fall parties over and over again.It makes about 3 cups of caramel dip, so there's plenty for a crowd. It's really simple to make – you are just cooking a few simple ingredients on the stove. I serve it with apples and pretzels for dipping. There's something magical about fresh caramel and homegrown apples this time of year.
I sure hope you make this recipe!
Tips and Tricks for Making the BEST Caramel Dip
The goal for this dip is to be well, dippable, so you'll want to bring the sugar mixture to a nice bubble but not a full boil. If you boil it too long or hard, you'll end up with a thicker caramel that is great for dipping whole apples, but less great for dipping little apple slices and pretzels.
I often get asked about switching out the corn syrup in this recipe and I haven't played with that much, so I don't recommend doing it. I only use corn syrup in this recipe, my white cloud frosting recipe, and in caramel corn. That being said, it is a different product than high fructose corn syrup. Here's an article from Serious Eats about it.
Don't wander away from this recipe while it is cooking. You need to do a lot of stirring, or the bottom of the dip will scorch and burn – not the dream.
If you do see that the bottom is starting to scorch (you'll see little flecks of really dark sugar when you stir), remove the pan from the heat right away. If the caramel hasn't finished cooking, you can return it to the heat while being careful to only stir the top of the caramel and avoiding scraping up the burnt sugar on the bottom of the pan. If the scorch isn't too bad, you won't be able to taste it, but you still might have little flecks of dark sugar in your caramel. It's not ideal, but it's better than feeling like you ruined the whole batch.
Craving more? Subscribe to Bless this Mess to get new recipes, meal plans, and a newsletter delivered straight to your inbox! If you try this caramel dip, let me know what you think! Leave a comment, pin it, and don't forget to tag a picture #blessthismesseats on Instagram. I love to see your kitchen skills in action!
Print
The Best Caramel Dip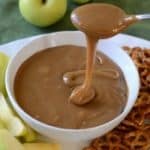 This is the best caramel dip. It is made on the stove with butter, sugar, and sweetened condensed milk, and the dip is the perfect consistency for dipping pretzels and apples.
Author:
Prep Time:

5 min

Cook Time:

15 min

Total Time:

20 minutes

Yield:

3 cups

Category:

Desserts
Ingredients
1/2 cup salted butter
1 1/2 cups brown sugar (light or dark)
3/4 cup light corn syrup
1 can (14 ounces) sweetened condensed milk
1 teaspoon vanilla
Instructions
In a medium saucepan, melt butter over medium heat.
Add the brown sugar, corn syrup, and sweetened condensed milk, stirring to combine.
Stir constantly until mixture comes to a light bubbly boil.
Remove from heat right away and add the vanilla. Stir to combine.
Serve warm or at room temperature with apple slices and pretzels, or drizzle over ice cream.
Notes
Don't let the caramel come to a full, rolling boil. Just let it get nice and bubbly and then take it off the heat. It will get too hard and thick to scoop if you cook it too long.
I hope you'll make this caramel dip for your next party because it's always a crowd favorite (and it only takes you about 20 minutes to put together, you can't beat that!). I even put it in little mason jars one year and gave it out for Christmas gifts to neighbors. Everyone loves caramel and this one is the best!
This post was originally published in October 2012 and has been republished with updated text, recipe instructions, nutritional information, and more in October 2017.