Making fruit leather in the oven is a fun and simple way to preserve seasonal fruit and one of your favorite treats to make for traveling, hiking, or school lunches.
You don't need a dehydrator for this simple fruit leather recipe, just your oven! A blender makes quick work of the pureeing and you can make just about any fruit combinations you like.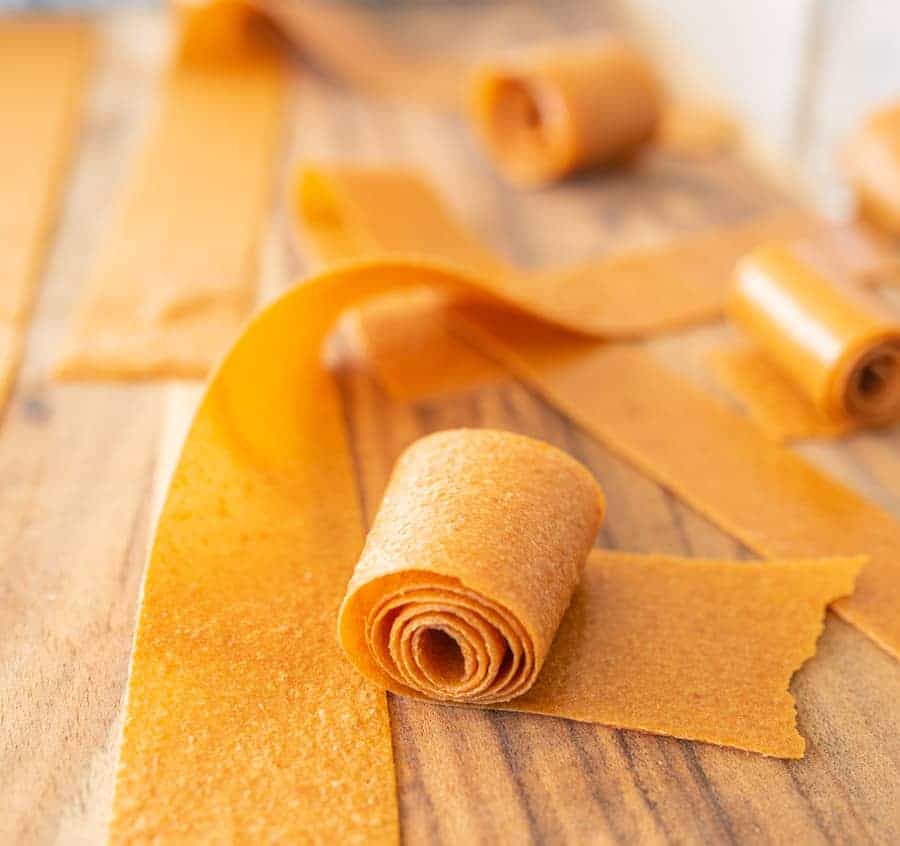 Ingredients:
Fruit: you have SO much flexibility with this recipe. You can use one fruit or a combination of fruits. And fun fact, you can even use frozen fruit or fresh fruit! I tend to make fruit leather when I have a bumper crop of something and need a way to preserve them besides freezing or canning.
Sugar: this is an optional ingredient and will depend on your tastes as well as how sweet your fruit was to start with. You don't have to include added sugar but sometimes a little really makes for a lovely end product.
Lemon juice: I like to use just a little to help preserve the color of the fruit. Using just a bit of lemon juice helps apricot, apple, peach, or pear fruit leather to not turn totally brown from oxidation. It also adds a nice balance to sweet fruits.
Additions: you can add things to your fruit leather to make it your own like cinnamon or even fresh ginger.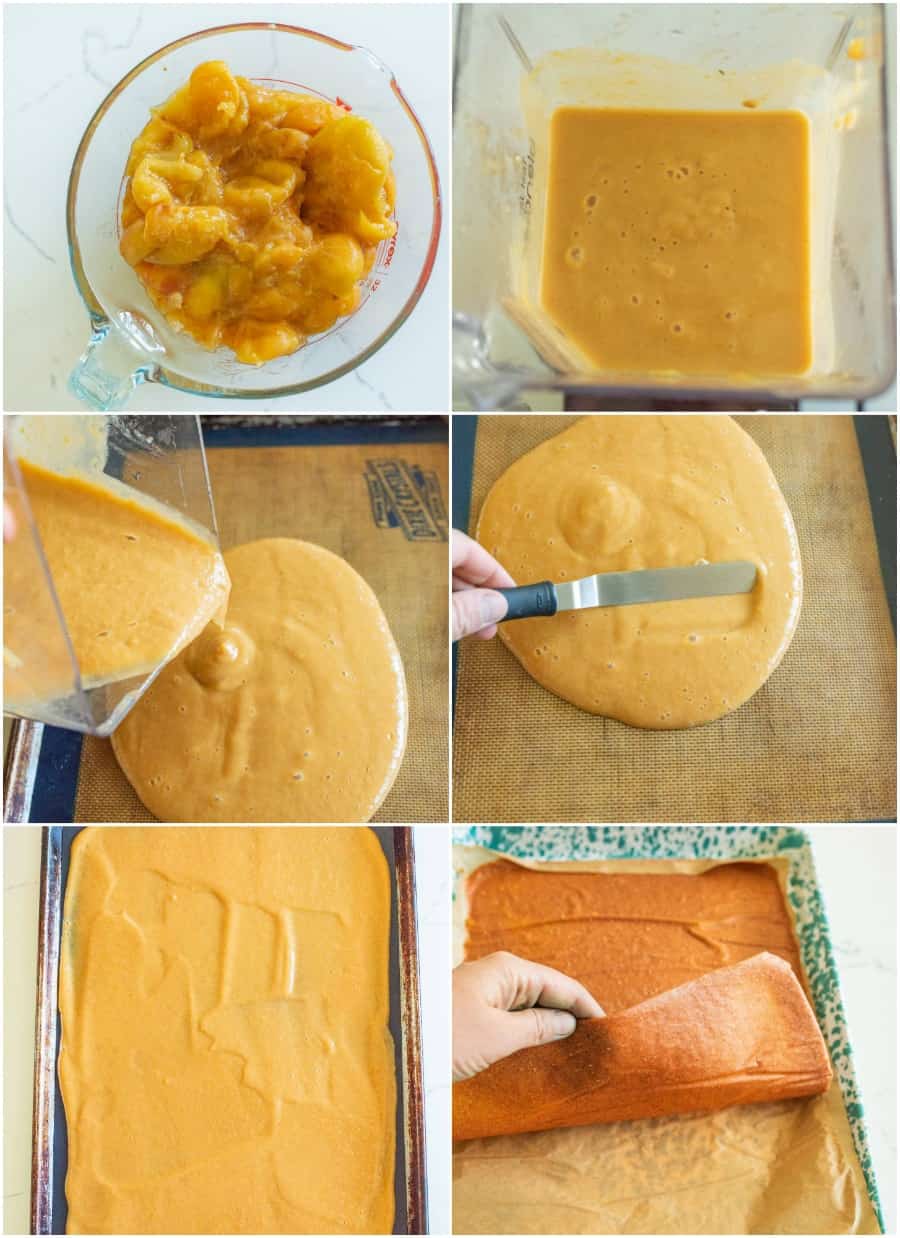 How to Make Fruit Leather
Grab your fruit. If it needs prepping, do that! Remove pits and stems but I don't typically remove any skin. I like the fiber.
Add your fruit to a blender and puree until smooth. If it's not blending up well, add the smallest amount of water that you can to help it blend. I try to not add any (really ripe apricots and peaches shouldn't need any).
Give the mixture a taste and see if it need any sugar. It should be slightly sweet to the taste.
Add lemon juice if using a fruit that oxidizes and turns brown if you just slice it (like pears, apricots, peaches). This helps the fruit leather to retain it's color and not turn too brown.
Spread it out on a baking sheet lined with parchment paper or a silicone mat.
Use a spatula and try to get it as even on the tray as possible but don't let the mixture touch the edges of the tray.
Bake on the lowest your oven will go until it is no longer tacky, about 6-8 hours depending on your oven. See the recipes notes on how to make this in a food dehydrator.
Let the fruit leather cool and then cut it into strips and store in an air-tight container. I like to roll them up and make homemade fruit roll ups.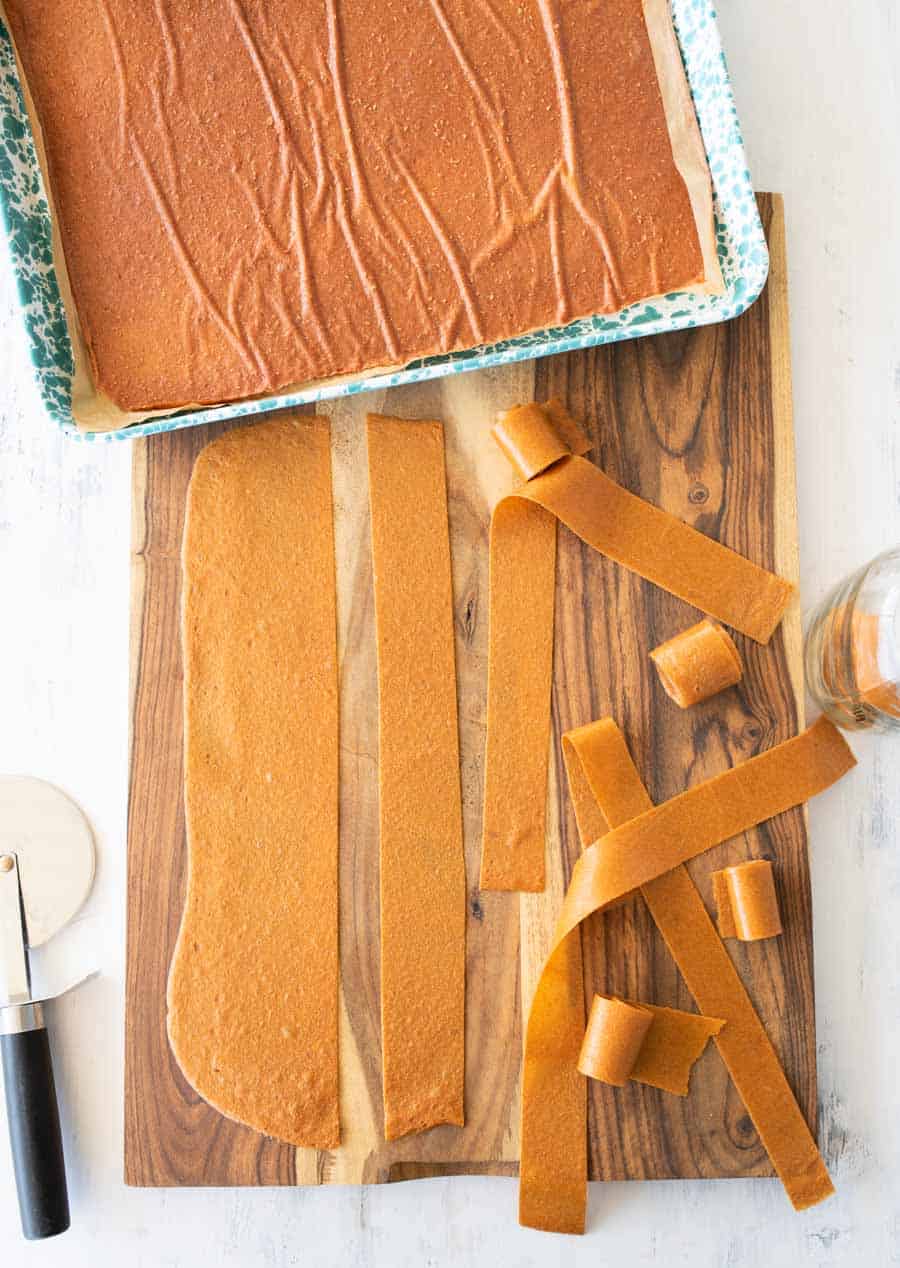 What fruit is best to use?
I think the best fruit is made from fruit you can get cheap/free and that has been grown with more care than chemicals. I don't normally make fruit leather from store bought fruit, it's a treat we save for when our trees are more loaded than we can eat fresh or when a friend calls and asks if we want to come help them pick a bummer crop.
I really love to make fruit leather with a base of peaches or apricots. I think they have a really nice texture. I also have made fruit leather from very ripe pears. It has the same gritty texture as a pear and I think it actually makes really delicious fruit leather. If you don't like the grit of a pear, you won't like it in fruit leather either. Apples are an easy thing to use too. You can also use fruit like mangos, cherries, blackberries, raspberries, and blueberries.
I don't normally use fruit like kiwi, bananas, or pineapple. I don't have them in bulk since they don't grow here, so I don't know how well they would do.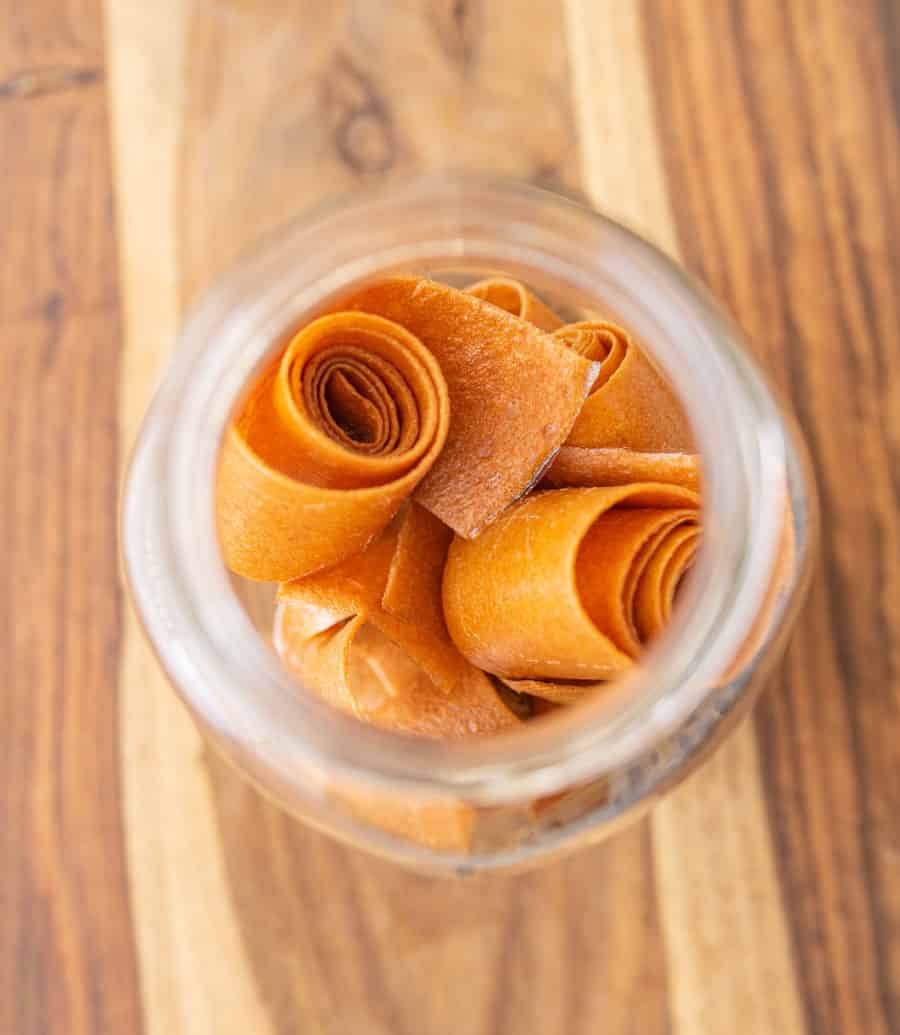 Favorite Flavors for Homemade Fruit Leather:
Apples plus dash of cinnamon
¾ peaches with ¼ mixed raspberries and/or blackberries
¾ apricots with ¼ blueberries
Storage:
Once the fruit leather is dry you can cut it and roll it up. I like to put the rolled up pieces of fruit leather in a glass mason jar with a lid or in a Tupperware with a tight-fitting lid.
I live in the desert and my kids eat it fast so I keep my fruit leather in the pantry for about 2 weeks. If we aren't going to eat it that fast, I'll keep it in the fridge to ensure it doesn't mold.
If you live somewhere humid skip the pantry and keep your cut and rolled fruit leather in the fridge in an air-tight container. This will help to prevent it from molding and from getting sticky from humidity.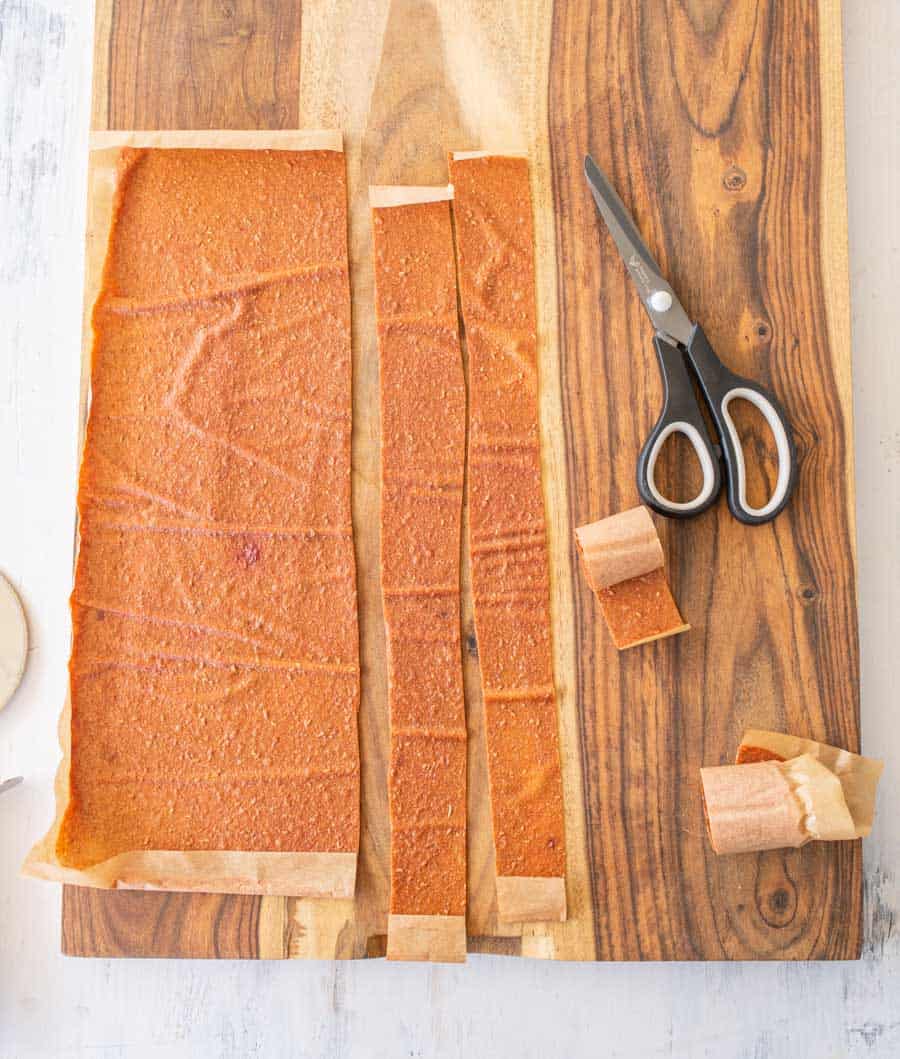 More simple healthy snack recipes:
Print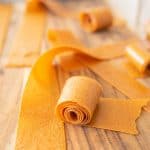 Fruit Leather
---
Author:

Total Time:

3+ hours

Yield:

Around

22

servings

1

x

Diet:

Gluten Free
Description
You don't need a dehydrator for this simple fruit leather recipe, just your oven! A blender makes quick work of the pureeing and you can make just about any fruit combinations you like.
---
4 cups

ripe fruit (fresh or frozen)

1 tablespoon

of lemon juice (fresh or bottled)

Sugar to taste (I like to add at least 1 tablespoon for taste and up to ⅓ of a cup, depending on ripeness of fruit)

2

large rimmed baking sheets

2

baking mats or pieces of parchment paper to fit baking sheets
---
Instructions
Prepare the fruit by washing it and removing any large seeds or pits (remove the seeds from pears and apples and the pits from plums, peachs, and apricots, the small seeds in berries I don't worry about). There's no need to remove any skins.

Cut any larger fruit into halves or quarters to help the blender process them.

Place the fruit and lemon juice in the jar of your blender. Blend until very smooth. If you are having trouble getting the fruit to process (it'll depend on how moist/ripe/type of fruit), add as little water as possible to help the blender process the fruit. I'll generally add 1 tablespoon at a time until the blender is able to work well. Often times you won't need to add any water at all, that's preferred as it will shorten you drying time to have less water in the fruit puree. You can also use small amounts of fruit juice to help the blender along instead of water.

Taste the fruit leather and adjust the taste with sugar. You'll want it to be a bit sweet but not too sweet.

Blend in the sugar if you added any.

Place the baking mats or parchment paper in the bottom of the baking sheets (my baking sheets are 11 by 16 inches).

Divide the fruit mixture evenly between the two pans, pouring it into the center of the pan.

Use a spatula (an offset metal spatula like you'd use to ice a cake works great), to evenly spread the fruit leather over the pan taking care to not touch the edges of the pan or get off of the baking mat/parchment paper. The more even you can spread it the better.

Adjust your oven racks so that they are in the upper middle and lower middle of the oven.

Place the prepared pans into the oven on the two racks and turn your oven on to the lowest temperature it'll allow. Mine will let me bake at as low as 170 degrees F. The lower the better.

Bake for 3-6 hours or until the fruit leather is no longer tacky to the touch. It's OK to open the oven to allow some of the steam to escape occasionally and to rotate the pans in the oven to help them to cook evenly.

Allow the pans to cool completely before removing the fruit leather from the pans and cutting into strips to store.

If you made the fruit leather on parchment paper you can just cut the parchment paper and the fruit leather together, making homemade "fruit by the foot". This is a great idea for sending fruit leather to school in lunch boxes or to store it for traveling as it's less likely to stick together (and my kids love peeling it from the paper themselves). I'll use kitchen shears to cut the fruit leather and paper into 1 inch wide strips. Then roll and store and in air-tight container.

If you used a baking mat, simply peel the fruit leather from the mat and place it on a cutting board. Use a pizza cutter to cut it into 1 inch wide strips. Roll and place and an airtight container.
Notes
Fruit leather is shelf stable for about a week. If you are going to store it for longer, place it in an air-tight container in the fridge for longer storage.

If you didn't spread the puree very evenly parts of the fruit leather will be dry while other parts are still sticky or tacky. If this has happened to you, when the majority of the fruit leather is dry you can turn off the oven and let the fruit leather rest for several hours or overnight. This will give the rest time to dry in a warm oven while preventing the dry part from over drying and becoming brittle like fruit chips.

You can for sure make this recipe with a dehydrator and dehydrator trays, just take a look at the instructions that came with your dehydrator on the best timing and settings for fruit leather but this recipe will definitely work for it too.
Prep Time:

10 min

Cook Time:

3+ hours

Category:

snack

Method:

bake

Cuisine:

American
Keywords: homemade fruit leather, how to make fruit leather, fruit leather recipe, peach fruit leather, apricot fruit leather, pear fruit leather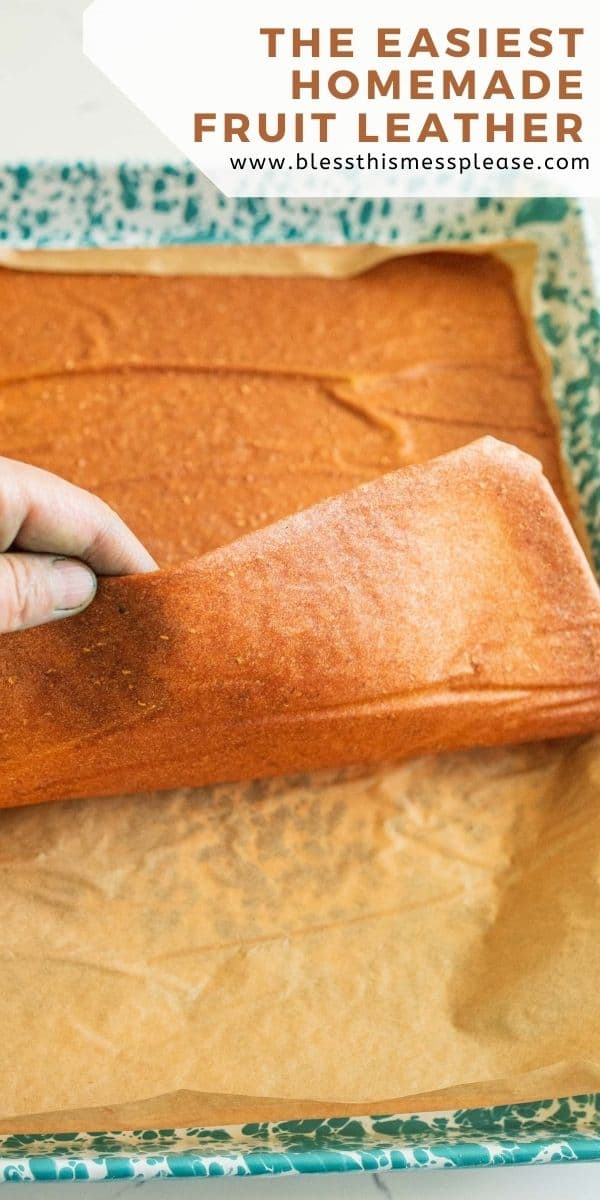 Bet you didn't know making fruit leather at home was as easy as throwing in basically whole ripe fruit in the blender and then popping the mixture in the oven. I'm telling you, it's such a simple but delicious treat and you'll be making it over and over again!