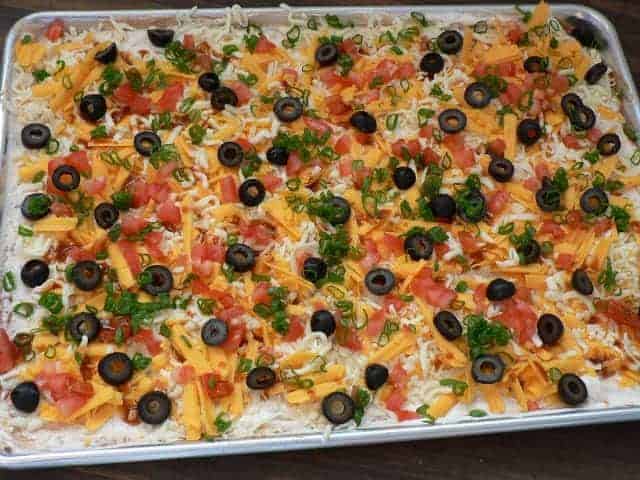 It's party and cookout season and this is the perfect thing to take!  IF I ever have left overs (which doesn't happen much),  I just heat it up and put it in a tortilla the next day for dinner… instant burritos. Sometimes instead of using fresh tomatoes and taco sauce, I will use salsa on the top.  Just use what you have!  The jalapeño refried beans aren't very spicy but they are so very good! Make sure to find them!
Bean Dip
30 oz can jalapeño refried beans 
taco season (1 pkg. or about 3ish Tablespoons)
8 to 16oz sour cream (however much you like or have)
2 cups shredded cheese (I used cheddar and mozzarella)
1 Roma tomato finely diced
1/2 can black olives, sliced
2 green onions finely sliced, green parts only
taco sauce (I used mild Taco Bell sauce you can buy in a jar)
chips for dipping
In a small bowl combine refried beans and taco seasoning.  Stir to incorporate.  Spread bean mixture evenly over a cookie sheet.  Spread sour cream over the bean mixture.  Sprinkle cheese over the sour cream.  Sprinkle olives, onions, and tomatoes evenly over the cheese.  Gently sprinkle taco sauce over the top.  Serve with chips.