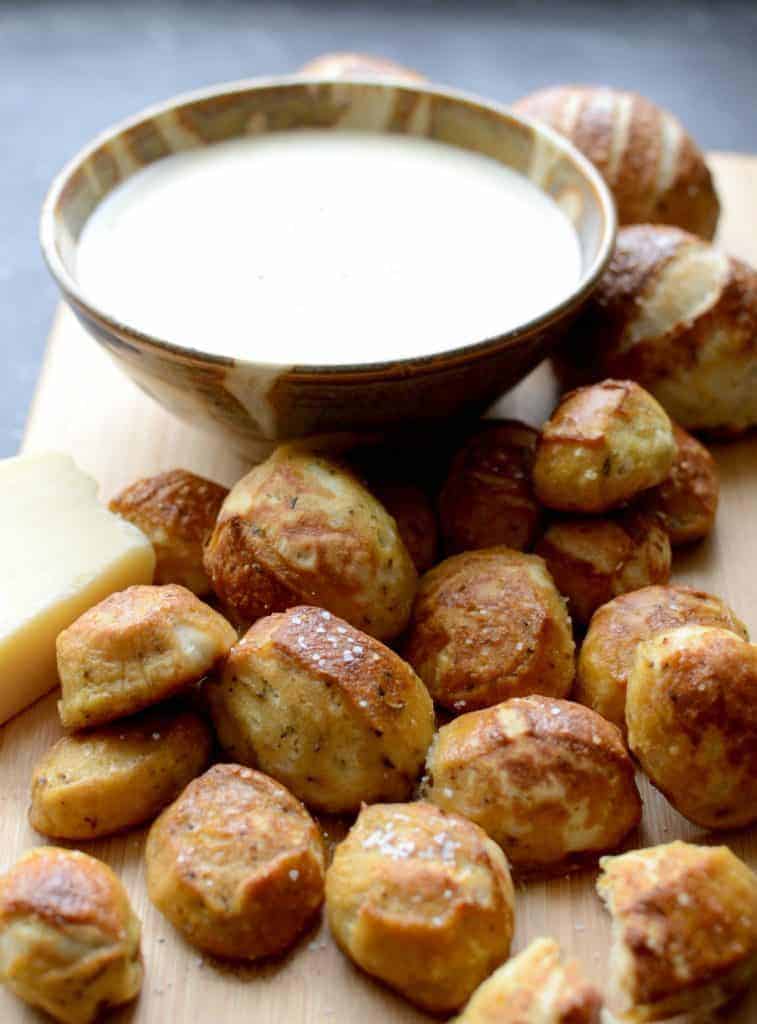 There's so much to love about this recipe for Parmesan Pretzel Bites with Parmesan Dipping Sauce. Homemade soft pretzels are one of my favorite foods and they are so much fun to make with kids! I made these last week with my two little boys and it was a lot of fun. The best part though, we got to eat our fun!
I'm so excited to be posting today. My computer has been in the shop for the last 12 days. I bought a laptop the night I dropped my computer off, planning to work from the laptop, but it didn't quite work out. The laptop has super wonky screen settings that I don't know how to calibrate it, so I didn't dare edit any photos using it. I've worked a bit here and there on writing projects (like my newsletter and some content for other websites), but I couldn't post any new recipes for you.
I'll be honest, the tiny break was a welcome breather. I feel like I've been going full steam since January trying new things, implementing new programs and software, and I was starting to feel burnt out by it all. They were all good things and learning new tools of your trade is a great brain sharpener, but man alive can change be consuming. So while I didn't get the three posts that I had all ready for you for Valentine's Day up, I did a whole lot of learning, researching, and growing. I kind of feel like a grubby little caterpillar at the moment, but by the end of the year all this consuming of new and better will result in the birth of a beautiful new bloggerfly, uh butterfly, uh blog.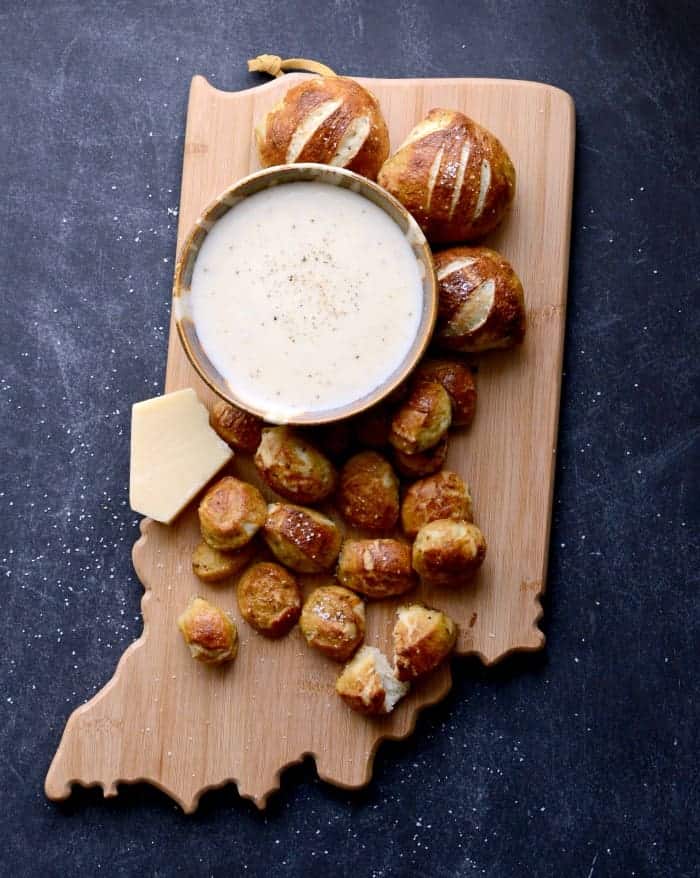 Print
Parmesan Pretzel Bites with Parmesan Dipping Sauce
---
Author:

Prep Time:

60 mins

Cook Time:

15 mins

Total Time:

1 hour 15 minutes

Yield:

10 pretzels or 6 dozen pretzel bites
Ingredients
For the Pretzel Bites:
1 1/2 cups warm water
1 tablespoon sugar
2 teaspoons salt
1 package active dry yeast
4 to 4 1/2 cups all-purpose flour
4 tablespoons unsalted butter, melted
1 tablespoons Italian Seasoning
1/2 cup grated Parmesan cheese
3 quarts of water
2/3 cup baking soda
1 large egg yolk beaten with 1 tablespoon water
Pretzel salt
Warmed Marinara Sauce for serving
For the Parmesan Cheese Sauce
1 tablespoons butter
2 tablespoons flour
1 cup milk
3/4 cup freshly shredded Parmesan cheese
Salt and pepper to taste
---
Instructions
In a large bowl, add warm water, sugar, salt, and yeast. Stir to combine and set aside for five minutes. When the yeast is bubbly, add half of the flour, the melted butter, Italian Seasoning, and Parmesan cheese. Stir until combined, and then add additional flour, ½ a cup at a time, stirring after each addition, until soft dough begins to form.
Remove the dough from the bowl onto a lightly floured surface. Knead in additional flour, until dough is soft but not sticky. Knead by hand an additional 5-8 minutes. You can also use a stand mixer with a dough hook attachment. Form the dough into a ball, and place in a lightly greased bowl. Cover with plastic wrap and allow to rise for 45 minutes.
Towards the end of the rising time, heat 3 quarts of water in a large stock pot to boiling. Add 2/3 cup baking soda, and stir to combine. Preheat oven to 450 degrees.
After the dough has risen, remove from the bowl and divide into 10 equal parts. Working with one part of dough at a time, on a lightly floured surface, roll into a 10 to 12-inch rope. Cut each rope into 1-1 ½ inch pieces using a sharp knife or pizza wheel (This will make pretzel bites- you can also turn the rope into a traditional pretzel shape, tie them in knots, or twist the ends together, depending on the type you want. This is a great step to involve children.). Repeat with remaining dough, creating your desired pretzel shapes.
Working with a few pieces at a time, carefully drop formed pretzels into boiling water. Boil for 30 seconds and remove from water with slotted spoon. Place on a parchment or baking mat-lined baking sheet. Repeat step with remaining pretzel dough pieces.
In a small bowl, add egg yolk and water. Beat with a fork and combine well. Using a pastry brush, brush egg yolk mixture over dough and sprinkle with pretzel salt. Bake for 12-15 minutes, until pretzels are deep golden brown. Pretzel bites will cook more quickly than traditional pretzels or pretzel knots. Remove the pretzels to a wire rack and cool for 5 minutes, before enjoying warm.
To make the Parmesan cheese dipping sauce, heat a medium saucepan over medium heat. Add the butter. When the butter is melted, sprinkle the flour over the butter and whisk to combine. Let the butter mixture cook for 1 minute, whisking constantly. Slowly, whisk in the milk. Bring mixture to a slow simmer and simmer for 1 minute, until thickened. Add the Parmesan cheese and whisk until fully incorporated. Add salt and pepper to taste.
Serve warm pretzels with hot Parmesan cheese dipping sauce and warmed marinara.
This recipe is slightly adapted from and fully inspired by Gaby at What's Gaby Cooking.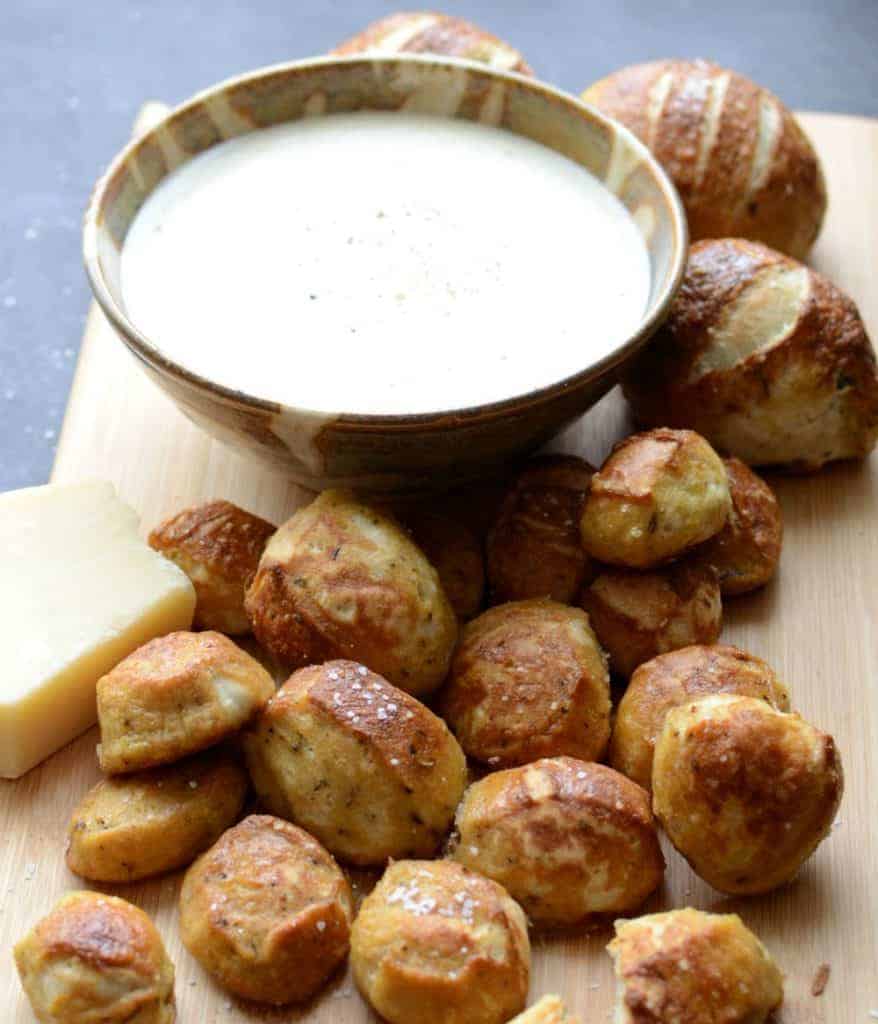 These Parmesan pretzel bites are awesome and a little different than your traditional soft pretzel thanks to the addition of Italian seasoning and Parmesan cheese to the dough. They are savory, soft, and chewy pretzel perfections. These are made in a traditional pretzel fashion by boiling the dough in soda water before baking. Don't skip this step, it's what gives the pretzels their signature chewy texture. You get the deep brown pretzel color by brushing the boiled dough with an egg yolk and water mixture before baking. And man alive do I love pretzel salt.
And then there's that dipping sauce… oh how I love pretzels dipped in warm cheese. The Parmesan dipping sauce and a side of warm marinara make this dish an appetizer that can stand alone. It's also a fabulous side to something like my Simple Tortellini Soup with Spinach or my Healthy Slow Cooker Bean and Sausage Soup. The day that I made these with the kids I had a soup going in the slow cooker. Dinner was pretty much done so that meant I had a little time and energy to spend creating in the kitchen with the boys. It was a fun afternoon and dinner was delicious!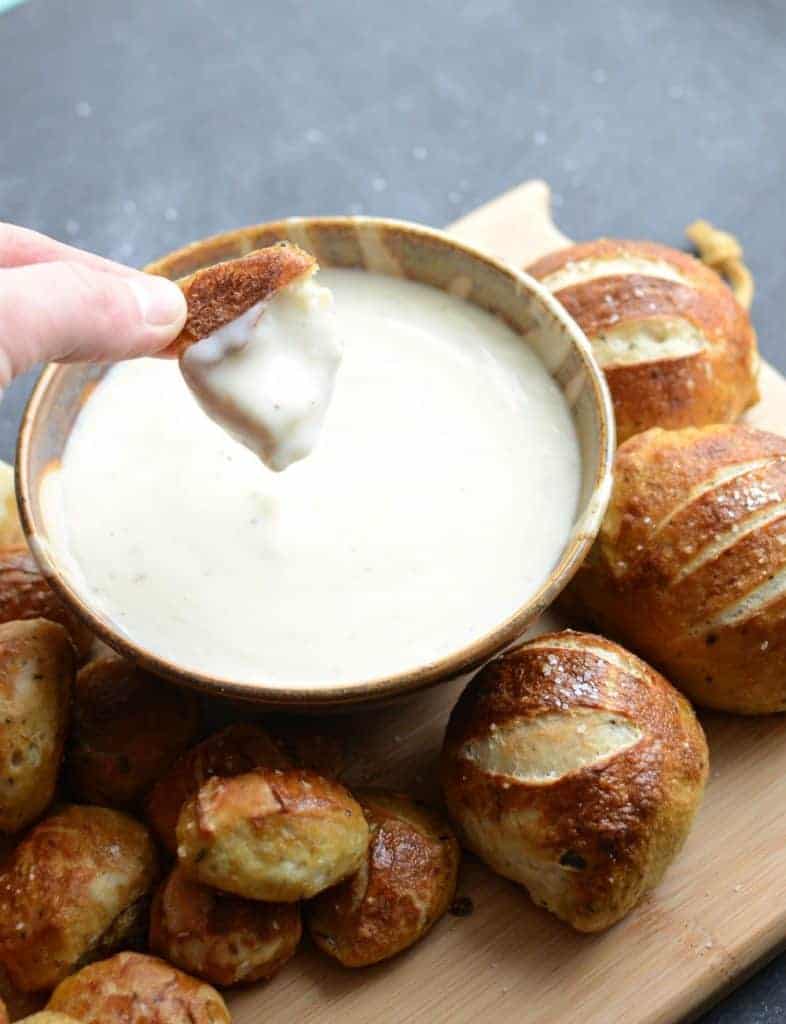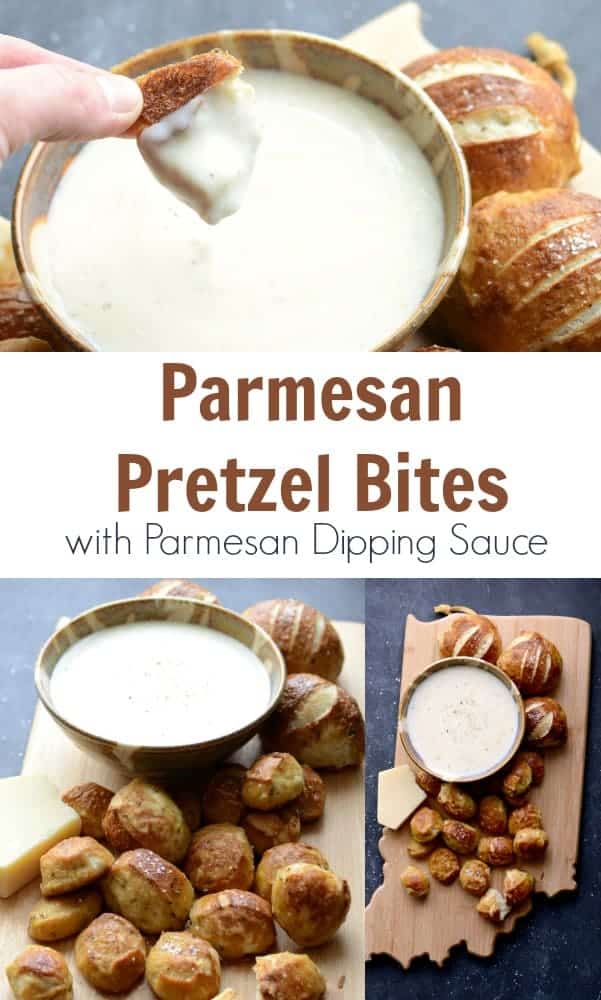 I can't wait for you to make these! They are so delicious. And isn't my Indiana cutting board cute?! My cousin gave that to me for my birthday this year and I've been enjoying it since. Thank you Kaley.
I so appreciate you being here. I hope you have a great day full of warm soft Parmesan pretzel bites and melty cheese sauce.