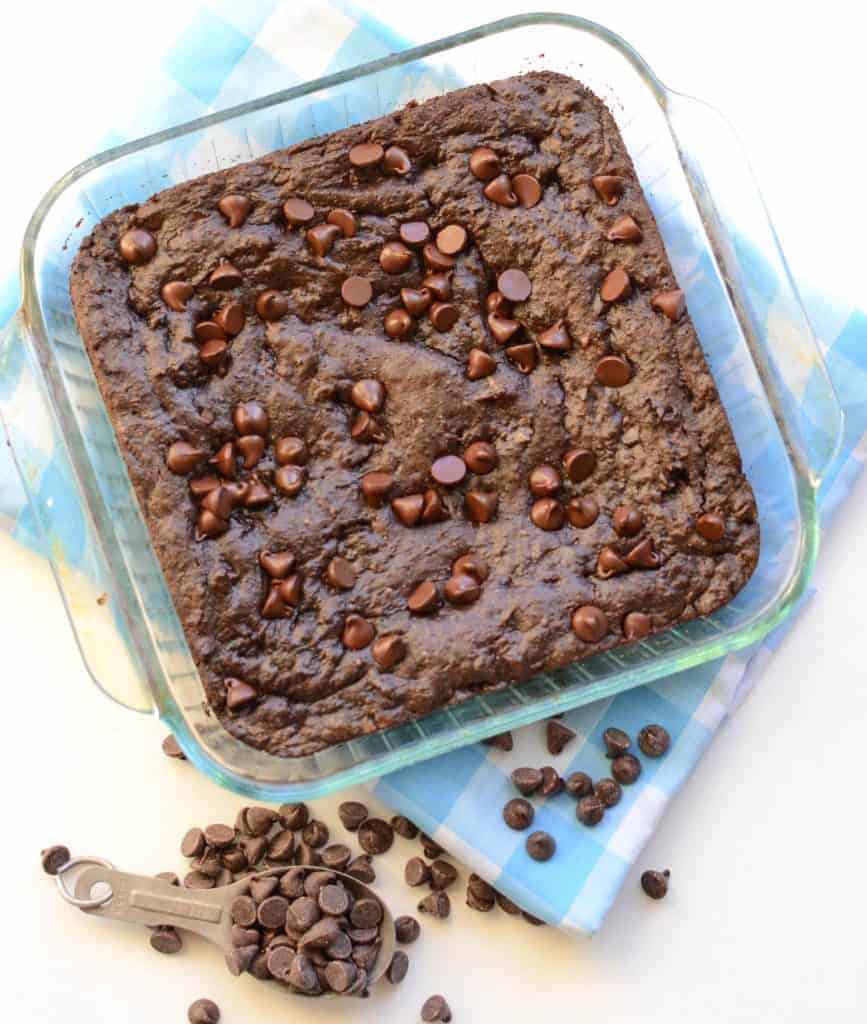 Healthy Lower Calorie Brownies (still made with real ingredients) is the fourth recipe in whole food dessert week and you are going to love these! This recipes is a little different from the Whole Wheat Honey Chocolate Chip Cookies, Blueberry Muffin Date Bites, and Whole Wheat Honey Cake because these are meant to be lower in calories. These brownies have no butter or oil in them but they also don't have any hidden beans, avocados, or protein powder. It's just a smart recipes that uses ingredients wisely. They aren't your traditional perfect brownie (I have that recipe for you right here), but they are a fabulous chocolate fix without too much guilt.
I made these, cut them into pieces, and then hid them in the freezer. I would just pull one out every once in a while when I needed a chocolate treat and they sure helped with my cravings. They were delicious frozen! The recipe comes from my friend Tiffany at Feel Great in 8 (I'm doing a round of the Feel Great in 8 challenge RIGHT now! I love her program, this is the 4th time in about 2.5 years that I've done it). She plugged it into MyFitnessPal and says that this treat has 130 calories, 2.9 grams of fiber, and 3.2 grams of protein per serving. Not too shabby!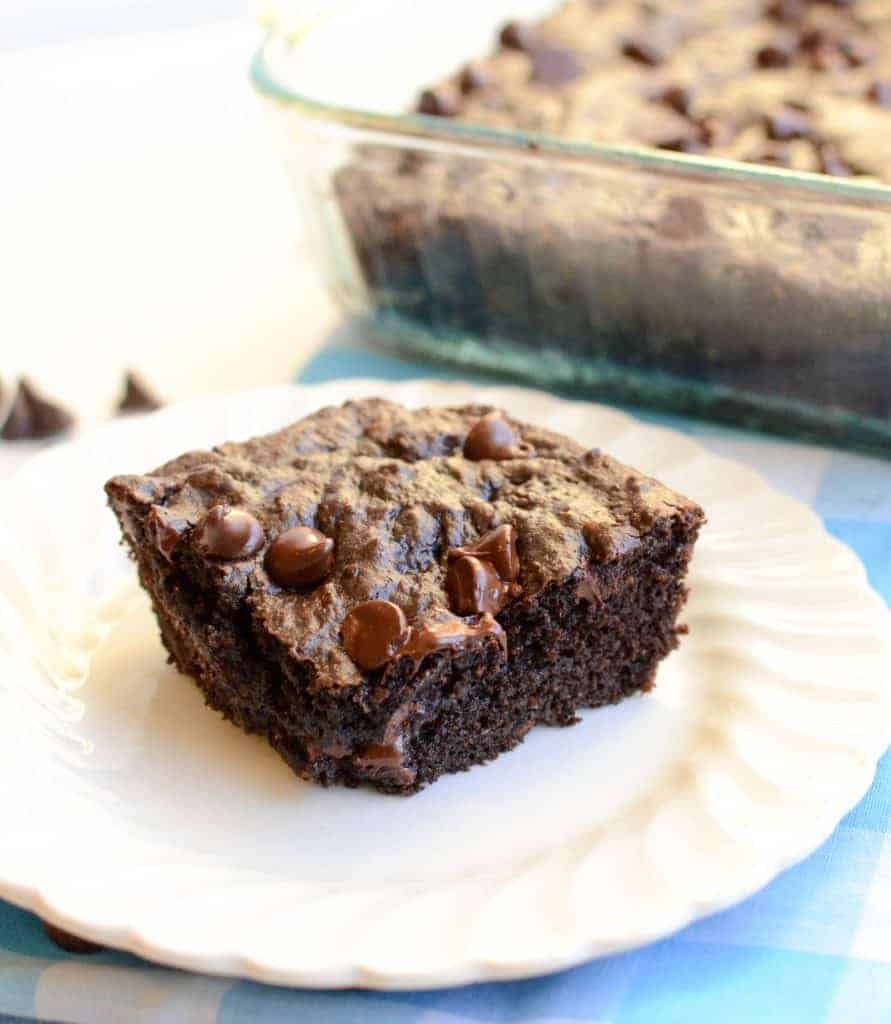 Healthy Lower Calorie Brownies (still made with real ingredients)
Print
Healthier
---
Author:

Prep Time:

10 mins

Cook Time:

2 mins

Total Time:

12 minutes

Yield:

16
Ingredients
1/2 cup almond butter (or creamy natural peanut butter)
2 tablespoons honey
4 tablespoons unrefined coconut sugar
1 teaspoon vanilla extract
1/2 cup unsweetened apple sauce
1 large egg
1/4 cup plus a tablespoon whole wheat flour or whole oat flour (oats you blend up in your blender)
1/4 cup unsweetened cocoa powder
1/4 teaspoon baking soda
1/4 teaspoon baking powder
1/4 teaspoon salt
1/2 cup + 1/4 cup dark chocolate chips
---
Instructions
Preheat the oven to 325 degrees and grease a 9×9 inch baking dish.
In a medium bowl mix together the almond butter, honey, coconut sugar, vanilla and apple sauce. Mix until well combined. Add the egg and mix to incorporate.
Add the wheat or oat flour, cocoa powder, soda, baking powder and salt. Stir until the mixture comes together and there are no dry pieces but don't over mix. Add the 1/2 cup of chocolate chips and stir to combine. Pour the thick batter into the prepared dish and use a spatula to evenly spread it around and smooth the top. Sprinkle the remaining 1/4 cup of chocolate chips on the top of the prepared brownies.
Bake for 20-22 minutes until the mixture is cooked through in the center (if you under bake these, they taste and feel like they aren't done). I like gooey brownies but it's not the same here, so bake them the full time. Serve warm. These also freeze very well and are delicious frozen. I made a batch and hid them in my freezer for when I need a little treat.
Notes
You can sub more honey for the coconut sugar but you'll taste the honey. You can also sub something like a raw or organic granulated cane sugar for the coconut sugar.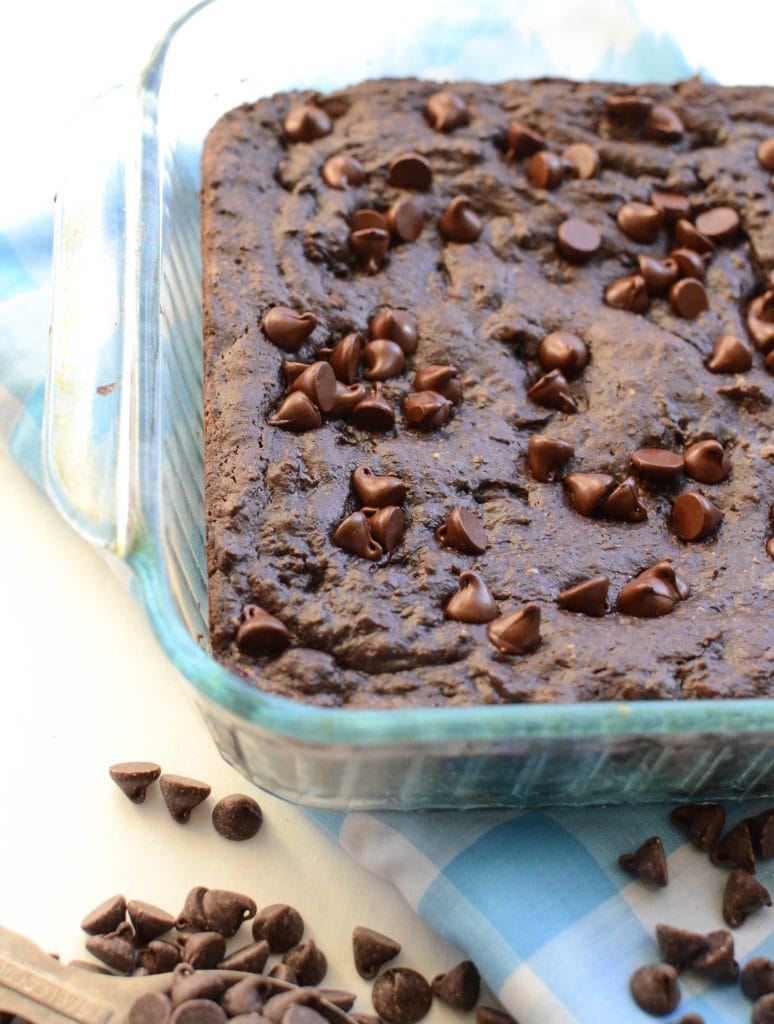 Don't under-bake these lower calorie brownies because they don't taste soft and gooey, they just taste like gummy and raw (not a good thing). The chocolate cocoa and chocolate chips that you use will really play a big role in how these taste. I recommend a high quality dutch-processed cocoa and I'm obsessed with these chocolate chips.
If you decided to throw some oats in your blender to use the oat flour (it's a nice light whole grain flour! I love it), be sure to measure the flour after grinding and not just the oats before.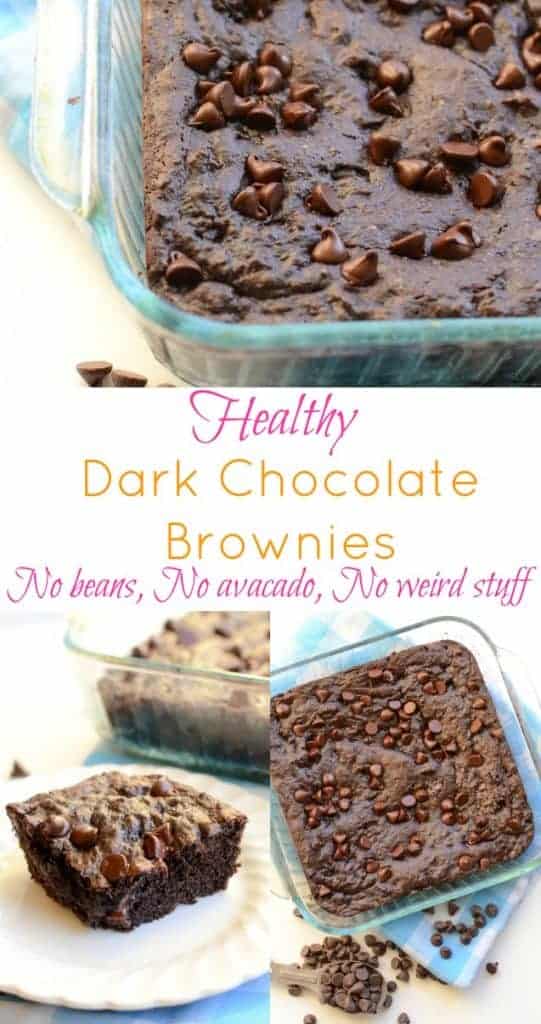 I'm loving this week and hope you are too! Stay tuned for another healthy treat tomorrow!