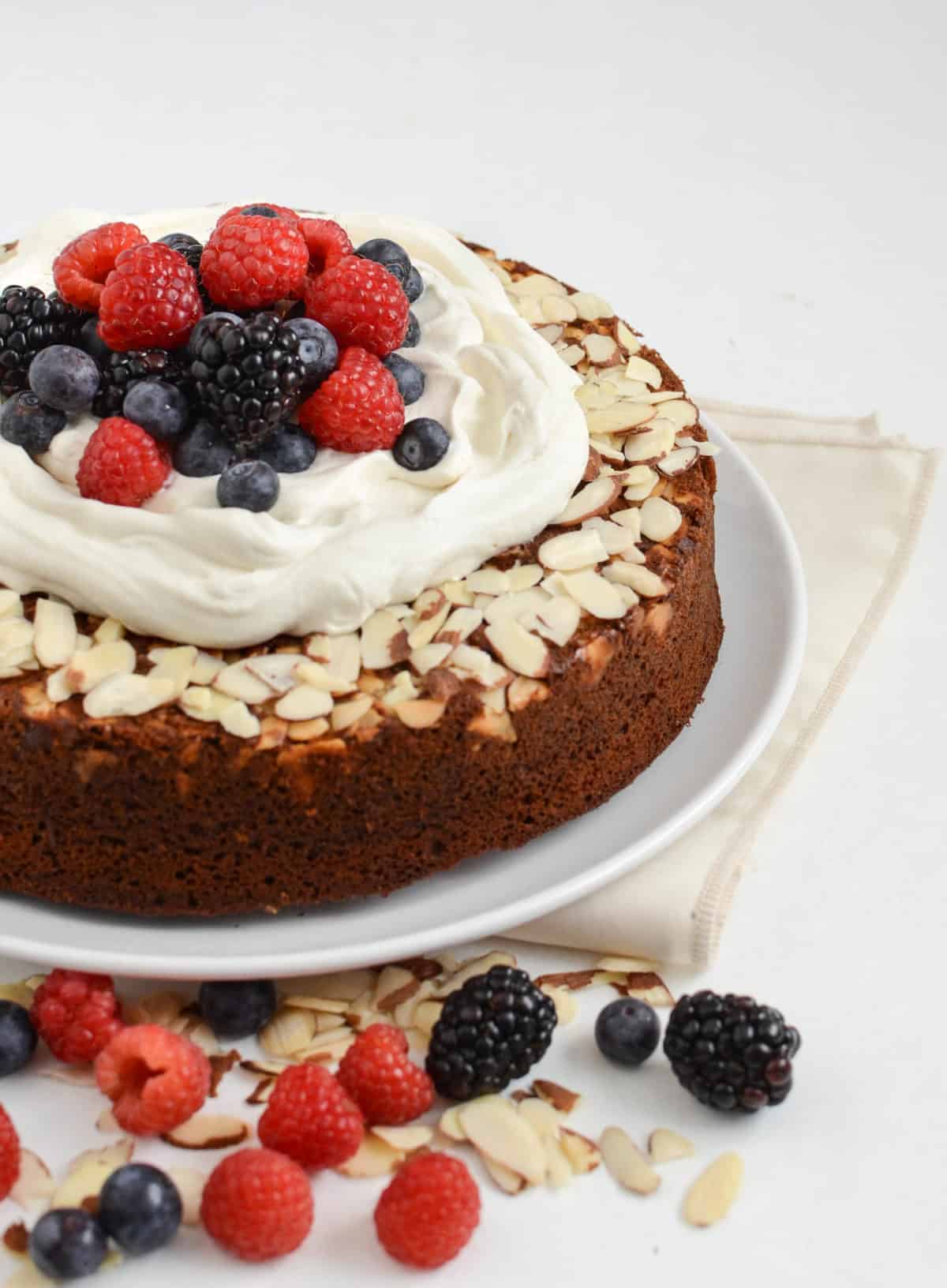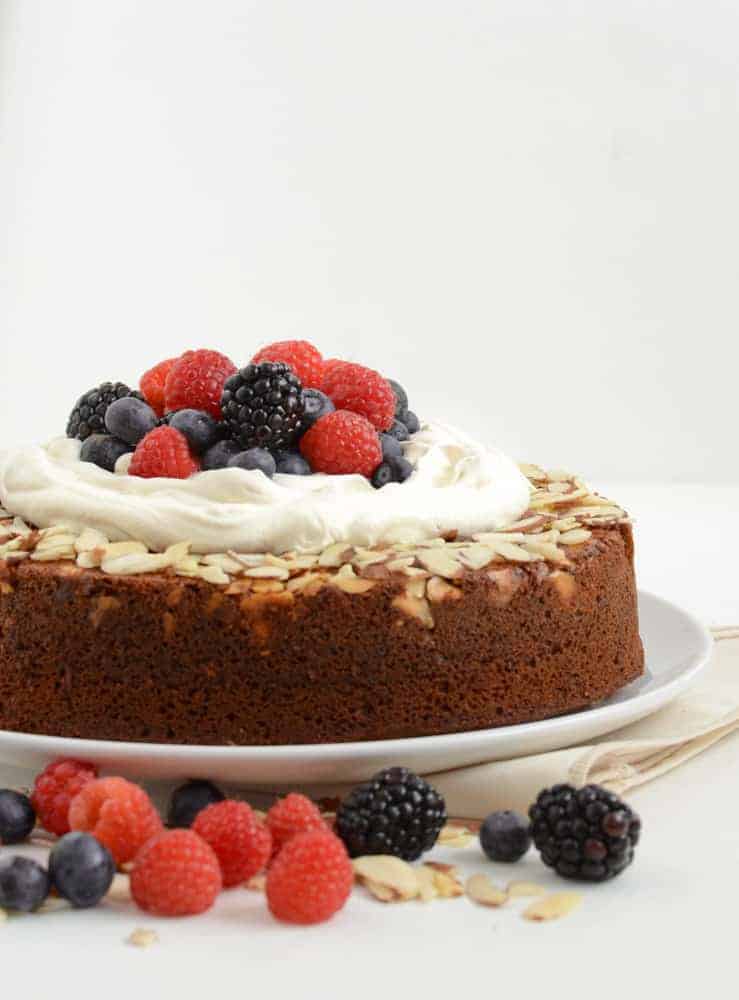 It's day three of whole food dessert week and I have this gorgeous Whole Wheat Honey Cake recipe for you today. Did you see those Oatmeal Chocolate Chip Cookies (made with whole wheat and honey) and those amazing Blueberry Muffin Date Bites? See, eating whole foods doesn't have to be all vegetables all the time!
This cake comes from the King Arthur Flour Whole Grain Baking cookbook. A million years ago my mom picked it up from the library, told me how much she loved it, I proceeded to get it from the library where I was, and we both fell in love. We both have purchased the book since and I know we both love and use it. It's a whopping 500 page whole grain baking bible if you ask me. It's full of great recipes from everything from pizza crust to layered cakes, but it also really teaches you about how to use whole grains so that you are not only getting the health benefits, but things also taste good. The gigantic hardback book is just over $20 and I'm pretty sure you should ask the Eater Bunny to stick one in your basket this year (this whole wheat pita bread and these whole wheat hot cross buns recipes are both from the book, check them out!).
The book said something about how this cake was perfect for a light dessert or snack. It's considered a snack cake, meaning it's not fancy or fluffy or full of icing. It's sweet and has the texture of a quick bread. The honey is just right and the almonds on top make it look just beautiful (you bake them right into the cake). I took this to a family birthday party and folks really enjoyed it. The outside that was a little crusty was my favorite. You can serve this cake with a few fresh berries and freshly whipped cream or you could give it a sprinkle of powdered sugar on the top and serve it with ice cream. All good options.
I plan on making this cake again as soon as the million (ok, 60) strawberry plants I planted last spring start to bear fruit. Oh man, it's going to be so good with some fresh homegrown strawberries! I literally cannot wait until they are ready.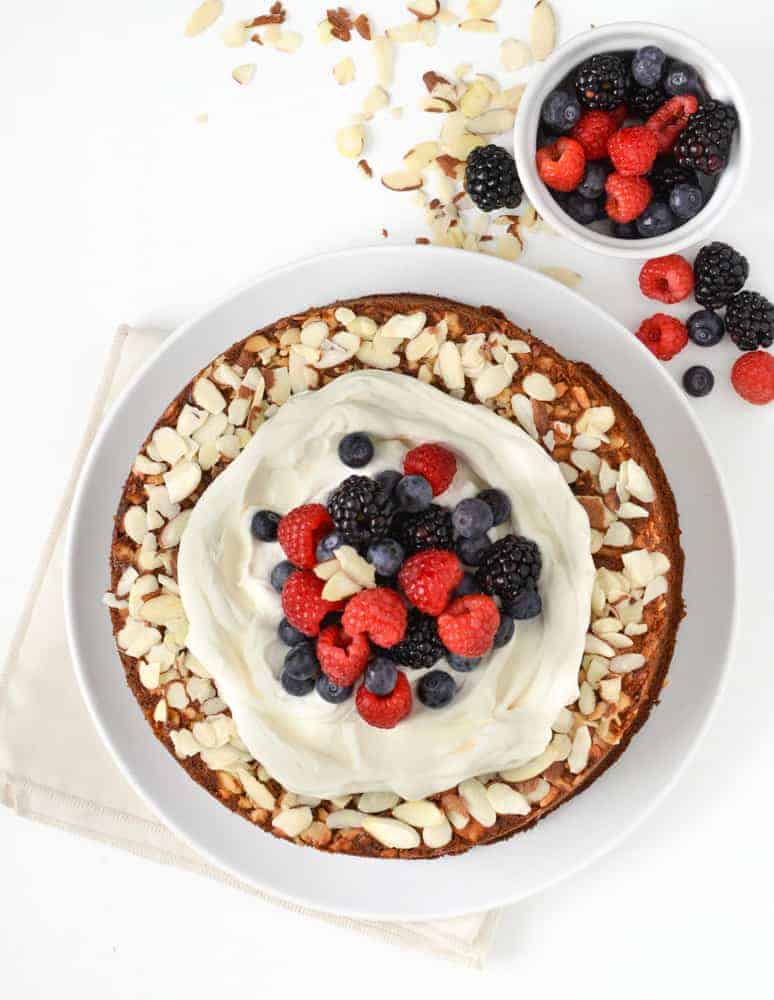 Whole Wheat Honey Cake
Print
Whole Wheat Honey Cake
---
Author:

Prep Time:

15 mins

Cook Time:

50 mins

Total Time:

1 hour 5 minutes

Yield:

serves 12
Ingredients
1 cup sliced almonds
1 1/4 cups whole wheat flour (pastry or traditional)
3/4 cup unbleached all-purpose flour
1/2 teaspoon baking soda
1/2 teaspoon salt
3/4 cup unsalted butter, at room temperature
1 cup honey
4 large eggs
1/4 cup sour cream or plain yogurt
---
Instructions
Preheat oven to 325 degrees. Grease a 9-inch round cake pan with butter or a heavy hand of cooking spray. Add ¾ cup of sliced almonds to the bottom of the cake pan and evenly distribute.
In a medium bowl, cream the butter and the honey until light and fluffy. Add the eggs, one at a time, incorporating well after each addition. Add the sour cream, and stir to combine.
In a small bowl, add whole wheat flour, all-purpose flour, baking soda and salt. Whisk to combine. Add the dry ingredients to the butter mixture and stir until just combined. Add the remaining ¼ cup of sliced almonds and stir until incorporated. The batter will be thick.
Add the batter to the prepared pan and use a spatula to smooth the top.
Bake for 50-55 minutes until golden brown and the edges start to separate from the pan, and a toothpick, inserted into the center, comes out clean.
Remove cake from the oven and allow it to rest in the pan, on a wire rack, for 15 minutes. After it has rested, invert the cake to a serving dish and allow it to come to room temperature. Serve with a light dusting of powdered sugar, or freshly whipped cream and berries.
Notes
It's a bit hard to tell when this cake is done because it's going to be pretty dark when it's cooked. Don't over bake though or it will be dry.
For this recipe, I recommend:
[asa_collection btmp]honey_cake[/asa_collection]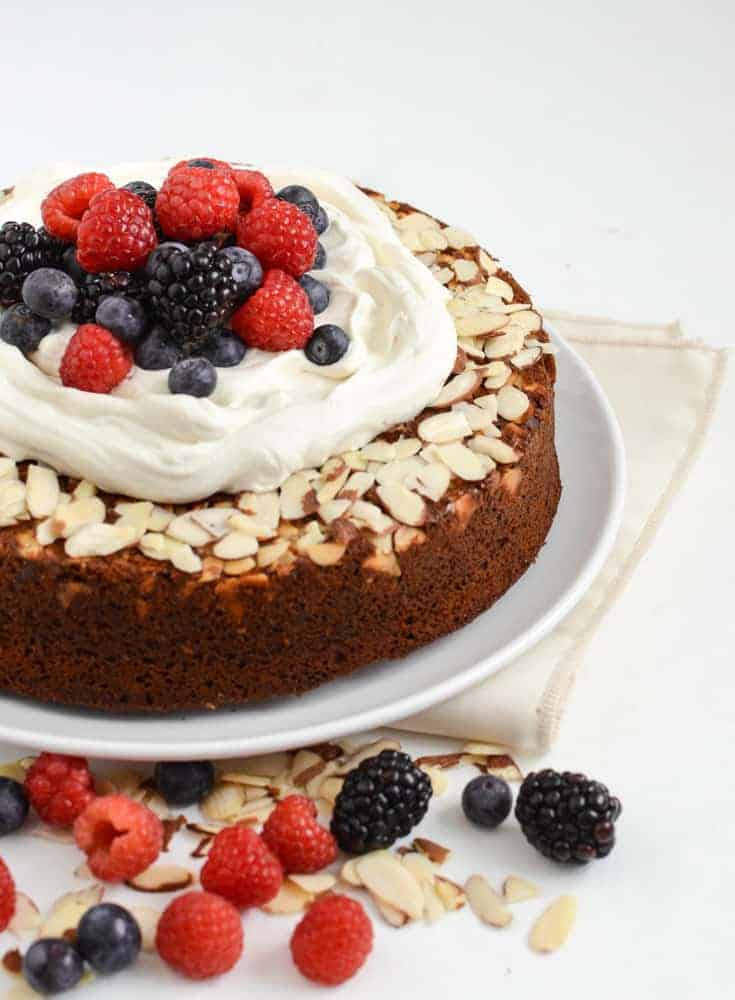 Isn't it gorgeous! I can't wait for you to try this out.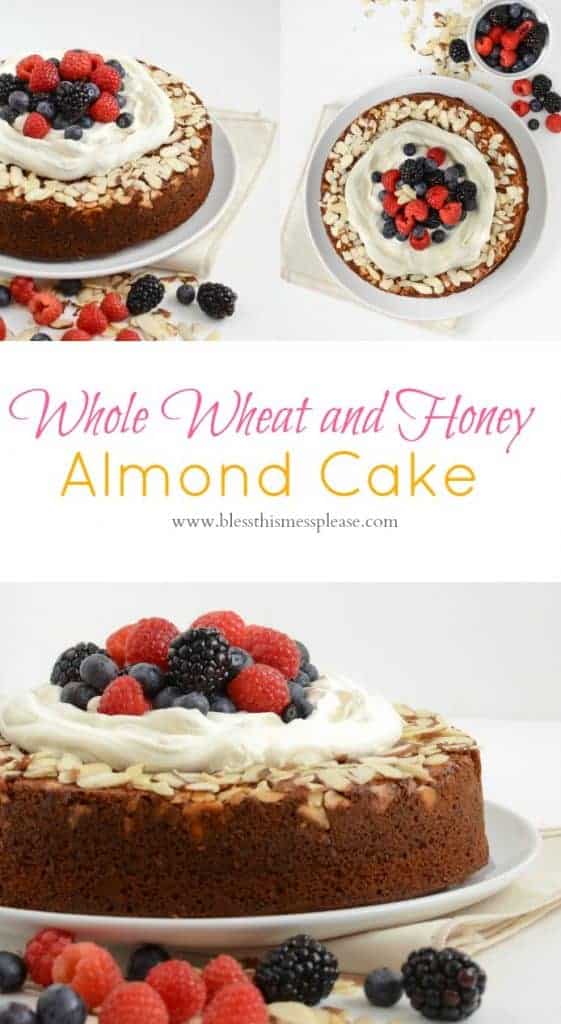 Don't forget, there's a secret healthy dessert recipe going out to members of my newsletter this week so don't forget to subscribe. It's a cookie recipe that you are going to want up your sleeve for the next time your kids are begging for a treat.
Enjoy and have a great day!