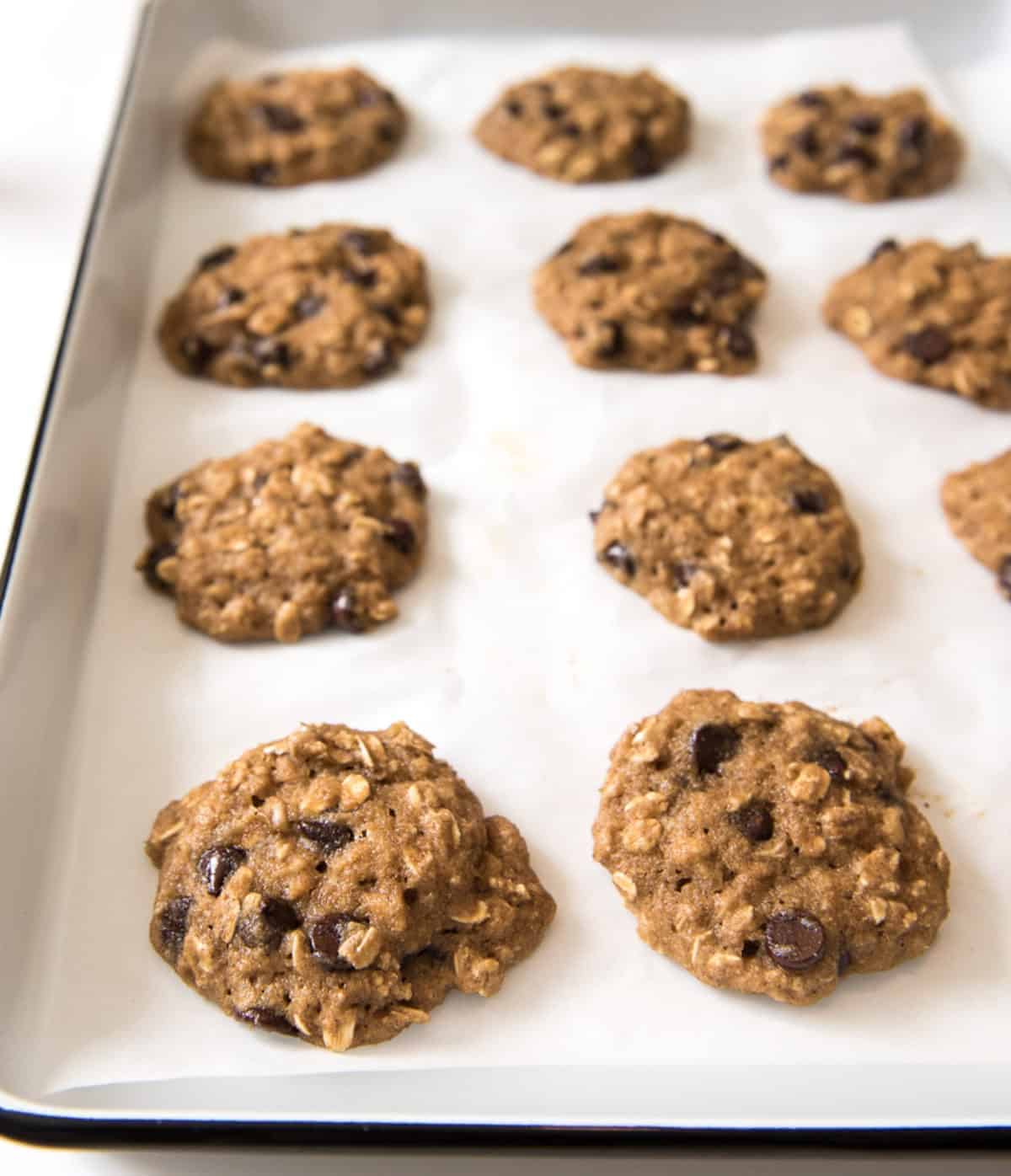 Let the kids make a mess in your kitchen while they bake these simple applesauce cookies. They are so healthy, you won't even mind if they eat a few for breakfast!
My children and I have spent many a messy morning in the kitchen baking, creating, cooking, and just enjoying being together. I often have a helper when I make whole wheat bread for the week, when I'm making a batch of our forever favorite oatmeal balls, or when I'm peeling potatoes or carrots for a meal. I love being in the kitchen with my little people. I'm partnering with Palmolive today to share one of my favorite "messipes." When they approached me with the idea of sharing a messy recipe, I was so excited – my blog is named Bless this Mess for a reason! I'm pretty sure "not afraid to get messy" was on the job description for motherhood.
As I thought about the type of "messipe" (messy recipes!). I wanted to share, I got to thinking about my nine (almost ten) year old daughter. She likes to have a friend over on Fridays after school, and eight times out of ten they'll ask to bake something together. She's getting older and more independent and her friends think it's really fun that they are allowed to have full reign of the kitchen kingdom (normally mom's domain!). It has been so much fun for me to watch Macey and her friends making common mistakes (forgetting to turn on the oven or forgetting to grease the pan), learning from those mistakes, and becoming more confident in the kitchen. The kitchen is my happy place and I'm more than excited to encourage that same love in my kids.
One thing I always make sure the girls do is clean up their mess. It's a natural part of the cooking process – if you make the treat, you get to do the dishes too. But when the dishes are done?! You get to eat the treat! Palmolive ® Ultra Strength is extra bubbly, which makes little girls much more excited about doing the dishes.
I have a few recipes that I let the little girls work with on a regular basis and these simple and healthy applesauce cookies are one of those. The recipe is delicious and very forgiving, and I always have everything they need on hand. My applesauce cookies are made with whole grains, natural sweetener (honey), and it's also dairy-free! So I don't even feel bad when they have a few for breakfast on Saturday morning if I'm trying to stay in bed a little later. Long live the healthy, satisfying, and delicious applesauce cookie.
You and your family are going to love making a mess baking these cookies together and Palmolive ® Ultra Strength will be there to help you clean up the mess. Life's too short to miss out on mess-making with your favorite people.
Print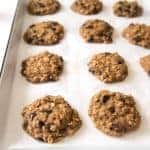 Healthy Applesauce Cookies
---
Author:

Prep Time:

10 mins

Cook Time:

11 mins

Total Time:

21 minutes

Yield:

2 dozen cookies

Category:

Dessert

Method:

Oven

Cuisine:

American
Description
Let the kids make a mess in your kitchen while they bake these simple applesauce cookies. They are so healthy, you won't even mind if they eat a few for breakfast!
---
Ingredients
1 cup unsweetened applesauce
1/4 cup melted coconut oil
1 large egg
1/3 cup honey
1 cup uncooked oats
1 cup whole wheat flour
1/2 teaspoon baking soda
1/2 teaspoon salt
2 teaspoons cinnamon
1-2 cups chocolate chips
---
Instructions
Preheat the oven to 325 degrees. In a large bowl, add the applesauce, coconut oil, egg, and honey, and mix to combine well.
Add the oats, whole wheat flour, baking soda, salt, and cinnamon. Stir to combine well. Add the chocolate chips and stir to combine.
Refrigerate the dough for 10 minutes (this give the oats a little time to absorb some of the liquid).
Use a cookie scoop or two spoons to place a rounded tablespoon of dough on a parchment or baking mat lined cookie sheet. Bake for 11-13 minutes, until the edges of the cookies are lightly browned and the center is set. Remove from the oven and let the cookies cool on the sheet for 5 minutes.
Notes
Don't skip the chilling time, the whole grains in this recipe need some time for absorb the liquids before being baked.
If you have cinnamon chips, they are really good in this recipe.
I think if you were to replace the whole wheat flour with oat flour it would still work and then you could make this recipe gluten free (with compliant chocolate chips) if that is a need for your family. I have tried this with gluten free flour.
Keywords: applesauce cookies recipe, healthy cookies recipe, baking with applesauce, applesauce dessert recipe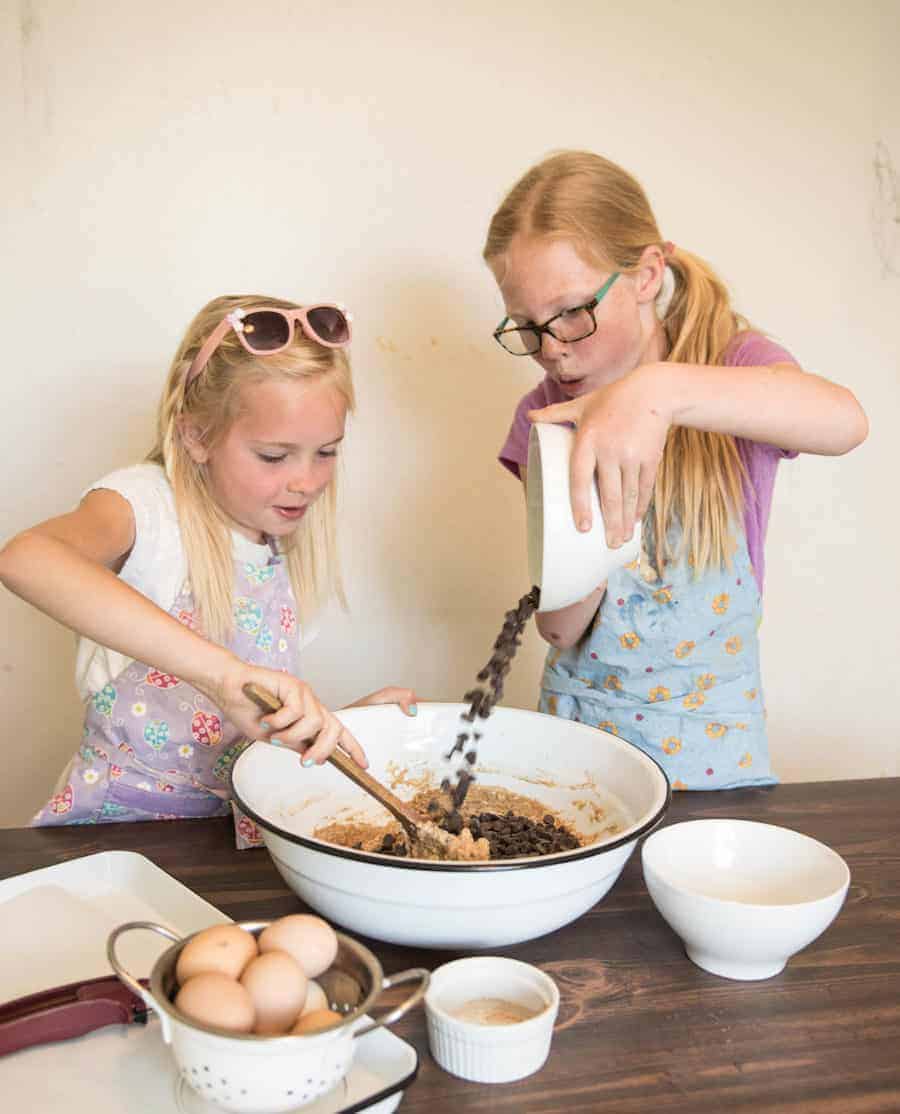 Don't be fooled by those two… they  might look innocent, but boy, can they make a mess when they put their minds to it. I'm pretty sure that playing in a sink full of bubbles is still one of their favorite things when it's time to clean up their messes. It's so fun to listen to them laugh and talk, up to their elbows in sudsy water.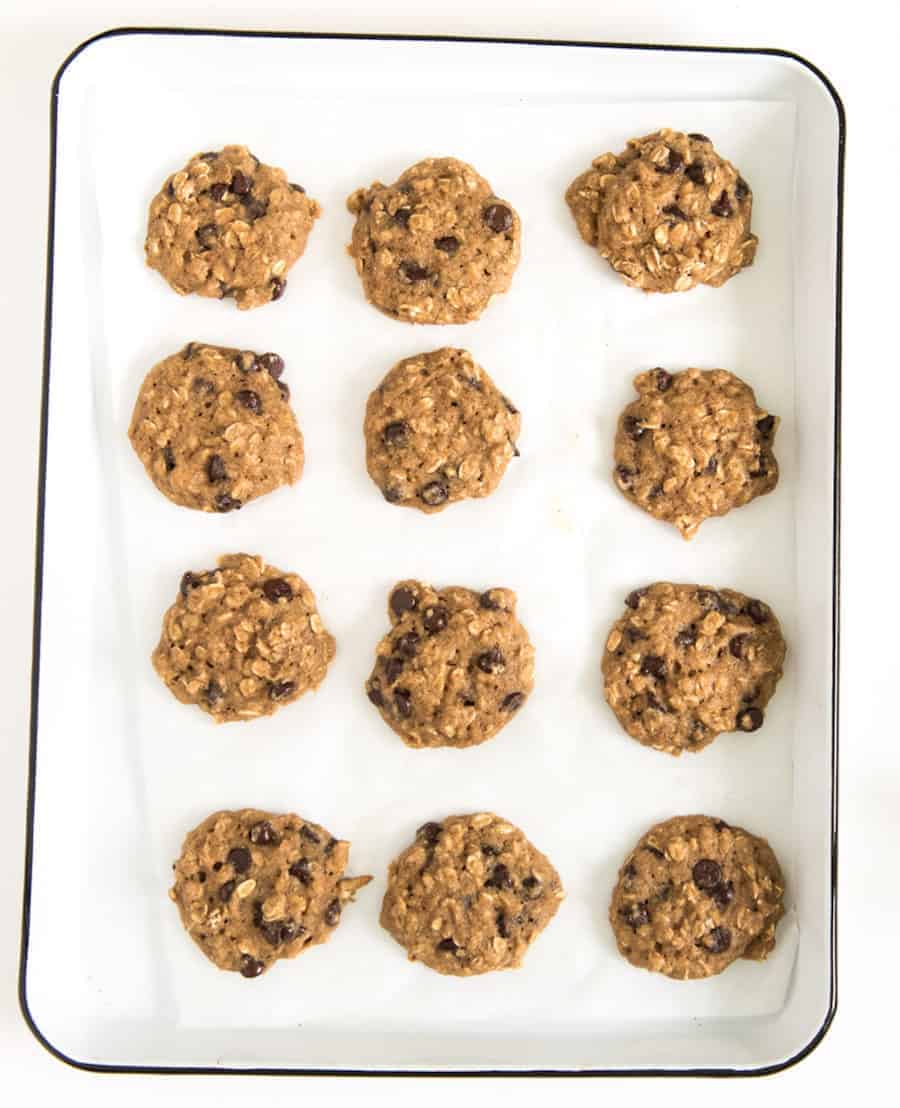 Palmolive ® Ultra Strength has teamed up with Freddie Prinze Jr. to celebrate all things "Messipes." Did you know that Freddie Prinze Jr. just released a cookbook and is huge foodie?  Check out the Palmolive Facebook to see how Freddie gets creative in the kitchen.
You can enter below to win one of two "Messipes" kits featuring Palmolive ® Ultra Strength product and all the "Messipes" signed by Freddie Prinze Jr. How fun is that?
I can't wait to hear what kinds of messes you like making in your own kitchen. Enjoy these healthy applesauce cookies, from my home to yours.
Disclosure: This post was sponsored by Palmolive ® Ultra Strength. I love this company! Thank YOU for supporting me and the brands that continue to make Bless this Mess possible.