This is the last recipe that I have for whole food dessert weeks and it's less of a dessert and more of a make-it-any-time-you-want recipe. You can't go wrong with delicious classic but healthy banana muffins. This recipe was the most like it's traditional counterpart. It was light, moist, and perfectly sweet. I was shocked at just how delicious these healthy banana muffins were. How you go from 1 1/2 cups of sugar to just a 1/2 cup of maple syrup and they still taste perfect is beyond me, but it worked! I took them to a few friends and everyone was over the moon about them. This recipe is going to be replacing my go-to banana bread recipe because it was so good even with its healthy changes. You can use coconut oil or butter, I swap maple syrup (use the real stuff here) for sugar , and oats and whole wheat flour in place of traditional white flour. I can't wait for you to try these because they are awesome.
Muffins are my favorite because you can serve them pretty much all the time. I like to make a batch while the kids are at school with the younger boys and then they munch on them after school for a snack. We love muffins along with scrambled eggs for a super easy dinner, and they make for a really easy dessert. This recipe freezes very well too, so feel free to make a double batch and freeze some for later. Just pop them in a freezer safe container or bag and then pull out however many you want to thaw before you'd like to enjoy them. You could also warm them just a bit in the microwave or a warm oven too. This recipe is going to be a staple in your house, I just know it!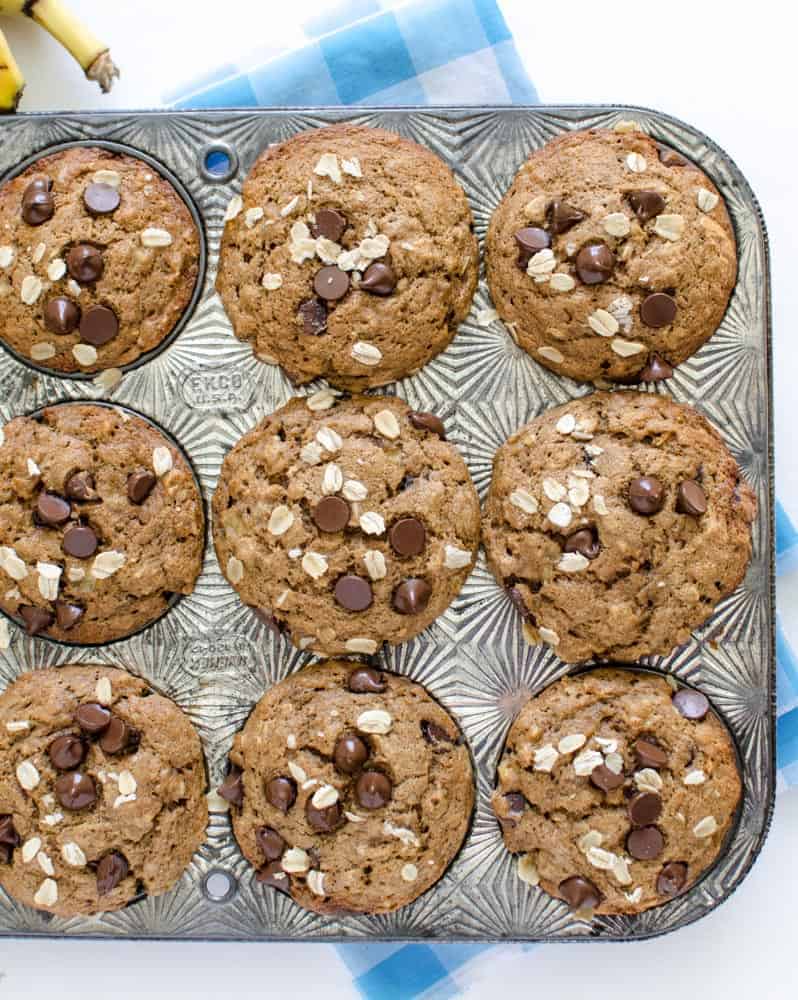 Healthy Banana Muffins
Print
Maple Sweetened Banana Muffins (with or without chocolate chips)
---
Author:

Prep Time:

15 mins

Cook Time:

25 mins

Total Time:

40 minutes

Yield:

12
Ingredients
1/3 cup melted coconut oil or butter
1/2 cup maple syrup
2 eggs
1 cup packed mashed ripe bananas (about 3 bananas)
1/4 cup milk (I used dairy milk. almond would work too)
1 teaspoon vanilla extract
1 teaspoon baking soda
1/2 teaspoon salt
1 teaspoon cinnamon
1 3/4 cups whole wheat flour
1/3 cup old-fashioned oats, plus more for sprinkling on top
1/2 cup chocolate chips, plus more for sprinkling on top (optional)
---
Instructions
Preheat the oven to 325 degree and grease a 12-cup muffin tin well with butter or cooking spray.

In a small bowl add the coconut oil and maple syrup and mix well. Add the eggs and mix to combine. Add the mashed banana, milk, and vanilla and stir to combine. Add the soda, salt, cinnamon, whole wheat flour, and oats. Stir until the mixture just comes together, it's ok if it's still a little lumpy, do not over mix. Add the chocolate chips if you are using them and stir until just incorporated.
Divide the batter between the 12 muffin cups. Sprinkle the tops with a few more chocolate chips and some raw oats if desired. Bake for 23-25 minutes until a toothpick inserted into the center comes out clean.
Let the muffins cool for 5-10 minutes in the pan. Run a butter knife along the edge of the muffin to help release it from the pan, remove the muffins from the pan and place them on a wire rack to finish cooling.
Notes
These store very well in the freezer, make a double batch if you like!
This recipe is from Cookie and Kate!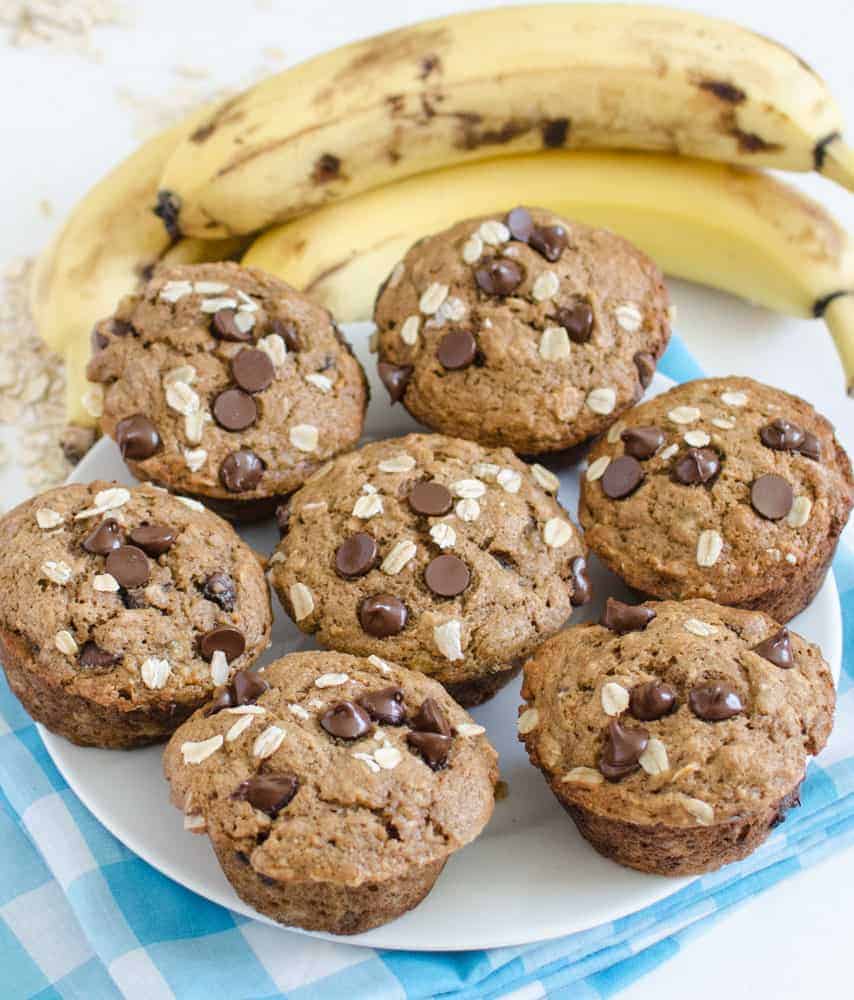 Muffins are one of my favorite things to make with kids. When it comes to making these banana muffins the kids can peel the bananas (because it doesn't matter when they bruise or mush them a bit), and then they can use a fork, butter knife, or pastry blender to mash and cut the bananas up. This is a favorite activity of my kids and they just can't really ruin anything!
Add the chocolate chips if you'd like, I highly recommend it because CHOCOLATE! It makes them feel a bit more like a treat when there's chocolate involved. I'm obsessed with these chocolate chips right now!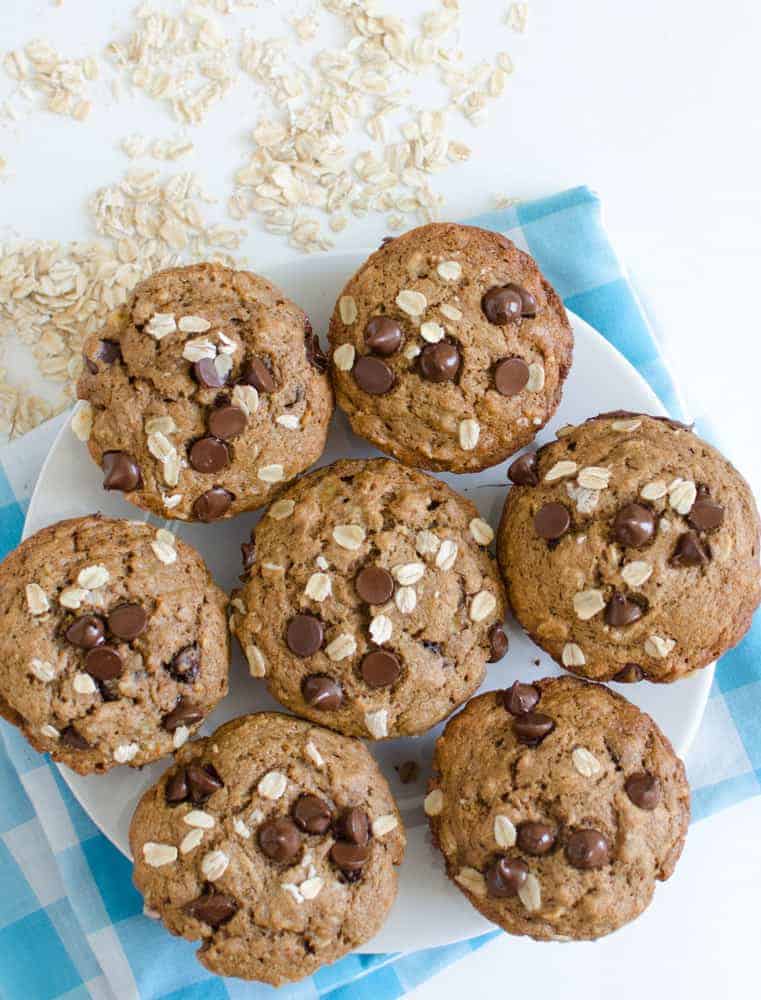 Enjoy these healthy banana muffins from my kitchen to yours and feel free to check out the other healthy dessert recipes post in my archives!
Whole Wheat Chocolate Chip Cookies (sweetened with honey)
Healthy No-Bake Cookies
Chickpea Cookies
Blueberry Muffin Date Bites
Whole Wheat Honey Cake
Lower Calorie Brownies (no beans here!)
Hempseed Breakfast Cookies