Gooey Marshmallow Popcorn with Chocolate is a treat your whole family will love! This is the perfect Christmas dessert but, of course, it tastes good all year round!
Popcorn is such a fun treat, you should try Homemade Honey Caramel Corn, Pretty in Pink Popcorn, and Cinnamon Caramel Corn with White Chocolate and Pecans. They all make for wonderful snacks that add something delicious to popped corn.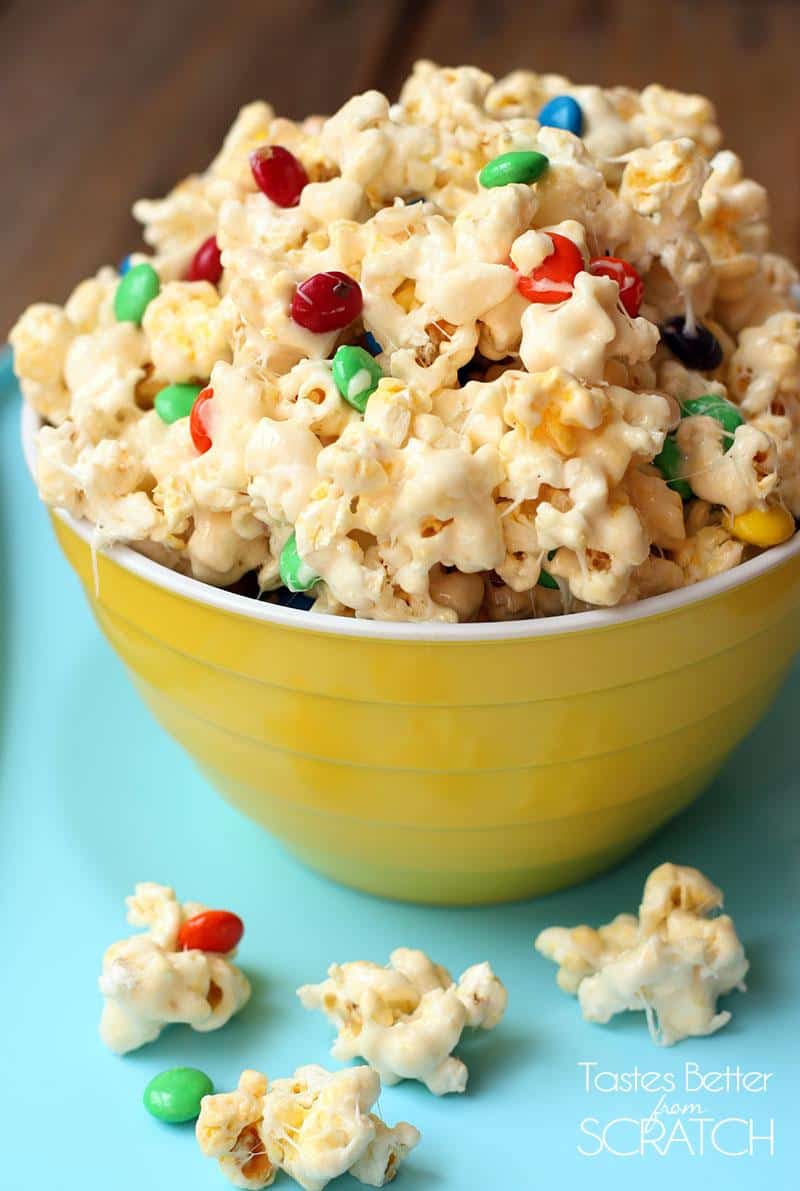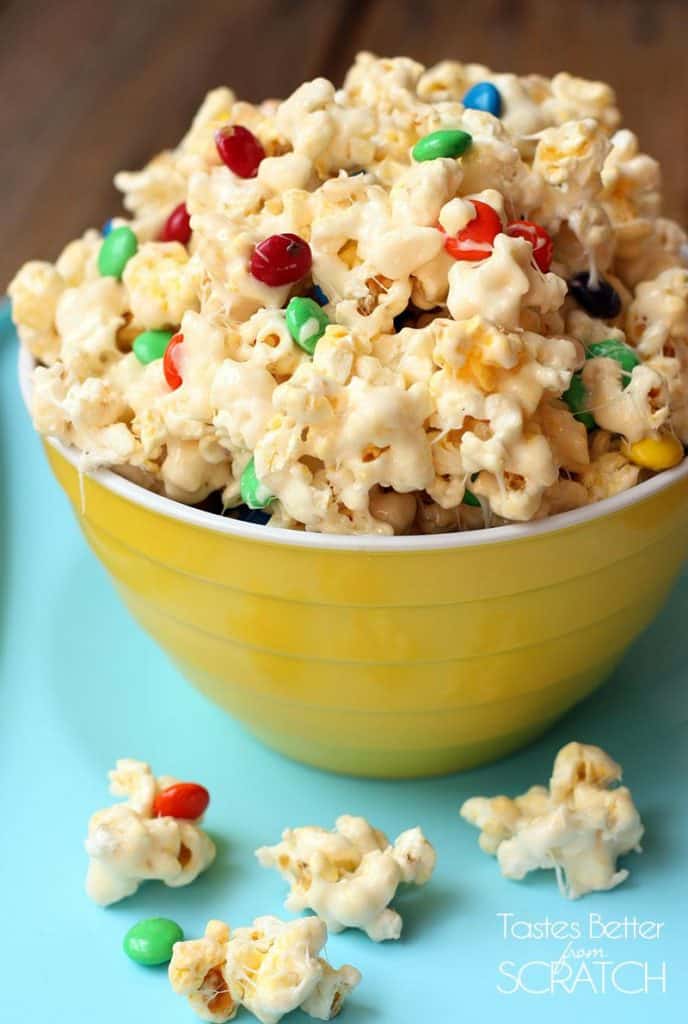 Gooey Marshmallow Popcorn with Chocolate
One more popcorn recipe before Christmas, OK?! I know my love of popcorn is bordering on addiction, but I also know that I'm not the only one who is so fond of the stuff. Popcorn lovers unite!
I grew up in a big family with tons of cousins close by. We would all descend on my grandma's house on Sunday afternoons to play and enjoy the delights of family time. In the winter, grandma would stand over her stove with a stove-top popper that you turned by hand and then load metal cake pans full of hot popcorn that was a little greasy and a lot salty. I can still smell that hot oil and grain smell. Once in a while my Aunt Joanna would make some of the popcorn into caramel corn while Grandma was at the stove. She'd dump giant piles of caramel corn on the waxed-paper-covered counter and we'd swarm like sugar ants. We'd try to pick out the gooey-est pieces while attempting to avoid getting our fingertips burnt by the hot sugar.
Hmm. So maybe my love of popcorn is part genetic, part nostalgic, and part taste-driven.
I wanted to make a sticky sweet popcorn that wasn't caramel, so I turned to my mother-in-law's recipe for a sweet Chex mix she makes. I used the basics of the recipe and then swapped popcorn for the cereal. I added some mini marshmallows that started to melt a bit when they got hot from the sticky coating and then threw on some chocolate in the end. The results were just what I was looking for! Sticky, sweet, marshmallow pockets and bursts of chocolate mixed in with crunchy popcorn. You just can't beat that in my world. Turn that into Christmas popcorn and I'm really sold.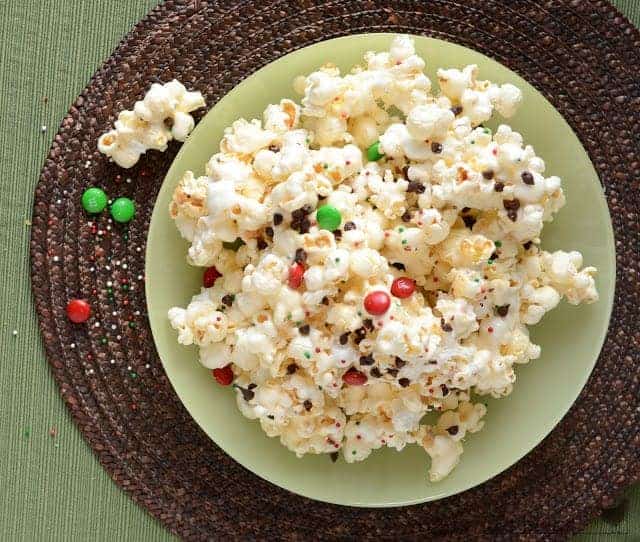 What do I pop my popcorn with?
You have some options when it comes to popping the popcorn. I like to use my air popper (we use this thing multiple times a week; it's one of the few single-use appliances I keep around), but you can also use this fun method of popping popcorn in your microwave. A stove-top popper/pot with a lid on the stove method will work well, too.
What kind of sprinkles should I use?
I used Christmas colored nonpareils, but pretty much any sprinkles would work. I probably would not recommend sprinkles that are colored sugar crystals, as they will dissolve easily and create a messy mix of colors. But maybe that could look cute! And if you don't like sprinkles, just leave them out.
How long does popcorn stay fresh for?
Popped Popcorn doesn't have a very long shelf-life, but it can last longer if you keep it in an airtight container. This popcorn can last about a week before it starts to get stale.
Print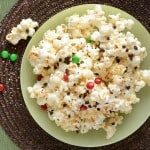 Gooey Marshmallow Christmas Popcorn with Chocolate
---
Author:

Total Time:

20

Yield:

16 cups

1

x
Description
Gooey Marshmallow Popcorn with Chocolate is a treat your whole family will love! This is the perfect Christmas dessert but, of course, it tastes good all year round!
---
16 cups

popped popcorn

4 cups

mini marshmallows

1 cup

granulated sugar

1 cup

light corn syrup

¾ cup

salted butter

½ teaspoon

salt

1 teaspoon

vanilla

1 cup

Christmas colored M&M's

1 cup

mini chocolate chips
---
Instructions
In a large bowl, mix the popcorn and mini marshmallows together and set aside.
In a medium sauce pan over medium heat, combine the sugar, corn syrup, and butter. Cook over medium heat until the mixture comes to a boil. Let the mixture boil for 2 minutes while stirring often.
Remove from the heat and stir in the salt and vanilla. Let the mixture cool for 1-2 minutes.
Pour the sugar mixture over the popcorn and marshmallows and stir well until the popcorn is evenly coated.
Let the mixture cool slightly, 2 to 3 minutes, and the add the M&Ms, mini chocolate chips, and sprinkles.
Stir lightly to combine and then turn the mixture onto waxed paper to cool.
Let it cool completely before enjoying.
Notes
The goal is to not let the hot popcorn melt the chocolates, so if you need to wait longer than 2 or 3 minutes then do that. My kitchen is super cold and so it cooled pretty quickly. You need to stir the chocolates and sprinkles in before it cools too much though, or they won't stick.
Feel free to half the recipe if you don't need tons.
Add more chocolate if you think it needs it; the recipe is yours to play with.
Prep Time:

10 min

Cook Time:

10 min

Category:

Snack

Method:

Stove

Cuisine:

American
Keywords: dessert popcorn, best homemade popcorn, Christmas popcorn, Christmas popcorn recipe, best popcorn recipe, popcorn ideas, Christmas dessert ideas
More tasty desserts for the Holiday Season:
This post was originally published in 2012 and has been updated in November 2019.
Marshmallow and Chocolate Popcorn for Christmas is just the treat you need to leave for Santa or to make for a night of holiday movies and cozy slippers. Its sticky sweet and oh, so good!