These soft Christmas sugar cookies are easy to make, hold their shape and are perfect for holiday decorating! This is my Grandma Lucy's formerly secret recipe and it's one we've been enjoying for years. Decorate these cookies with sanding sugar or frosting with sprinkles!
Looking for more Christmas cookies? Try these soft gingerbread cookies, or these amazing chocolate chip cookies!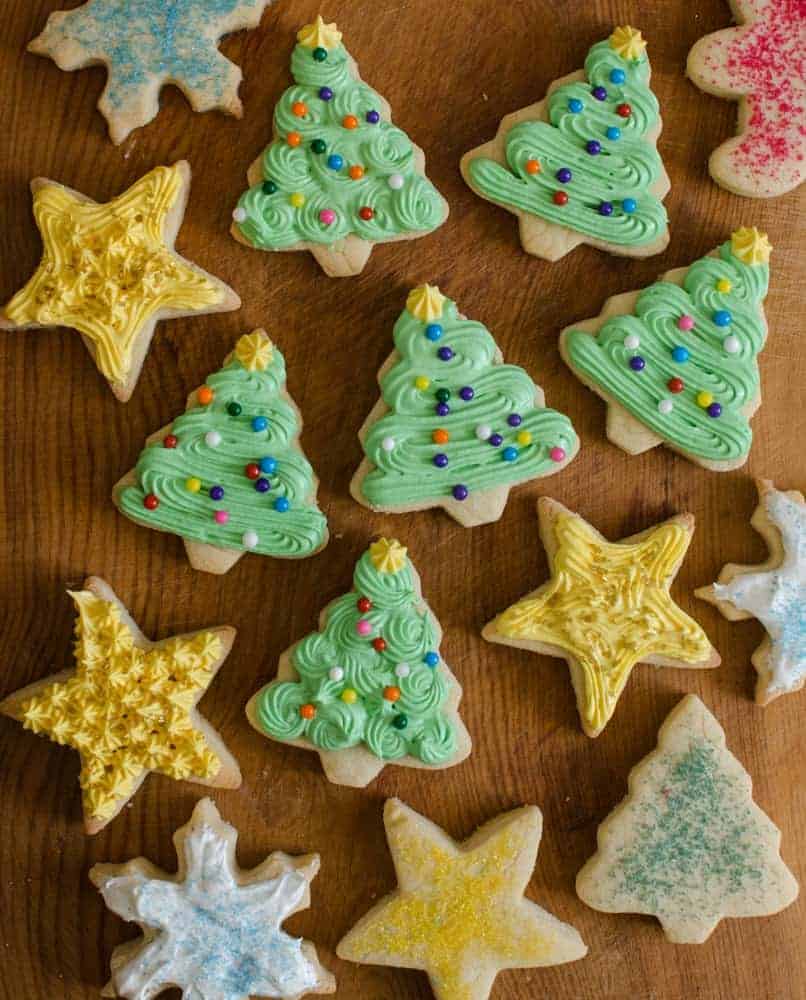 Grandma Lucy's Easy Christmas Sugar Cookies
There are very few things that Thomas pulls the "but they aren't like my mom's" card when it comes to my cooking, but sugar cookies is one of those recipes. My mother-in-law Lucy makes the BEST sugar cookies. I'm so excited to share her recipe with you today because it's one she's been making for years and years and we all love it best.
Grandma Lucy sugar cookies are the stuff childhood memories are made of. They are thick, puffy, super soft, and keep their shape perfectly. Bonus: you don't have to chill the dough before rolling them out BUT you can if you want to make the dough ahead of time (win-win!). These aren't just Christmas sugar cookies in our world either, Grandma makes them for most major holidays and invites all the grandkids over to decorate them with her. You've never seen such a mess!
What Makes These the Best Christmas Sugar Cookies?
The secret to the very best soft and chewy cookies is a combination of three things when it comes to Lucy's sugar cookie recipe. Lots of eggs makes the dough tender but hold together well. A generous amount of baking powder helps them to be light and fluffy. The third secret is using butter-flavored shortening. There are very, very few things I make with shortening, but this recipe is one of them. Using shortening helps the cookies to keep their shape while baking (because it doesn't melt like butter) and it helps them to be very tender.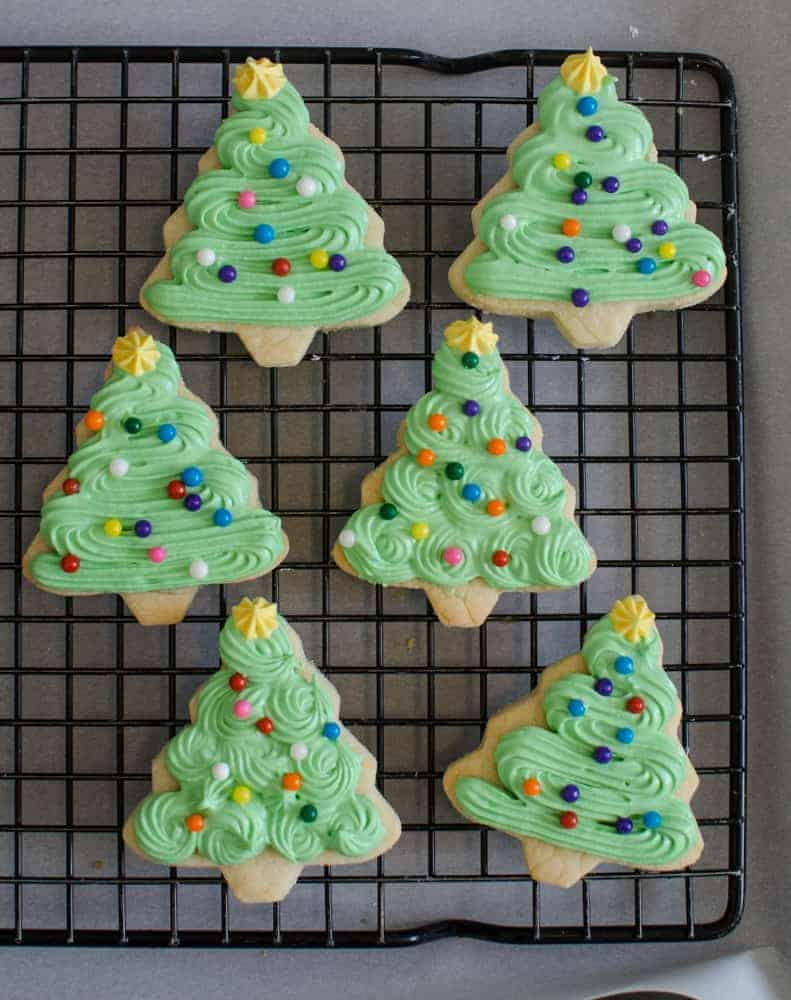 Tips and Tricks for Making Christmas Sugar Cookies:
You cake make the dough in advance: If you want to make the dough and let it sit in the fridge a few hours or overnight until you are ready to bake them, that works great.
How to add sprinkles that stick to the cookies: You can press sprinkles or colored sugars into the uncooked cut cookies before baking and then bake as directed. This is a simple way to add a few decorations without much work on your part.
Our favorite cookie cutters: Because we make this cookie recipe all year long, we LOVE this 101 Cookie Cutter set. It has it all! Plus, you can't beat the price (around $10). It makes a fun gift idea, too.
Flavor variations: Want to change up the flavor just a bit? I love to add 1 teaspoon vanilla and then add ½ teaspoon almond extract and ½ teaspoon coconut extract. Delicious!
How to roll the dough without it sticking to the rolling pin: Make sure you get a little flour on the rolling pin and flour the surface before rolling out the dough.
How to cut the dough without it sticking to the cutter: Press straight down firmly with the cookie cutter, and pick it straight back up. Don't wiggle or move it around much. If you find the dough is sticking, press the cutter into some flour so it becomes more nonstick. You can also put your cookie cutters in the freezer for 10 minutes to chill them and make the surface less sticky.
How to transfer the cut dough without breaking the shape: Use a thin and sturdy spatula (like a metal spatula) to safely transfer cookie dough shapes to the baking sheet.
How to tell if the cookies are done baking: They're done when the cookies are golden-brown in the center, about 10 minutes.
How to make thinner/crispier cookies vs. thicker/softer cookies: For thicker and softer cookies, roll the dough out into a ½ inch thickness. For thinner cookies that are crispier, roll it out to ¼ inch thickness.
How do you store soft sugar cookies?
Because these are extra fluffy and soft, it's best to store them in/on something like a baking sheet or a baking dish. Then cover the dish well with a lid or plastic wrap. They can be stacked, but not more than 2 high. If you need to stack more than 2 cookies, you'll want to place a piece of parchment paper in between. These cookies also freeze well. Store and freeze before adding icing for best results. Thaw and ice right before eating, gifting, or sharing these cookies.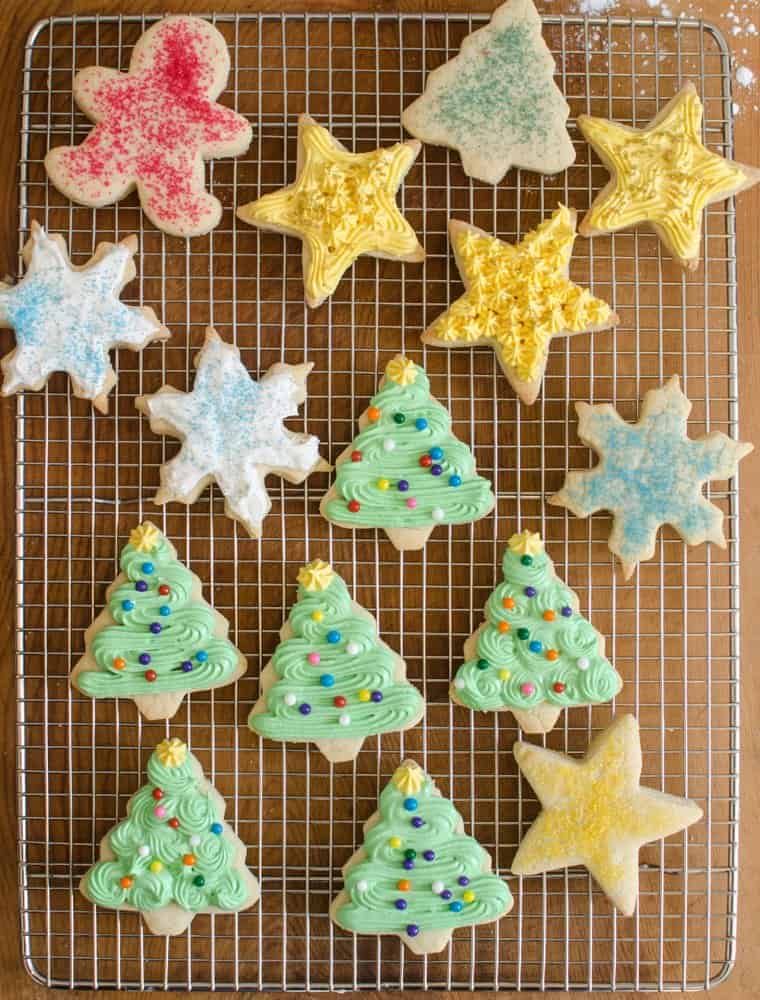 Print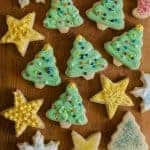 Grandma Lucy's Sugar Cookies for Christmas
---
Author:

Total Time:

45 minutes

Yield:

6

dozen medium cookies

1

x
Description
These soft Christmas sugar cookies are easy to make, hold their shape and are perfect for holiday decorating! This is my Grandma Lucy's formerly secret recipe and it's one we've been enjoying for years.
---
1 cup

butter flavored shortening

2 cups

granulated sugar

4

large eggs

7

-

8

cups of all-purpose flour +1 more for rolling

3 teaspoons

baking powder

1 teaspoon

baking soda

1 teaspoon

salt

2 teaspoons

vanilla

1 cup

of milk

1 tablespoon

white vinegar
For frosting:
½ cup butter, at room temperature

3-4 tablespoons heavy cream, at room temperature

1 tablespoon vanilla extract

2.5-3 cups powdered sugar
---
Instructions
Cream shortening and sugar together in a medium bowl until light and fluffy, about 3 minutes.
Add your eggs and mix to combine. Add the vanilla and mix again.
Add 3 cups of flour, baking soda, baking powder, and salt to the bowl and mix well to combine.
Mix the milk and vinegar together and add it to the cookie dough mixture. Mix well to combine.
Add the remaining 4 cups of flour and stir until well combined. The dough should be tacky but not gloopy. If you pick it up in your fingers it shouldn't stick to them though it's a very soft dough. Add up to 1 cup additional flour as needed.
Working with ¼ of the dough at a time, roll it out on a well floured surface to ¼ to ½ inch thick. Be generous with your flour on the rolling surface since the dough is very tender, it will stick easily.
Use cookie cutters to make shapes and transfer to a lightly greased baking sheet.
Bake at 350 degrees F for about 10 minutes.
Repeat with remaining dough, gathering and re-rolling the scrap dough as you go along.
Decorate cooled cookies with icing and sprinkles, the messier the better.
To make the frosting: Add the butter and cream to the bowl of your stand mixer. Mix on medium speed with the whisk attachment, until the butter and cream combine.
Increase the speed to high and mix for 3 to 5 minutes, until the mixture is light and fluffy, stopping to scrape down the sides a time or two.
Add the vanilla and 2.5 cups of the powdered sugar. Mix on low until combined, and then increase speed to medium and whip for 1 to 2 minutes.
The consistency of the icing is important if you are going to ice sugar cookies with it. It should be a soft-medium consistency and firm, but soft enough to spread with a butter knife.
If the icing is too thick, mix in a little cream. If it needs to be a little thicker, add a ¼ cup of powdered sugar, and whip to combine until it's sturdy enough.
Use icing to frost around 2 dozen medium sugar cookies. It also pipes well, if you'd like to put it in piping bags with tips.
Notes
Grandma's Notes: If you want to make the dough and let it sit in the fridge a few hours or overnight until you are ready to bake them, that works great.
These are super soft, puffy, and cakey cookies. If you are looking for a more traditional sugar cookie, this is my My Favorite Sugar Cookie Recipe.
Prep Time:

10 minutes

Cook Time:

10 minutes

Category:

Cookies

Method:

Oven

Cuisine:

American
Keywords: christmas cookies, easy cookie recipe, sugar cookie recipes, christmas sugar cookies, best christmas sugar cookies, easy christmas sugar cookies, how to make sugar cookies
I took this picture just a few days ago while the grandkids were decorating cookies with Grandma Lucy! Isn't she a cute grandma? We are so lucky to live right next door to her.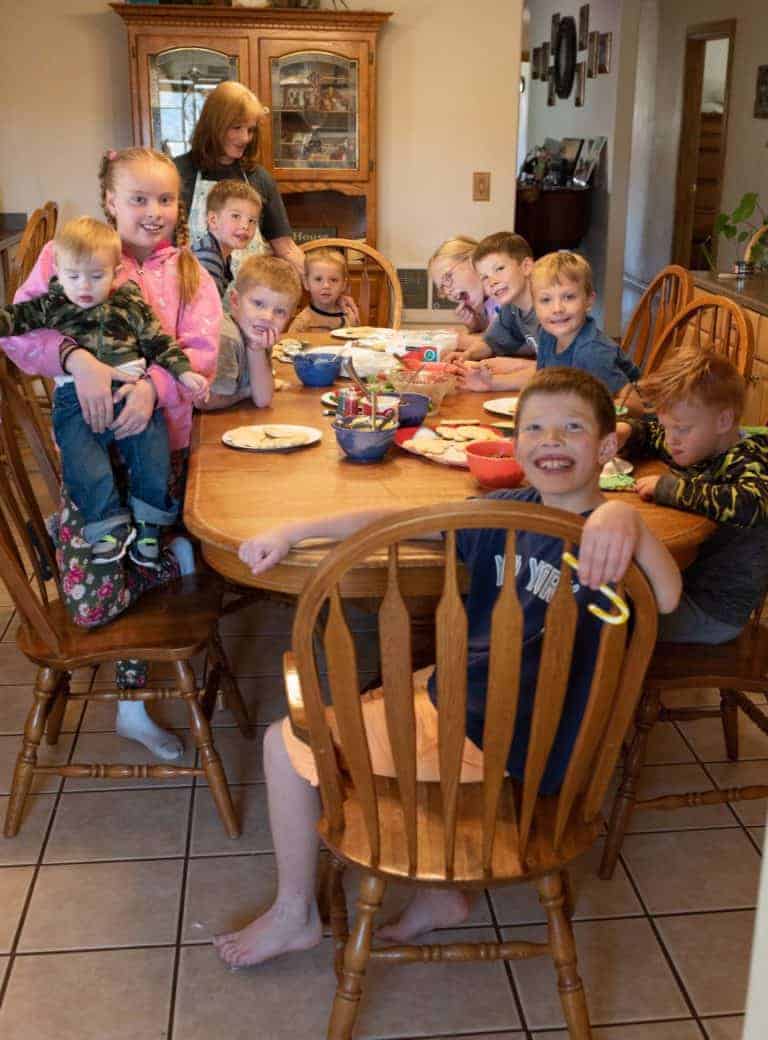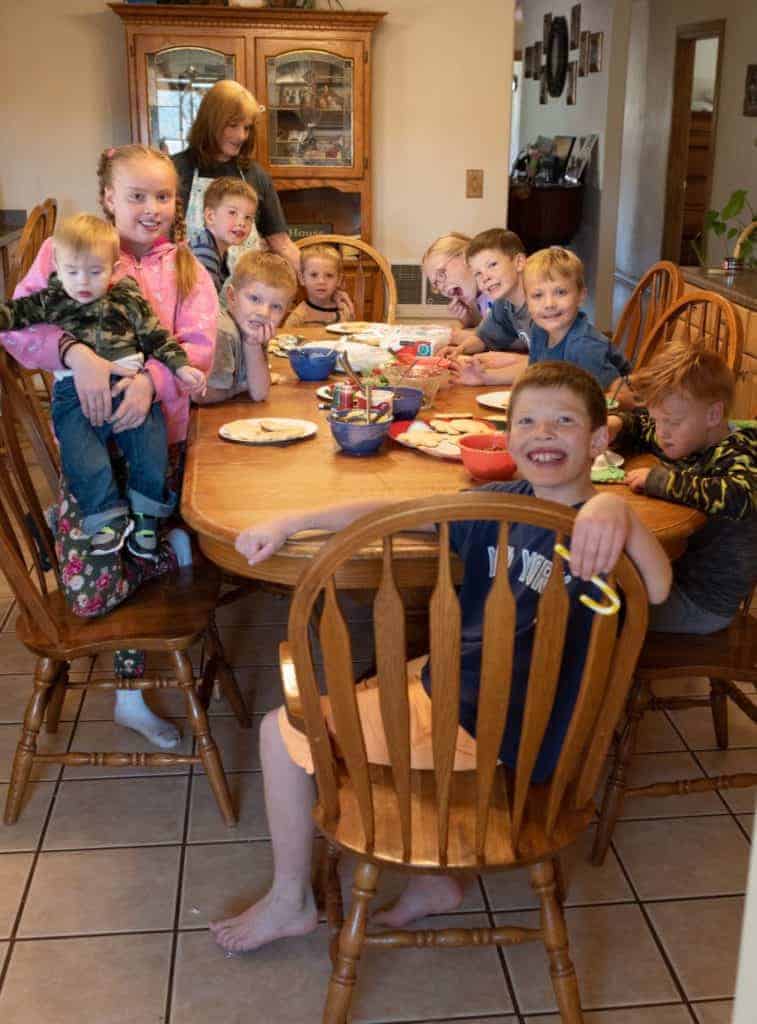 Other great Christmas cookie recipes you might enjoy: