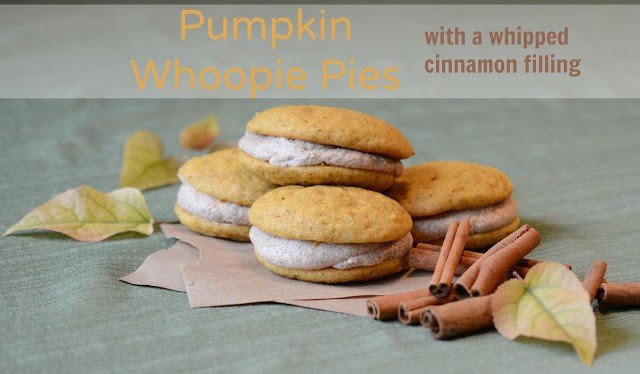 I feel like I'm in a blogging funk. I hope you all aren't catching my vibe…. are you? Fall is here and all I want to do it bake, make, and sniff the air. I have a million projects done and photographed but I'm struggling to get them posted. What's my deal? While I figure out how to get motivated, you better figure out how to get motivated to make these. I loved them!
I cracked open my first can of pumpkin this season and I couldn't be more pleased with the first thing I chose to make. Whoopie Pies! Just the name makes me smile. Now that I have an open can you better believe there is a whole slew of pumpkin recipes coming your way.
Pumpkin Whoopie Pies with a Whipped Cinnamon Filling
Makes 2 dozen pies
For the cookies:
1/2 cup (1 stick) butter, softened
1 1/4 cups granulated sugar
2 eggs, at room temperature
1 cup pumpkin puree
1 teaspoon vanilla extract
2 cups flour
1 tsp. baking powder
1 tsp. baking soda
1 tsp. ground cinnamon
1/2 tsp. salt
For the filling:
1/2 cup (1 stick) salted butter, softened
1/3 cup whipping cream, at room temperature
1/2 tsp cinnamon
1 tsp vanilla bean extract
2 1/2 to 3 cups powdered sugar
Preheat the oven to 350 degrees. In a large bowl, or the bowl of your stand mixer with the cookie paddle attached, beat the butter and sugar on medium speed until light in color and fluffy, about 3 minutes. Add the eggs and mix to incorporate. Add the pumpkin and vanilla and mix to combine. Sprinkle the flour over the top of the butter mixture and then sprinkle the baking powder, soda, cinnamon, and salt over the flour. Mix until well incorporated, about a minute. Using a one-ounce scoop, scoop the batter onto a parchment lined baking sheet. Bake for 10-12 minutes until the cookie springs back slightly when touched.
For the filling: Use a stand mixer or electric hand mixer to beat the butter, whipping cream, cinnamon, and vanilla bean extract with the wire whisk attachment.. Beat at medium-high speed until very light and fluffy, about 5 minutes. Add the powdered sugar and beat for another 3-5 minutes. The filling will be very fluffy and a medium-thin consistency. If the icing is too thick, add a touch of cream and beat again. If it is too thin add a little more powdered sugar and beat again.
Spread a tablespoon of filling onto flat side of one cookie; top with flat side of second cookie to make a sandwich. Repeat with remaining cookies and filling. Store in covered container.
Notes:
Using a scoop makes the cookies nice and round. If you don't have a scoop just take a little time and use two spoons to transfer the dough to the baking sheet. The more uniform the scoops of dough the prettier your cookies will be.
Not sure what vanilla bean paste is? I explained it in
THIS
post. Vanilla extract is a great substitute.
The cookies are delicious without the filling too. My husband who is not a cinnamon fan liked the cookies plain and so did my kids. That being said, the filling is phenomenal (to a cinnamon lover like myself). I am trying to think of more ways to use it! Any thoughts?