Chicken and rice casserole made with uncooked rice, half-and-half, chicken breast and baked all together to make one simple satisfying meal the whole family will love.
Zoup! Good, Really Good® provided me with product for the purpose of this post, as well as compensation for my time. As always, all opinions expressed in this post are my own.
When it comes to comfort food, nothing beats a creamy, flavorful dish of chicken and rice casserole. It's a classic that warms the soul and delights the taste buds. Plus, it's easy and it comes together quickly with pantry staples you already have in the house.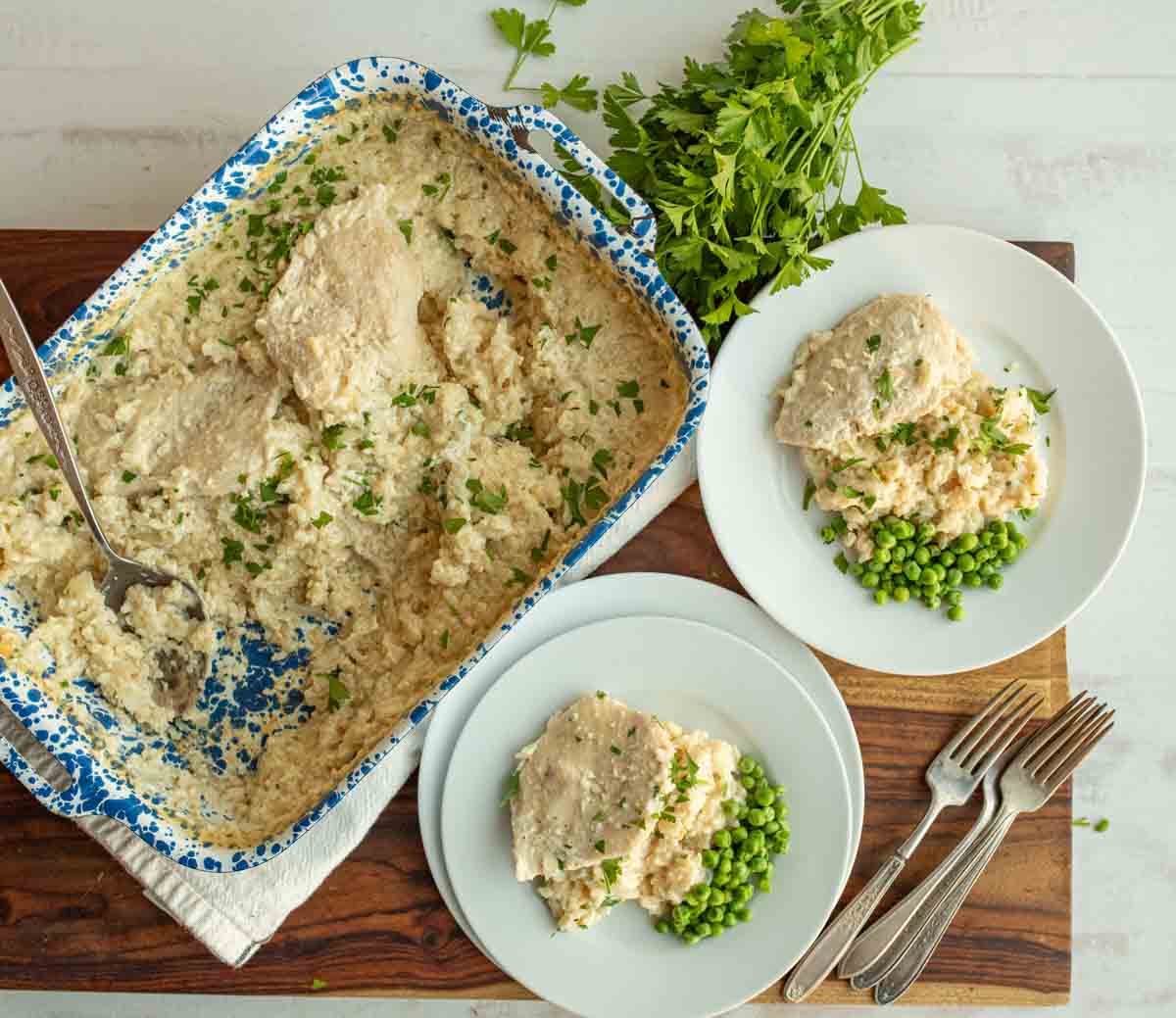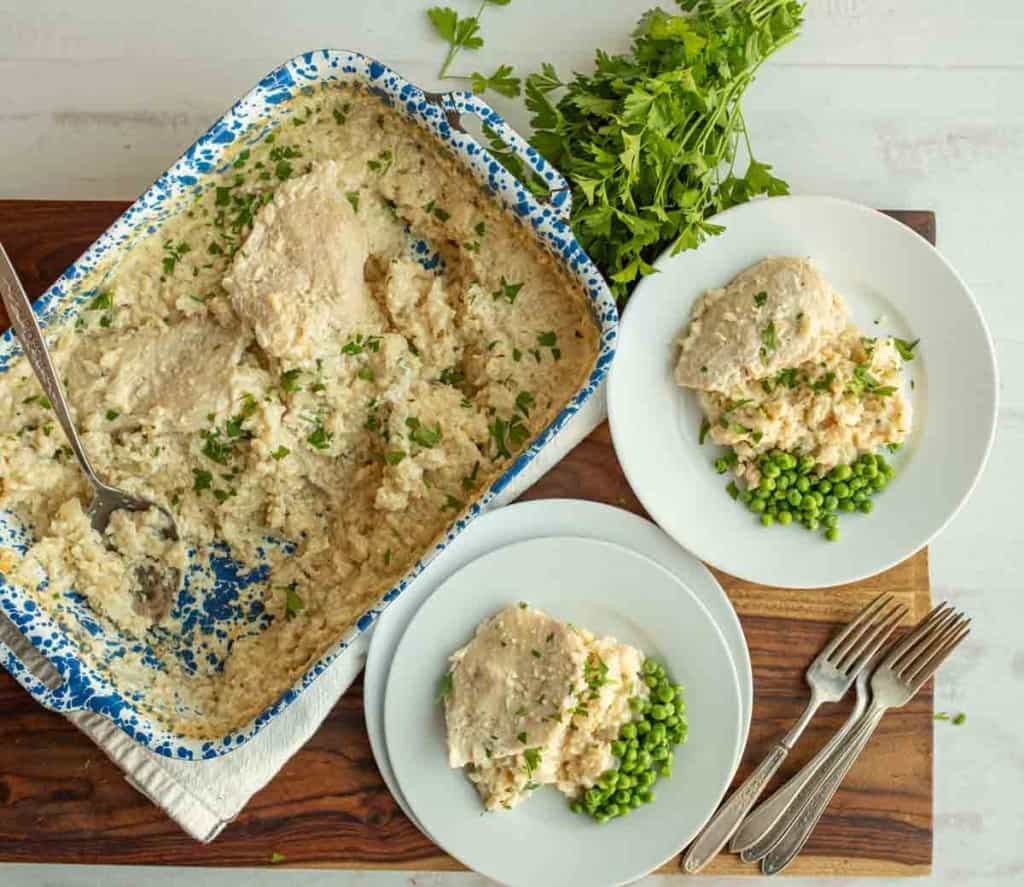 Elevate your dinner game with our Creamy Chicken and Rice Casserole featuring Zoup! Good, Really Good® Culinary Concentrate™.
Today, we're taking this beloved dish to the next level thanks to Zoup! Good, Really Good® Culinary Concentrate™ Chicken Base with Bone Broth. This savory broth base infuses the dish with an unbeatable richness, ensuring every bite is full of flavor.
Because we used the chicken base instead of broth, we didn't water down the dish. It's full of the flavor of really good bone broth with the creaminess of half-and-half, which is a really delightful combination.
Table Of Contents
Why you'll love this recipe:
It's easy to throw together and you probably have all the ingredients on hand to make it!
You can customize the spices and add veggies to make this dish you own.
There are no cans of "cream-of" anything involved, which shortens the ingredient list.
Your whole family will love this meal! My kids gobbled it up.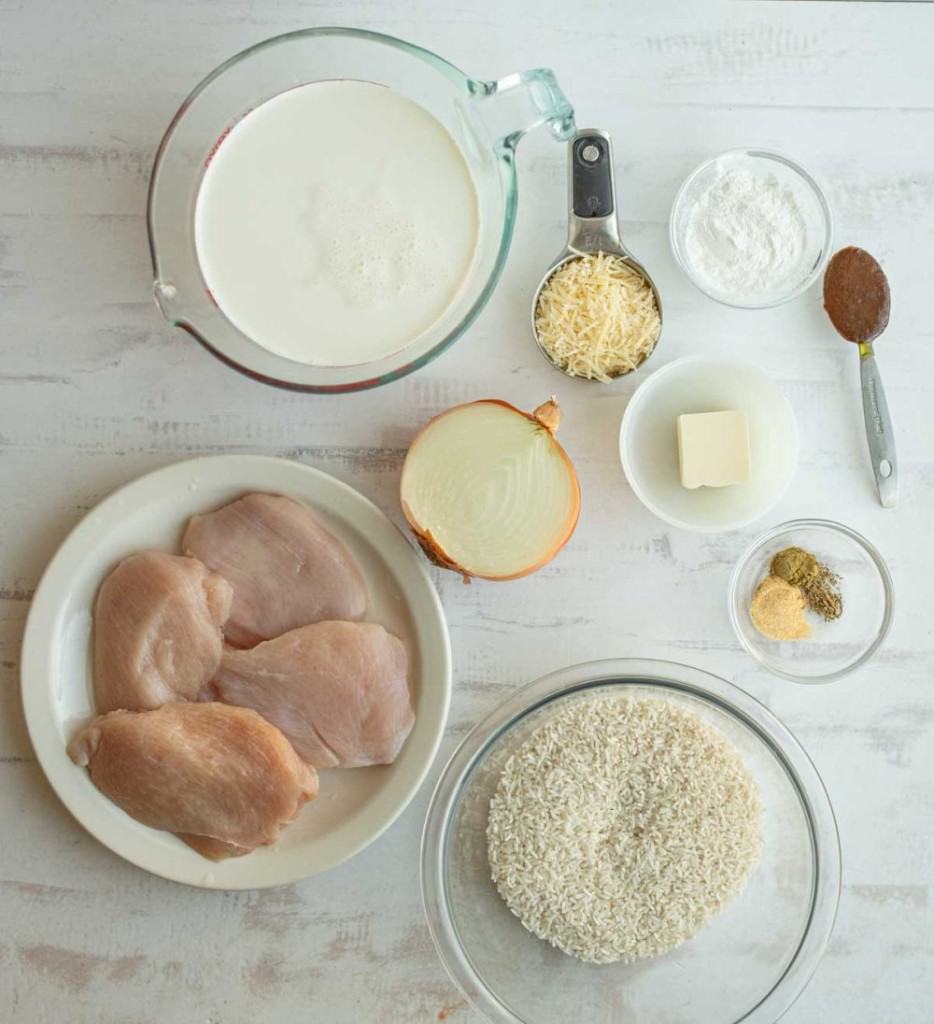 Ingredients:
Butter: Adds a creamy, rich taste and helps in sautéing the onions to perfection.
Large Onion: Offers a delightful aromatic base, enhancing the overall flavor profile.
Zoup! Good, Really Good® Culinary Concentrate™ Chicken Base with Bone Broth: The star of the show, this concentrate is more than just a base—it elevates the entire dish with its rich, savory notes.
Garlic Powder: For that hint of pungency and warmth, essential in bringing out the savory notes.
Dried Thyme and Dried Rubbed Sage: These herbs add flavor. I picked spices that go well with chicken.
Half-and-Half: It brings the creamy texture that makes this dish so satisfying.
Parmesan Cheese: It melts into the sauce, adding a delightful cheesy touch without being over the top.
Long Grain White Rice: The rice cooks to tender perfection, soaking up the flavors while it cooks.
Chicken Breast: Provides the hearty, protein-rich element to round out the meal.
Chopped Parsley: For garnish, adding a pop of color and freshness.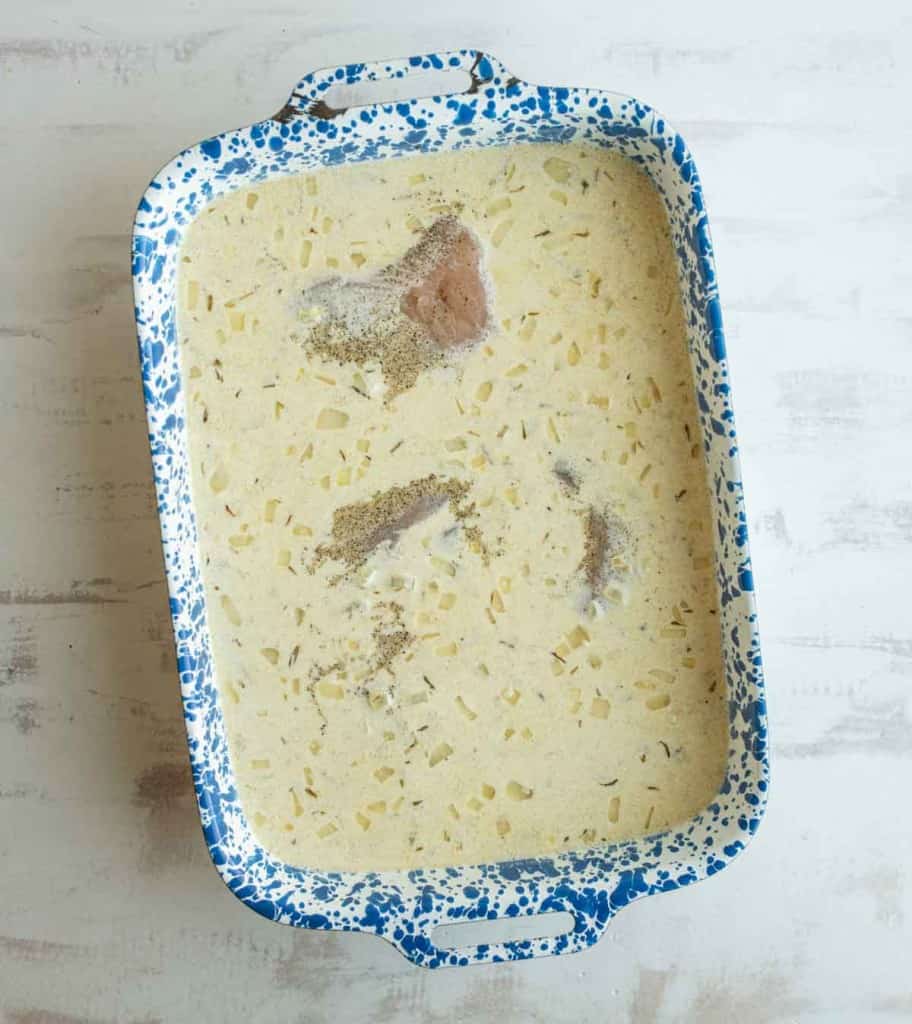 Instructions:
Preparation: Preheat the oven to 350°F. In a skillet, melt butter and sauté onions until fragrant.
Mix in flavors: Add Zoup! base, garlic powder, thyme, and sage to onions. Pour in half-and-half, then add a cornstarch slurry and parmesan, stirring until well combined.
Assemble: After rinsing the rice, mix it into the creamy base and transfer to a baking dish. Season chicken with salt and pepper, and place on the rice.
Bake: Cover with foil and bake for 75-105 minutes, until the chicken is cooked and the rice is tender.
Serve: Garnish with parsley and serve hot, letting each bite showcase the rich flavors.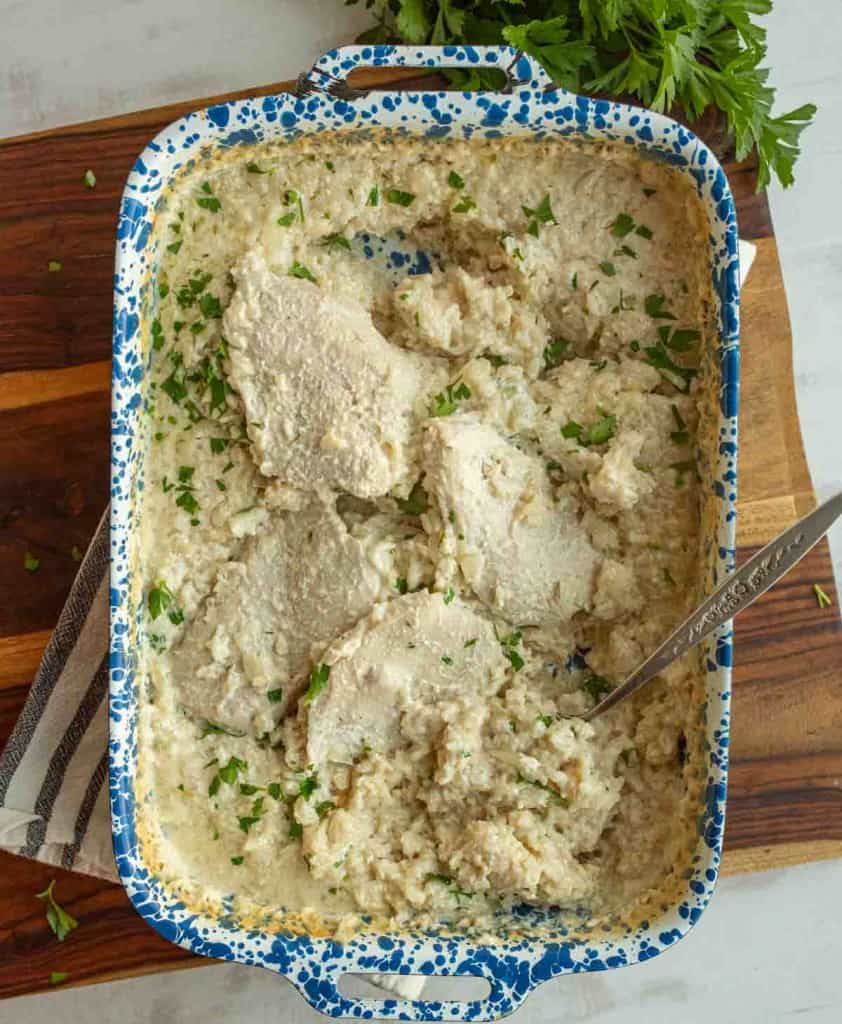 Expert Tips and Tricks:
Rinsing Rice: Always rinse the rice thoroughly to remove excess starch; it ensures a fluffier texture.
Quality Ingredients: The quality of the Zoup! base is pivotal; it's the flavor backbone of the dish.
Resting Time: Let the casserole rest for a few minutes after baking; it helps the flavors meld together beautifully.
Frequently Asked Questions
Can I use a different type of rice?
Yes, but cooking time may vary. Always check to ensure the rice is tender before serving. I wouldn't recommend using brown rice; it takes forever to cook in the oven and your chicken will be dry.
Is there an alternative to half-and-half?
You can use a mix of milk and cream as a substitute.
How do I store leftovers?
Store in an airtight container in the refrigerator for up to 3 days. Reheat thoroughly before serving.
What can I serve with this?
There's so many things! I like a simple veggie on the side like green beans or peas. It's also really good with a spinach salad and even some French bread.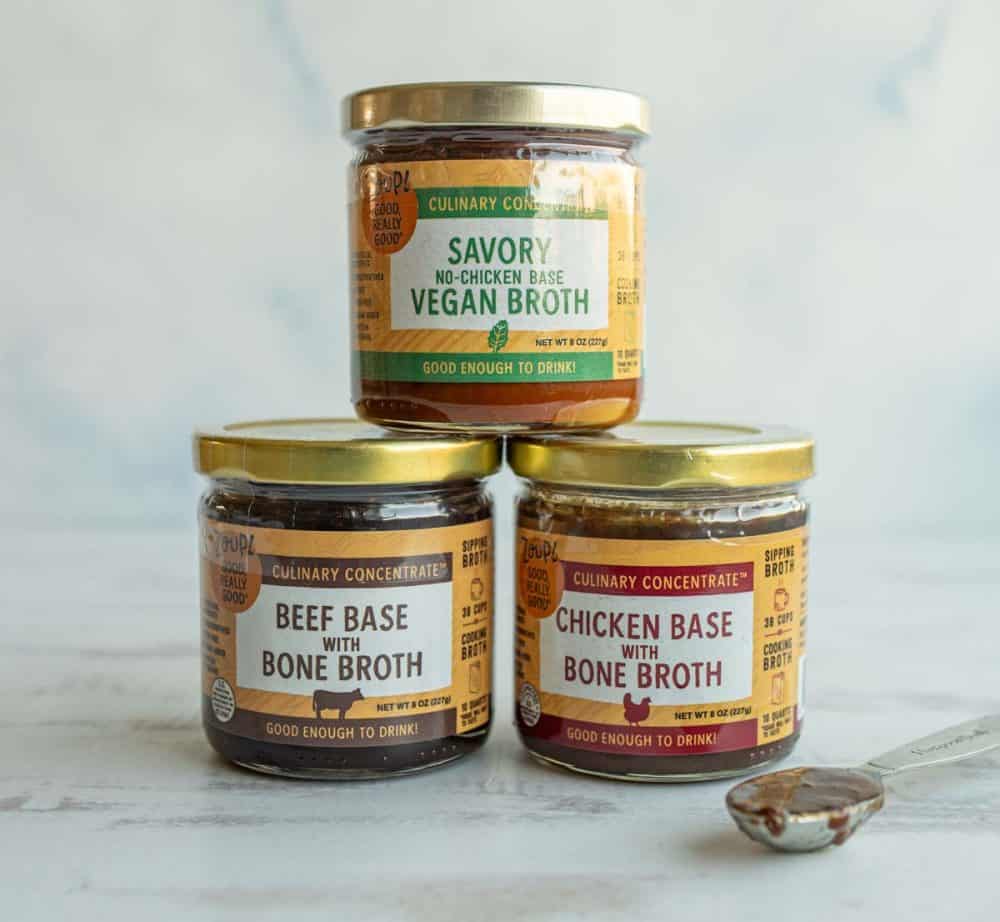 New to Zoup! Good, Really Good® Culinary Concentrate™?
If you haven't used a broth base before, you will love it! It's a huge space saver in the kitchen. One little jar can make 10 QUARTS of broth. Here are a few more things to know about it!
Can be mixed with hot water to creates a delicious sipping broth and also adds rich, homemade flavor to recipes.
No artificial flavors or ingredients, no preservatives, no inexpensive fillers, and no added sugar.
Paleo and keto friendly, plus completely free of GMO's, gluten, and the eight major allergens.
Lower in sodium and higher in protein than the competition.
Packaged in economical, 8-ounce recyclable and reusable glass jars.
The Zoup! Good, Really Good® Culinary Concentrate™ lineup includes beef, chicken and savory vegan bases.
Zoup! also offers traditional broths and bone broths, including chicken, beef, veggie, and seafood, plus super-premium, shelf-stable soups available in nine, flavor-forward recipes, like Chicken Potpie and Butternut Squash with Brown Butter and Sage.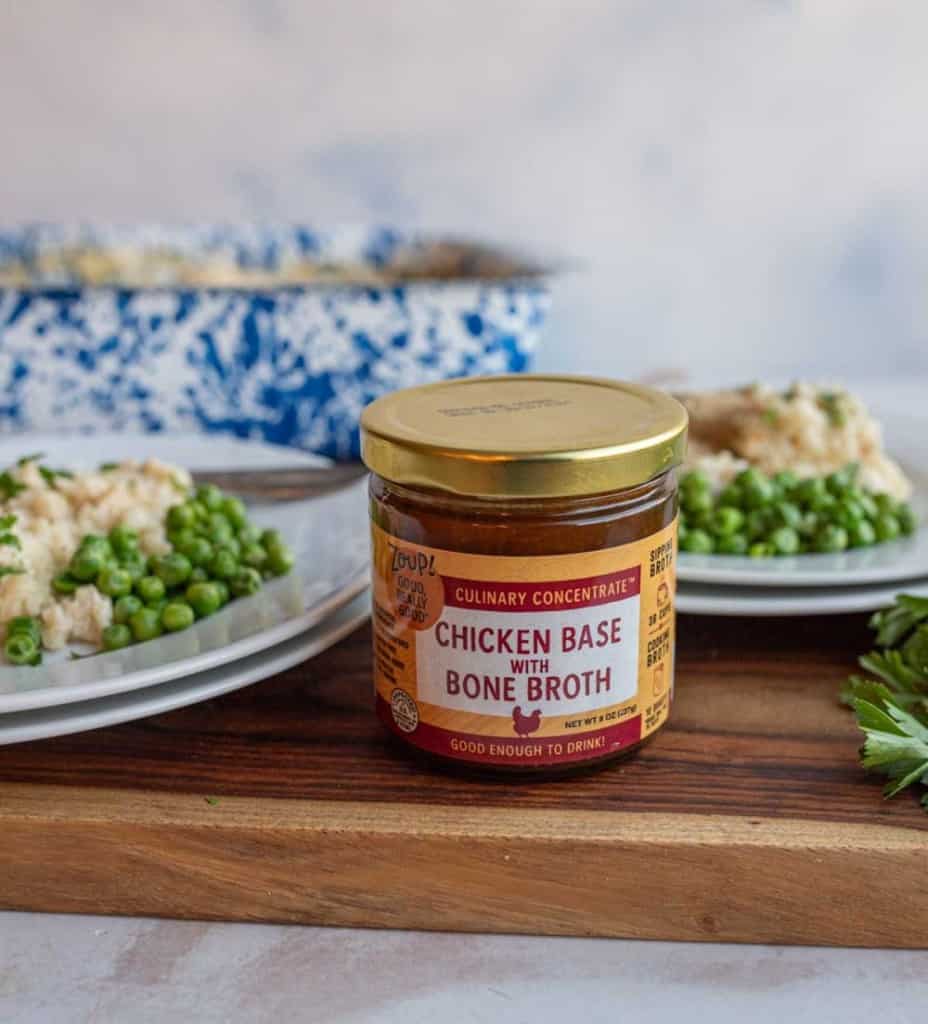 Here's where to find Zoup's Culinary Concentrates™, Broths, and Soups!
Coupon Code:
Use the code 20BLESSTHIS on Amazon to try all of Zoup!'s amazing products. This is valid for the next 30 days and is good for 20% off a Zoup! order on Amazon today (one time use).
Did you try this recipe? Leave a ⭐️ rating below and share it on Instagram, Facebook, and Pinterest!
📖 Recipe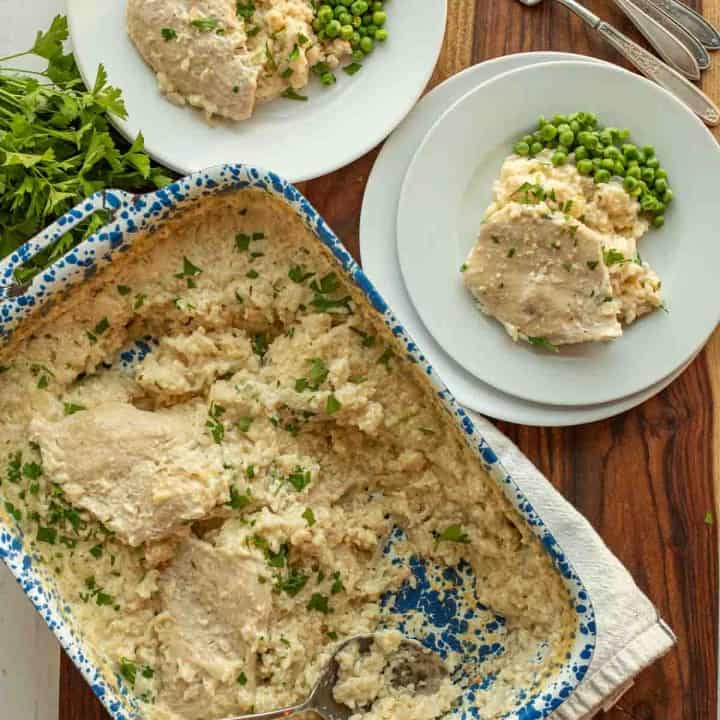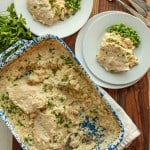 Print Recipe
Chicken and Rice Casserole
Chicken and rice casserole made with uncooked rice, half-and-half, chicken breast and baked all together to make one simple satisfying meal the whole family will love.
Ingredients
2

tablespoons

butter

½

of a large onion

diced (about 1 cup)

½

teaspoon

garlic powder

¼

teaspoon

dried thyme

¼

teaspoon

dried rubbed sage

ground sage

4

cups

half-and-half

1

cup

cold water

2

tablespoons

cornstarch

½

cup

shredded parmesan cheese

1 ½

cups

long grain white rice

4

chicken breast

½ inch thick each, about 1 pound total

Salt and pepper to taste

Chopped parsley for serving

optional
Instructions
Preheat your oven to 350 degrees F. Prepare a 9x13 inch baking dish by spraying it with cooking spray.

In a large skillet or saute pan add the butter.

Once the butter is melted, add the diced onion and cook for 1-2 minutes until fragrant.

Add the Zoup! Good, Really Good® Culinary Concentrate™ Chicken Base with Bone Broth, garlic powder, thyme, and sage. Stir well to fully coat the onions.

Add the half-and-half to the pan and stir to combine.

In a small dish make a cornstarch slurry by adding the cold water and cornstarch together and stirring it together well with a fork.

Add the cornstarch slurry to the pan and stir to combine.

Add the parmesan cheese to the pan and stir to combine, stir often.

Rinse the rice in cold water until the water runs clear.

When the half-and-half mixture starts to steam across the top of the pan, add the rice and stir.

Add the rice mixture to the prepared pan. Stir it in the pan a little to make sure the rice is evenly distributed.

Salt and pepper both sides of your chicken and then place them on top of the rice in the pan.

Cover the pan with foil and place in the preheated oven.

After the dish has baked for 1 hour, take it out of the oven, remove the foil, and stir it with a spoon, scraping the bottom of the pan. This helps the rice to cook evenly. Replace the foil and return to the oven.

Bake for an additional 15-45 minutes or until the rice is tender and the inside of the chicken registers 165 degrees F on an instant read thermometer.

Remove from the oven and allow the dish to rest for 5-10 minutes before serving.

Garnish with chopped parsley if desired. Serve while still warm.
Notes
This would be an easy dish to add two more chicken breasts to and serve 6 people with.
This dish is a great candidate to play around with and make your own! I love adding a few cups of frozen peas when I add the rice. Just about any veggie would work. It's also great with fresh or frozen broccoli florets added.
You can change up the seasonings to suit your tastes as well. It's really good with Everything Bagel seasoning on the chicken.
Make sure the chicken breasts are approximately ½ inch thick each. If they're too thick, they may require additional cooking time, and if too thin, they may cook too quickly, potentially drying out.
Rice Texture: The rice should be tender but not mushy. If it's undercooked after the designated cooking time, you can add a bit more water and continue baking until it reaches the desired texture.
Checking Doneness: Use an instant-read thermometer to ensure the chicken reaches an internal temperature of 165°F (74°C).
While optional, chopped parsley or even a sprinkle of chopped fresh herbs like chives or basil can elevate the visual appeal and add a burst of flavor to the dish.
Store any leftovers in an airtight container in the refrigerator for up to 3 days.
To reheat, preheat your oven to 350°F and bake the casserole covered for about 15-20 minutes, or until it's heated through. It can also be reheated in the microwave for a quicker option, but the oven method is recommended to retain the dish's creamy texture.
Nutrition
Calories:
949
kcal
|
Carbohydrates:
72
g
|
Protein:
65
g
|
Fat:
43
g
|
Saturated Fat:
24
g
|
Polyunsaturated Fat:
3
g
|
Monounsaturated Fat:
12
g
|
Trans Fat:
0.3
g
|
Cholesterol:
253
mg
|
Sodium:
660
mg
|
Potassium:
1274
mg
|
Fiber:
1
g
|
Sugar:
11
g
|
Vitamin A:
1200
IU
|
Vitamin C:
6
mg
|
Calcium:
444
mg
|
Iron:
2
mg