Make Ahead Omelet in a Jar will not only help you eat healthier, but you'll eat up all of those veggies in the fridge!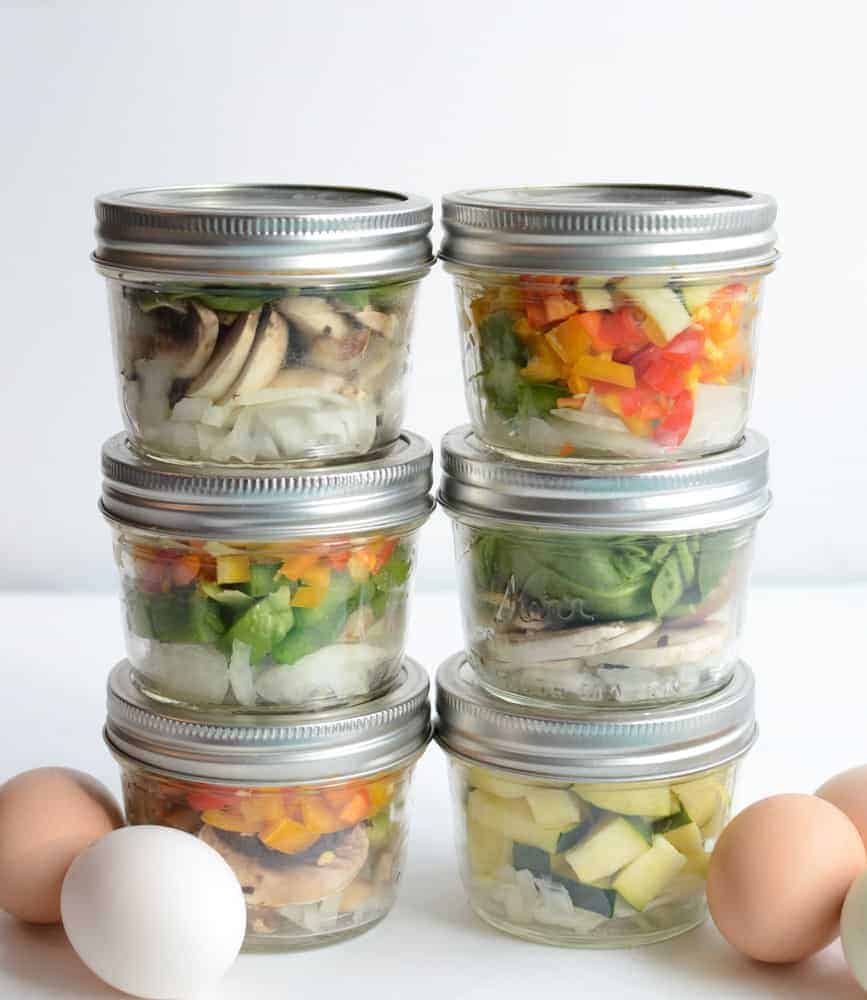 Make Ahead Omelet in a Jar
You know how some things are just normal to you and you don't think much about them, but when someone sees you doing them they have questions because it's new to them? This "omelet" in a jar idea is just that... I have been chopping up vegetables and sticking them in a jar for years. It started with salad in a jar (here's a full tutorial on how that amazing-ness works!) but I started doing it with other things to. It's just normal. So when I told my friend about this breakfast trick, she loved it and made my promise I'd share the details with all of you on the blog. Done and done!
I'm not sure what makes sticking vegetables in a jar work so well, but I'm here to tell you it is magic. They last SO LONG! I assume it's because the glass is insulating them from freezing (which happens too often in my wonky fridge) and there's got to be something about having a bit of a seal because of the lid. Whatever it is, it's awesome. I like to prep 4-6 of these little jars at a time and use them all week long. If they just have vegetables in them, then they'll keep about a week (sometimes up to 10 days if I didn't put in any leafy spinach!) and if I tossed in a little cooked bacon or chopped ham then I like to use them in 3 or 4 days.
Here's the second half of the magic. When it's already done and in the fridge you are ten times more likely to eat it because it's easy. Food prep really will help you to eat healthier because convenience is awesome and powerful.
I'm knee-deep in trying to lose some weight and one of my main tricks to help myself succeed is to eat a veggie heavy meal two out of the three meals in the day. I really like to start my day of on the right track, so eating vegetables for breakfast is a great start to a successful day of dieting. I can eat a nice green smoothie or I can eat these "omelets". You cook up the vegetables and then you can either add some scrambled eggs and cook them all together OR you can cook the vegetables and then fry up two soft-centered eggs. The soft cooked eggs on top of tender crisp vegetables is amazing. The yolk almost makes a sauce for the vegetables and it is heavenly. Having two options on how to cook the eggs makes me feel like I'm getting more variety. I also love a little hot sauce on top of all the egg and vegetable goodness.
How long do these make ahead omlets last?
The vegetables in the jars will last about a week, if you added any meat to the jars plan on using them within 3 days.
How do you keep an omelet from breaking?
Be patient while the omelet cooks. Let it cook and become solid for about 30-40 seconds so that it won't break when you fold it. Be gentle when folding the omelet in half.

How many eggs do you use in an omelet?
Use 2 eggs to make an omelet for one person and 4 eggs to make an omelet for two.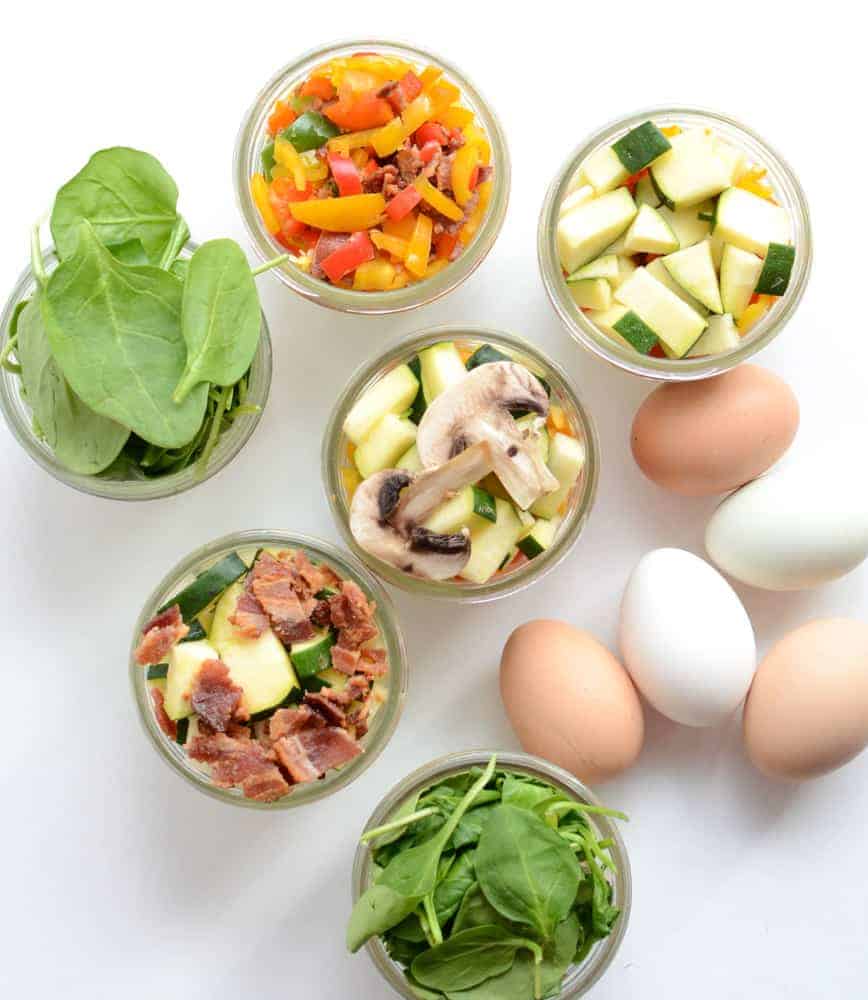 These make a great amount for one person, but feel free to use a bigger jar with more vegetables (and then more eggs) to make a meal for the whole family. I like having little things in the fridge though for when I do want something that I'm not feeding the whole family. If I make french toast, pancakes, or oatmeal for breakfast I don't always eat with the kids (this is more true when I'm trying to lose weight...). So once I have them fed and out the door in the morning, I'll then make some eggs and vegetables for myself. It's not that big of a deal to make a separate meal when the bulk of the work is already done.
When it comes to prepping these, you can set a certain time to make them or you can just quickly make them while you are making dinner. If I have my cutting board and knife out for dinner (say I'm making this amazing sweet potato curry), then while the curry is cooking I'll just keep chopping and then fill my jars. Or if one morning I'm making my classic egg/vegetable/hot sauce dish for myself I'll just chop up all of the vegetables to make the 4-6 additional servings. When I prep ahead right along with my normal prep, it doesn't even feel like an extra chore in my day, just a little more chopping.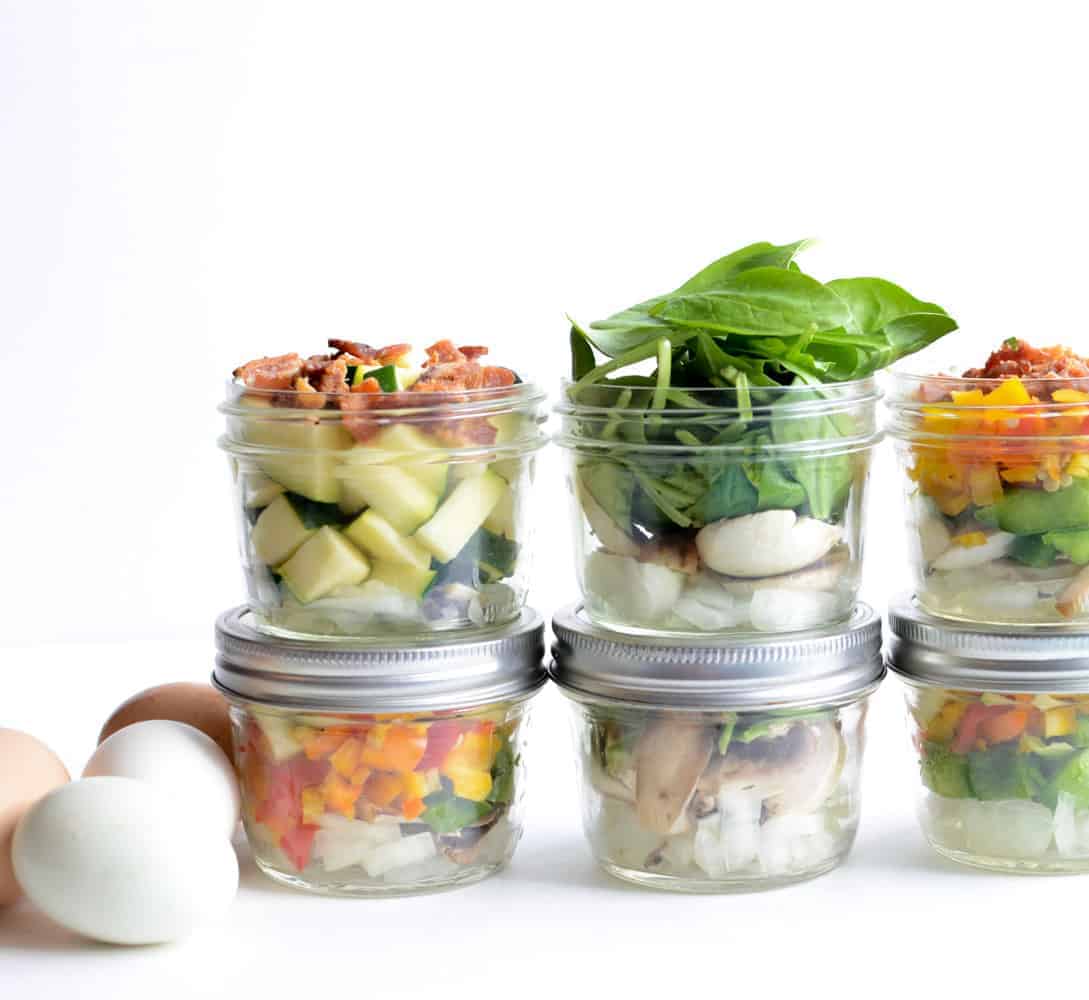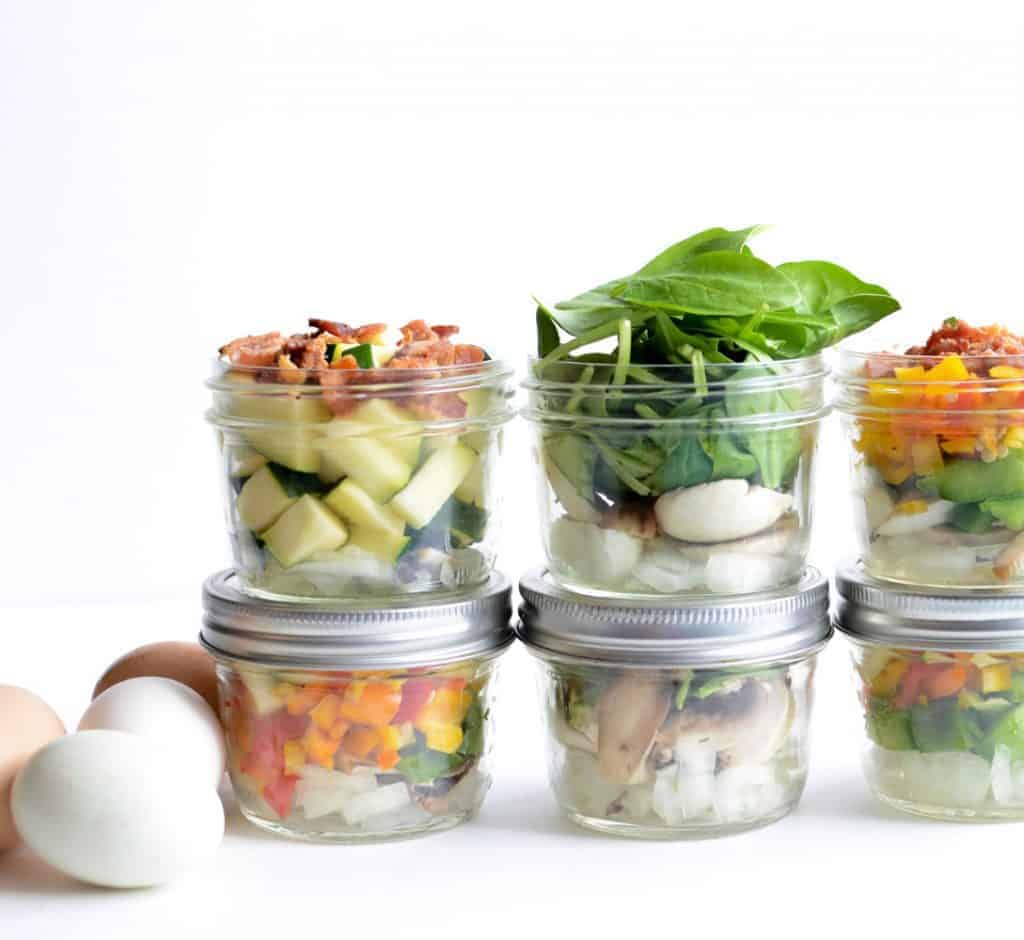 Print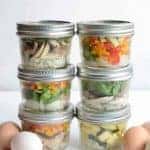 Make Ahead Omelet in a Jar
---
Author:

Total Time:

15 minutes

Yield:

1

1

x
Description
Make Ahead Omelet in a Jar will not only help you eat healthier, but you'll eat up all of those veggies in the fridge!
---
For the Jars
Chopped vegetables like onions, bell peppers, zucchini, mushrooms, fresh spinach
Optional additions like cooked chopped bacon or diced ham
For the omelet
Olive oil

2

eggs
salt and pepper to taste
shredded cheese, optional
---
Instructions
Wash and chop your veggies and pack them into a jar. I used 1 cup wide mouth jars and that was just right for one serving. You can always add more vegetables to a larger jar. If you are using fresh spinach, add it last to the top of the jar. I like to prep 4-6 at a time which is a week's worth of healthy breakfasts or simple lunches for me.
On the day you want to make an "omelet" heat about a tablespoon of olive oil in a medium skillet. When the oil is hot, add the contents of one jar and saute until the veggies are tender crisp. While the veggies are cooking break your two eggs into the empty jar and use a fork to scramble them.
Add the eggs to the cooked vegetables when the vegetables are tender crisp and stir often until the eggs are cooked. Add salt and pepper to taste. Add optional shredded cheese. When cheese is melted, serve right away.
OR
You can saute the vegetables until tender crisp and add salt and pepper to taste. Remove the vegetables from the pan and set aside (or scoot them to one side of the pan if it is big enough. Crack the eggs into the pan and cook them over easy. Salt and pepper to taste. Serve the soft-centered eggs over the cooked vegetables. The yolk turns into this amazing 'sauce" almost and it is delicious!
Notes
Sometimes I make more than I end up eating for breakfast. The veggies in these jars are the perfect base for a simple pasta sauce and they also taste great on top of homemade pizza! Having vegetables chopped and ready in the fridge is the best thing ever and you'll find yourself using them more often when they are all ready to go. The vegetables in the jars will last about a week, if you added any meat to the jars plan on using them within 3 days.
Prep Time:

5 mins

Cook Time:

10 mins

Category:

Breakfast

Method:

Stove-Top

Cuisine:

American
Keywords: Breakfast, Make Ahead, Meal Prep, Omlette in a Jar
If egg dishes are your jam, you might also like these:
This Make Ahead Omelet in a Jar is one of my very favorite tricks to eating a powerhouse of a breakfast without too much time or effort. I hope it helps and that you love it as much as I do.