Strawberry Cake combines fluffy cake layers, velvety strawberry frosting, and the burst of fresh strawberries. Simply the best!
Who can resist the allure of a luscious homemade Strawberry Cake? The combination of fluffy cake layers, velvety strawberry frosting, and the burst of fresh strawberries is enough to make anyone's mouth water.
Making a homemade strawberry cake is not only a culinary delight, but it's also a fantastic skill to possess. Baking a cake from scratch allows you to control the quality of ingredients, experiment with flavors, and personalize the end result to suit your taste buds. Plus, the satisfaction of presenting a beautifully decorated cake that you made yourself is unparalleled. So, let's dive into the wonderful world of strawberry cake!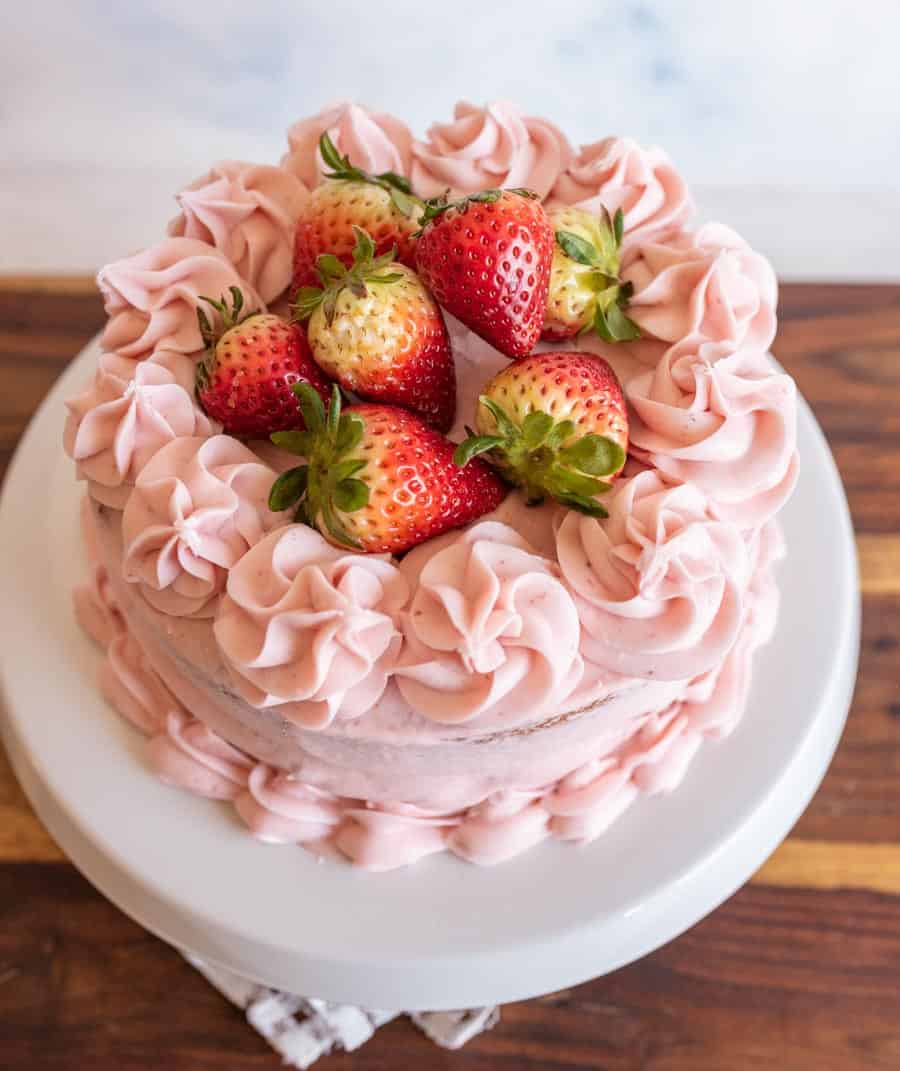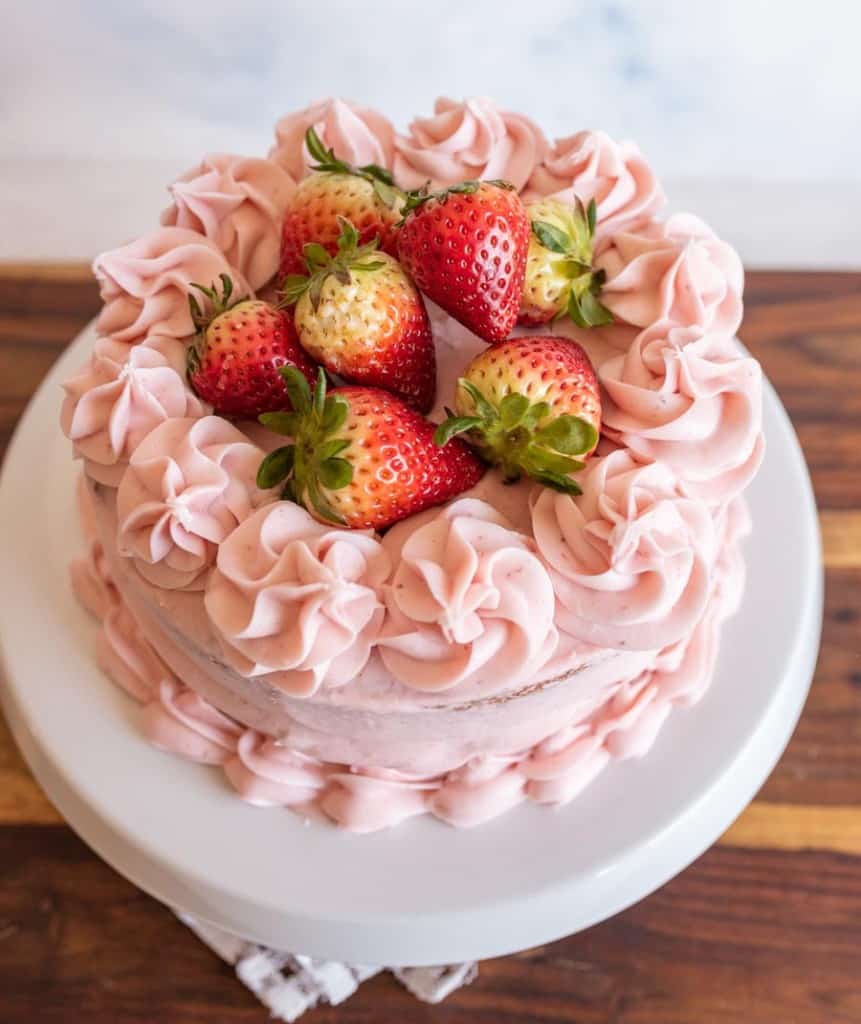 Strawberry Cake
Homemade strawberry cake is a crowd-pleaser for several reasons. First and foremost, the flavor is simply divine. The natural sweetness of ripe strawberries combined with the moist, tender cake creates a mouthwatering taste experience. Each bite is a symphony of flavors, making it the perfect dessert for any occasion, from birthdays to casual gatherings.
I love that baking allows you to express your creativity, experiment with flavors, and create personalized treats for your loved ones. It's a skill that can bring joy to others and make you the star of any potluck or family gathering.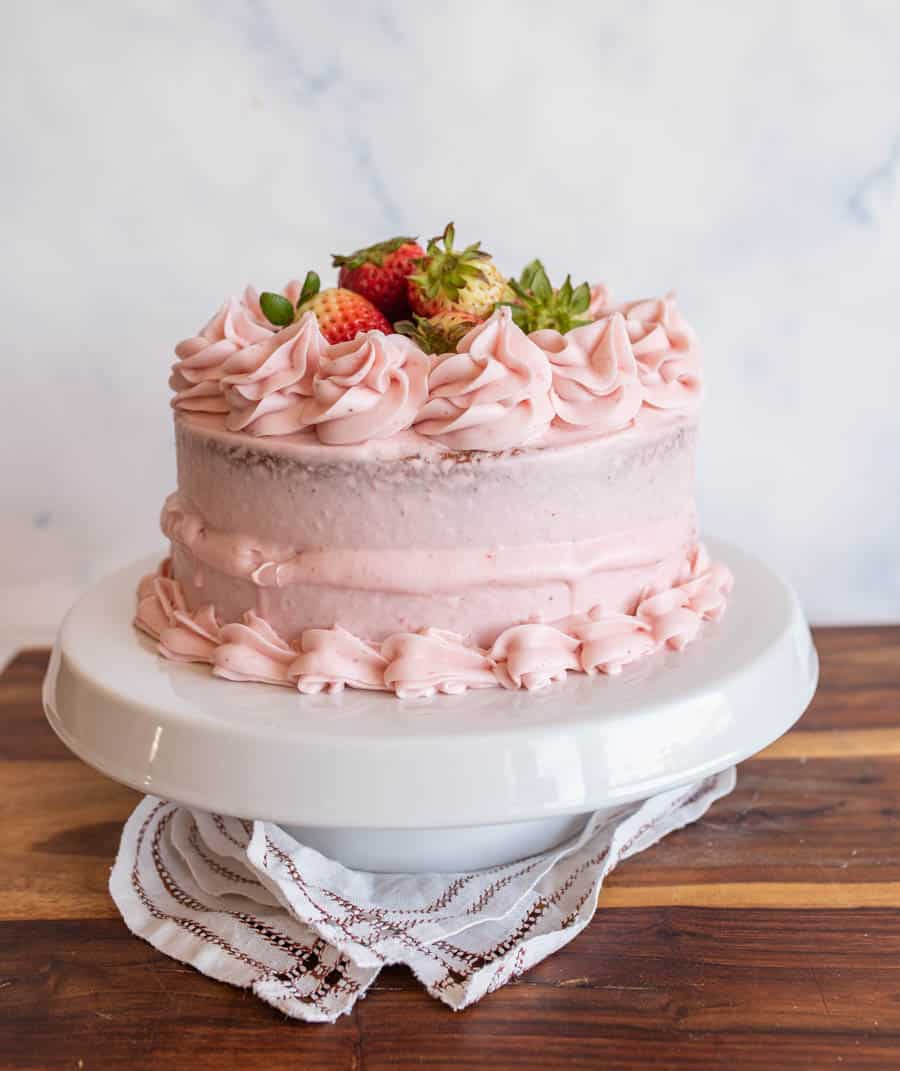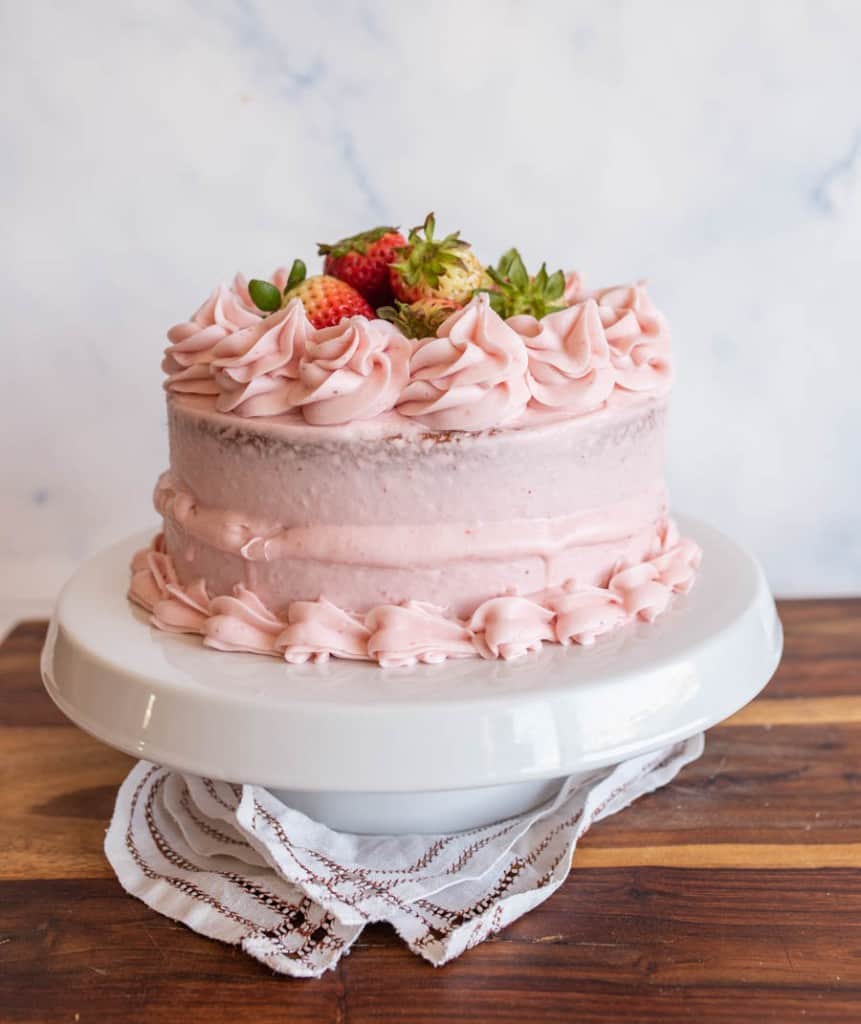 Ingredients
Flour
Sugar
Baking powder
Butter
Milk
Eggs
Freeze-dried strawberries
Keep scrolling to find a full, printable recipe with a detailed ingredient list.
Recipe Instructions
To make a delicious strawberry cake, start by preheating the oven to 350°F and preparing two 8-inch cake pans by lining them with parchment paper and greasing them. Next, take some freeze-dried strawberries and process them until they become a fine powder.
In a separate bowl, combine flour, baking powder, and salt, whisking them together. Set this mixture aside for now. In a large mixing bowl, cream together butter and sugar until the mixture becomes light and fluffy. Then, add the eggs and mix well until everything is thoroughly combined.
Gradually incorporate the flour mixture and milk into the batter, alternating between the two. Continue mixing until all the ingredients are fully incorporated. Now it's time to add the powdered freeze-dried strawberries to the batter and mix them in thoroughly.
Divide the batter evenly between the prepared cake pans and bake them in the preheated oven for approximately 30-35 minutes. To check if the cakes are done, gently touch the tops to see if they spring back or insert a toothpick into the center and see if it comes out clean.
Once the cakes are baked, let them cool in the pans for about 10 minutes. Then, transfer them to a cooling rack to cool completely. Once the cakes have cooled down, you can frost them with your preferred frosting, adding an extra layer of sweetness and flavor.
Enjoy your homemade strawberry cake!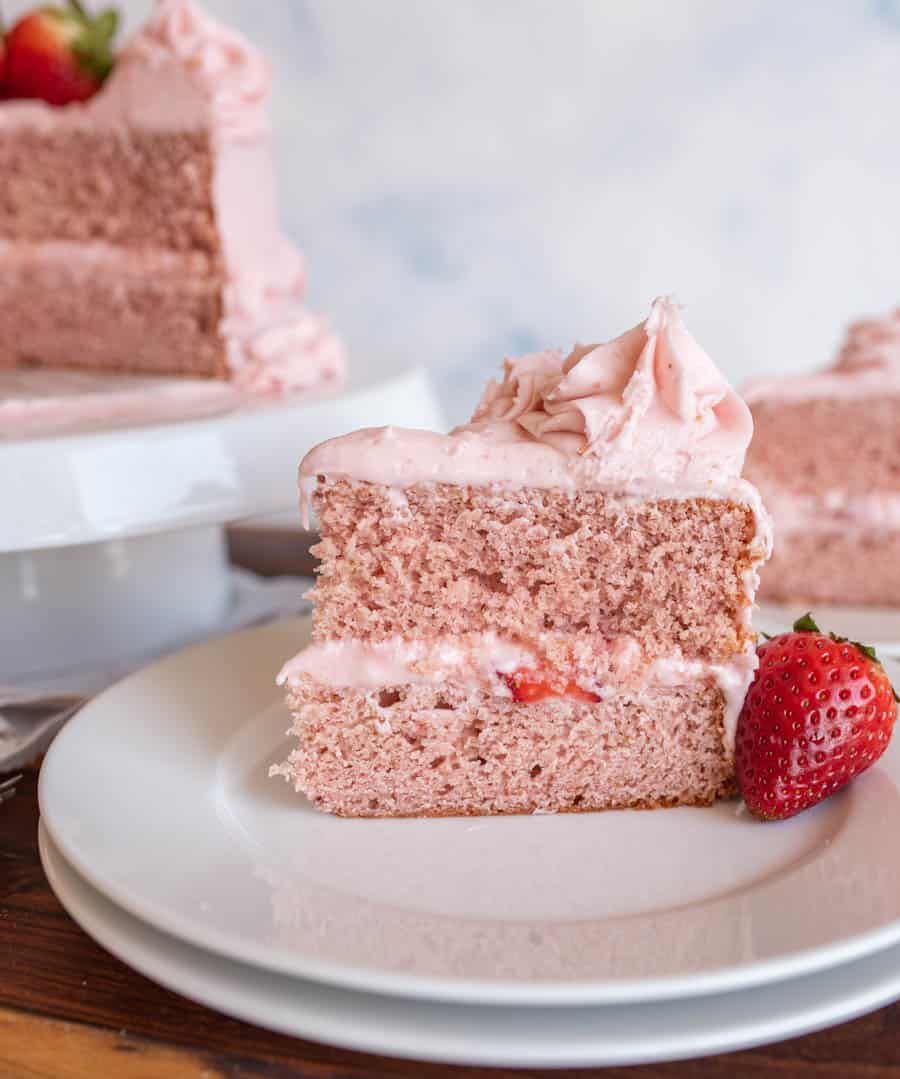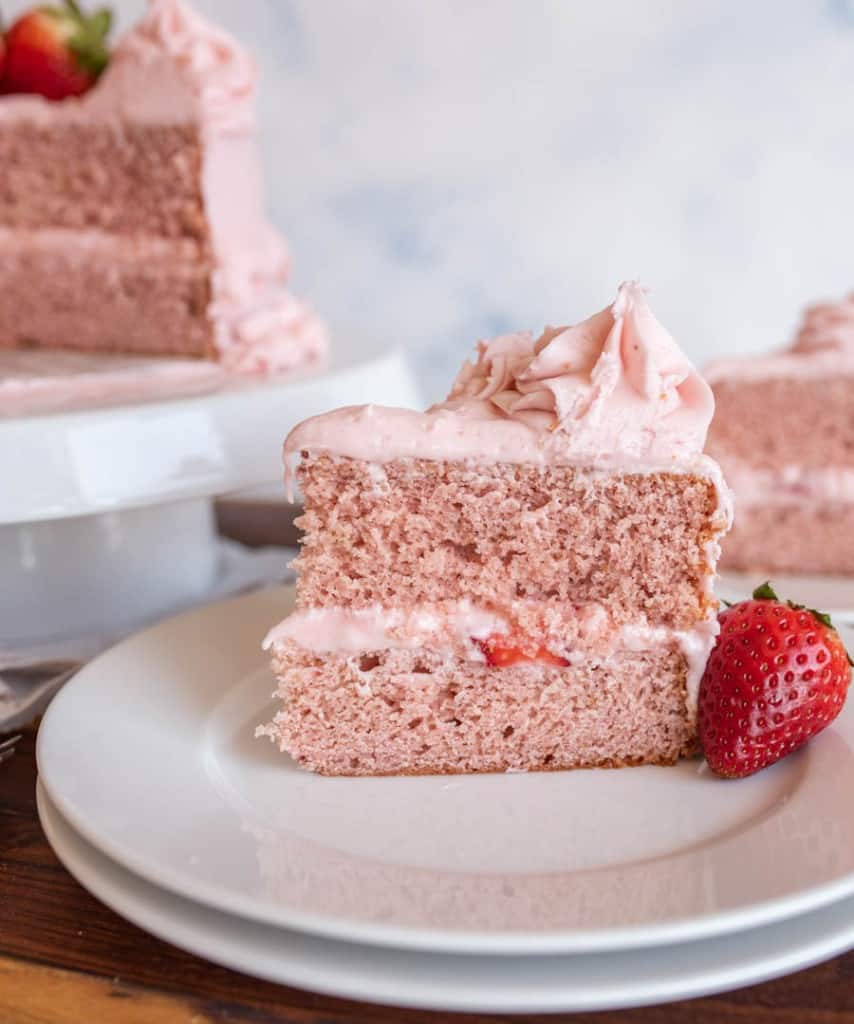 Frequently Asked Questions
Can I use frozen strawberries instead of fresh?
Nope, you aren't using either for this recipe. The secret ingredient is freeze dried strawberries which have all the flavor and none of the moisture compared to fresh or frozen berries and are much easier to work with in baked goods!
Can I use a different type of frosting for the strawberry cake?
While a classic strawberry frosting pairs beautifully with this cake, you can experiment with other frostings, such as cream cheese or vanilla buttercream, depending on your preference.
How do I prevent my cake from sticking to the pan?
To prevent your cake from sticking to the pan, it's important to properly prepare the pan. Grease the sides and bottom of the pan with butter or cooking spray, and then line the bottom with parchment paper. This combination helps the cake release easily from the pan once it's baked and cooled.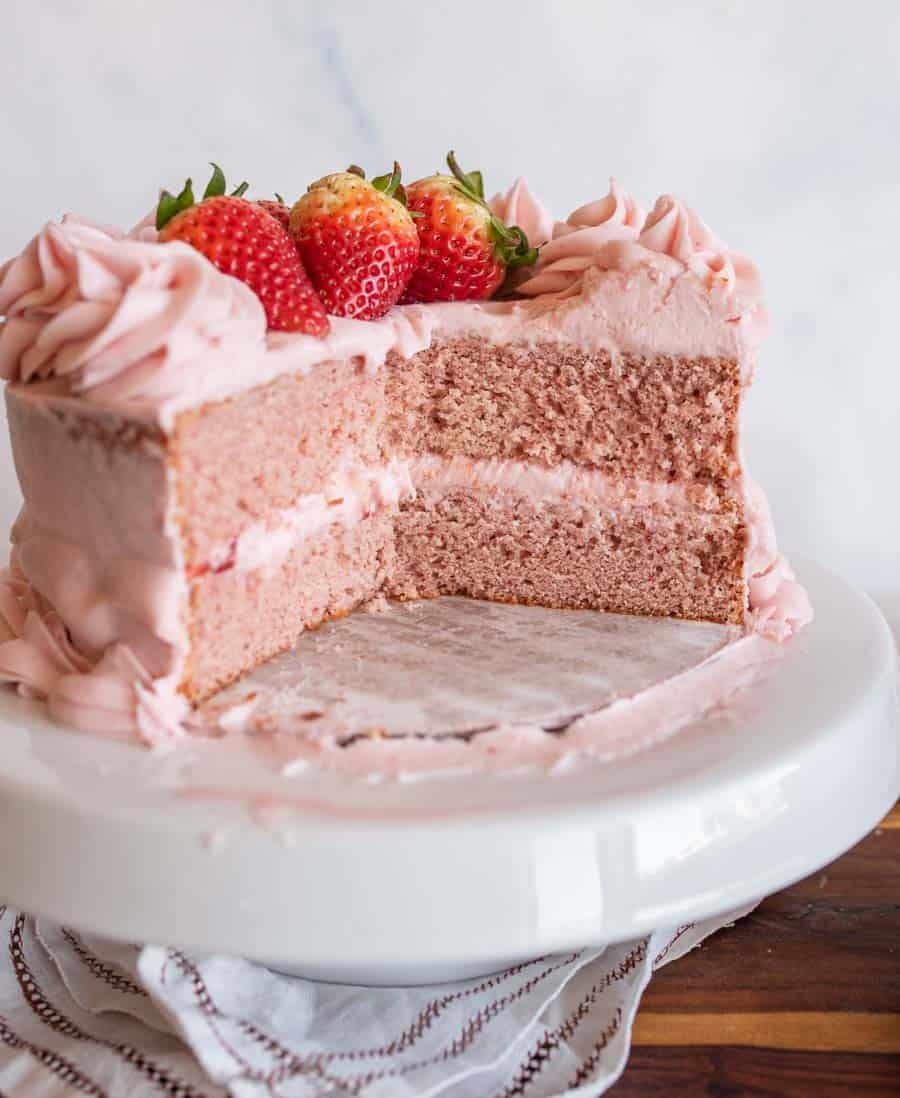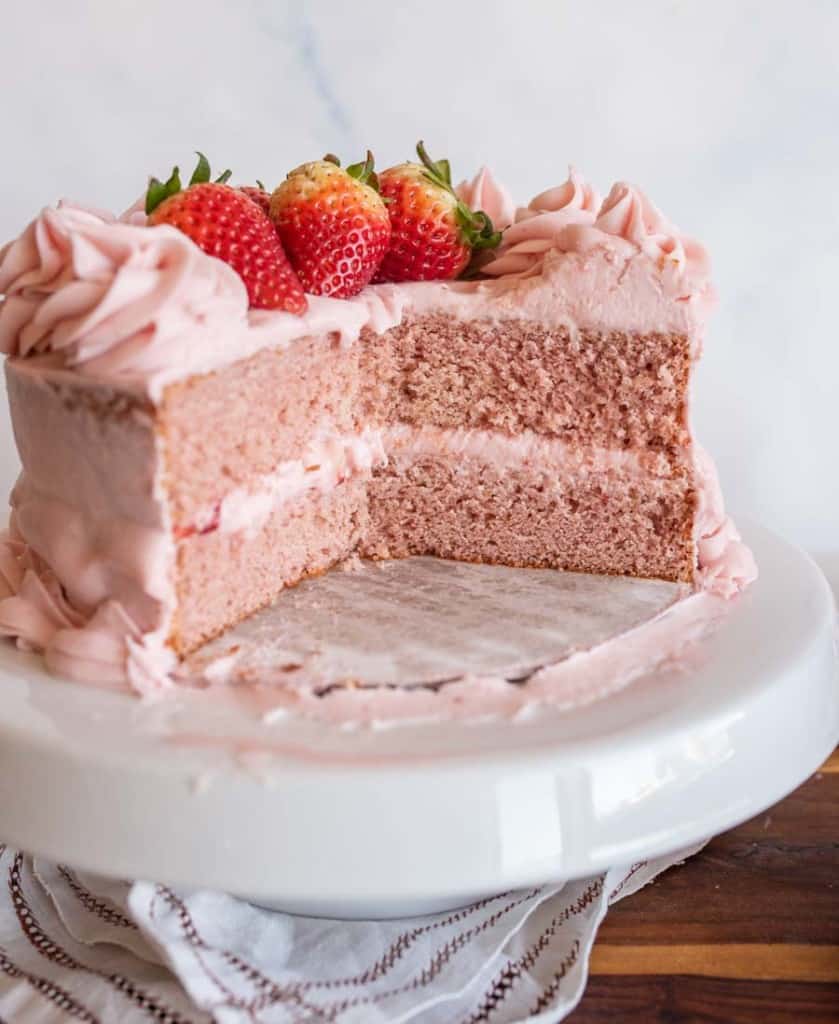 More Recipes
If you've tried this Strawberry Cake recipe or any other recipe on Bless This Mess, then don't forget to rate the recipe and leave me a comment below! I would love to hear about your experience making it. And if you snapped some pictures of it, share it with me on Instagram so I can repost on my stories.
📖 Recipe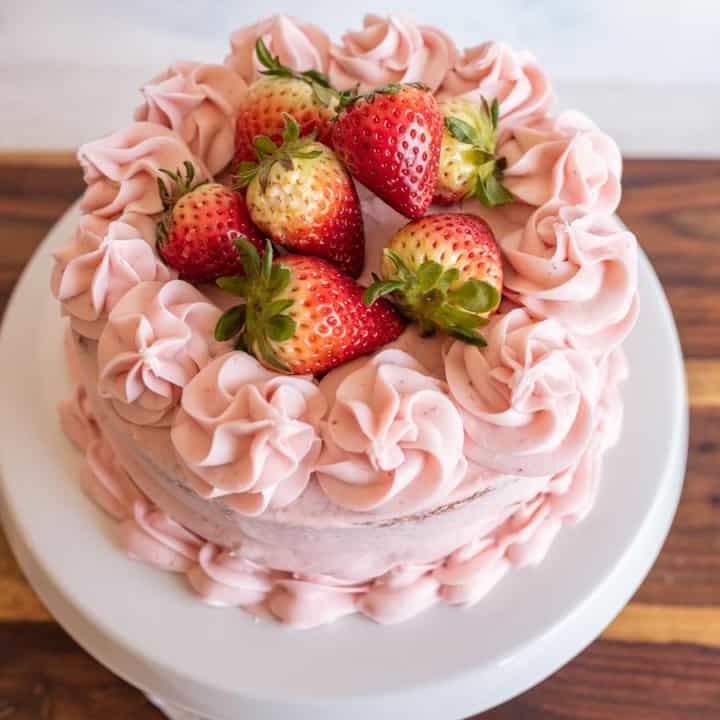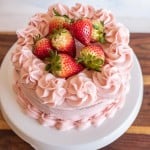 Print Recipe
Homemade Strawberry Cake
Strawberry Cake combines fluffy cake layers, velvety strawberry frosting, and the burst of fresh strawberries. Simply the best!
Ingredients
2 ½

cups

all purpose flour

1 ⅔

cups

granulated sugar

3 ½

teaspoons

baking powder

1

teaspoon

salt

⅔

cup

butter

room temperature

1 ¼

cup

milk

room temperature

3

eggs

room temperature

1

oz

freeze-dried strawberries
Instructions
Preheat oven to 350 degrees F.

Line 2, 8-inch cake pans with parchment paper and grease the sides well. Set aside.

Process freeze-dried strawberries in a food processor or blender until they are a fine powder.

Combine flour, baking powder, and salt in bowl, whisk to combine and then set aside.

In a large mixing bowl, using a hand mixer or your stand mixer, cream butter and sugar together until light and fluffy, about 3 minutes.

Add eggs and mix well to combine.

Add ⅓ of the flour mixture and mix until incorporated.

Add half of the milk and mix until incorporated.

Add another third of the flour and mix.

Add remaining milk and mix.

Add remaining flour and mix until a smooth batter forms.

Add powdered freeze-dried strawberries and mix to full combine.

Divide the batter into prepared bans and bake for 30-35 minutes or until the cake springs back lightly when touched and a toothpick inserted into the center comes out clean. Place the warm cakes on a cool wrack and let them rest for 10 minutes in the pan before removing from the pan.

Cool completely before frosting with your favorite frosting.
Notes
There are so many good frostings for this recipe! You can use this strawberry buttercream, a traditional vanilla buttercream, something light and fluffy like white cloud frosting, or anything else you might like.
We frosted the cake with our strawberry frosting and also used that in-between the layers. You could also put strawberry jam, a strawberry reduction, or whipped cream and sliced strawberries in-between the layers of cake. You have lots of good options!
Freeze dried strawberries are my favorite trick for making strawberry cake! They pack a ton of flavor without the added moisture from fresh strawberries which can we hard to work with. You can find them in the snack isle at most large stores (Walmart carries them).
Nutrition
Calories:
333
kcal
|
Carbohydrates:
51
g
|
Protein:
5
g
|
Fat:
12
g
|
Saturated Fat:
7
g
|
Polyunsaturated Fat:
1
g
|
Monounsaturated Fat:
3
g
|
Trans Fat:
0.4
g
|
Cholesterol:
71
mg
|
Sodium:
425
mg
|
Potassium:
117
mg
|
Fiber:
1
g
|
Sugar:
31
g
|
Vitamin A:
416
IU
|
Vitamin C:
29
mg
|
Calcium:
114
mg
|
Iron:
2
mg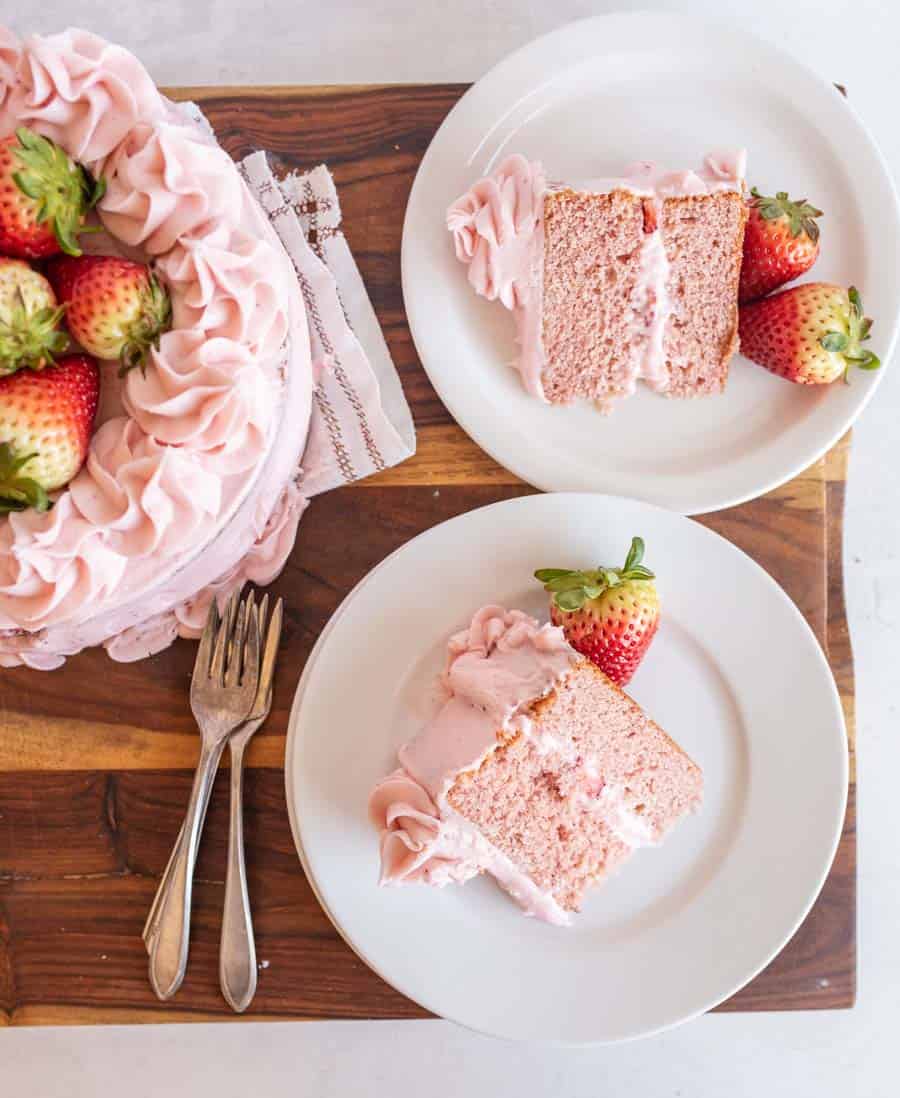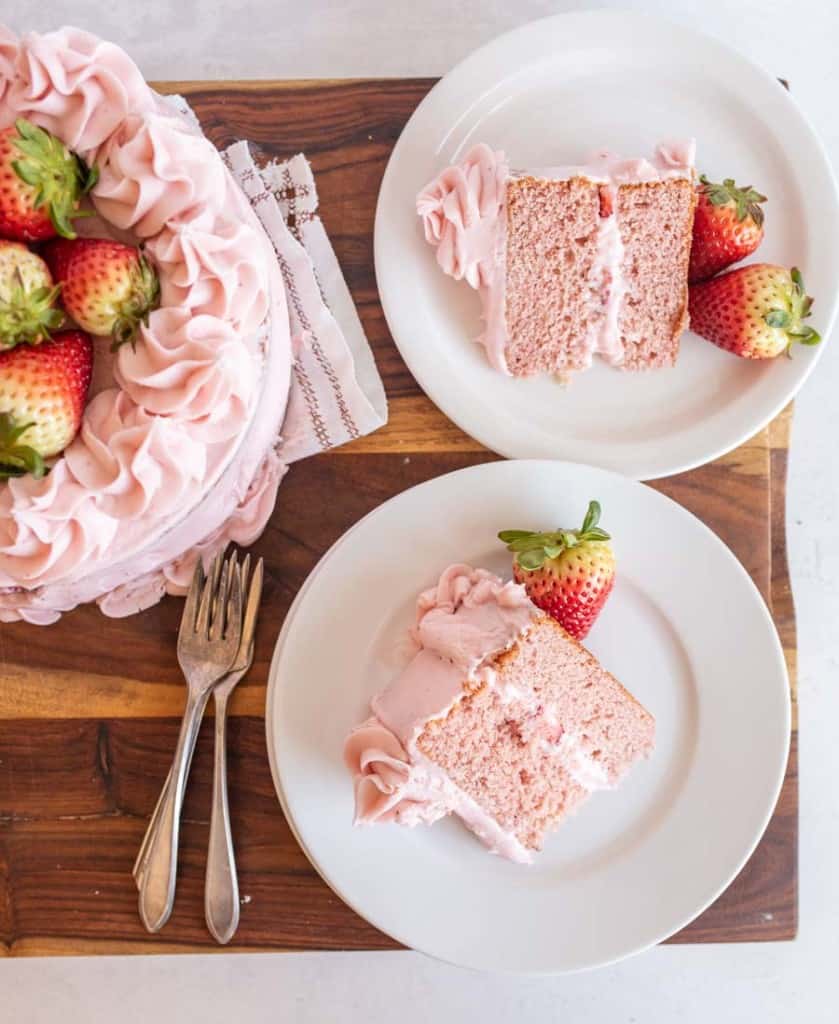 Strawberry Cake is simply delicious. With its fluffy cake layers, decadent strawberry frosting, and the delightful burst of strawberry flavor, it's a dessert that captures the hearts and taste buds of many.