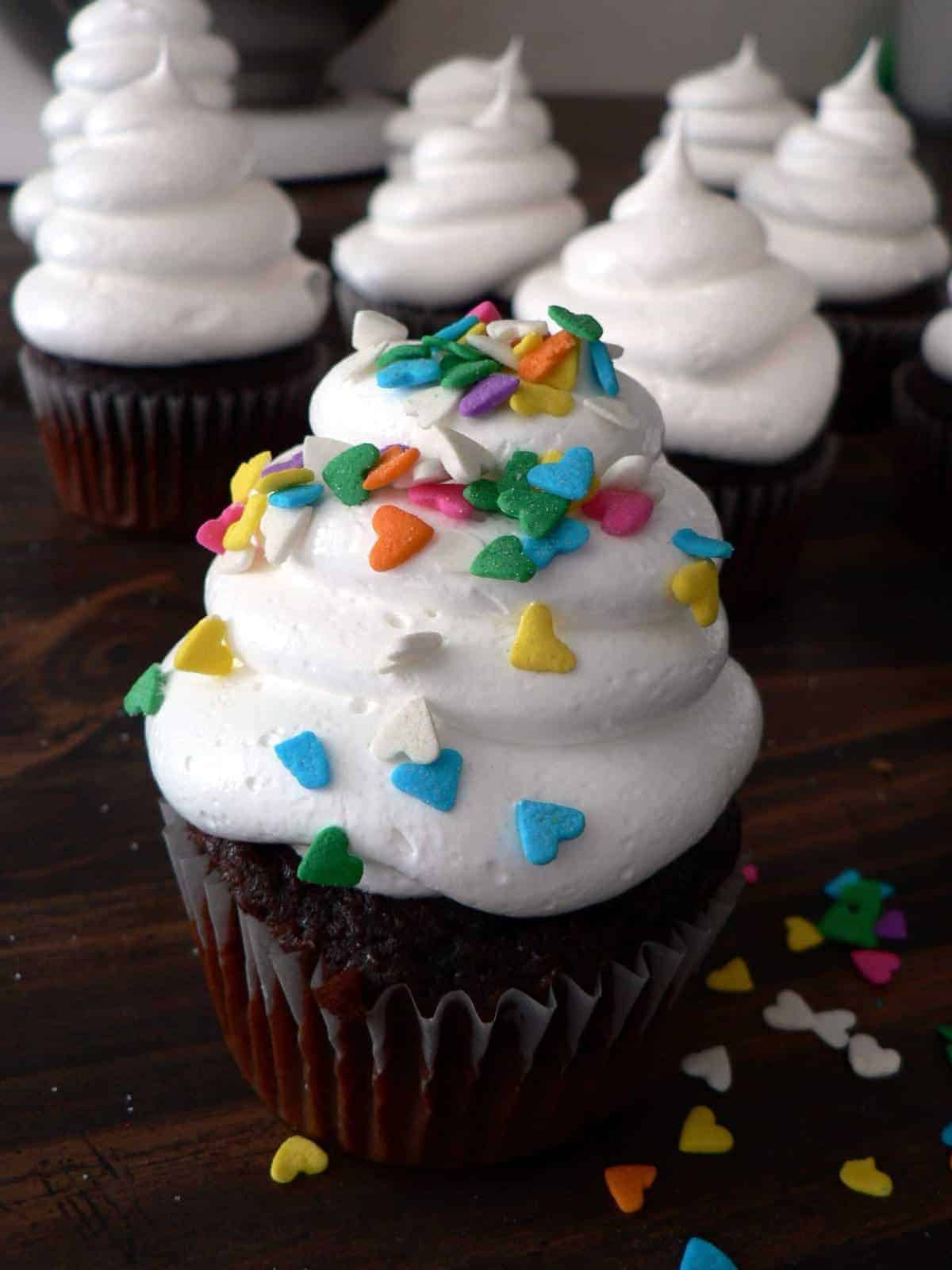 If you could taste my memory of childhood birthdays, it would taste like white cloud icing. My mom made many Devil's Food cakes paired with this icing, always topped with a lovely coat of sprinkles. When I think of birthday cake, I think of this recipe.
I am always surprised at how many people have never had this icing! I feel as though it's my gift to humanity to share this recipe. I always get lots of compliments and lots of questions. White cloud icing is one of my favorite frostings to add to cupcakes for a thank you gift or to put on top of sheet cake for a gathering. I try to share the love whenever possible! Lots of people ask me what it is made of, many assuming that Marshmallow Fluff is involved. It has an incredible light and springy texture that is reminiscent of a marshmallow, but the flavor is much better in my opinion. It has a clean and bright flavor, like sugar and vanilla and that's about it.
Make this white cloud icing as soon as you can. It's just so fun! I prefer it on any form of Devil's Food cake, with sprinkles. Lots of sprinkles.
If you try this recipe, let me know what you think! Leave a comment, pin it, and don't forget to tag a picture #blessthismesseats on Instagram. I love to see your kitchen skills in action!
Print
Scale
Ingredients
2

egg whites, at room temperature

1/4 tsp

. salt

1/4 cup

sugar

3/4 cup

light corn syrup

1

t. pure vanilla extract
---
Instructions
Use a stand mixer. It will change your life. You can make this using a hand mixer, but it just takes time. In a clean bowl (any grease on your bowl or utensils will ruin the icing, egg whites hate grease!), beat the egg whites and salt on high speed until foamy.
With the mixer still running, slowly add the sugar. Beat mixture until soft peaks form (when you pull the mixer out of the white mixture you should get a little point that bends over).
Bring the corn syrup to a boil over medium heat in a small saucepan. When the corn syrup comes to a boil, remove from heat. Slowly pour the hot corn syrup into the egg mixture while your mixer is mixing on high. Beat the mixture until stiff peaks form, about 5 minutes. Add the vanilla and mix to combine.
Notes
Use the frosting right away and eat any leftovers, as it doesn't store well. You can leave a cake that has been iced with this uncovered, since any type of plastic wrap on it will be a mess. Add the sprinkles as soon as you are done spreading the icing. A thin crust will form and the sprinkles won't stick if you wait too long!
For this recipe, I recommend:
[asa_collection btmp]white_cloud_icing[/asa_collection]
Finish up by letting your babies lick the bowl – the best part of white cloud icing-making for a kid!
Official taste tester approved!